Things get a little bit creepy around Halloween and the Wayward Halloween event has lots of goodies that are going to let you indulge in lots of creepy activities.
Moon Elixir have released their Roguish gacha and you can get yourself pieces of the outfit in several different colours. I made this outfit by combining the Charcoal Pants & Top with the Rare Ripped Hood and Rare Horns.
The Angel Of Hell Wings are the rare win from the Astralia gacha. They come with a hud that allows you to change the colour of the feathers and even have some bloody feathers in there.
White Widow have a gacha full of tattoos and this is the Black Vertigo rare from that machine. There are lots of different pieces to win in three different ink colours so even if you don't get the rare you'll still get some pretty tattoos to wear.
Things can get a little disturbing at Halloween...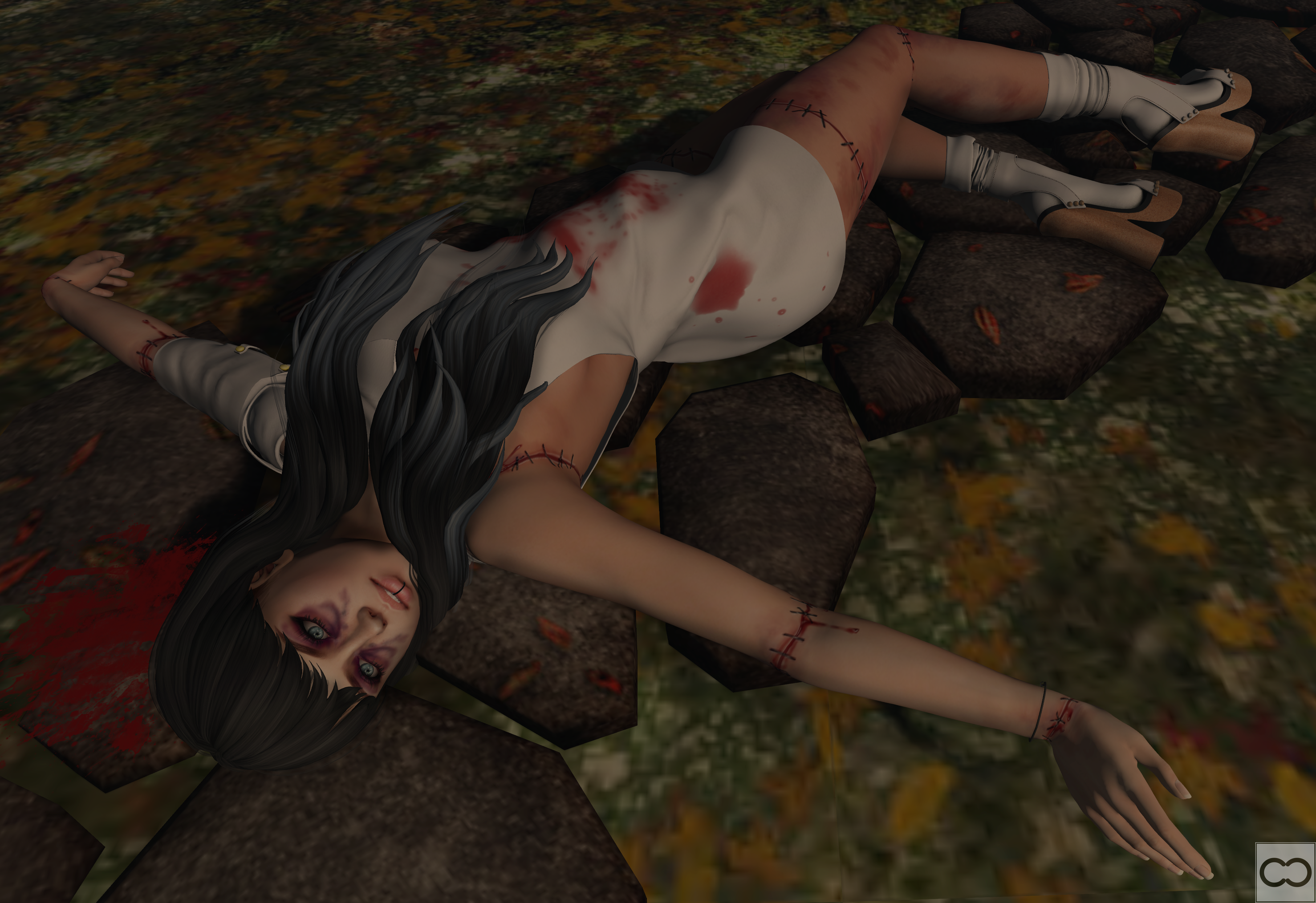 I kind of love that I can end up creating something quite disturbing with goodies I got from Wayward Halloween gachas. Disturbing is always fun!
You can get the dress, armlet and sandals from Cloud in the Dawn gacha. The Sandals with socks are a rare win that come with a colour change hud but all the other pieces are commons.
The seriously disturbing cuts and stitches is the Cosmetic Replacement rare win from the Antielle Beauty Clinic gacha. You can also get the Nosejob Bruises in there too along with several other unsettling tattoo and apply pieces.
Wayward Halloween is open until October 31st so grab your friends and go trick or treat for some gacha goodies!
Happy Shopping!
Pic 1:
*Top -
Moon Elixir
- Roguish Top - Charcoal @
Wayward Halloween
*Pants -
Moon Elixir
- Roguish Pants - Charcoal @
Wayward Halloween
*Hood -
Moon Elixir
- Roguish Ripped Hood RARE @
Wayward Halloween
*Horns -
Moon Elixir
- Roguish Horns RARE @
Wayward Halloween
*Jewellery -
Moon Elixir
- Roguish Jewellery - Gold @
Wayward Halloween
Boots -
Fashionably Dead
- Bossy boots - Shiny Black
*Wings -
Astralia
- Angel Of Hell Wings RARE @
Wayward Halloween
*Tattoo -
White Widow
- Vertigo - Black RARE @
Wayward Halloween
Hair -
Truth
- Sam - Gingers Pack
Skin-
League
- Erin Pale - Feline
*Eyes -
Quirky
- Esoteric Eyes - Blind @
Wayward Halloween
Body -
Maitreya
- Lara Mesh Body - Includes Hands (with League appliers)
*Lamp -
NYU
- Halloween Lamp - Graveyard RARE @
Wayward Halloween
Pose -
NanTra
- Illuminati - 2 Mirrored (includes ghost)
H&G Items:
*Gravestone w/ Ghosts -
Black Tulip
- The Witch - 1 The Guardians Of The Tomb RARE @
Wayward Halloween
*Large Gravestone -
Black Tulip
- The Witch - 9 Bad Omens Tomb @
Wayward Halloween
*Small Gravestone -
Black Tulip
- The Witch - 3 Tomb @
Wayward Halloween
*Sarcophagus -
ILAYA
- 02 Sarcophagus RARE @
Wayward Halloween
Trees -
Jian
- Ash Tree - Large
Pic 2:
*Shirt -
Cloud
- Dawn - The Sin Dress #9 @
Wayward Halloween
*Armlet -
Cloud
- Dawn - White Gold Armlet #20 @
Wayward Halloween
*Shoes -
Cloud
- Dawn - High Sandal With Socks RARE @
Wayward Halloween
*Body Cuts -
Antielle
- Cosmetic Replacement RARE @
Wayward Halloween
*Eye Bruises -
Antielle
- Beauty Clinic - Nosejob Bruises @
Wayward Halloween
*Hair -
Damselfly
- Aneko - Tuxedo & Fades Pack @
Wayward Halloween
Skin-
League
- Erin Pale - Feline
*Eyes -
Quirky
- Esoteric Eyes - Light Blue @
Wayward Halloween
Teeth -
Whatever
- Teeth 2.0
Body -
Maitreya
- Lara Mesh Body - Includes Hands (with League appliers)
Pose -
Bounce This
- Jade - Dollarbie
H&G Items:
Path -
Jian
- Cobblestone Path - S Shape
www.WaywardEvents.com
flickr.com/WaywardEventsSL
facebook.com/WaywardEventsSL
plurk.com/WaywardEventsSL