The new Autumn round of Romp is open for your kinky pleasure so now is the time to grab your dirtiest friends and head on over there to grab yourself some deliciously dirty goodies.
As you can see from the HUGE picture above this post is 100% NOT SUITABLE FOR WORK. It may seem like I'm being a little excessive but I recently had a run in with a psychotic prude who had a melt down about a nipple. So consider yourself suitably warned that nipples will be appearing in the post. Although I think nipples are the least of your problem in this post.
I love Romp because it gives me an excuse to get on naughty pose balls with Cat. Not that we need much encouragement for this but when Bang make great f/f poses like Ecstasy I can't resist!
The lingerie is the Salacious set from Luxuria. I love the colour on this Vintage Rose but there are others available and they come on system layers and with appliers for SLink and Maitreya.
Luxuria also released these adorable little lipstick marks. It's always fun to let someone else cover you in kisses. The Kisses set comes in system layers and appliers and in three different lipstick colours.
oOo Studio also released some poses for Romp and they have included m/f and m/m versions. This one is called Deep and is version one.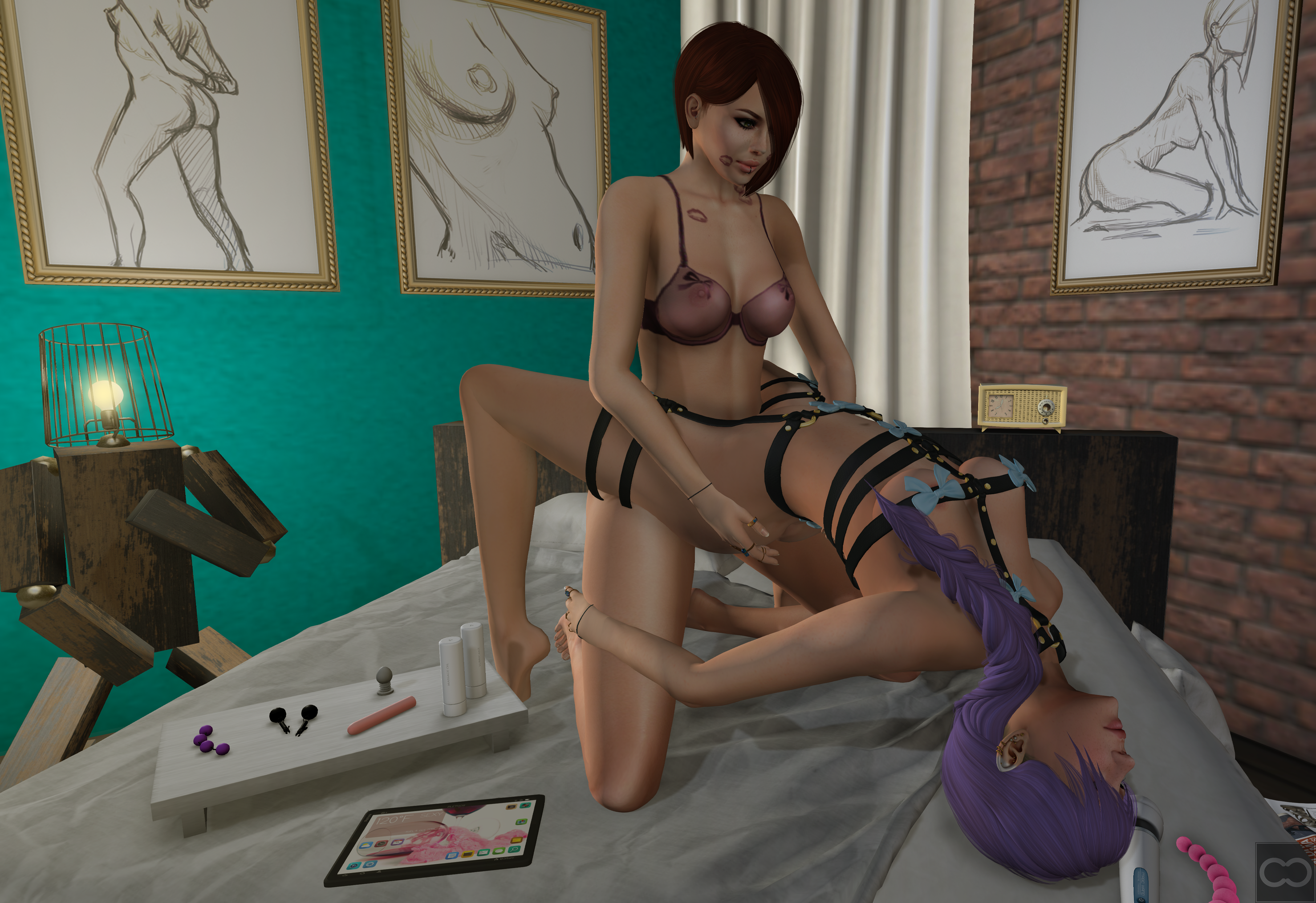 Of course Cat and I are a female/female couple and we found the m/m version of the pose fit us best but try the demo to see what would work best for you.
You can grab the Bekhi hair from the Ayashi booth. It's a perfect little bob and style and Ayashi have some lovely colours on offer so take a peek at their colour packs to see which takes your fancy.
Cat is wearing the Showtime Lingerie from Sweet Thing. It comes in a Maitreya fit only so please demo to see if it fits your mesh body if it's not the Lara. The bows are colour change and you can choose to wear the top and bottom separately and add frills should they be your thing.
There will be more coming from Romp soon!
Happy Shopping!
Pic 1 & 2:
Cryssie:
*Lingerie -
Luxuria
- Salacious - Vintage Rose @
Romp
*Rings -
Ama
. - Anastasia Rings - @
Cosmopolitan
*Hair -
Ayashi
- Bekhi - Fatpack @
Romp
Skin -
League
- Erin Pale - Feline
*Lipstick Marks -
Luxuria
- Kisses - Burgundy @
Romp
Ears -
CheerNo
- Human Ears - Tragus
Body -
Maitreya
- Lara Mesh Body - Includes Hands & Feet (with League appliers)
Cat:
Lingerie -
Sweet Thing
. - Showtime Lingerie @
Romp
Pic 1: Hair -
Argrace
- Saki - Blonde
Pic 2: Hair -
Wasabi Pills
- Faith - Rye
Ears -
Mandala
- Steking Ears - Season 5
Rings -
Ama
. - Anastasia Rings - @
Cosmopolitan
Feet -
SLink
- Avatar Enhancement Feet - High (with Pink Fuel appliers)
Hands -
SLink
- Avatar Enhancement Hands - Elegant 1 (with Pink Fuel appliers)
Body -
Maitreya
- Lara Mesh Body (with Pink Fuel appliers)
Skin -
Pink Fuel
- Elsie - Biscuit
*Pic 1: Pose -
Bang
- Ecstasy @
Romp
*Pic 2: Pose -
oOo Studio
- Deep - One @
Romp
H&G items:
*Bed -
Zerkalo
- Kinky Games - Bed @
Romp
*Lamp -
Zerkalo
- Kinky Games - Lamp 2 @
Romp
*Tablet -
Plethora
- Tablet - Blush Flirt @
Romp
*Dice Dome -
Plethora
- Dice of Sin @
Romp
Clock -
Tres Blah
- Bon Voyage - Clock Radio Yellow
Vibrator -
Commoner
- Break-Up Survival Kit - Personal Massager
*Sex Toys Tray -
Plethora
- Kink Tray - For Her
*Artwork (left to right) -
MudHoney
- Lust Artwork - Bound, Need, Beg & Desire
Curtain -
Bazar
- Toronto Living Room Curtain - Left
*Beads Sex Toy -
Arise
- Ball Toy - Pink @
Romp
Box -
Kalopsia
- Old Box - Green
Rug -
MudHoney
- Laura Rug