You have a couple of days left to get your butts down to the Fright Night round of The Liaison Collaborative before it closes on the 30th.
There's still lots of creepy things to grab just in time for Halloween. I hope you all have some awesome RL and SL plans for Saturday.
United Colours are helping you turn into Queen Arachnia of the Spider People (random Voyager referrence for this who geek out over Star Trek like meeeee.)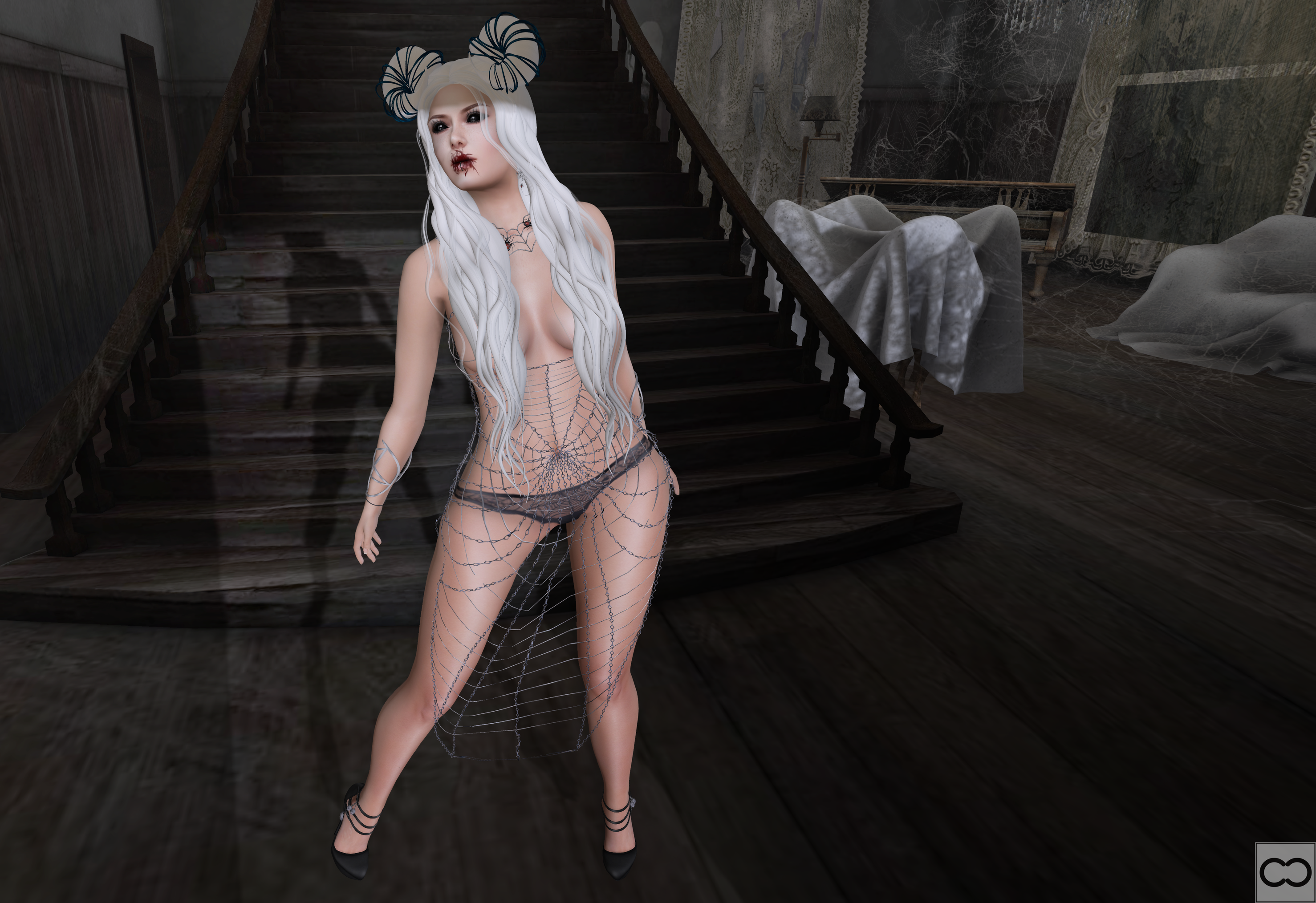 It comes in six different metal colours and includes standard sizes and fitmesh for the Maitreya Lata. You can go completely daring with this dress and wear nothing underneath or if you wish to keep a little bit of your modesty in tact then Luxuria have the perfect lingerie to slip underneath it.
The Araneae Set comes comes in six different colours, all with dainty spider webs covering the sheer fabric. Each colour includes standard system layers and appliers for all SLink or Maitreya bodies.
The hair Mehet from Damselfly. The big wired twists of the hair are really unique looking and perfect for Halloween. You can find all the usual hair colour packs that Damselfly release and you can find this colour in the Tuexdo & Fades Pack.
Maybe you are staying in with your special someone this Halloween and you want something naughty to show off. If that's the case then you'll need the Eleon Lingerie from Baiastice.
This colour is the Crimson Lace version but you can choose between 12 lace colours or 8 leather colours. That's a huge range for you to pick a colour from so you are definitely going to be able to find one to suit you. Each set comes in standard sizes and fitmesh for SLink Physique. There's a standard fitmesh version included also but I had a little trouble fitting it over my Maitreya Lara so I slipped into my SLink Physique for this set.
Happy Shopping!
Pic 1:
*Panties -
Luxuria
- Araneae - Black @
The Liaison Collaborative
*Dress -
United Colors
- Spider Net Dress - Iridescent @
The Liaison Collaborative
*Shoes -
Rebel Hope
- Elvira Heels - Black @
The Liaison Collaborative
*Necklace -
EarthStones
- Spider Cascade Necklace @
The Liaison Collaborative
*Cuffs -
Luxe
- Pentagram Cuff - Silver @
The Liaison Collaborative
*Mouth Cuts -
Ama
. - Feed
*Hair -
Damselfly
- Mehet - Tuxedo Pack @
The Liaison Collaborative
Skin -
League
- Erin Pale - Feline
Eyes -
Izzie's
- Demon Mesh Eyes - Black
Eyelashes -
Mon Cheri
- Falsies Eyelash
Ears -
CheerNo
- Human Ears - Tragus
Body -
Maitreya
- Lara Mesh Body - Includes Hands & Feet (with League appliers)
*Pose -
An Lar Poses
- The Hollow Series - Three
Pic 2:
*Lingerie -
Baiastice
- Eleon - Lace Crimson @
The Liaison Collaborative
Gloves -
Jian
- Sanderson's Gloves - Bloody
Necklace -
Yummy
- Pentagram Pendant - Silver/Grey
*Blood Splatter -
Ama
. - All Over Blood Splatter
*Mouth Cuts -
Ama
. - Feed
Hair -
Oleander
- Boone - Natural Tones
Skin -
League
- Erin Pale - Feline
Eyes -
Izzie's
- Demon Mesh Eyes - Black
Eyelashes -
Mon Cheri
- Falsies Eyelash
Ears -
CheerNo
- Human Ears - Tragus
Body -
SLink
- Physique (with League appliers)
Pose -
Bounce This Poses
- Diamond - 2 Mirrored