The Autumn round of Romp closes on Friday 16th October so that means just four more days to get your kinky fill.
If you haven't been then I encourage you to go now and if you have then you definitely need one more peek to make sure you didn't miss anything.
As you can see from the big NSFW pic and is pretty much expected from a Romp post there will be tits, there will be ass... now is your chance to run away if those things make you blush like a virgin at an orgy.
If you're like me and you live for the tits and ass... here we go!
There's nothing like getting frisky with someone gorgeous and Amadeo was available to get his frisky on with me.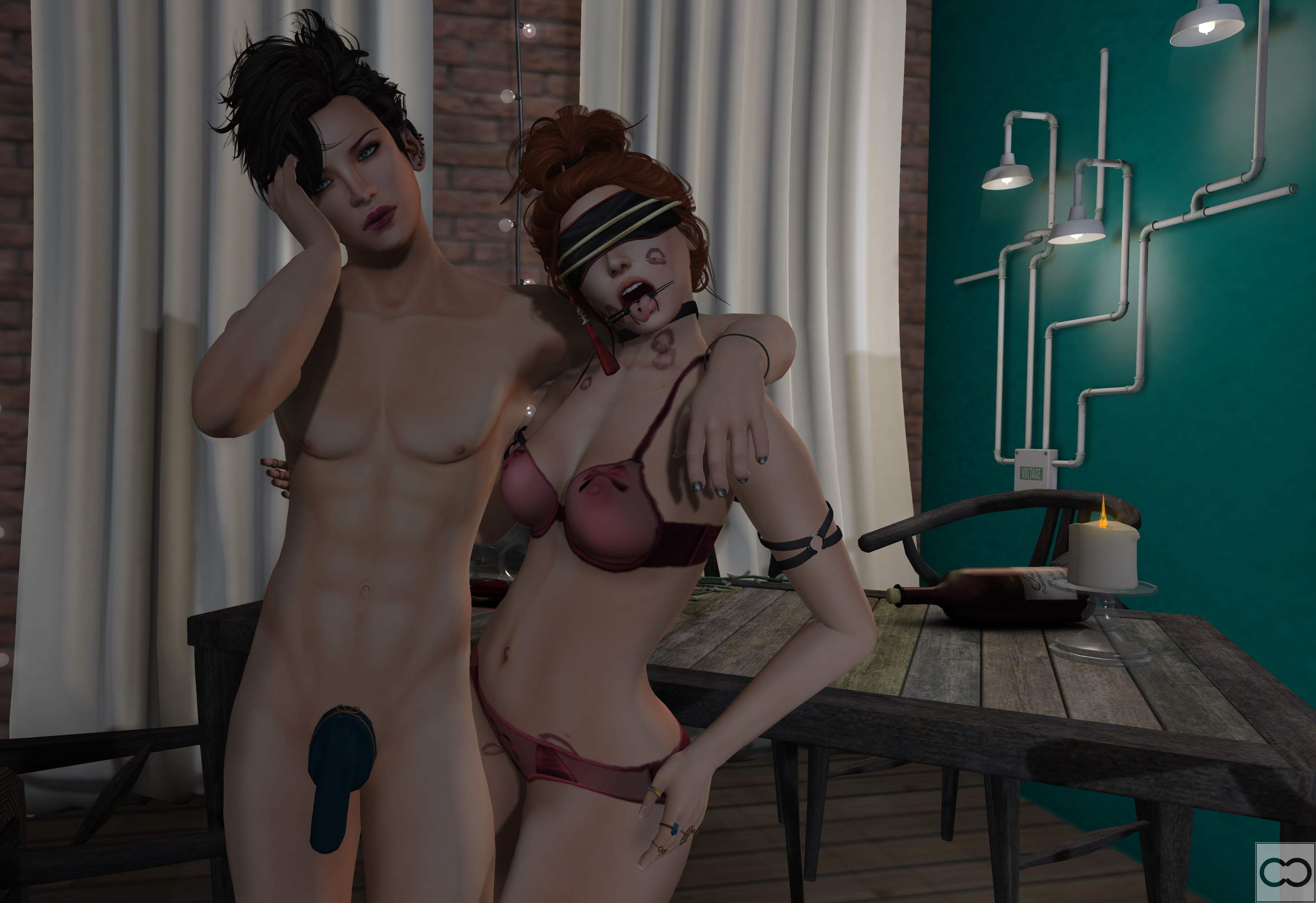 It's only fair I let Amadeo wear his own creation for this round of Romp and let him keep a little bit of his dignity so he slapped on his Heph Cock Sock to keep his manly bits warm.
He's on a bit of a make up kick right now too so he was wearing the Passion Lips from Hekate which meant he could cover me in lipstick kisses. Luxuria helped us out with that one with their Kisses applier. It comes in three lipstick tones and comes in appliers for SLink and Maitreya.
The Salarious Lingerie you can also grab from Luxuria while you are there. I went for this deep, sexy Dark Red but there are six colours on offer so there's bound to be one of your favourites there. Just like the Kisses appliers the Salarious Lingerie is for SLink and Maitreya.
Cubic Cherry helped Amadeo torture me by releasing the Serenity Blindfold. Each one comes with a choice of gold or silver metal parts and six different fabric colours.
If you ever wanted to trap your tongue or maybe the tongue of someone else then you'll need the Tongue Trap from Cerberus Xing. Truthfully it's the only way Amadeo can shut me up but you can use it for much kinkier fun if you want. You choose your metal colour and between pierced and un-pierced options.
The arm strap and partically hidden collar you can grab from the Muka booth. The Alia Collar and Alia Arm Strap. There are five strap colours and three metal colours so you can pick and choose to suit your mood.
Not only did Ama. release the Heph Cock Sock but he also delivered another of his awesome applier sets with kinky toy marks for the skin. This time it was Caned Ass and Thighs.
Can we say ouch? This isn't even the most intense option but my poor ass was suffering. You can wear just ass, just thighs or a combo of both without worrying about having to layer two appliers on top of each other. The pack includes appliers for SLink, Maitreya and Omega so most of you should be covered.
The Collar and Cuffs in this picture are called Avery and are from Salt & Pepper. You can purchase them together or separate and you get hud that allows you to change the leather and metal parts of collar.
That's all from this round of Romp. I hope to see your own kinky pics on Flick or if you're not that much of an exhibitionist then I hope you have all the kinky fun behind closed doors!
Happy Shopping!
Pic 1:
Cryssie:
*Lingerie -
Luxuria
- Salarious - Dark Red @
Romp
*Blindfold -
Cubic Cherry Kreations
- Serenity Blindfold - Red/Gold @
Romp
*Collar -
Muka
- Alia Collar @
Romp
*Arm Strap -
Muka
- Alia Arm Strap @
Romp
*Rings -
Ama
. - Anastasia Rings @
Cosmopolitan
*Lipstick Marks -
Luxuria
- Kisses - Burgandy @
Romp
Hair -
Truth
- Ximena - Gingers Pack
Skin -
League
- Erin Pale - Feline
Body -
Maitreya
- Lara Mesh Body - Includes Hands (with League appliers)
Amadeo:
Cock Sock -
Ama
. - Heph Cock Sock - Sarcelle Flop @
Romp
Lipstick - Hekate - Passion Lips - Berry 01 (sorry, I can't find the main store!)
Hair -
Ink
- Seed - Black
Eyes -
Ikon
- Odyssey Eyes - Nymph
Ears -
Mandala
- Steking Ears - Season 5
Body -
SLink
- Physique Male Mesh Body
Hands -
SLink
- Avatar Enhancement Mesh Hands Male - Relaxed
Pose -
Exposeur
- Even Though
Pic 2:
*Collar & Cuffs -
Salt & Pepper
- Avery Collar & Cuffs @
Romp
*Lipstick Marks -
Luxuria
- Kisses - Burgandy @
Romp
*Cane Marks -
Ama
. - Caned Ass & Thighs @
Romp
*Rings -
Ama
. - Anastasia Rings @
Cosmopolitan
Hair -
Truth
- Ximena - Gingers Pack
Skin -
League
- Erin Pale - Feline
Eyes -
Ikon
- Triumph Eyes - Moor
Body -
Maitreya
- Lara Mesh Body - Includes Hands (with League appliers)
Pose -
Focus Poses
- Urban 5 - 2
H&G items:
*Table -
Jian
- Saxton Dining Table @
Romp
*Chairs -
Jian
- Saxton Dining Chair @
Romp
*Curtain -
Bazar
- Toronto Living Room Curtain
Hanging Lights -
Tarte
- Ceiling String Lights
Pipe Lamp -
Hideki
- Pipe Lamp
*Building -
Level of Detail
- Sky Parlor