Uber is back with their Pumpkin Spice round. The title of this one made me giggle but I was looking forward to finding some lovely Autumn pieces from my favourite creators. They didn't disappoint.
Erratic released the incredibly cozy looking Ava Sweater and Meg Leggings.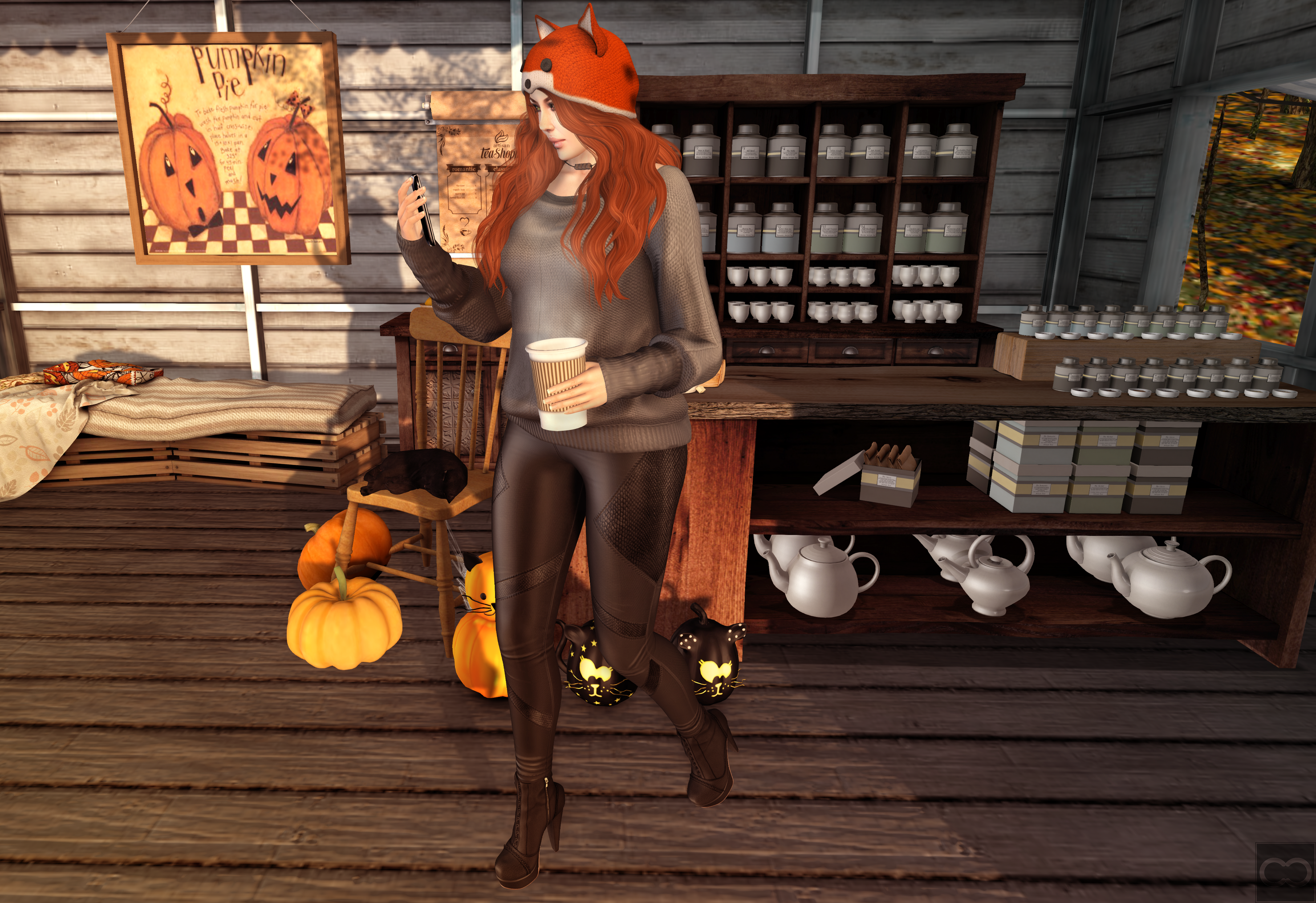 Both the sweater and the pants are exclusive for the Maitreya Lara mesh body so they probably won't fit other bodies but you can always try the demo to see how they go. You have a choice of 12 colours, some with designs for the top and 8 colours for the leggings. Both of the fatpacks include additional colours that you can only find in them. I love the button detail down the back of the sweater and I couldn't resist this Grey colour. It's such a comfy looking sweater and of course is made to fit perfectly with the leggings.
I teamed it with some gorgeous boots form Baiastice. The Kiki Booties comes in 14 colours and are made to fit SLink Mid, Maitreya Lara, Belleza, TMP and standard size feet. They've also included an unrigged version for those of you who still wear standard size feet.
Addams have released the awesome Nikki Jacket Rolled Up that I'm a little bit in love with.
I love how this fits and that it includes the shirt underneath. You can use the included hud to make it disappear if you just wanted to wear the jacket or if you wanted to change the colour. You buy the colour of the jacket you want and there are 14 to choose from. It comes in standard sizes and fitmesh for all Belleza bodies, the Maitreya Lara and the SLink Physique (not hourglass).
Emery made the perfect accompaniment for the jacket with their Ambrosio Flared Jeans. They fit like a glove and the texture on them is great. I really love these and I think they're going to become one of my staples for the colder months because they're not as a low cut as most jeans in SL. There are four denim colours to choose from in standard sizes and Maitreya Lara fitmesh.
Little Bones have the Creme hair over at their booth at Uber. They have brand new colour packs so make sure you are double checking which packs you are buying but you can find this colour in the new combined reds/gingers pack they have on offer.
Fishy Strawberry have you covered for a pretty autumn dress with their Lumberdress.
I went for the Plaid Blue because I love the mixture of dark and light blues in there but there are 6 colours to choose from in standard sizes and fitmesh for Slink Physique (not hourglass), Maitreya Lara and all three Belleza bodies. It's perfect as a dress by itself or throw it over some leggings or pants for a warm winter outfit.
The hair in this picture, and the first picture, is the Foxy hair from Truth. The pack includes both versions of the hair and a hud that allows you to change through different fox hat colours. This hat is just too damn adorable not to own. If you purchased the hair before he updated to include the hatless version then just drop him a notecard with your transaction history to let him know and he'll gladly send you an update.
Happy Shopping!
Pic 1:
Top -
Erratic
- Ava Sweater - Grey @
Uber
Pants -
Erratic
- Meg Leggings - Black @
Uber
*Boots -
Baiastice
- Kiki Booties - Black @
Uber
*Necklace -
Ama
. - The Cyclic Necklace @
Cosmopolitan
Hair -
Truth
- Foxy - Gingers Pack (includes hat) @
Uber
Skin -
League
- Erin Pale - Feline
Eyes -
Ikon
- Triumph Eyes - Moor
Body -
Maitreya
- Lara Mesh Body - Includes Hands (with League appliers)
Pose -
Bounce This
- On The Go - 3 (includes cup and phone)
Pic 2:
Top -
Addams
- Nikki Jacket Rolled Up - Black @
Uber
Pants -
Emery
- Ambrosio Flared Jeans - Faded Blue @
Uber
Shoes -
Reign
/
Flite
- Batty Taylers - Special Edition White
*Necklace -
Ama
. - The Cyclic Necklace @
Cosmopolitan
Hair -
Little Bones
- Creme - Reds/Gingers Pack @
Uber
Skin -
League
- Erin Pale - Feline
Eyes -
Ikon
- Triumph Eyes - Moor
Body -
Maitreya
- Lara Mesh Body - Includes Hands (with League appliers)
Pose -
Di's Opera
- Puissant - 1
Pic 3:
*Dress -
Fishy Strawberry
- Lumberdress - Plaid Blue @
Uber
*Necklace -
Ama
. - The Cyclic Necklace @
Cosmopolitan
Hair -
Truth
- Foxy - Gingers Pack (includes hat) @
Uber
Skin -
League
- Erin Pale - Feline
Eyes -
Ikon
- Triumph Eyes - Moor
Body -
Maitreya
- Lara Mesh Body - Includes Hands (with League appliers)
Pose -
Exposeur
- The Companions - Clara 1
H&G items:
*Counter -
Artisan Fantasy
- Tea Shoppe - Counter @
The Epiphany
*Hutch -
Artisan Fantasy
- Tea Shoppe - Hutch Rare @
The Epiphany
*Counter jars -
Artisan Fantasy
- Tea Shoppe - Table Display Rare @
The Epiphany
*Large Canisters -
Artisan Fantasy
- Tea Shoppe - Tea Cans Large 1 & 2 @
The Epiphany
*Cups -
Artisan Fantasy
- Tea Shoppe - Tea Cups 1, 2 & 3 @
The Epiphany
*Teapots -
Artisan Fantasy
- Tea Shoppe - Tea Pots 1, 2, & 3 @
The Epiphany
*Tea Bags -
Artisan Fantasy
- Tea Shoppe - Collection @
The Epiphany
*Tea Boxes -
Artisan Fantasy
- Tea Shoppe - Tea Collections Stacked @
The Epiphany
*Menu -
Artisan Fantasy
- Tea Shoppe - Menu Roll Rare @
The Epiphany
*Teapot & Lemons -
Artisan Fantasy
- Tea Shoppe - Arrangement Exclusive @
The Epiphany
*Lemons -
Artisan Fantasy
- Tea Shoppe - Lemon Bowl @
The Epiphany
*Chair With Cat -
M.Law
- Halloween - Chair Decor
*Pumpkin Pie Art -
M.Law
- Halloween - Frame Three
*Bench -
M.Law
- Halloween - Couple Sofa Two
*Building -
M.Law
- Halloween - Gazebo Rare
*Cat Pumpkin Stacked -
Imeka
- Sweet Cat Pumpkins - Type 2 Color 2 Rare
*Cat Pumpkin Stars & Dots -
Imeka
- Sweet Cat Pumpkins - Type 1 Set Rare