Wayward Halloween closes on Saturday 31st so now would be your last chance to get over there before Halloween to get your spooky goodies.
I have a few last bits I wanted to show you.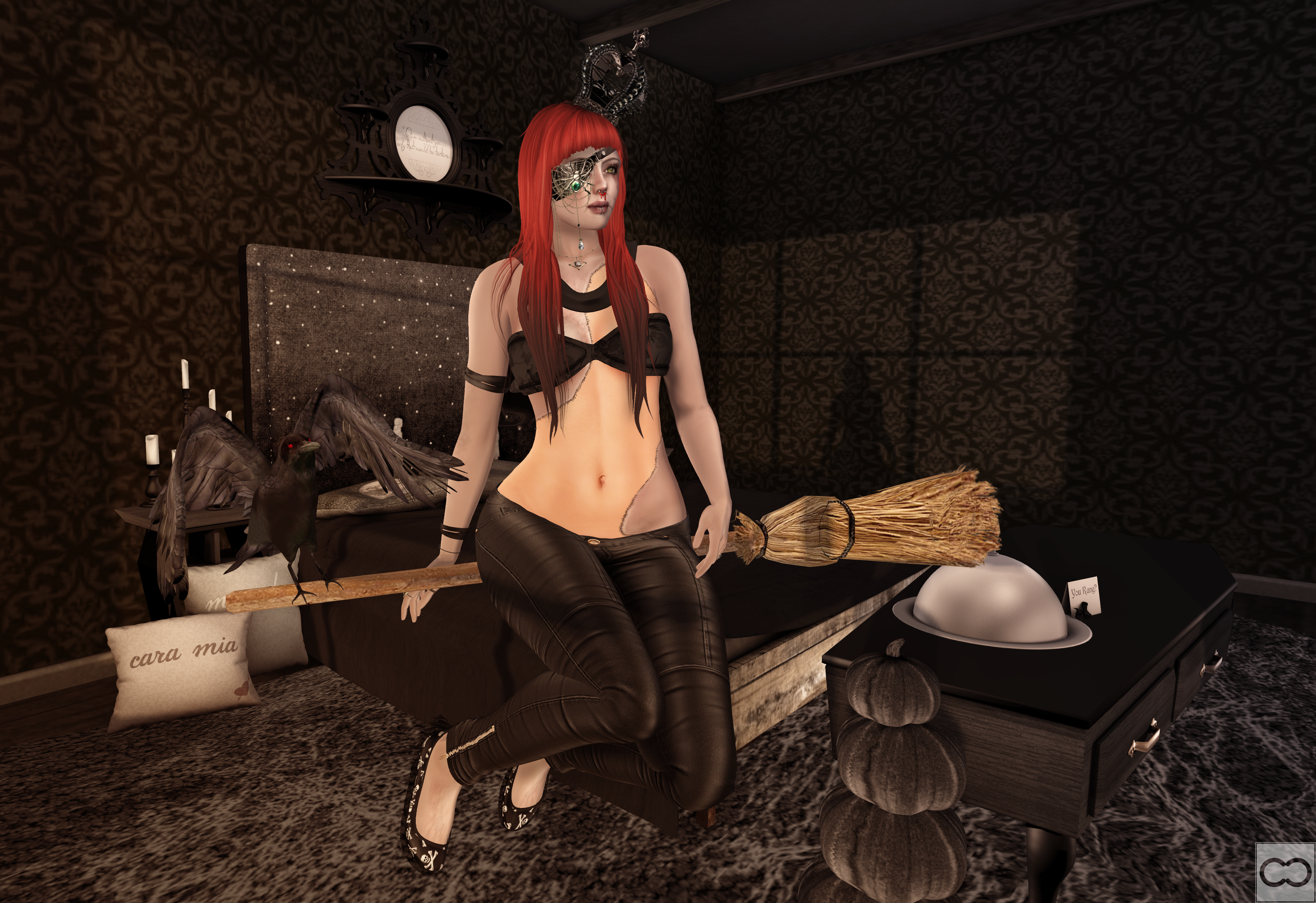 You can grab this cute little shirt by throwing a few lindens at the Le Fil Casse gacha. It's the Wayward Witch Top and has some floaty pieces that look like they are blowing in the wind coming from the back. You play by size, which are XS to M and Maitreya fit, for 50L per pull.
If you play the Reign gacha you might win the Skully Flats rare and end up with these adorable little skull shoes. They're perfect for Halloween but you could easily wear them all year around. They also include a hud that allows you to switch between sizes for different mesh feet and are only 50L a play.
The crown, eye patch and crow are all wins from the Silvery K 'Magical' gacha. They're all commons, aside from Crow Rare for just 50L a pull and you can win several different metal colours for each piece.
Elikatira have two different hairs in the their gachas and each different hud colour is a common win for only 50L. If you are lucky you can win the Essentials pack which is the rare but you can this colour of the Noire style tucked away in the Redheads pack if this is one you want
22769 make some great sets of furniture and Fright Night is another to add to that list.
Everything except the couch is a common and is only 50L a pull. You can create your own creepy night in front of the TV. Just be careful you don't end up with a spooky visitor...
Happy Shopping!
Pic 1:
*Top -
Le Fil Casse
- Wayward Witch Top - Black @
Wayward Halloween
Pants -
Blueberry
- Rene Pants - Black
*Shoes -
Reign
- Skully Flats RARE @
Wayward Halloween
*Eye patch -
Silvery K
- Magical - Eyepatch Silver @
Wayward Halloween
*Crown -
Silvery K
- Magical - Crown Black @
Wayward Halloween
*Necklace -
Kibitz
- Wicked Necklace - Skully @
Wayward Halloween
*Septum Ring -
Katat0nik
- Drippy Septum Ring - Red RARE @
Wayward Halloween
*Stitched Skin -
Fallen Gods Inc
- Fallenstein 2015 - Second Hands Human Female @
Wayward Halloween
*Hair -
Elikatira
- Noire - Redheads Pack @
Wayward Halloween
Skin -
League
- Erin Pale - Natural
Eyes -
Ikon
- Triumph Eyes - Moor
Body -
Maitreya
- Lara Mesh Body - Includes Hands & Feet (with League appliers)
*Crow -
Silvery K
- Magical - Crow RARE @
Wayward Halloween
*Pose -
Mien
- Charmer - 03 (includes broom) @
Wayward Halloween
H&G Items:
*Bed -
Concept
- Dark Bed - Night PG RARE @
Wayward Halloween
*Shelf -
Hive
- Creepy & Kooky - Without You Wall Decor @
Wayward Halloween
*Side Table -
Hive
- Creepy & Kooky - Coffin End Table @
Wayward Halloween
*Coffee Table -
Hive
- Creepy & Kooky - Coffin Table @
Wayward Halloween
*Plate -
Hive
- Creepy & Kooky - Room Service @
Wayward Halloween
*Candles -
Hive
- Creepy & Kooky - Candles White @
Wayward Halloween
*Pillows -
Hive
- Creepy & Kooky - Lover's Pillows @
Wayward Halloween
*Pumpkins -
Speakeasy
- Stacked Pumpkins - Black @
Wayward Halloween
*Rug -
Speakeasy
- Old Rug @
Wayward Halloween
*Building -
A.D.D Andel
- The Room Skybox
Pic 2:
*Dress -
Fallen Gods Inc
- Vanessa Dress - Dark Shades RARE @
Wayward Halloween
*Hair -
Elikatira
- Nura - Ravens Pack @
Wayward Halloween
Skin -
League
- Erin Pale - Feline
Eyes -
Ikon
- Triumph Eyes - Moor
Body -
Maitreya
- Lara Mesh Body - Includes Hands (with League appliers)
*Pose -
Black Tulip
- The Black Widow - #8 Mirror
H&G Items:
*TV -
22769
- Fright Night - Haunted TV Flatscreen @
Wayward Halloween
*TV Stand -
22769
- Fright Night - TV Shelf @
Wayward Halloween
*DVD Player -
22769
- Fright Night - DVD Player @
Wayward Halloween
*Box Set -
22769
- Fright Night - DVD Box Set 1 @
Wayward Halloween
*Pouf -
22769
- Fright Night - Cubic Pouf @
Wayward Halloween
*DVD's On Pouf -
22769
- Fright Night - DVD's & DVD Box Set 2 @
Wayward Halloween
*Coffee Table -
22769
- Fright Night - Couch Table @
Wayward Halloween
*Snack Bags -
22769
- Fright Night - Bags Of Chips @
Wayward Halloween
*Bowl Of Sweets -
22769
- Fright Night - Bowl Of Candycorn @
Wayward Halloween
*Mugs -
22769
- Fright Night - Halloween Cups @
Wayward Halloween
*TV Guide -
22769
- Fright Night - TV Guide @
Wayward Halloween
*Candy Bars -
22769
- Fright Night - Elven Chocolate Bars @
Wayward Halloween
*Remote -
22769
- Fright Night - Remote Control @
Wayward Halloween
*Couch -
22769
- Fright Night - Leather Couch @
Wayward Halloween
*Building -
A.D.D Andel
- The Room Skybox
www.WaywardEvents.com
flickr.com/WaywardEventsSL
facebook.com/WaywardEventsSL
plurk.com/WaywardEventsSL