The End is a new event that features creations with a strong post apocalyptic theme. It's open until May 5th and is the perfect event for those of you who are into your role play.
Me? I just love to dress up. Don't be surprised to see me out shopping in this outfit. Or my underwear.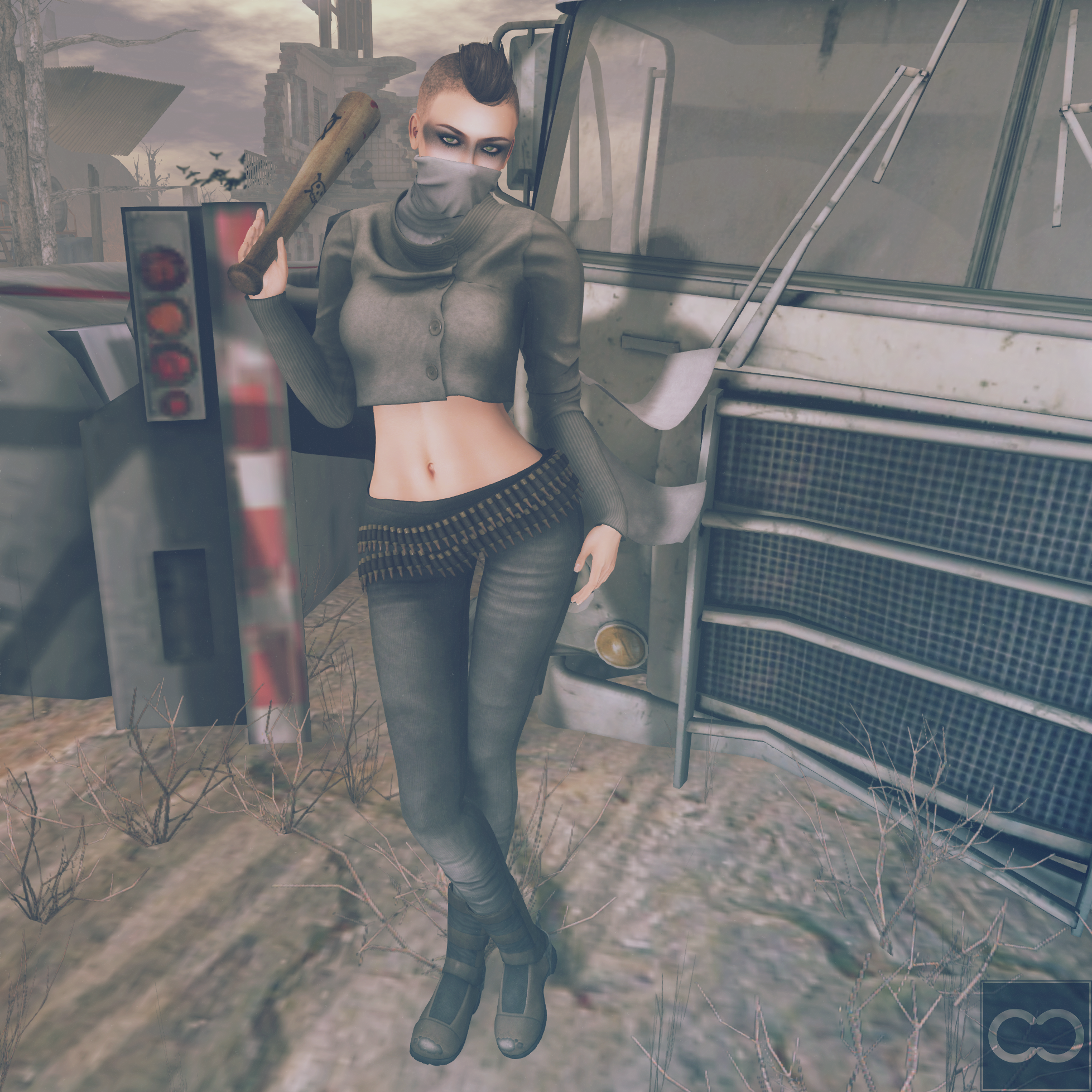 The outfit is from FATEplay and is the Tina in Original. Tina comes in more than one colour so you can choose between Original, Alt, Camo, Dark or Light.
You also get the Turner Boots included in each pack. The boots will be ones made specifically to match the version out of the outfit you chose. If you want to get yourself more colours then the Turner are also available at The End in the full hud version. FATEstep has an incredible hud system so you could make yourself a new pair of boots everyday if you wanted to.
The hair is the Nitro style from Mina. It's designed for men but can be easily resized to fit women. The pack includes a version with sideburns, without sideburns and even the sideburns alone if you want to wear them with other hair or just with a shaved head.
Now I have 'This Is The End' stuck in my head I really want to go and watch that movie. I'm not going to lie the ending with the Backstreet Boys is my favourite part (If you're new to this blog you won't be aware of my love for BSB but it's real! LOL)
Happy Shopping!
*Outfit -
FATEplay
- Tina - Original @
The End
*Boots -
FATEstep
- Turner Boots @
The End
*Make Up -
The Wicked Peach
- Extraterrestrial Pack 2 - 5
*Hair -
Mina
- Nitro (No Sideburns) - Dark Browns Pack @
The End
Skin -
League
- Erin Pale - Feline
Eyes -
Ikon
- Charm Eyes - Moor
Eyelashes -
Mon Cheri
- Falsies Eyelash
Body -
Maitreya
- Lara Mesh Body - Includes Hands (with League appliers)
*Pose -
Exposeur
- Mean Machine - 1 (includes bat)