This is just a quickie post to show you some bits I nabbed from The Chapter Four. The past few days have been very hectic in RL so I've not had much chance to SL shop!
So here I am, running it, throwing this pic at you and a little bit of mumbling and then running away!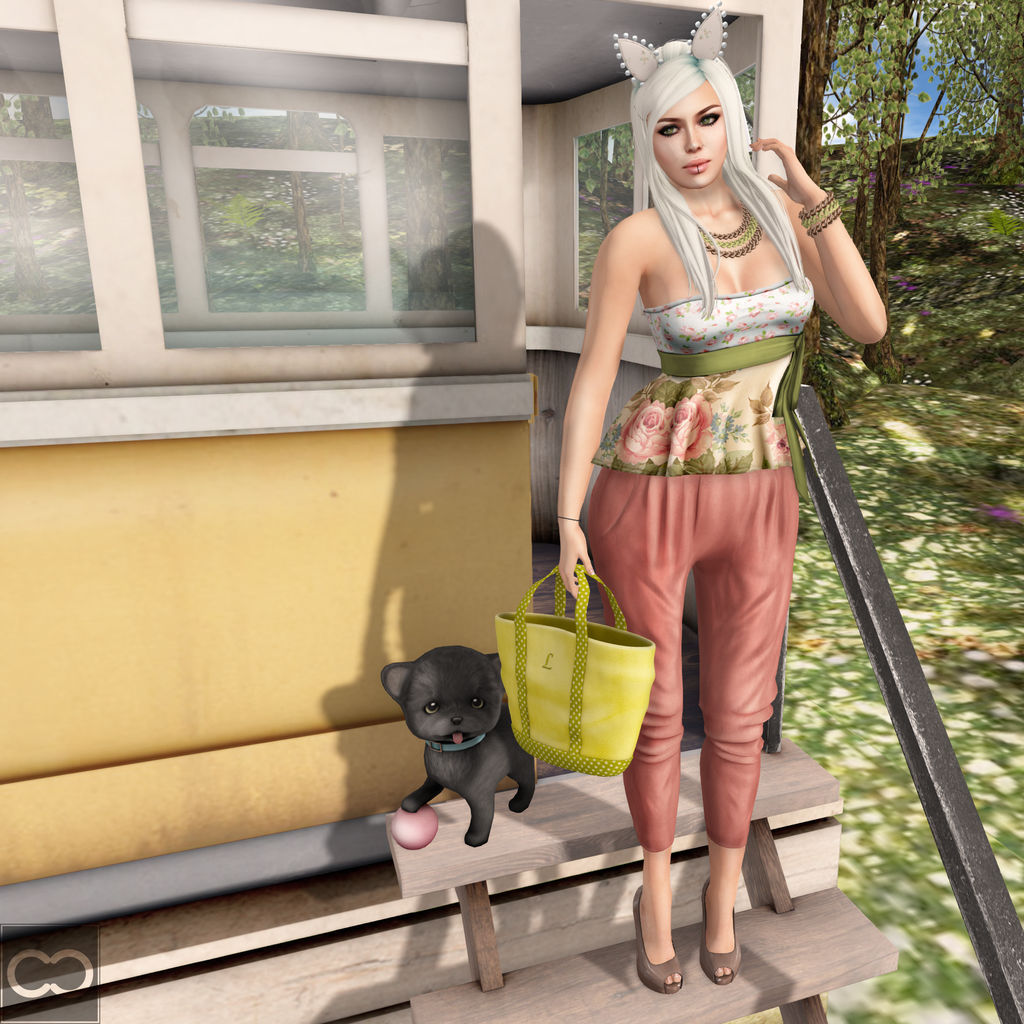 The outfit is from Gizza. It's the Melanie Outfit and I went for the Vintage colour version but there are two others to choose from too. The top and pants are separate so if you buy more than one colour option then you can mix and match.
The Bom hair and the Spring Bunny Lights headband are from the Pr!tty gachas. They are in separate gacha machines so you don't have to worry about ending up with endless headbands trying to get hair and vice versa.
You can get the Mon Cabas bag from the NuDoLu gacha. The commons all have different initials on them and come in different colours. So you can either play to get your initial or play to get the colour you really want.
The wagon and the little puppy are both from Ionic. Their gatcha has pets as commons and the wagon as a rare. I was actually just playing for a pet and lucked out getting the rare wagon on my first play. I'm kinda glad I got it though.
The pose is from the Karyn pose pack by Picture Me Pretty. You can find this pack and others by Picture Me Pretty at Pose Fair 2015. Don't forget to go visit it!
Happy Shopping!
Outfit -
Gizza
- Melanie Outfit - Vintage @
The Chapter Four
Shoes -
YS&YS
- Latina Opentoe - Shiny Taupe (for SLink high feet)
Jewellery -
Glow Studio
- Kitsch - Copper/Peas
Bag -
NuDoLu
- Mon Cabas - Initial L @
The Chapter Four
Headband -
Pr!tty
- Spring Bunny Lights - 6 @
The Chapter Four
Hair -
Pr!tty
- Bom - Colorful 3 @
The Chapter Four
Skin -
League
- Erin Pale - Feline
Eyes -
Ikon
- Charm Eyes - Moor
Eyelashes -
Mon Cheri
- Falsies Eyelash
Hands -
SLink
- Avatar Enhancement Mesh Hands - Casual (with League appliers)
Feet -
SLink
- Avatar Enhancement Mesh Feet - High (with League appliers)
*Pose -
Picture Me Pretty
- Karyn - 5 @
Pose Fair 2015
H&G Items:
Wagon -
Ionic
- Old Train Wagon RARE @
The Chapter Four
Pet -
Ionic
- Vader @
The Chapter Four