Back for another round is No21 and I've got a little sample of things to show you out of all the wonderful things on offer there.
After seeing the Tiki Pea (lol) Bar set from Cheeky Pea my pictures all took on a very summery feel so I look like I'm on my Summer hollibobs!
Blueberry have released a huge range of colours for their Beaded Rompers.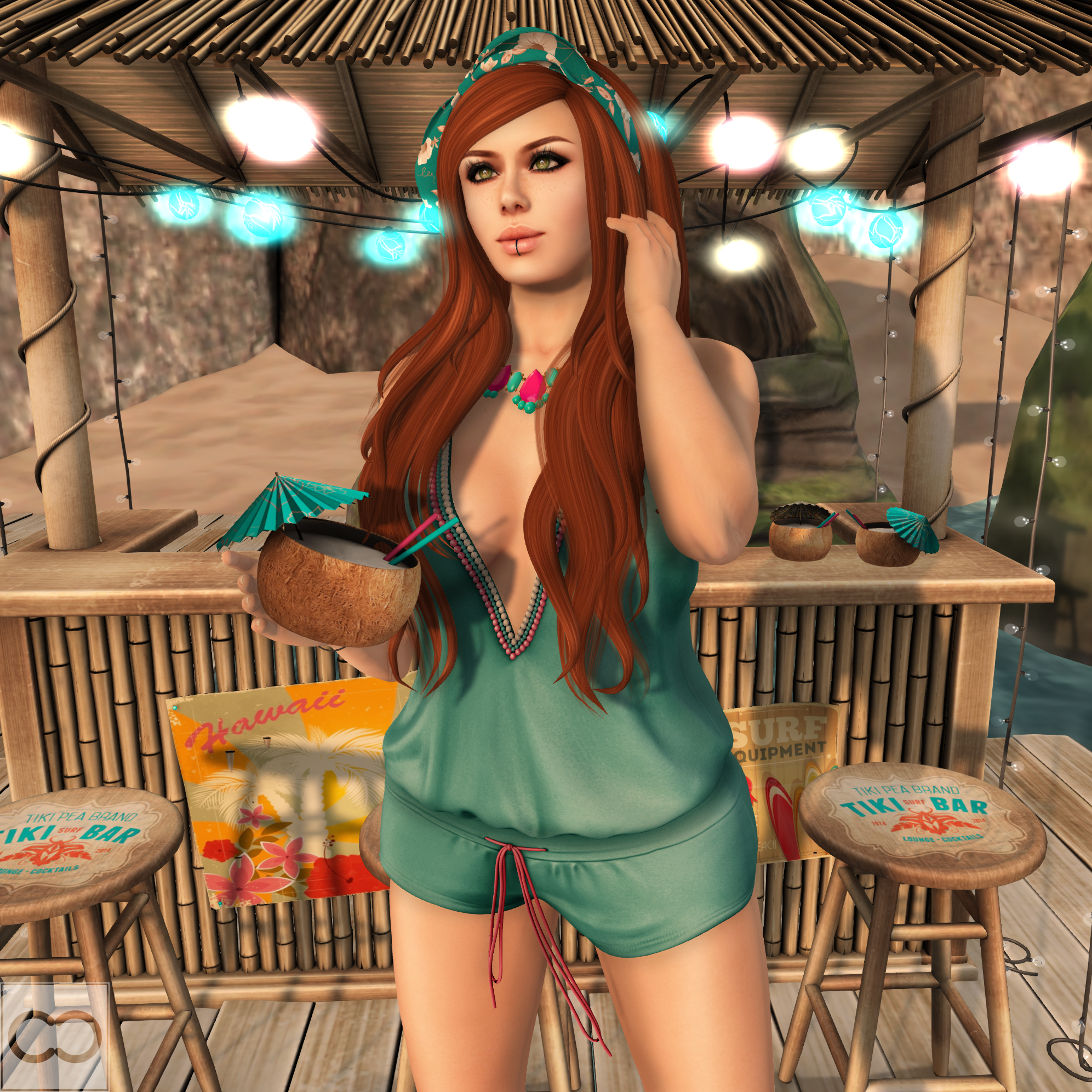 These rompers include a hud that allow you to change the colour of the beads around the neckline and the string around the waist. Some of the rompers are even coloured to match the new sandal release from Reign, which are also at No21 (not shown). As with all new blueberry products not only do you get standard sizes but fitted mesh that works with the Maitreya Lara, SLink Physique or Belleza Venus mesh bodies.
As soon as I saw this shirt from Foxes I had to have it. I mean it's got a unicorn on it!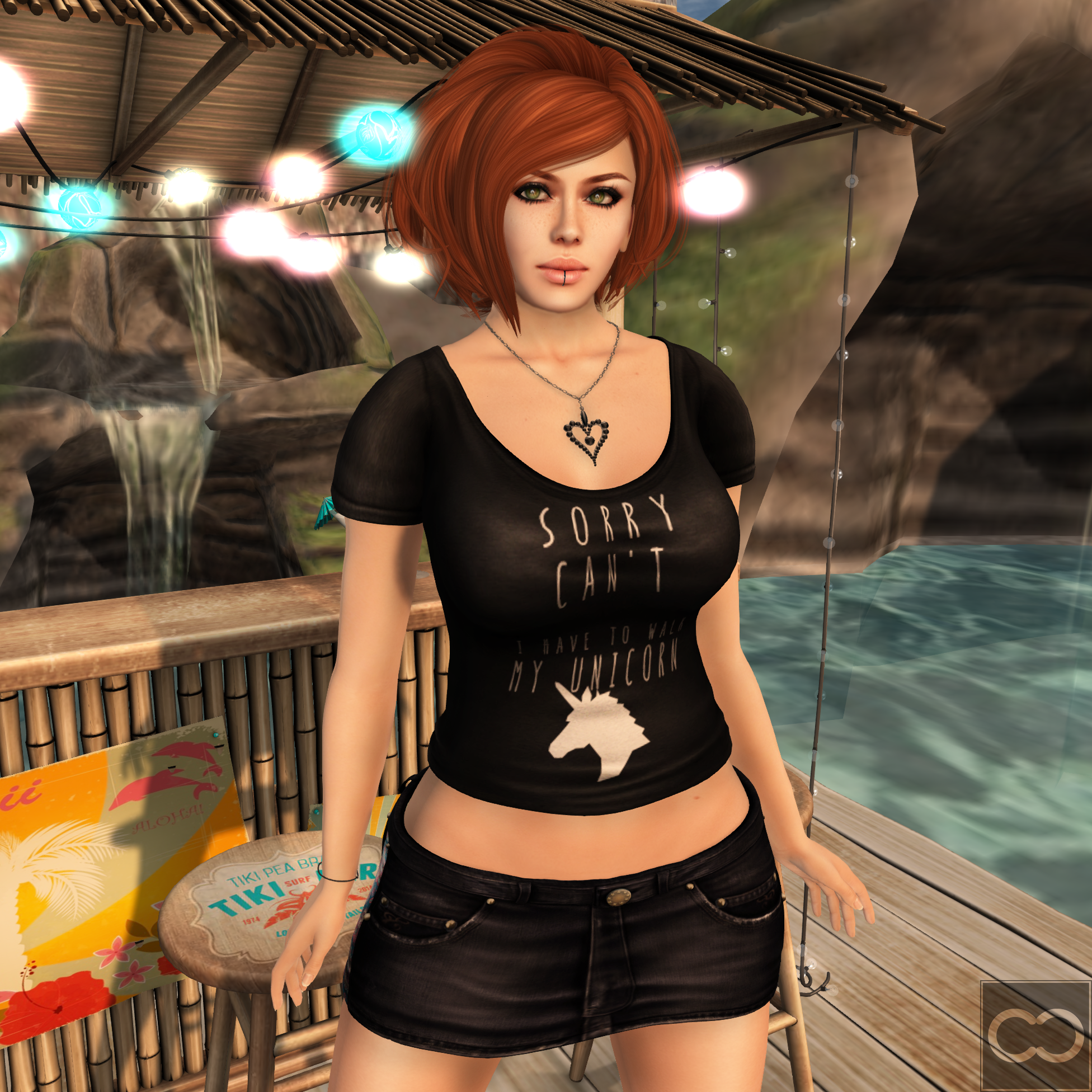 I'm so using 'Sorry can't, I have to walk my unicorn' as an excuse for not doing anything in the future. RL or SL. The Throw Back Tee comes in plain with different colour options or with several different slogans.
They also have a Throw Back Denim Mini available. I went for the black and it also includes a hud that allows you to change the colour of a little patch of fabric on the side on the skirt. It's a pretty addition that you can use or leave the skirt plain.
I love casual wear that I feel I can laze around in or snaz it up a little and wear it for everyday use. Tee*fy has managed to nail both of these with their latest No21 release.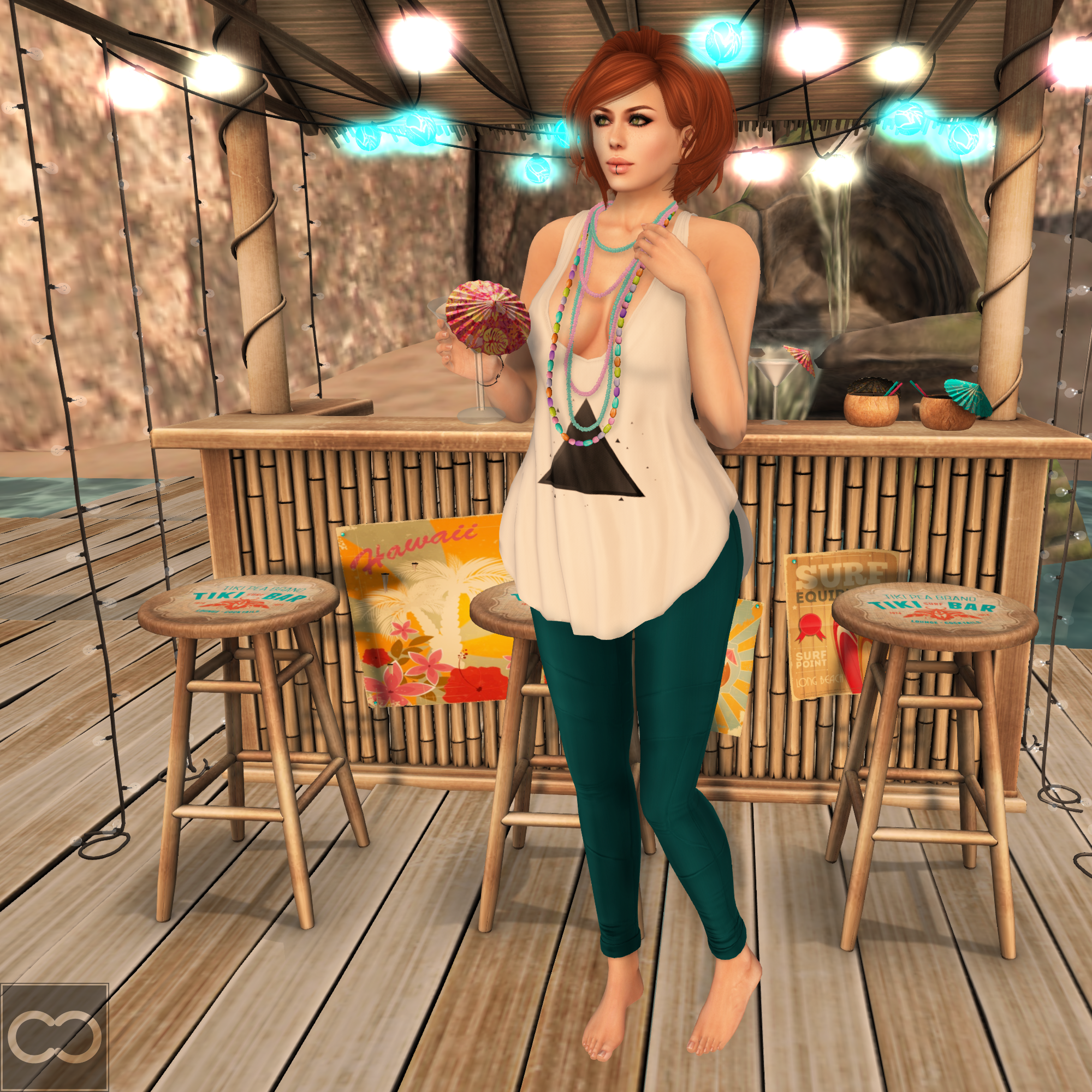 The shape and the length on the Joan Boyfriend's Tank Top is a winner for me. I went for the plain white wit the Prisms design on because I felt it was the most versatile with the endless colours of the High Waisted Leggings that are on offer too. The leggings include a version that fits snugly under the shirt so you don't have to worry about clipping. There is also a bra available that fits underneath the top if you wanted a little bit more modesty (not shown).
Last up is a new sweater and leggings from Fishy Strawberry.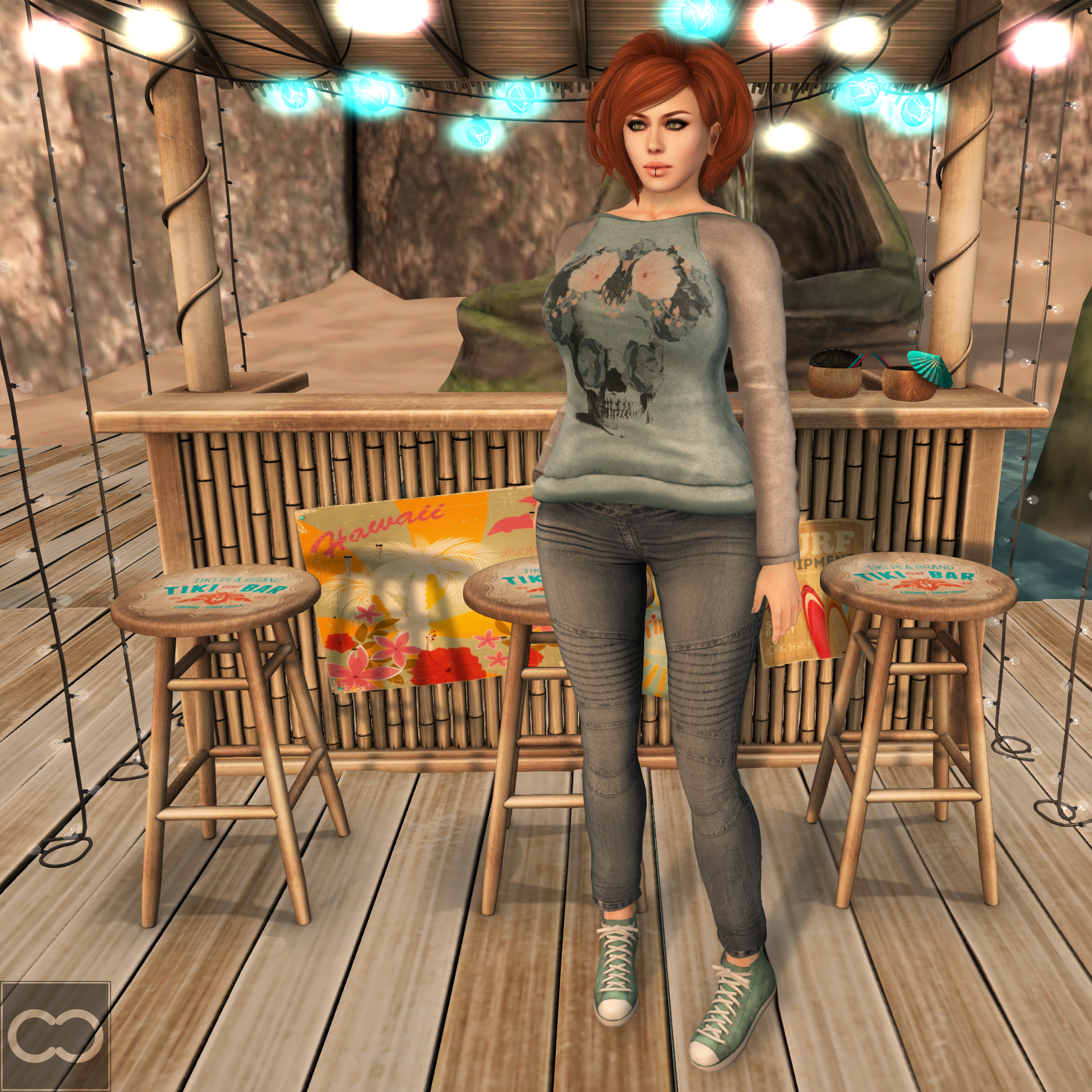 The Lo Sweater comes in a choice of colours that are with or without the sugar skull design. I personally loved the design so I made grabby hands at it in this pretty Turquoise colour.
I think the Moto Jeggings are my favourite pair of pants that Fishy Strawberry have ever made. You get a choice of different denim shades to choose from and your pack will include a regular version and a curvy version. The picture shows the regular version but I've been running around SL in the curvy version and I cannot take my eyes off my own ass and thighs. The curves are so natural looking, which is sometimes hard to achieve in SL. I'd definitely recommend these and a bonus is the standard sizes fitted over my Maitreya Lara mesh body using the alpha hud.
I mentioned the Tiki Pea Bar Set from Cheeky Pea in the beginning because it definitely ran the theme for this set of pictures. I even ended up building a beach scene at my house to have it out a bit longer. I may have gone over the top but I can't help myself.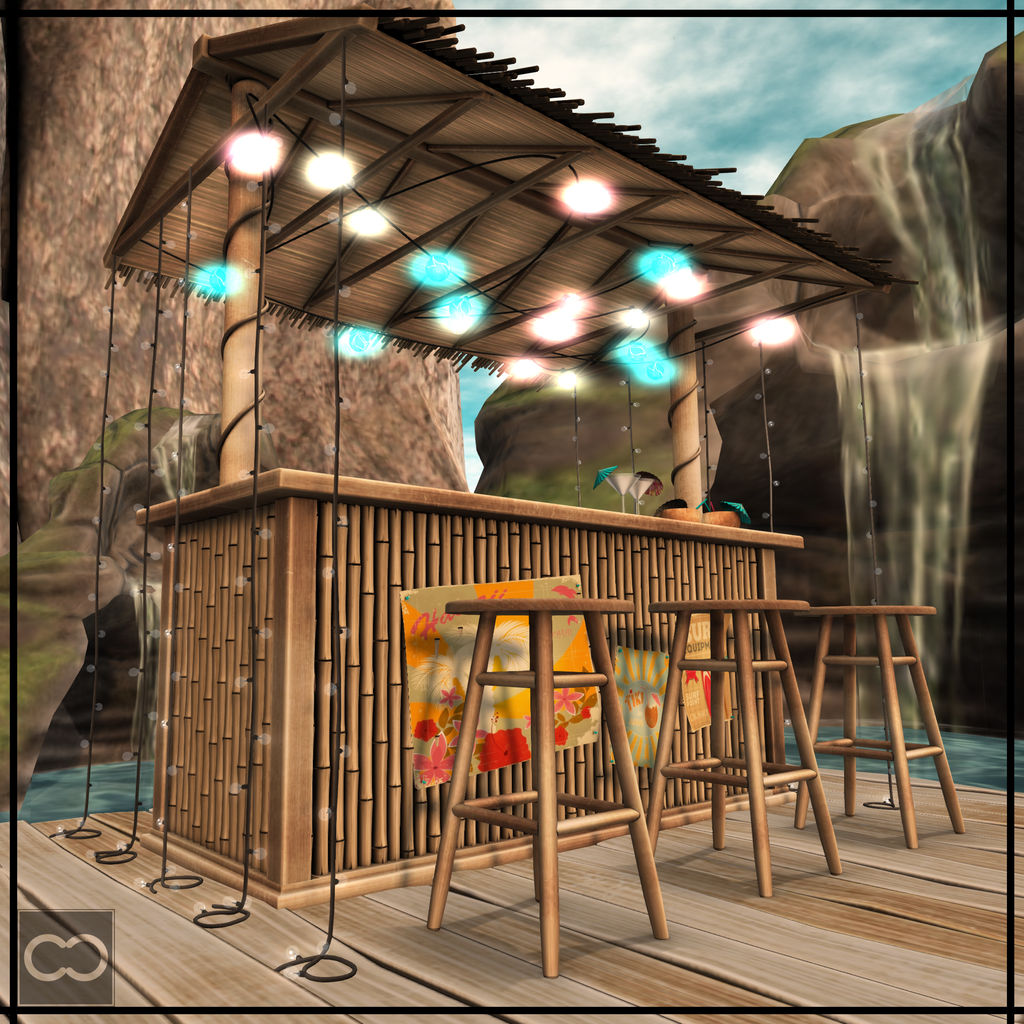 It's an awesome set that can be purchased separately or all together to save yourself some lindens. The stools come in a choice of adult or PG animations and the drinks on the bar give you a copy to wear and drink. I've used them in some of the pictures above.
The lights dangling from the roof are included in the Tiki Pea Bar but the string lights hanging down on the sides are a little addition from Tarte. The Ceiling String Lights can also be found at No21 and I couldn't resist adding them to the bar to give it a little bit more sparkle.
Happy Shopping!
Pic 1:
Romper -
Blueberry
- Beaded Rompers - Teal @
No21
Necklace -
Yummy
- Beaded Statement Necklace - Pink/Aqua
*Hair -
Truth
- Fynnea - Gingers Pack
Skin -
League
- Erin Pale - Feline
Eyes -
Ikon
- Charm Eyes - Moor
Eyelashes -
Mon Cheri
- Falsies Eyelash
Body -
Maitreya
- Lara Mesh Body - Includes Hands (with League appliers)
Pose -
Bounce This
- Danielle - 2 (arm altered by drink)
*Drink -
Cheeky Pea
- Tiki Pea Coconut Smoothie (dispenses from the Tiki Pea Coconut Drinkable Smoothie Giver) @
No21
Pic 2:
Shirt -
Foxes
- Throw Back Tee - My Unicorn @
No21
Skirt -
Foxes
- Throw Back Denim Mini - Black @
No21
Necklace -
Maxi Gossamer
- Celeste's Sparkly Heart - Short Silver
*Hair -
Truth
- Fynn (without headband) - Gingers Pack
Skin -
League
- Erin Pale - Feline
Eyes -
Ikon
- Charm Eyes - Moor
Eyelashes -
Mon Cheri
- Falsies Eyelash
Body -
Maitreya
- Lara Mesh Body - Includes Hands (with League appliers)
Pose -
Bounce This
- Danielle - 4
Pic 3:
Shirt -
Tee*fy
- Joan Boyfriend's Tank Top - Prisms @
No21
Pants -
Tee*fy
- High Waisted Leggings - Teal @
No21
Necklace -
Maxi Gossamer
- Summertime Easy Living - All
*Hair -
Truth
- Fynn (without headband) - Gingers Pack
Skin -
League
- Erin Pale - Feline
Eyes -
Ikon
- Charm Eyes - Moor
Eyelashes -
Mon Cheri
- Falsies Eyelash
Hands -
SLink
- Avatar Enhancement Mesh Hands - Casual (with League appliers)
Feet -
SLink
- Avatar Enhancement Mesh Feet - Flat (with League appliers)
Pose -
Label Motion
- Thalia - Pose 2 (arm adjusted by drink)
*Drink -
Cheeky Pea
- Tiki Pea Pina Colada (dispenses from the Tiki Pea Drinkable Pina Colada Giver) @
No21
Pic 4:
*Shirt -
Fishy Strawberry
- Lo Sweater - Sugarskull Turquoise @
No21
*Pants -
Fishy Strawberry
- Moto Jeggings - Wash 3 @
No21
*Shoes -
FATEstep
- Ziggy Chucks
*Hair -
Truth
- Fynn (without headband) - Gingers Pack
Skin -
League
- Erin Pale - Feline
Eyes -
Ikon
- Charm Eyes - Moor
Eyelashes -
Mon Cheri
- Falsies Eyelash
Hands -
SLink
- Avatar Enhancement Mesh Hands - Casual (with League appliers)
Feet -
SLink
- Avatar Enhancement Mesh Feet - Flat (with League appliers)
Pose -
Bounce This
- Danielle - 5
H&G Items:
*Bar -
Cheeky Pea
- Tiki Pea Bar Set - Tiki Pea Bar @
No21
*Stool -
Cheeky Pea
- Tiki Pea Bar Set - Tiki Pea Bar Stool @
No21
*Posters -
Cheeky Pea
- Tiki Pea Bar Set - Tiki Pea Posters @
No21
*Pina Coladas -
Cheeky Pea
- Tiki Pea Bar Set - Tiki Pea Pina Colada Decor & Tiki Pea Drinkable Pina Colada Giver @
No21
*Coconut Smoothie -
Cheeky Pea
- Tiki Pea Bar Set - Tiki Pea Coconut Smoothie Decor & Tiki Pea Drinkable Coconut Smoothie Giver @
No21
Deck -
Cheeky Pea
- Tiki Pea Bar Set - Tiki Pea Bar Dock @
No21
String Lights -
Tarte
- Ceiling String Lights @
No21