The Liaison Collaborative opened on the 15th and you have until the 10th of May to head on over there and fill your inventory with all the clothing, accessories, hair, furniture and poses you could ever need.
The theme for this round is Fling... as in Spring Fling! So let's dive into some of the goodies available.
First up is a beautiful dress from Lumiere Apparel.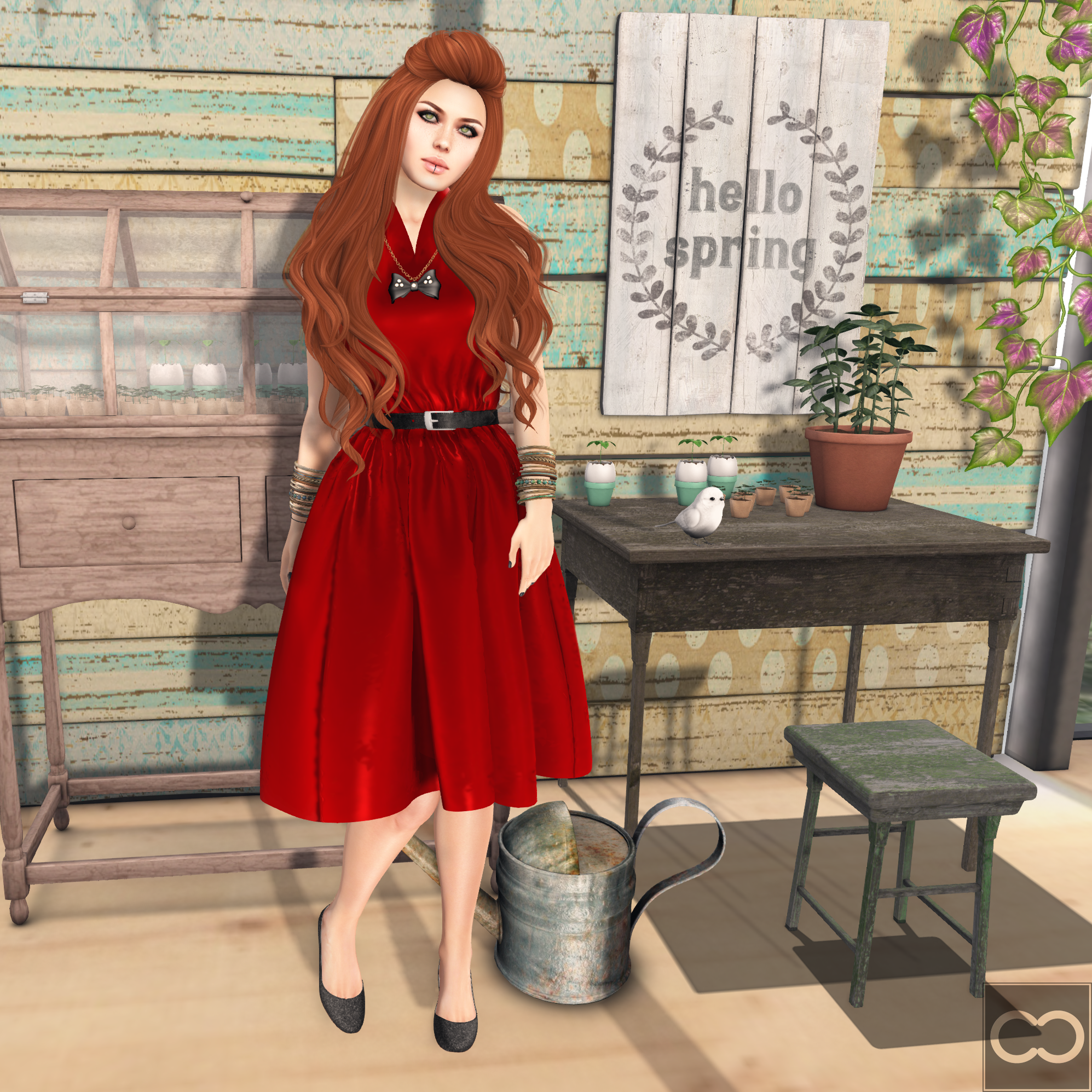 I love the length on this dress because you don't really see many 3/4 length dresses in SL. I have an inventory full of amazingly short and impressively long dresses but very few that fall in the middle. It's nice to have a new dress to add to that 'mid' folder. You have a choice of four intense colours. I went for the Lust because the red was too rich to pass up. The only criticism I have is that I'd have loved to see more subtle, spring like colours. I hope that it's something they release soon! (hint, hint!)
The pretty little bow tie necklace is from Imeka. It comes with matching rings and a hud that allows you to change the colour of the bow. I've been seeing a lot of jewellery from Imeka recently and I was only ever aware of their poses so it's nice to see them branching out into other things.
EarthStones have released a range of bangles called Katya. You pick the colours of the gems you want and the menu allows you to choose between gold or silver metal. If you can't choose between the five colours available then you can always get yourself the fatpack!
The picture frame with the vine growing around it is the Fling Frame & Ivy from Kunst. They also released the Fling Table and Fling Stool for this round. The frame, stool and table all change to various different wood colours by clicking and accessing the colour change menu.
The 'Hello Spring' artwork is the Springtime Wooden Sign from Brixley. You click and can alternate between seven different spring themed textures.
The building is from The Den. The Pack Up Home is almost like a modern greenhouse. It has large windows and glass doors. The decking on the house flips up to cover the windows so this house really does pack up when you want it to.
Happy Shopping!
Pic 1:
*Dress -
Lumiere Apparel
- Cycle Dress - Lust @
The Liaison Collaborative
*Necklace -
Imeka
- Bow Tie Necklace @
The Liaison Collaborative
*Bangles -
EarthStones
- Katya Bangles - Mystery(R) & Fresh(L) @
The Liaison Collaborative
*Shoes -
Nardcotix
- Odette Ballerina Flats - Black @
The Liaison Collaborative
*Hair -
Truth
- Octavia - Gingers Pack
Skin -
League
- Erin Pale - Feline
Eyes -
Ikon
- Charm Eyes - Moor
Eyelashes -
Mon Cheri
- Falsies Eyelash
Body -
Maitreya
- Lara Mesh Body - Includes Hands & Feet (with League appliers)
*Pose -
EverGlow
- Flora - 02 @
The Liaison Collaborative
H&G Items:
*Ivy & Picture -
Kunst
- Fling Frame & Ivy @
The Liaison Collaborative
*Table -
Kunst
- Fling Table @
The Liaison Collaborative
*Stool -
Kunst
- Fling Stool @
The Liaison Collaborative
Hanging Ivy -
Dysfunctional Designs
- Draping Ivy - A Strand
*Green House -
Alouette
- Mini Greenhouse - Light
*Hello Spring Artwork -
Brixley
- Springtime Wooden Sign @
The Liaison Collaborative
*Large Plant -
Alouette
- Potted Basil Plants & Seedlings - Basil Plant
*Mini Plants -
Alouette
- Potted Basil Plants & Seedlings - Basil Seedlings
*Egg Shell Plants -
Alouette
- Eggshell Seedling Planter (Wayward Hunt)
*Bird -
Half Deer
- Candy Chickadee Bird - Static @
The Liaison Collaborative
Watering Can -
Pixel Mode
- THG - Watering Can
Wall Planks -
Second Spaces
- Unicorn Feedstanding Deco Wall - Teal
*Building -
The Den
- Pack Up Home @
The Liaison Collaborative