The Seasons Story is back for its Spring round and of course that means some very pretty floral prints and soft, delicate colours.
I grabbed a couple of things that I wanted to show you. The first being an adorable bag and dress from Zenith.
The Bustier Skirt and Tea Time Handbag are one of the rare wins from the Zenith gacha. I was lucky enough to nab it on my first play. I admit I did a little dance when I got it. I ended up with the Vintage Flower version but there are others available.
Another pretty floral pattern that caught my eye was from Atomic.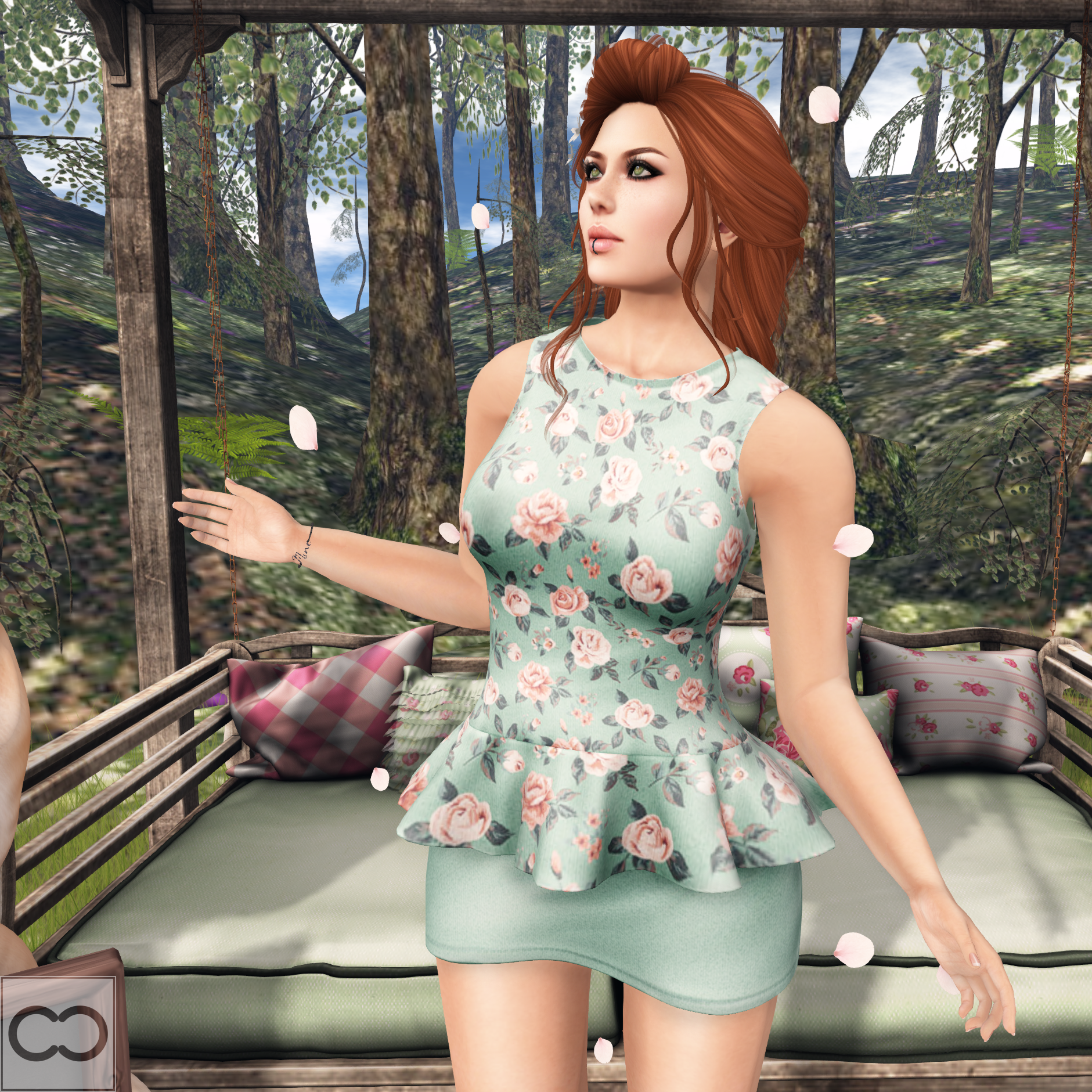 The Sweetheart Outfit includes a skirt and separate shirt include huds that allow you to change between a plain colour, a floral print or a polka dot print. I went for Set 2 because I liked this pretty mint colour but there are others on offer too.
The Marta Spring Pergola is from Cheeky Pea. It's a gorgeous piece that includes a menu that allows you to change the colour of the cushions and seating fabric. You can choose between PG or Adult animations and it's going to be a lovely additional to anyone's garden.
The adorable little kitty holding up a sign is from Half Deer. The Cat Holding A Frame has several different cat versions but I couldn't resist the Orange Tabby because I have a deep held love for ginger cats.
Happy Shopping.
Pic 1:
Dress & Bag -
Zenith
- Bustier Skirt & Tea Time Handbag - Vintage Flower RARE @
The Seasons Story
*Hair -
Truth
- Delphine - Gingers Pack
Skin -
League
- Erin Pale - Feline
Eyes -
Ikon
- Charm Eyes - Moor
Eyelashes -
Mon Cheri
- Falsies Eyelash
Hands -
SLink
- Avatar Enhancement Mesh Hands - Casual (with League appliers)
Pose -
Kirin
- Hanami - 6 (includes petals) @
The Seasons Story
Pic 2:
Outfit -
Atomic
- Sweetheart - Set 2 @
The Seasons Story
*Hair -
Truth
- Delphine - Gingers Pack
Skin -
League
- Erin Pale - Feline
Eyes -
Ikon
- Charm Eyes - Moor
Eyelashes -
Mon Cheri
- Falsies Eyelash
Hands -
SLink
- Avatar Enhancement Mesh Hands - Casual (with League appliers)
Pose -
Kirin
- Hanami - 4 (includes petals) @
The Seasons Story
H&G items:
*Pergola -
Cheeky Pea
- Martha Spring Pergola @
The Seasons Story
Cat -
Half Deer
- Cat Holding A Frame - Orange Tabby @
The Seasons Story