FaMESHed has been open for a week now so the crowds have probably died enough for you to be able to slip in there with no problems. As much as we all love having things on the day they are released sometimes that's not an option because as we know everyone flocks to the big events and FaMESHed is one of the big ones.
So I have some of the goodies that caught my eye to share with you!
My favourite from this round of FaMESHed is the Bira Jacket and the Caca Pants from Mutresse.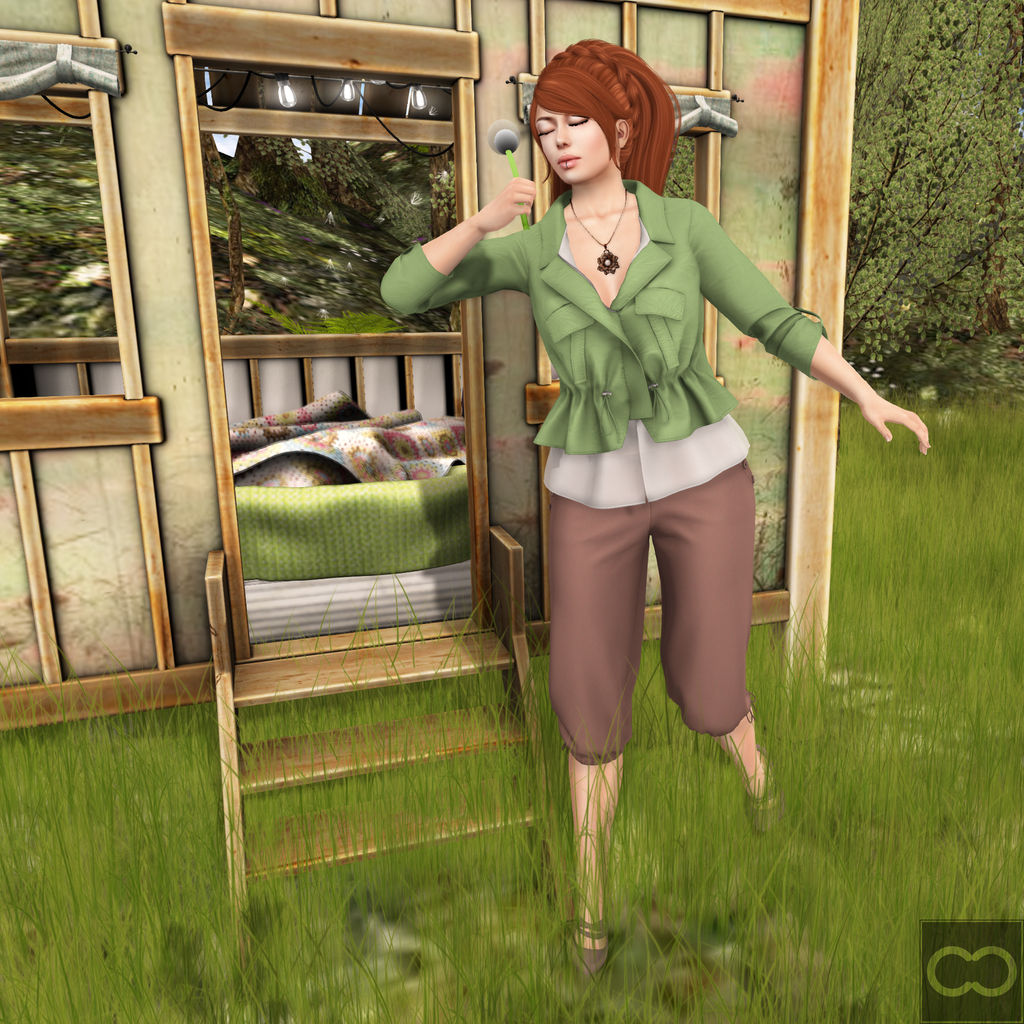 My main reason for loving these pieces is the detail and quality of the mesh work and textures. They feel like real clothes to me because all those folds and wrinkles just make it perfect. Another big selling point for this was the included versions that fit over the Maitreya Lara and SLink Physique mesh bodies along with your usual standard sizes. Don't forget that all Mutresse products come with a colour change hud that allows you to change parts of the items individually. It's the ultimate customisation tool and it's like getting a fat pack of colours for the bargain price of a single colour item.
Another creator who has catered for the mesh body crowd is Rebel Hope with their Summer Vacation Dress.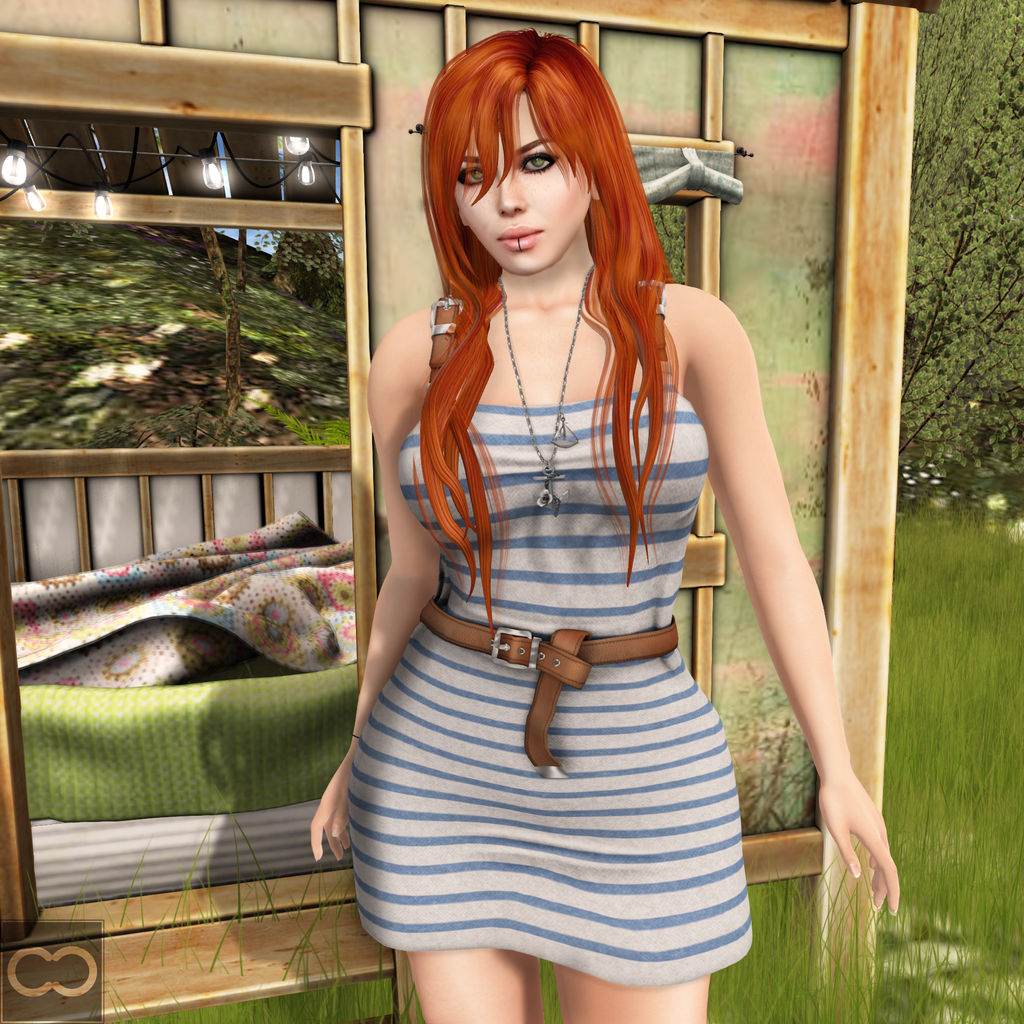 I went for the Blue Stripe because it had a summery, nautical feel to it but there are other colours available and other patterns. Both the dresses on offer are the same shape but come in a different array of textures so you have lots of choice. The belt around the waist is a really nice touch and matches the shoulder straps. It's a bit different from your usual summer dress. If you don't have a mesh body then of course the standard sizes are included but if you have the Maitreya Lara, Belleza Venus or SLink Physique then you can use the alpha had included with your body to wear this piece.
The hair, which is also at FaMESHed, is a brand new release from Mina. It's the Aranka style and this colour is available in the Dark Reds pack but of course all the usual colour packs are available along with a fatpack. I really like the whispy fringe (bangs) on this one. Feels much more natural and less like I just strode out of a salon!
Fishy Strawberry have a new shirt and shorts on offer that need to find their way into your inventory.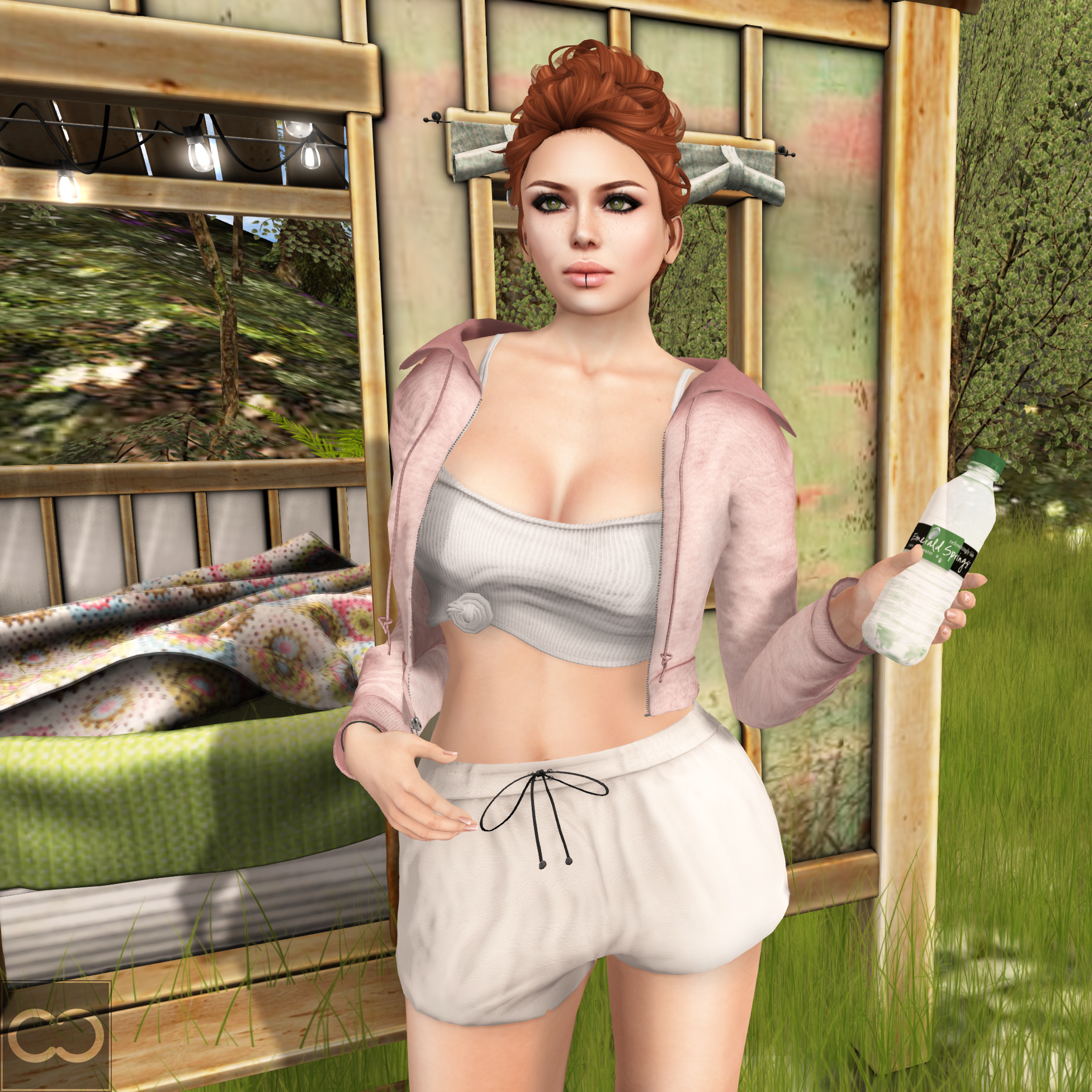 The Sunday Zip Hoodie comes in four colours. Remember that you're picking the colour of the hoodie that you want because the shirt underneath comes with a colour change hud or the option to not wear it at all.
The Leather Shorts also come in four colours: White, Pink, Gold or Black. I went for the white because they felt the most summery like to me. But the Black or Gold would work great for wearing on a night out, making them much less casual.
Haste have released something a bit different to everyone else but it is a very Haste-esque release.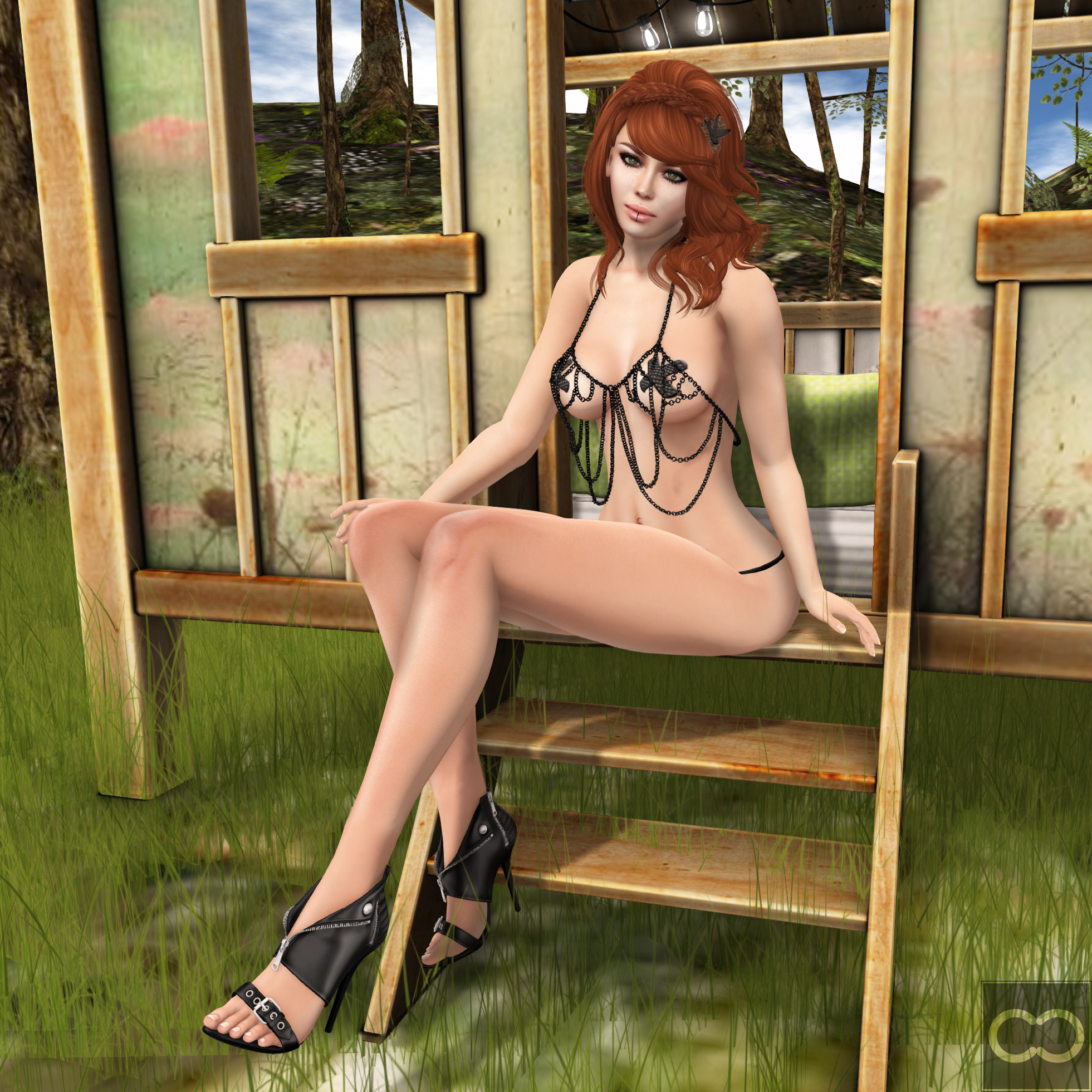 The Chain Top comes in a choice of different metals. Black, Bronze, Gold, Hematite or Silver. I went for the black because I felt it stood out the best against my skin to show you the intricate work on this piece. It's incredibly detailed and I had no problem fitting this over my Maitreya Lara mesh body but try a demo to experiment with your shape and mesh body to see how it fits. They come in all the standard sizes and I usually wear a M and the M fitted over my body like a dream.
The shoes are a new release from Gos. Yes you read that right... GOS! Gos has been MIA for so long that we were all concerned that he'd giving up bringing us gorgeous shoes so it's awesome to see him back in action. These are the Suzie sandals and I'm loving the unzipped ankle boot look of these babies. Try a demo if you use a mesh body to make sure they fit!
The adorable little fort in the background is the Spring Fort from Cheeky Pea.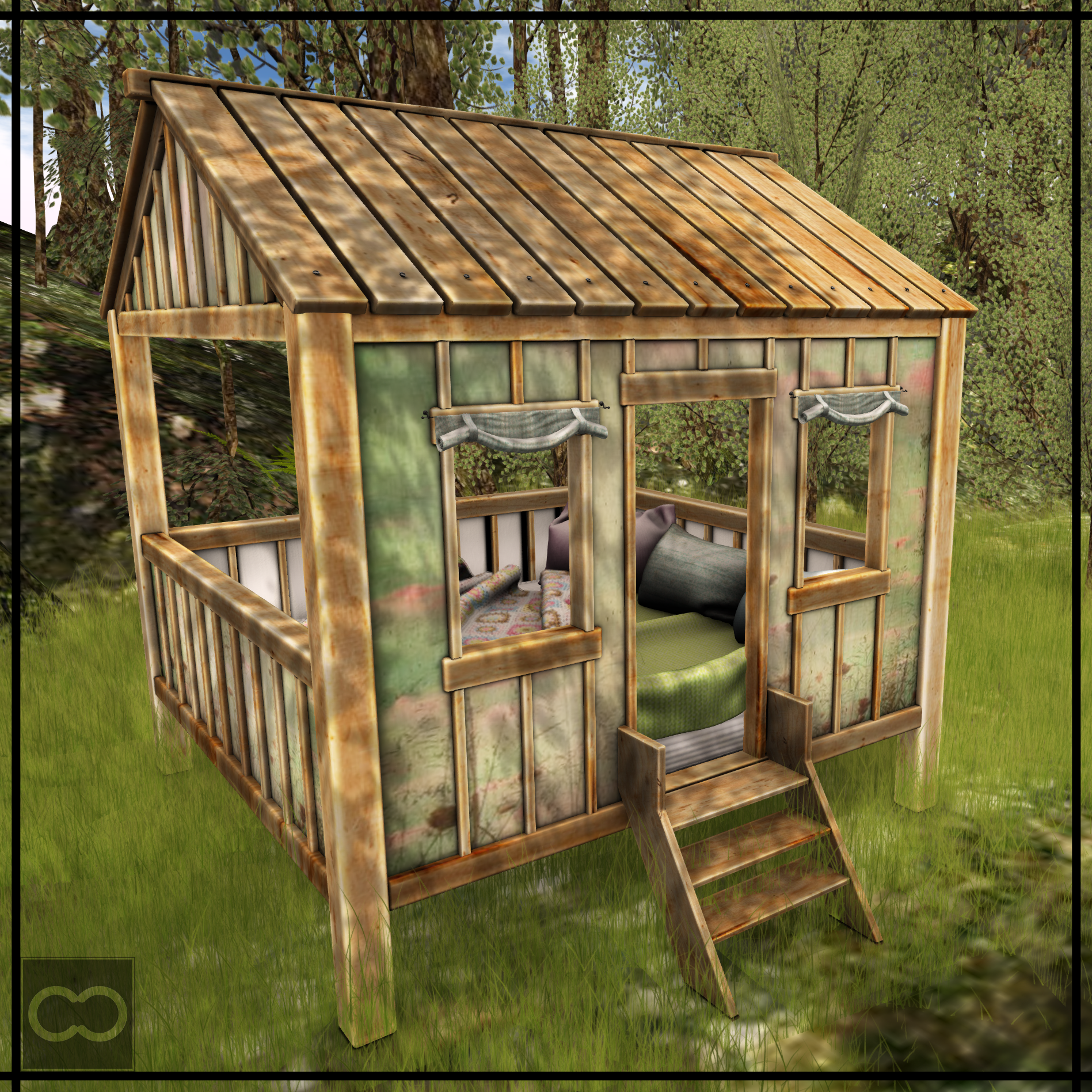 You get a choice of PG or adult animations (for those who want to get naughty in the garden!) and the shades for the windows come separately so you can choose the colour you want.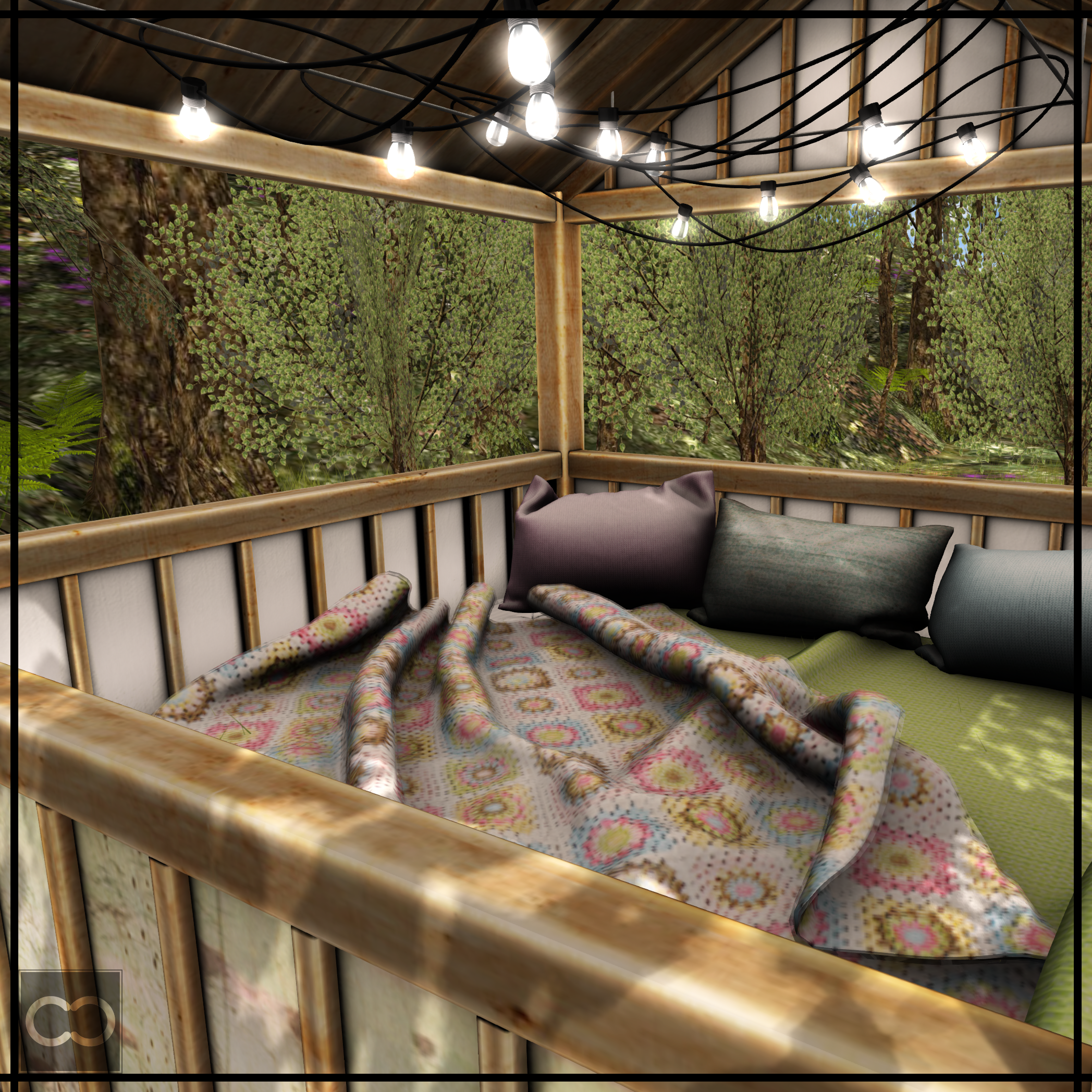 I had to show you the inside as well as the outside because it's too pretty not to. Living in this forever now. Someone bring me tea and snacks.
Happy Shopping!
Pic 1:
Shirt -
Mutresse
- Bira Jacket @
FaMESHed
Pants -
Mutresse
- Caca Pants @
FaMESHed
Necklace -
Yummy
- Winter Flower Necklace - Copper
*Hair -
Truth
- Willa 2 - Gingers Packs
Skin -
League
- Erin Pale - Natural
Eyelids -
SLink
- Mesh Eyelids
Ears -
CheerNo
- Human Ears - Tragus
Body -
Maitreya
- Lara Mesh Body - Includes Feet (with League appliers)
Hands -
SLink
- Avatar Enhancement Mesh Hands - Fist & Casual (with League appliers)
*Pose -
Elephante Poses
&
Yumyums
- Sweet Nothing -#1 (includes dandelion prop)
Pic 2:
Dress -
Rebel Hope
- Summer Vacation Dress - Stripe Blue @
FaMESHed
Necklace -
Yummy
- Anchor Necklace - Silver
*Hair -
Mina
- Aranka - Dark Reds Pack @
FaMESHed
Skin -
League
- Erin Pale - Feline
Eyes -
Ikon
- Charm Eyes - Moor
Eyelashes -
Mon Cheri
- Falsies Eyeash
Body -
Maitreya
- Lara Mesh Body - Includes Hands (with League appliers)
Pose -
Purple Poses
- Monica - 03
Pic 3:
*Shirt -
Fishy Strawberry
- Sunday Zip Hoodie - Pink @
FaMESHed
*Shorts -
Fishy Strawberry
- Leather Shorts - White @
FaMESHed
*Hair -
Truth
- Harmony (bun) - Gingers Pack
Skin -
League
- Erin Pale - Feline
Eyes -
Ikon
- Charm Eyes - Moor
Eyelashes -
Mon Cheri
- Falsies Eyeash
Ears -
CheerNo
- Human Ears - Tragus
Hands -
SLink
- Avatar Enhancement Mesh Hands - Casual (with League appliers)
Pose -
oOo Studio
- Alexis - Two (includes bottle)
Pic 4:
*Chain Top -
Haste
- Chain Top - Black @
FaMESHed
Shoes -
Gos
- Suzi Heels - Black @
FaMESHed
Pasties -
Mad
- Free Pasties
Hair -
Truth
- April - Gingers Pack (includes clip)
Skin -
League
- Erin Pale - Feline
Eyes -
Ikon
- Charm Eyes - Moor
Eyelashes -
Mon Cheri
- Falsies Eyeash
Body -
Maitreya
- Lara Mesh Body - Includes Hands (with League appliers)
*Pose -
Bauhaus Movement
- Shelby
H&G Items:
*Fort -
Cheeky Pea
- Spring Fort Set - Spring Fort @
FaMESHed
*Window Shades -
Cheeky Pea
- Spring Fort Set - Shade Green @
FaMESHed