We Love Role Play is back and has been open for a few days now so you've probably avoided the rush and can enjoy some lag free shopping.
I nipped over to get a couple of bits and as soon as I wandered into view of the Dead Dollz booth I was whipping out my virtual wallet before it had even fully rezzed.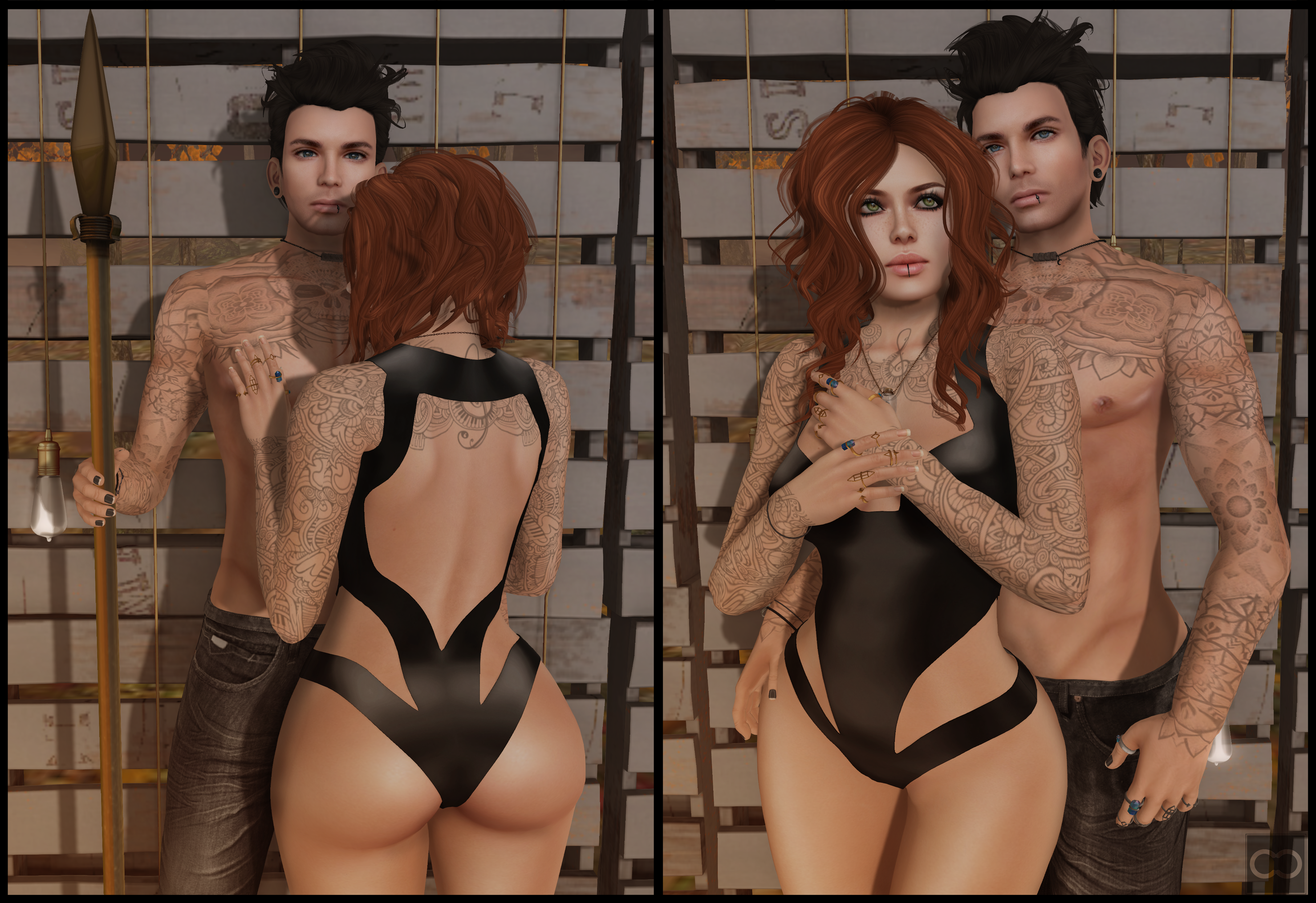 This Lumen bodysuit is all kinds of nnnnnggghhh. It's made exclusively for the Maitreya Lara and fits like a delicious futuristic glove! It comes in 6 metallic colours but I went for the classic black colour with is called Pitch.
Both poses are from Bang. The first is Abjuration (left) and the second if Akin (right). Both work best when there's some decent height difference between you and your willing victim, I mean pose buddy, but can be tweaked to fit avatars that are similar in height. They both make really cute couple pictures too.
Happy Shopping!
Cryssie:
Bodysuit -
Dead Dollz
- Lumen - Pitch @
We Love Role Play
*Necklace -
Yummy
- Bottle Necklace - Jar/Key
*Rings -
Ama
. - Anastasia Rings
Tattoo -
White Widow
- Steppin'
Hair -
Truth
- Ryleigh - Gingers Pack
Skin -
League
- Erin Pale - Feline
Eyes -
Ikon
- Triumph Eyes - Moor
Body -
Maitreya
- Lara Mesh Body - Includes Hands (with League appliers)
Valentine:
Pants -
SLink
- Stovepipe Jeans - Black
Necklace -
Ama
. - The Cyclic Necklace - Black
Rings -
Ama
. - Anastasia Rings
Tattoo -
Reckless
- Nile
Hair -
Exile
- Machinehead - Blacks Pack
Skin -
Nivaro
- Serge - Cream
Eyes -
Ikon
- Spectral Eyes - Evening
Ears -
CheerNo
- Human Ears - Plug Open
Body -
SLink
- Male Physique (with Nivaro appliers)
Hands -
SLink
- Avatar Enhancement Mesh Hands Male - Relaxed (with Nivaro appliers)
*Pose 1:
Bang
- Abjuration @
We Love Role Play
*Pose 2:
Bang
- Akin @
We Love Role Play
Pallets -
Floorplan
- Pallet Light Wall - Grey @
The Chapter Four