I can't believe I almost missed No21. It completely slipped my mind this month and then when I realised it was still open, but only just, I was running like a woman possessed to go grab some goodies. You have until November 11th to get what you want so make sure you don't miss it like I almost did!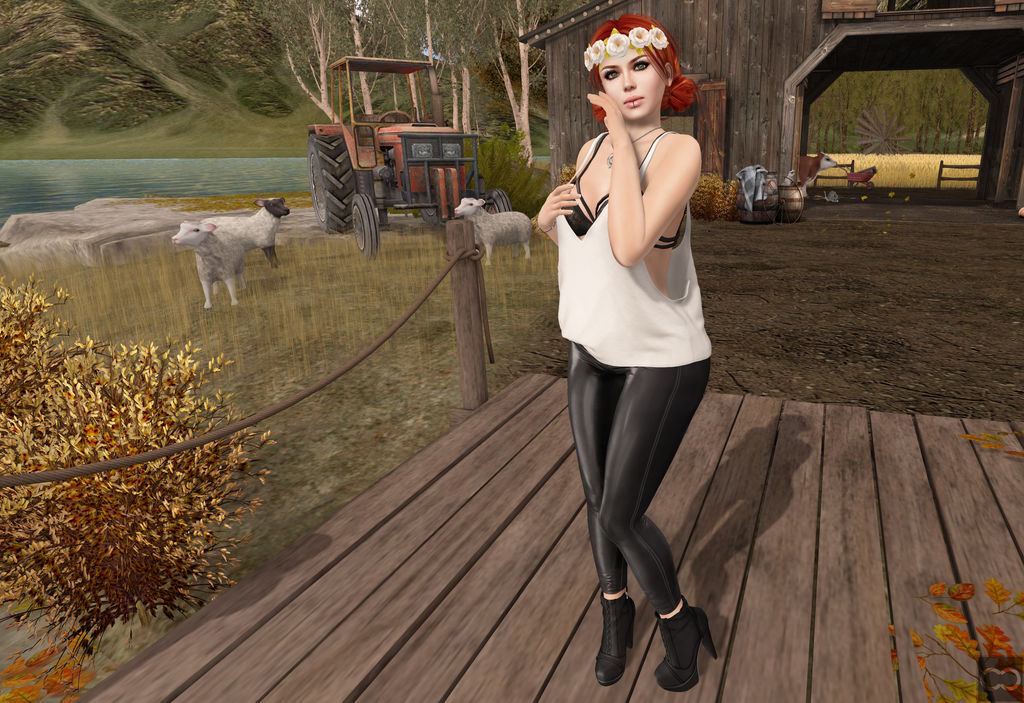 I grabbed the Devon Tank and Vinyl Pants from the Tres Blah booth while I was running around. I love the loose shirt over the top of a lacy bra and I really, really hope that Tres Blah releases this bra with some matching panties as a lingerie set. (hint hint!). Both the pants and the shirt come in standard sizes and fitmesh for Maitreya Lara and SLink Physique (not hourglass).
The hair you can grab from the Lamb booth while you're there. It's the Treat Her Better Style and is available in all the usual Lamb colour packs. This one is in the Gingers Pack.
Once I finished shopping No21 I decided to swing by FaMESHed now that it's traffic has slowed down a bit. It's always so hard to get into FaMESHed.
Baiastice have released the Cara Dress for this round and it's available in 10 colours. Each colour includes a sheer and opaque version of the shirt area of the dress. Standard sizes are included and a general fitmesh size that isn't aimed at any specific mesh body so please try a demo.
The adorable little flower crown is the Lisha Soft Flower Crown from Imeka. You'll have to nip over to The Chapter Four to grab this one but it'll be worth it. There are several different flower colours available too.
Happy Shopping!
Pic 1:
Top -
Tres Blah
- Devon Tank - White @
No21
Pants -
Tres Blah
- Vinyl Pants - Black @
No21
*Boots -
Baiastice
- Kiki Booties - Black
Necklace -
Maxi Gossamer
- Patience Heart Watch Pendant - Short Silver
*Flower Crown -
Imeka
- Lisha Soft Flower Crown - Color 4 @
The Chapter Four
Hair -
Lamb
- Treat Her Better - Gingers Pack @
No21
Skin -
League
- Erin Pale - Feline
Eyes -
Ikon
- Triumph Eyes - Moor
Ears -
CheerNo
- Human Ears - Tragus
Body -
Maitreya
- Lara Mesh Body - Includes Hands & Feet (with League appliers)
*Pose -
Double Take
- Thinly Veiled
Pic 2:
*Dress -
Baiastice
- Cara Dress - Gold @
FaMESHed
*Flower Crown -
Imeka
- Lisha Soft Flower Crown - Color 4 @
The Chapter Four
Hair -
Lamb
- Treat Her Better - Gingers Pack @
No21
Skin -
League
- Erin Pale - Feline
Eyes -
Ikon
- Triumph Eyes - Moor
Ears -
CheerNo
- Human Ears - Tragus
Body -
Maitreya
- Lara Mesh Body - Includes Hands & Feet (with League appliers)
*Pose -
Black Tulip
- Standing - #6 Mirrored