The Fantasy Collective has hit it's final stretch for this round so now is the time to head over there. The sim has quietened down but all the awesome gifts in the pumpkins are still available along with the awesome new creations from the TFC designers.
You don't want to miss out so please check it out before the 15th November.
You might just want to get your hands on this adorable new Jessika Dress from Le Fil Casse.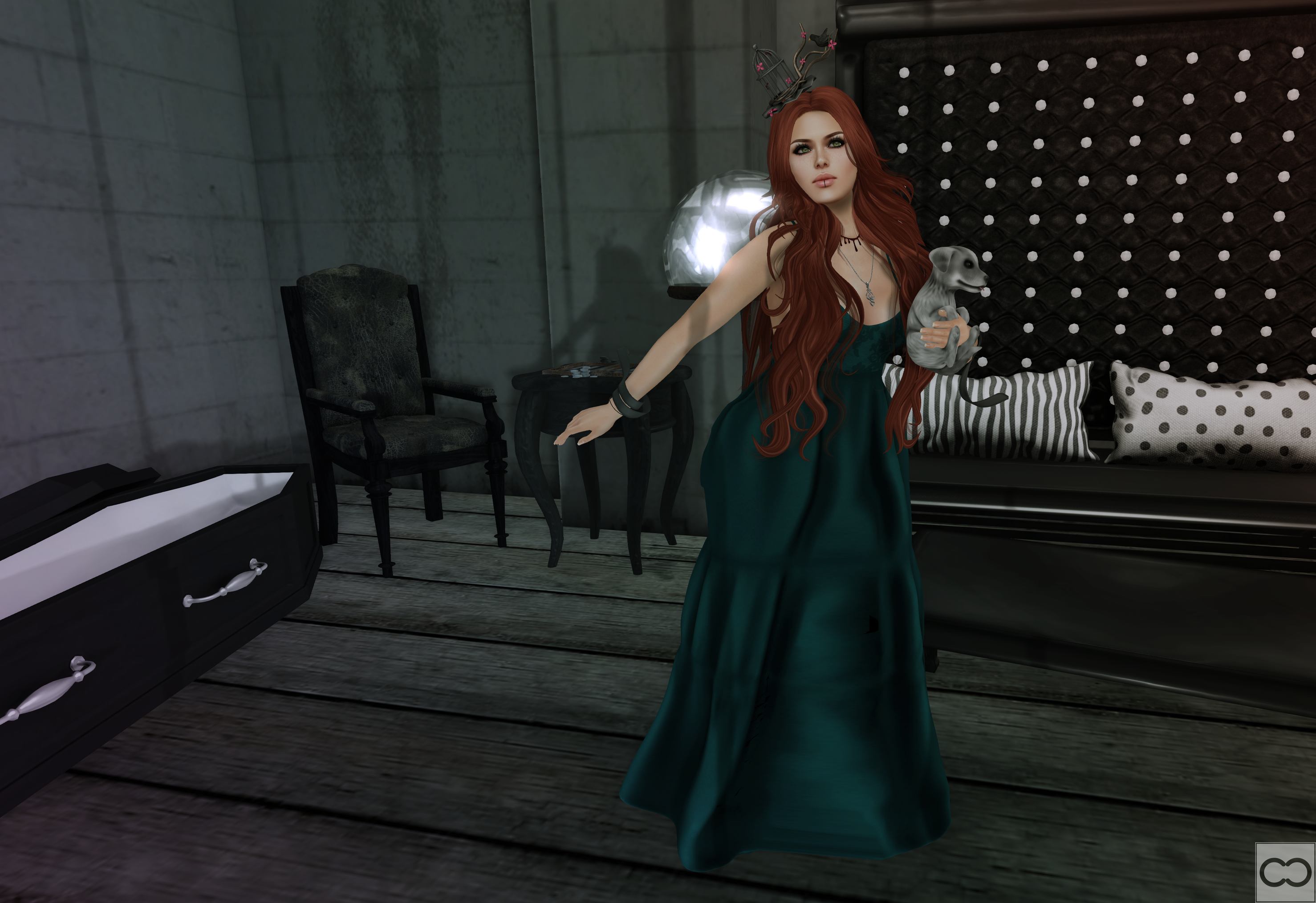 It comes in a choice of 6 deep, rich colours for the Maitreya Lara mesh body. Please try the demo if you wear a different body to make sure it fits.
The long necklace is the Warrior Necklace from Cae. It includes a hud that allows you to change the colours of the metals. A short version of the necklace is included in the pack and you can also find matching earrings too. The blood necklace is the gift from Cae and you can find it in the pumpkin.
Damselfly released the Caroline hair style for The Fantasy Collective and this particular colour can be found in the Light Reds Pack. All the usual Damselfly colour packs are available for you to get your hands on your personal favourite.
You can adorn that luscious head of head with The Crow Headband from Astralia. It comes with a hud that allows the colours of the hat, flowers and wood to be changed to suit your outfit.
If you wanted a dress with a bit more of a vintage feel then Sweet Kajira have released the La Viuda Dress.
This one feels positively Victorian to me and comes in a choice of 5 colours. I had no problems fitting the standard size I normally wear over my Maitreya Lara body but you can try the demo to see how it works for you.
The hair with the cowl is from Mina. You'll have to hop over to the Gacha Garden to find this in the Jildou gacha. It's 100L a pull and all the usual Mina colour packs are commons and a special essentials pack and fatpack are the rares. Good luck!
Happy Shopping!
Pic 1:
*Dress -
Le Fil Casse
- Jessika Dress - Teal @
The Fantasy Collective
*Wrist Ribbons -
Caboodle
- Wrist Ribbons - Black (gift) @
The Fantasy Collective
*Long Necklace -
Cae
- Warrior Necklace - Long @
The Fantasy Collective
*Short Necklace -
Cae
- Bleed Necklace (gift) @
The Fantasy Collective
*Headpiece -
Astralia
- The Crow Headband @
The Fantasy Collective
*Puppy -
Le Fil Casse
- Dirty Puppy Shadow @
The Fantasy Collective
*Hair -
Damselfly
- Caroline - Light Reds Pack @
The Fantasy Collective
Skin -
League
- Erin Pale - Feline
Eyes -
Ikon
- Triumph Eyes - Moor
Body -
Maitreya
- Lara Mesh Body - Includes Hands (with Leagues appliers)
*Pose -
Elephante Poses
- Fright - #5 (arm adjusted by puppy)
Pic 2:
*Dress -
Sweet Kajira
- La Viuda Dress - Black @
The Fantasy Collective
*Necklace -
Lazybones
- Eyeball Necklace - Gold @
The Fantasy Collective
*Hair -
Mina
- Jildou - Dark Reds Pack (includes cowl) @
The Gacha Garden
Skin -
League
- Erin Pale - Feline
Eyelids -
SLink
- Mesh Eyelids
Body -
Maitreya
- Lara Mesh Body - Includes Hands (with Leagues appliers)
*Pose -
Imeka
- Masami - 8 @
The Chapter Four
H&G items:
*Bench -
Unkindness
- Charmed Bench - High Black @
The Fantasy Collective
*Table -
Unkindness
- Square Table @
The Fantasy Collective
*Brain Lamp -
22769
- Library Thoughts - Light For Thoughts @
The Fantasy Collective
*Backgammon Table -
22769
- Library Thoughts - Tentacle Backgammon Table @
The Fantasy Collective
*Chair -
22769
- Library Thoughts - Old Leather Library Chair @
The Fantasy Collective
*Coffin -
22769
- Sweet Dreams (are made of this) (gift) @
The Fantasy Collective
Building -
Frogstar
- Whiteout Industrial Loft