You've got just over a week until the end of the Rustic Charm round of The Liaison Collaborative. The doors will be closing on the 30th November so make sure you get down there to check out the goodies before then.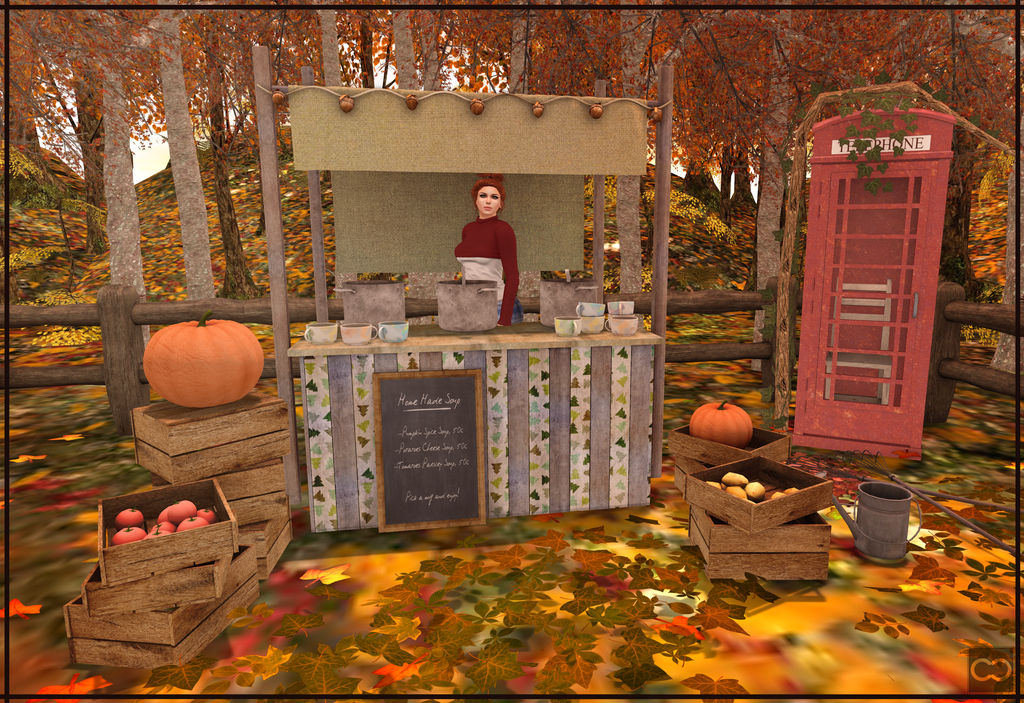 Just what you need in this cold weather is some delicious soup to get your insides all toasty warm and Kalopsia have you covered with their Soup Stand set. You get the stand, the soup pots, crates of veggies and lots of cups of yummy soup.
22769 have released a unique and yet adorable piece for this round. The Hello phone box is worth grabbing. I especially love the branch and ivy that's twisted over the top. It really looks like it's been there for years with nature growing all around it.
While you're there don't forget to check out the creations from the other great The Liaison Collaborative designers.
Happy Shopping!
Stand -
Kalopsia
- Soup Stand @
The Liaison Collaborative
Pots -
Kalopsia
- Soup Pot - Pumpkin, Tomatoes & Potatoes @
The Liaison Collaborative
Soup Cups (left) -
Kalopsia
- Soup Mug - Tomatoes, Pumpkin & Potatoes @
The Liaison Collaborative
Soup Cups (right) -
Kalopsia
- Mug 1 & Mug 2 @
The Liaison Collaborative
Stacked Mugs -
Kalopsia
- Mug Pile 1 & Mug Pile 2 @
The Liaison Collaborative
Crate Pile -
Kalopsia
- Crate Pile @
The Liaison Collaborative
Tomatoes in Crates -
Kalopsia
- Crate Tomatoes @
The Liaison Collaborative
Pumpkin in Crates -
Kalopsia
- Crate Pumpkin @
The Liaison Collaborative
Potatoes in Crates -
Kalopsia
- Crate Potatoes @
The Liaison Collaborative
Pumpkin -
Kalopsia
- Pumpkin @
The Liaison Collaborative
*Acorn Lights -
Black Bantam
- Binded Rope Acorn String Lights - Fall/Orange @
The Liaison Collaborative
*Phone Box -
22769
- Hello - Red @
The Liaison Collaborative
*Watering Can -
Toiz
- Watering Can - Gray @
The Liaison Collaborative
*Rakes -
Toiz
- Broom 2 @
The Liaison Collaborative
Dark Leaves -
Noctis
- Melithor Woods Floor Leaves
Bright Leaves -
Cheeky Pea
- Martha Dancing Autumn Leaves
Fencing -
Frogstar
- Country Fence Set - Dusty
*Trees -
Little Branch
- Flames Maple & Flames Maple Cluster @
The Liaison Collaborative