It's getting ridiculously cold outside now so it was time to move into the Winter pics. I tried so hard to hold onto the slightly more delicate Autumn weather but alas, the cold has arrived.
With the cold comes the snow, and the ice. So Bang made some Ice Skating poses that are perfect for you to get your skate on!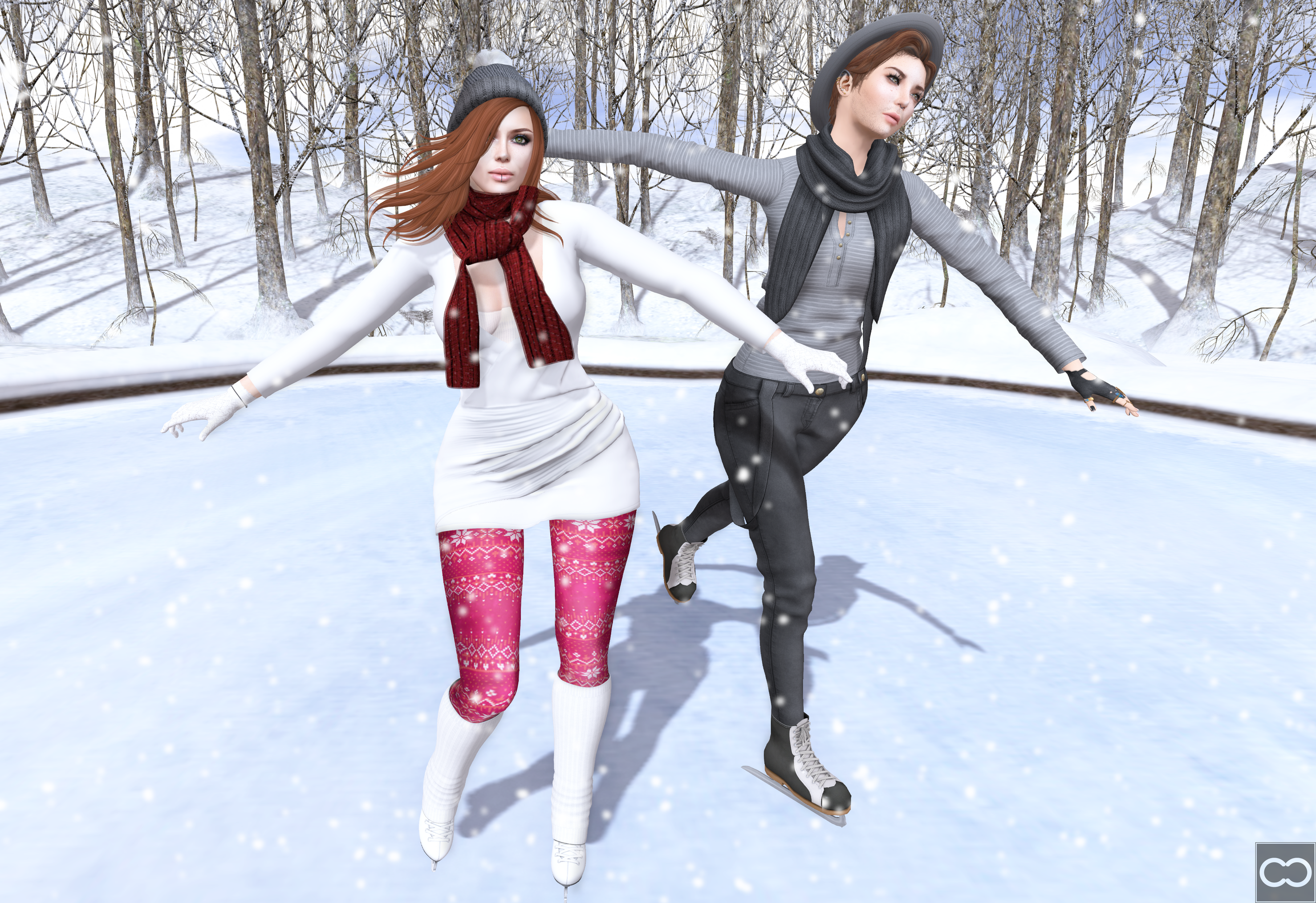 You get 10 skating poses and the mirror versions. You can pop them into pose balls and make couple or group shots like I did with Ama. You can find these down at Shiny Shabby so hop on over there.
The dress you can grab from Dabble Dooya. They don't have an inworld location, only a MP store, but you can find their original creations there and the colour packs of this dress for only 199L. It's made to fit the SLink Physique or the SLink Hourglass mesh body only so make sure you have one before you purchase!
Happy Shopping!
Cryssie:
*Dress -
Dabble Dooya
- Bodycon Wrap Dress - Neutrals Pack
*Leggings -
Ama
. - Nordic Leggings - Red Snowflakes
Shirt -
Sn@tch
- Butch Tank Tops - Slightly Sheer
*Scarf -
Imeka
- Basic Scarf - Dark Colours Pack @
Kawaii Project
Gloves -
Izzie's
- Knit Gloves
Skates -
N-Core
- Skates - White
Hair -
Truth
- Aspen (with hat) - Gingers Pack
Skin -
League
- Erin Pale - Opal
Eyes -
Ikon
- Triumph Eyes - Moor
Body -
SLink
- Physique Female Body (with League appliers)
Hands -
SLink
- Avatar Enhancement Mesh Hands - Elegant
Ama:
Shirt -
Kitja
- Nile Shirt - Grey @
Uber
Pants -
Kitja
- Nile Pants - Black @
Uber
Skates -
Dysfunctionality
- Ice Skate - Black & White
Gloves -
Izzie's
- Fingerless Leather Gloves
Scarf -
Tee*fy
- Unisex Scarf - Black
Hair -
Monso
- My Hair Xiu - Black Brown
Skin -
Izzie's
- Xanthe Skin - Pale @
Uber
*Cryssie Pose -
Bang
- Ice Skating 2 @
Shiny Shabby
*Ama Pose -
Bang
- Ice Skating 4