No21 - May/June round runs from 21st May to 11th June.
Milk Motion really impressed me for this round with their Maxi Dress.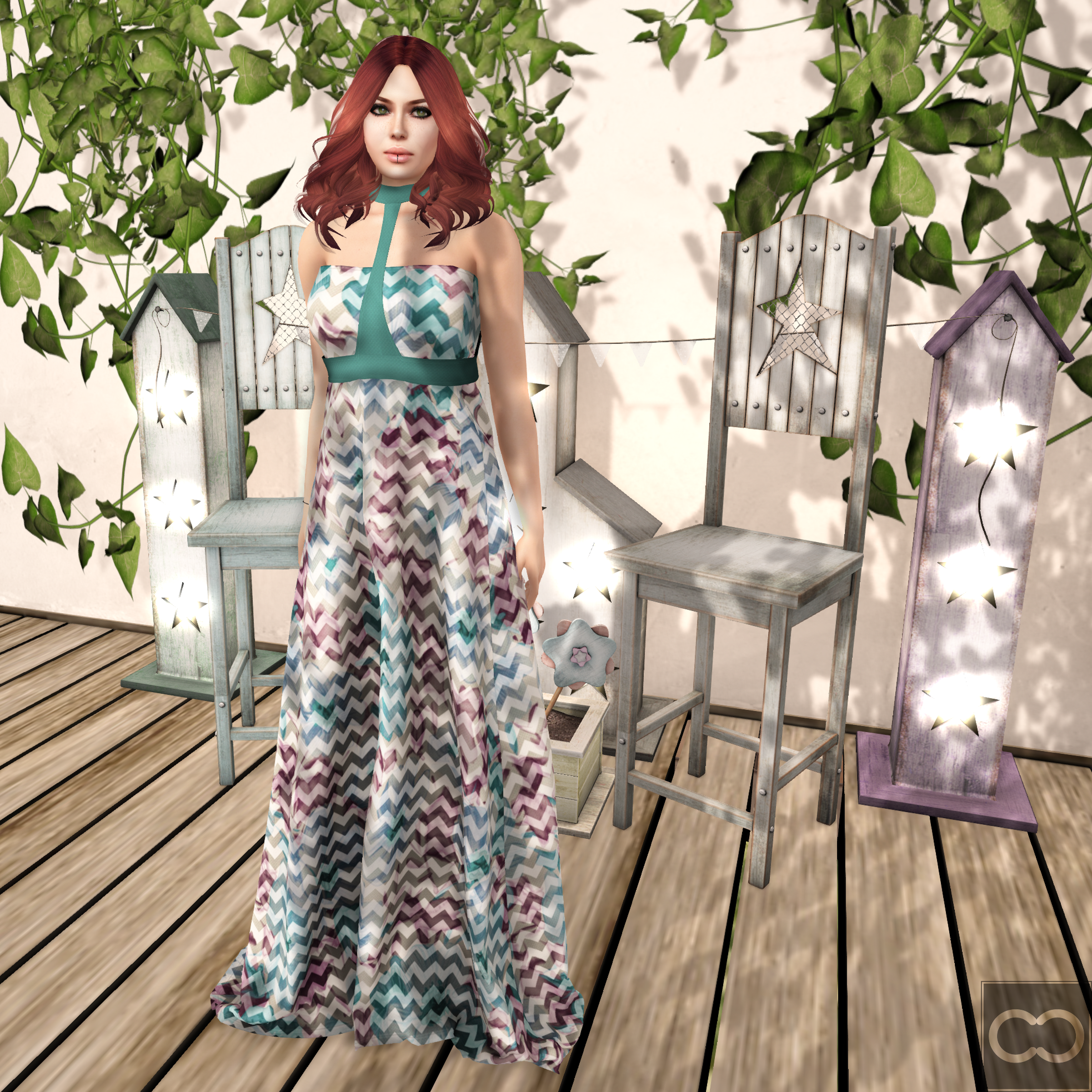 What I really like about this dress is it includes the harness but it's also a separate piece so you can choose not to wear it if you just want to wear the dress and if you get more than one colour dress then you can mix and match the harnesses.
Little Bones released two styles and this one is Crimson. It's a lovely shoulder length style with a soft curl. I wish I could get my poker straight hair to curl in RL but it never wants to play ball. So instead I'll settle for gorgeous SL curls. I got the Reds Pack but of course all their usual packs are available.
The adorable little chairs and light posts are from Cheeky Pea. The Penelope's Star Chairs come in a choice of 3 colours and adult or PG animations. The Star Lights come as single or double light posts and there's an adorable little string pennant made of lace to hang up.
Happy Shopping!
Pic 1:
Dress -
Milk Motion
- Maxi Dress - Mix Green (includes harness) @
No21
Hair -
Little Bones
- Crimson - Reds Pack @
No21
Skin -
League
- Erin Pale - Feline
Eyes -
Ikon
- Charm Eyes - Moor
Eyelashes -
Mon Cheri
- Falsies Eyelash
Body -
Maitreya
- Lara Mesh Body - Includes Hands (with League appliers)
*Pose -
An Lar Poses
- Regatta Series - Four
H&G items:
*Left Chair -
Cheeky Pea
- Penelope's Star Chair - Sea @
No21
*Right Chair -
Cheeky Pea
- Penelope's Star Chair - Silvered @
No21
*Left Light -
Cheeky Pea
- Penelope's Single Star Light - Grass @
No21
*Right Light -
Cheeky Pea
- Penelope's Single Star Light - Blush @
No21
*Centre Light -
Cheeky Pea
- Penelope's Double Star Light @
No21
*Flowers -
Cheeky Pea
- Penelope's Pansy Planter @
No21
*Pennants -
Cheeky Pea
- Penelope's Lace Pennants @
No21
Deck -
LISP
- Bergamot Square Decking - Rustic Pine