Summer is in full swing at Collabor88 and the creators have definitely nailed the Summer Punch theme by filling the event with some delightful clothing, shoes, hair, accessories and furniture items.
I've got a few things to show you in my Part 1 post and then a few more will be coming later in the week with my Part 2 post so keep an eye out for that.
Tres Blah released an adorable little Cheeky Romper that comes in this gorgeous Leaves print. There are other colours available but I was immediately drawn to this one.
Imeka have some sweet treats for you. Some to nom and some to wear. The cute little ice-cream is the Italian Ice Cream with Cherry, version 5. There are some other colours of ice-cream available for those who want different flavours. The sweet treat to wear is the adorable little Watermelon Earrings. I love watermelons but they're always so huge that I never get to finish one. I wish they came in mini sizes too!
ISON have released a really pretty summer dress for this round of Collabor88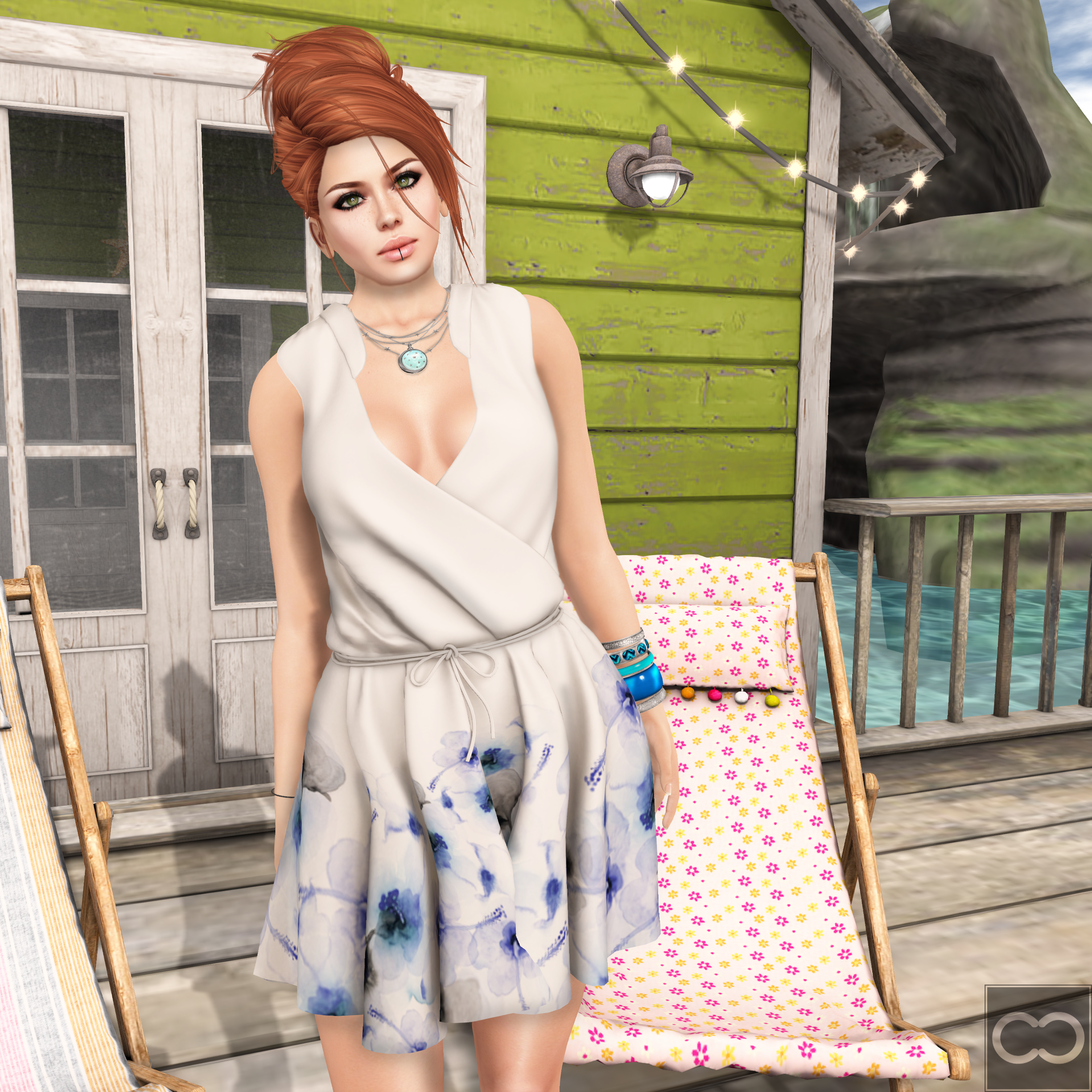 The Wrap Side Dress comes in a bunch of solid colours but this Painted Flowers in Blue called out to me the most. It's very delicate and feminine.
The hair you can find in the Exile booth. It's the Full Of Grace style and it comes in all the usual colour packs but because it's Collabor88 you get a little bit of a bargain as it's at a special lower price than usual.
More coming from Collabor88 Summer Punch soon!
Happy Shopping!
Pic 1:
Romper -
Tres Blah
- Cheeky Romper - Leaves @
Collabor88
*Earrings -
Imeka
- Watermelon Earrings @
Collabor88
*Ice-Cream -
Imeka
- Italian Ice Cream With Cherry - 5 @
Collabor88
Hair -
Exile
- Full Of Grace - Naturals Pack @
Collabor88
Skin -
League
- Erin Pale - Feline
Eyes -
Ikon
- Charm Eyes - Moor
Eyelashes -
Mon Cheri
- Falsies Eyelash
Body -
Maitreya
- Lara Mesh Body - Includes Hands & Feet (with League appliers)
Pic 2:
Dress -
ISON
- Wrap Side Dress - Painted Flowers Blue @
Collabor88
Necklace -
Maxi Gossamer
- The Moon And Stars For You
Bangles -
Mon Cheri
- Alma Bangle Set - Ocean Silver
Hair -
Exile
- Full Of Grace - Naturals Pack @
Collabor88
Skin -
League
- Erin Pale - Feline
Eyes -
Ikon
- Charm Eyes - Moor
Eyelashes -
Mon Cheri
- Falsies Eyelash
Body -
Maitreya
- Lara Mesh Body - Includes Hands (with League appliers)
*Pose -
An Lar Poses
- The Girly Girl Series - Five
H&G Items:
Beach House -
Trompe Loeil
- Kiya Beach Hut - Lime @
Collabor88
Deck Chairs -
LISP
- Summer Punch Vintage Deck Chairs - Stripes & Flowers Pink @
Collabor88
Cliffs -
InVerse
- Cliff Screen
Waterfall -
Organica
- Waterfall 3