So the sexy knickers are from Blacklace and you'll get to see those shortly but first I want to share a story with you that might make some of you cringe in horror.
I logged on, on Thursday and figured that I'd take some pictures for the blog. I rezzed out all my goodies and set myself up a little scene. I noticed that I was floating just a little so I'd need my empty pose ball. I keep one stashed away for just this issue. It's in my 'Poseballs' folder. This folder has been part of my inventory for as long as I can remember. It holds every single pose, pose prop and set of pose balls I've had purchased or received as a blogger pack ever.
Or it did. Because now it's gone. Yup, that's right. Disappeared and guess what? Linden Labs have ZERO idea where it's gone or how to get it back. I tried all the usual before the initial panic set in. Relogging, clearing cache, logging into a low lag sim. None of it made my folder come back.
I admit there was a little bit of crying. Okay a lot of crying. I've deducted from the drop in my inventory count number that this folder contained roughly 12,000 items.
Not going to lie, it felt like being punched in the chest. I'm a blogger, as you all know, and poses, pose props and pose balls are the glue that binds all the other bits of the picture together. Without poses I can be wearing the most expensive clothes in SL and I'd just be noob standing like an idiot. You'd never give my blog a second glance.
I do however have to mention that I have some serious love to give to a group of pose makers who quite literally bailed me out of my predicament by either having a redelivery terminal or because they took the time and effort to redeliver things to me by hand that they remembered me buying or had transaction details stowed away. Without them I'd have nothing in my brand new Poseballs folder and they've helped soften a harsh blow.
Olaenka Chesnokov / oOo Studio
Luna Jubilee / Bang
RubyStarlight Writer / Exposeur
Olivia Lalonde / Le Poppycock
Carolina Sautereau / Kirin
AbbyAnne Resident / Sari-Sari
Melissajeanne Flores / Elephante Poses
Valena Vacano / Double Take
Bouncer Criss / Bounce This Poses
Connie Stratten / Mien Poses
Katya Valeska / An Lar Poses
I can't say thank you enough for how kind you've been!
I really hope none of your have to go through anything like this but I've discovered that a kind notecard asking if someone still has transaction details, because some save them every month, can sometimes get some of your items back. Remember to be respectful and gracious because designers are in no way required to return items to you and if they don't have past transaction details then you'll have to accept the loss and move on from it. It won't be fun or easy but it will have to happen.
Now onto the sexy knickers
Blacklace always deliver us some fantastic bargains with their TGIF specials so I have a few more to show you.
The first up is Miss Lace in Teal
This set is adorable and the colour is gorgeous. It comes with standard system layers and appliers for SLink Physique, Omega and Gos appliers for the stockings. If you want the appliers for The Mesh Project then make sure you buy the pack with the TMP appliers as they aren't in with the main pack.
This set also includes a mesh skirt that isn't shown. The skirt comes in standard sizes and you can find a
demo on the marketplace
should you want to try it first.
The lingerie that Cat is wearing is also from Blacklace but is a previous release that has been given the full release treatment. Sinnocent is a sexy little set that has a bra that flashes all your goodies. Of course Blacklace have included a version with pasties or you can of course choose to wear your favourite pair. As with all Blacklace lingerie you'll get the same appliers and system laters as you do with Miss Lace.
The second TGIF set is Symphany in White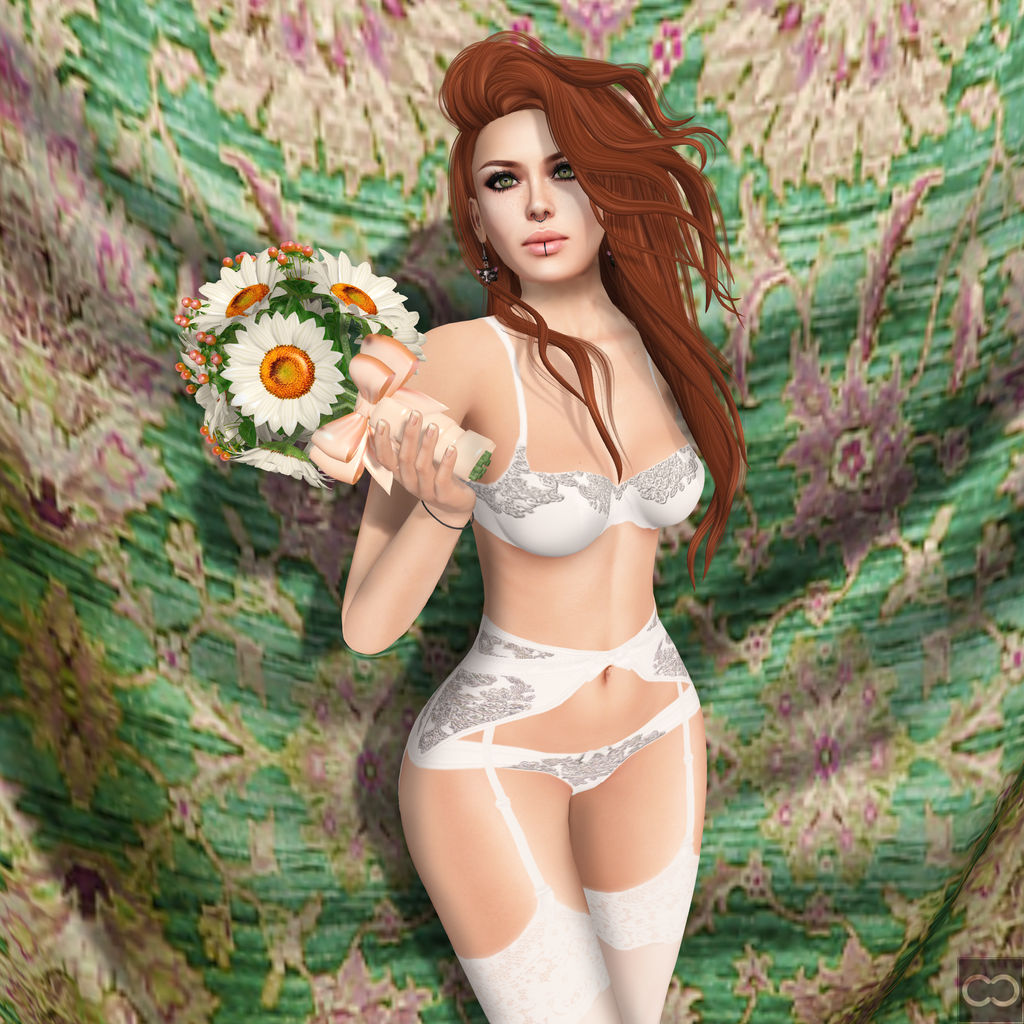 It's a beautiful bridal set and even includes a bouquet should you need one. All the usual layers and appliers are available. It's perfect for slipping under your wedding gown for your big day or if you just want something extra innocent looking to be naughty in!
You can check their Marketplace store for all their past TGIF releases at the 99L bargain price and of course all their full price releases too!
Happy Shopping!
Pic 1:
Cryssie:
*Lingerie -
Blacklace
- Miss Lace - Teal
*Earrings -
Imeka
- Sweet Black Cat Earrings
Hair -
Truth
- Randa - Gingers Pack
Skin -
League
- Erin Pale - Feline
Eyes -
Ikon
- Odyssey Eyes - Moor
Eyelashes -
Mon Cheri
- Falsies Eyelash
Ears -
CheerNo
- Human Ears - Tragus
Body -
Maitreya
- Lara Mesh Body - Includes Hands (with League appliers)
Cat:
Lingerie -
Blacklace
- Sinnocent - Black
Pasties -
Mon Cheri
- Gemmed Pasties - Classic Grey
Hair -
Truth
- Bronwyn - Pastels Pack
Skin -
Pink Fuel
- Elsie - Biscuit - Red
Eyes -
S0NG
- Bio - Purple
Body -
Maitreya
- Lara Mesh Body - Includes Hands (with Pink Fuel appliers)
Pose -
An Lar Poses
- Cosmic Duo @
IDK
Pic 2:
*Lingerie -
Blacklace
- Symphany - White Satin (includes bouquet)
*Earrings -
Imeka
- Sweet Black Cat Earrings
Hair -
Truth
- Randa - Gingers Pack
Skin -
League
- Erin Pale - Feline
Eyes -
Ikon
- Odyssey Eyes - Moor
Eyelashes -
Mon Cheri
- Falsies Eyelash
Ears -
CheerNo
- Human Ears - Tragus
Body -
Maitreya
- Lara Mesh Body - Includes Hands (with League appliers)
*Pose -
An Lar Poses
- The Maven Series - Five @
Shiny Shabby
*Wall Hanging -
Paper Moon
- Endless Flowers Tapestry - Green @
The Fantasy Collective