Hello! Did you miss me?
If you're wondering where I've been hiding for the past few days I've had a bit of a busy weekend. I have a pet rat and her name is Princess Peaches. Those of you on my Plurk will be very familiar with my furry little fiends. Peaches had a surgery on Friday to remove a tumour. People on Plurk, Facebook and Flickr were kind enough to donate to a gofundme to allow me do this. So I've been a doting Mammy all weekend to my recovering little squirly girly (and playing a lot of Sims 4 after a week of fretting about the surgery). However I'm pleased to say that Peaches is doing very, very well and I'll be playing catch up over the next few days.
So lets catch up on the latest round of Uber! The theme is spice and the creators definitely took the theme to heart and made some gorgeous items.
Baiastice is definitely my favourite for this round.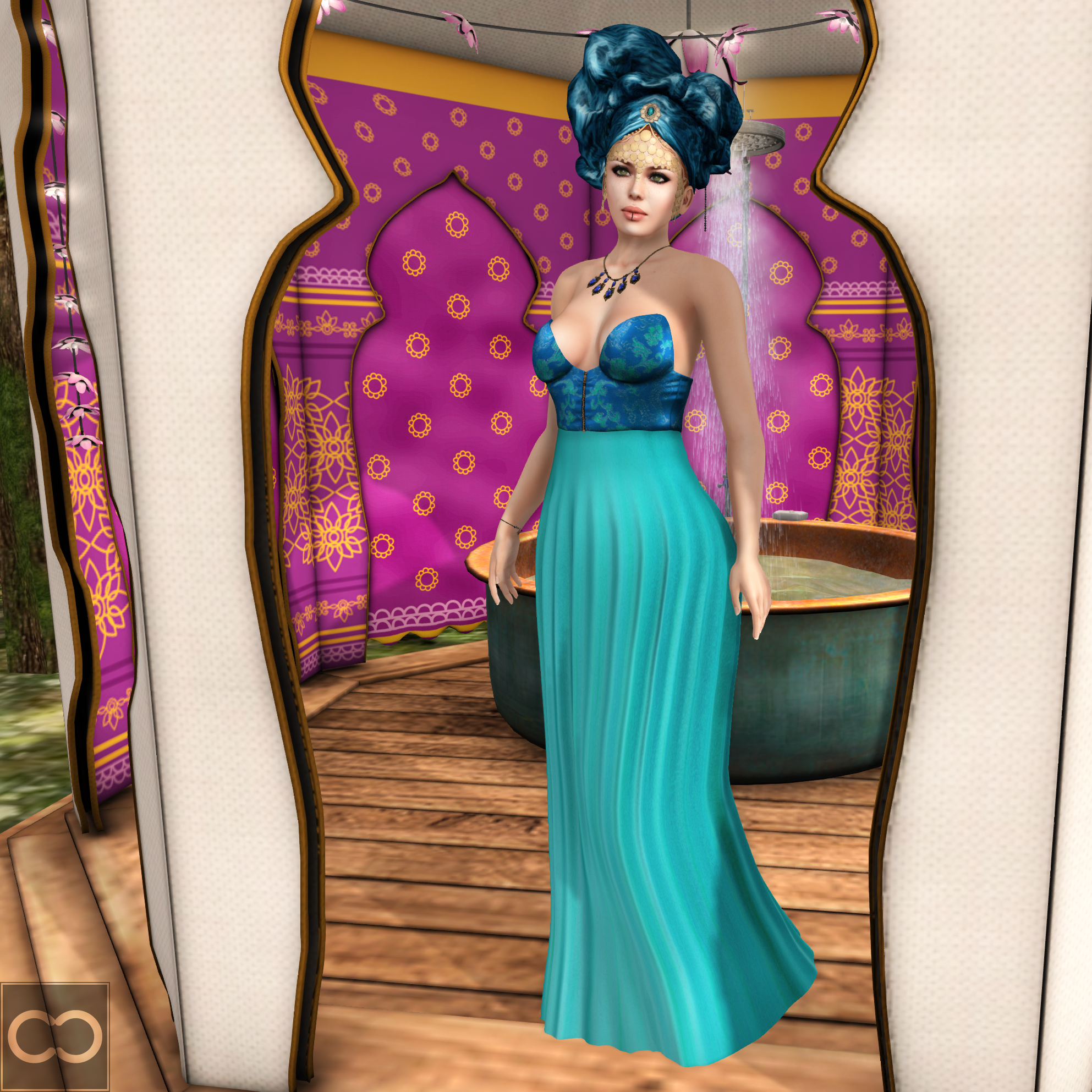 The Lekha Dress is my current favourite gown in SL. I love the shape of it and gorgeous pattern on the bust area. Turquoise called out to me so much but you have a choice of nine colours. Some have the pattern on the bust area and some have pattern on the skirt.
The Dhriti Turban Headpiece comes in nine complimentary colours. They're not identical so you and mix and match the colours you like best. I made grabby hands at the Ocean one because the rich blue was too much to resist. It includes the stunning jewellery that drapes over the forehead and down the sides of you face too.
Cheeky Pea released the decadent Lotus Spa Tent Set. The tent changes to there different colours. Plain, pink or brown. I had to go with this luscious pink. You get a choice of adult or PG animations in both the Bath and Ottoman. You can buy the pieces separately or go for the full set and make yourself a little outdoor bath area in the garden for you and your loved ones.
Happy Shopping!
Pic 1:
*Dress -
Baiastice
- Lekha Dress - Turquoise @
Uber
*Turban -
Baiastice
- Dhriti Turban Headpiece - Ocean @
Uber
Necklace -
Maxi Gossamer
- Karina Court - Short
Skin -
League
- Erin Pale - Feline
Eyes -
Ikon
- Charm Eyes - Moor
Eyelashes -
Mon Cheri
- Falsies Eyelash
Ears -
CheerNo
- Human Ears - Tragus
Body -
Maitreya
- Lara Mesh Body - Includes Hands (with League appliers)
*Pose -
EverGlow
- Flora - 05
H&G Items:
*Tent -
Cheeky Pea
- Lotus Spa Tent Set - Tent @
Uber
*Ottoman -
Cheeky Pea
- Lotus Spa Tent Set - Ottoman Pink @
Uber
*Table -
Cheeky Pea
- Lotus Spa Tent Set - Occasional Table @
Uber
*Rugs -
Cheeky Pea
- Lotus Spa Tent Set - Rugs @
Uber
*Caddy -
Cheeky Pea
- Lotus Spa Tent Set - Bath Caddy @
Uber
*Bath -
Cheeky Pea
- Lotus Spa Tent Set - Bath @
Uber
*Light -
Cheeky Pea
- Lotus Spa Tent Set - Pendant Light @
Uber
*String Light -
Cheeky Pea
- Lotus Spa Tent Set - String Lights @
Uber
*Trees -
Jian
- Ash Tree