Kustom9 has their doors wide open and until July 10th you can go grab what they have on offer for their 24th Round.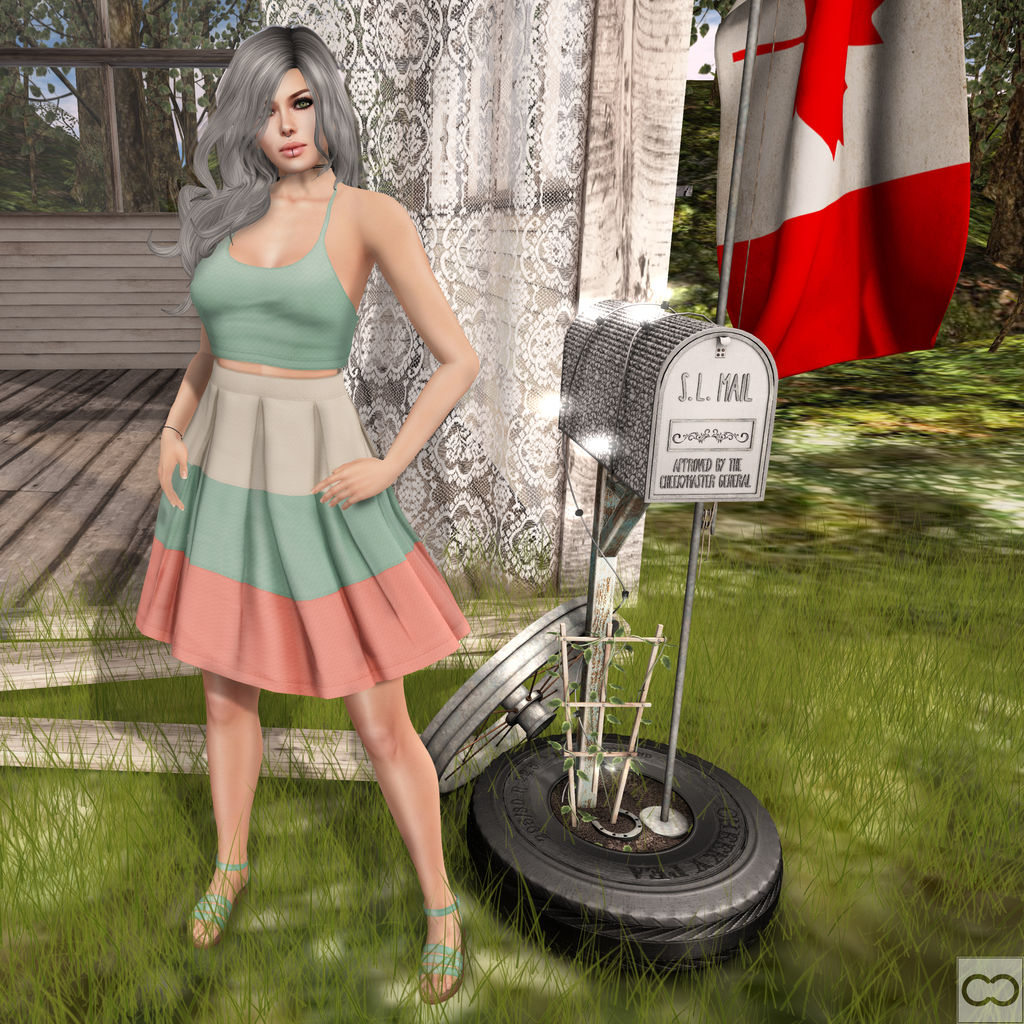 Mina have released two of their previous styles in their Specials Packs. I love the specials packs because they include some pretty amazing colours including my new favourite grey colour. So addicted to it and Mina do it so well. This is the Elvire style but the double braided Yuliya style is available too.
ColdLogic and FATEwear are having a 50% off sale until July 5th. I nipped over to ColdLogic and grabbed this Haver dress in Minty because it went so well my brand new Fri.day Sandals. Now is your chance to stock up on ColdLogic goodies while you get more bang for your buck!
The pose you can find at Kustom9 too. It's one from the Aurora Pose by Imeka. Lovely soft, delicate poses in this pack so they are great for blogging or taking pictures with friends.
Cheeky Pea made the super cute little mail box. The Mailer & Flag comes in several different pattens for the actual mail box, I went with the Stars version, but you also get a texture change menu inside that lets you pick different flags. They didn't have British flag in there so I went for the next best one... Canadian!
Happy Shopping!
Pic 1:
Dress -
ColdLogic
- Haver - Minty
*Hair -
Mina
- Elvire - Specials Pack @
Kustom9
Skin -
League
- Erin Pale - Feline
Eyes -
Ikon
- Odyssey Eyes - Moor
Eyelashes -
Mon Cheri
- Falsies Eyelash
Body -
Maitreya
- Lara Mesh Body - Includes Hands & Feet (with League appliers)
*Pose -
Imeka
- Aurora Pose - 8 @
Kustom9
H&G items:
Building -
Scarlet Creative
- Ete Summer Cabin @
Collabor88
*Mail Box -
Cheeky Pea
- Mailer & Flag - Stars @
Kustom9