The With Love Fair for 2015 closes on the 20th so I wanted to sneak in a quick post before you missed it like I almost did! Oops!
There's lots of gifts available too so it's definitely worth a visit. However I didn't have time to take pics of all the gifts I grabbed so I'm just going to show you some bits from two of my favourite stores. Blacklace and Bang!
Blacklace always have a great choice when it comes to lingerie that ranges from cute and a little bit sexy to full on blow your socks off sexy. So it's no surprise that their two new releases for the With Love Fair managed to hit both ends of that scale.
So let's start with the cute...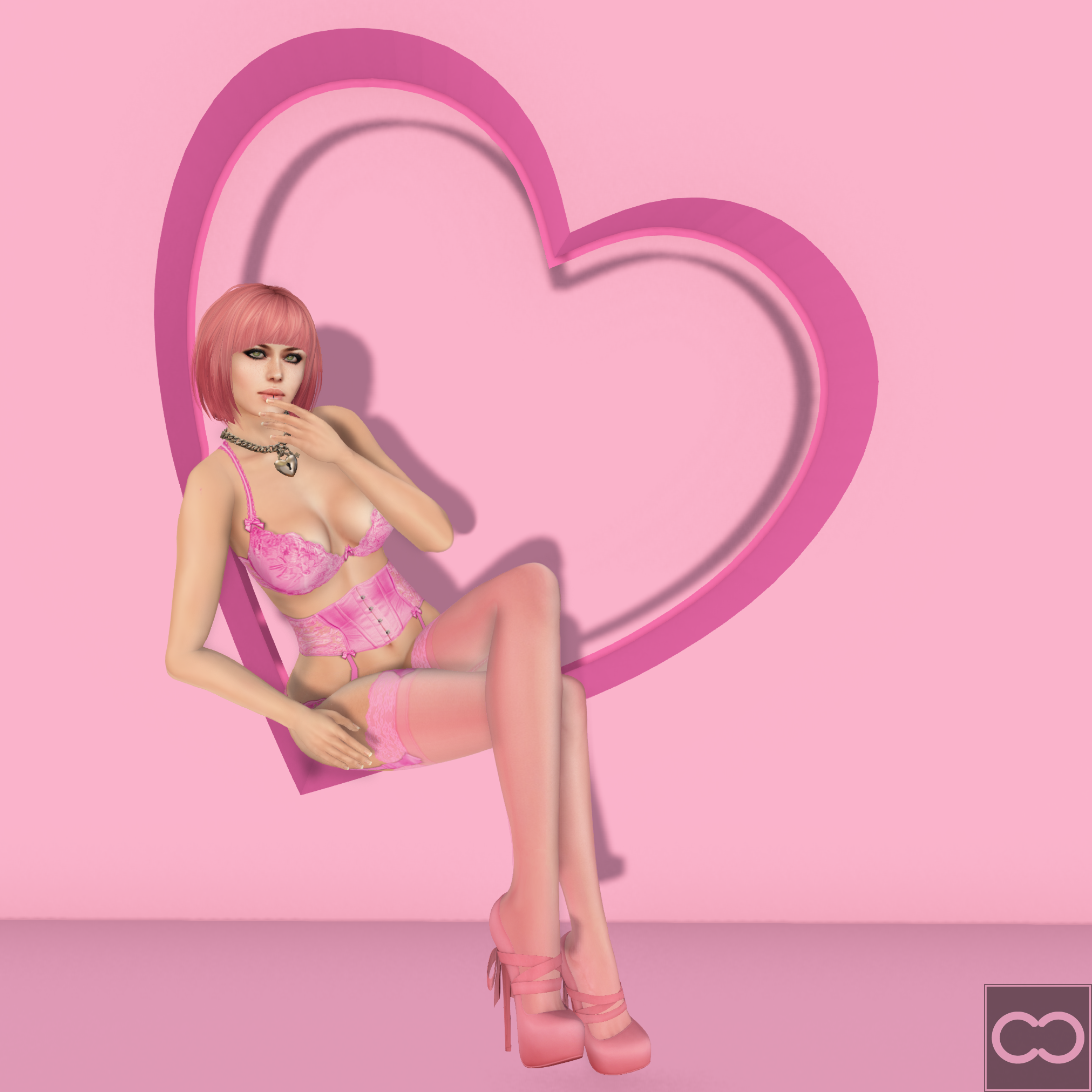 The Cotton Candy Lingerie comes in this gorgeous pink. I feel a little bit like I should be in Barbie's dream house of kink. That needs to be a thing. Someone build me a Barbie's dream house of kink!!!
The lingerie comes on the standard system layers and on SLink, Gos (stockings only) and Omega appliers. The Omega appliers cover pretty much every mesh body and part out there (except SLink and The Mesh Project). If you want TMP appliers you can purchase them separately.
If you wanted to get a bit more naughty...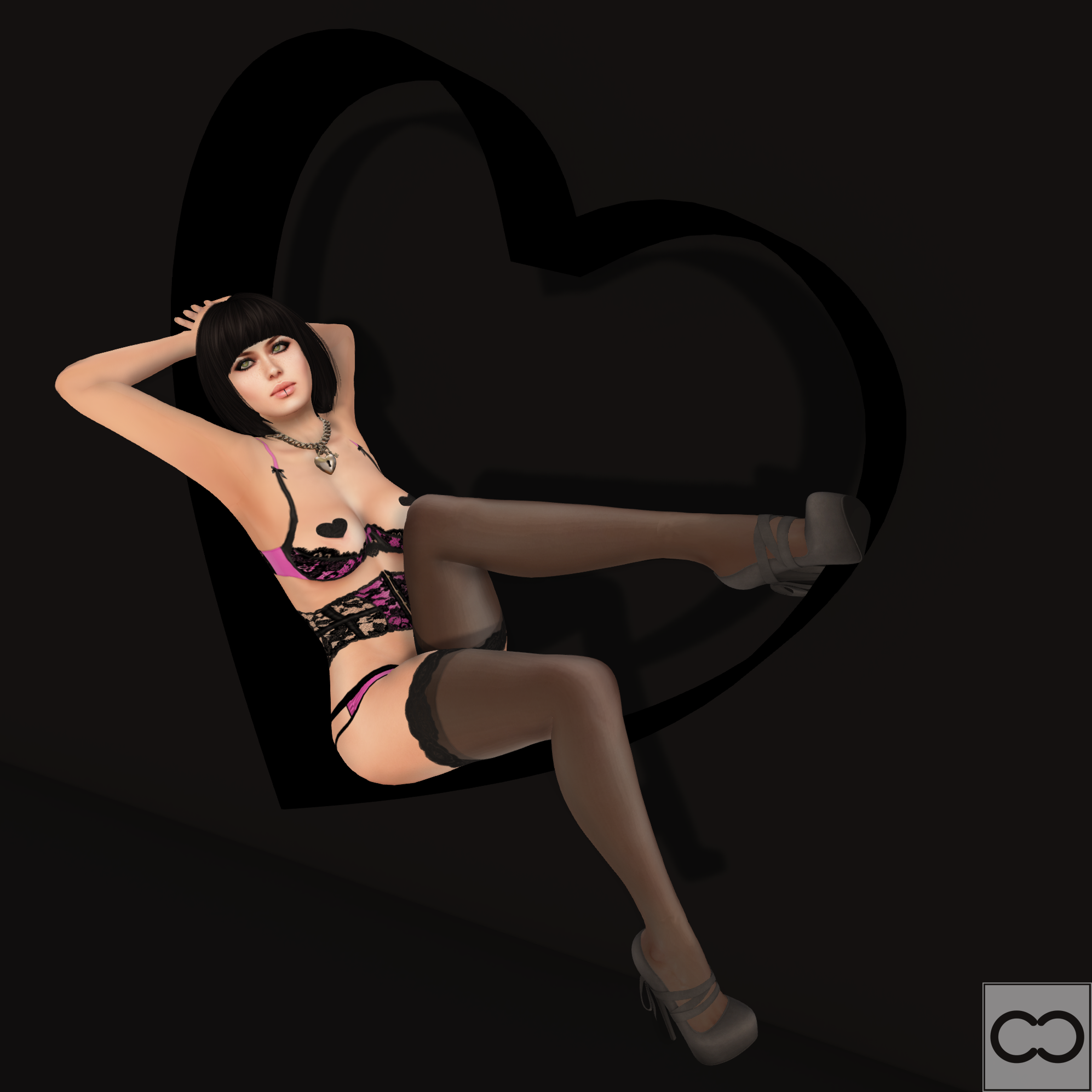 Sinnocent comes in a choice of pink satin or red satin with the black lace. It's an event exclusive so now you have no excuse not to visit the With Love Fair. You can wear the bra with or without the pasties and just like the Cotton Candy set it comes with system layers and all appliers. TMP sold separately.
The adorable little heart pose prop in both pictures is the With Love prop from Bang. It comes with three poses and because I can't help but fiddle with things I noticed that you can change the colour on the prop by tinting it. It comes in a rich red colour but will tint any colour you can think of making it. So yes I played around a little bit!
Happy Shopping!
Pic 1:
*Lingerie -
Blacklace
- Cotton Candy - Pink Lace @
With Love Fair
Neckace -
Yummy
- Chunky Heart And Key - Silver @
Collabor88
*Hair -
Truth
- Harriet - Colours Pack
Skin -
League
- Erin Pale - Feline
Eyes -
Ikon
- Charm Eyes - Moor
Eyelashes -
Mon Cheri
- Falsies Eyelash
Body -
Maitreya
- Mesh Body Lara - Includes Hands & Feet (with League appliers)
*Pose -
Bang
- With Love (colour changed) @
With Love Fair
Pic 2:
*Lingerie -
Blacklace
- Sinnocent - Pink Satin & Black Lace @
With Love Fair
Neckace -
Yummy
- Chunky Heart And Key - Silver @
Collabor88
*Hair -
Truth
- Harriet - Black & Whites Pack
Skin -
League
- Erin Pale - Feline
Eyes -
Ikon
- Charm Eyes - Moor
Eyelashes -
Mon Cheri
- Falsies Eyelash
Body -
Maitreya
- Mesh Body Lara - Includes Hands & Feet (with League appliers)
*Pose -
Bang
- With Love (colour changed) @
With Love Fair