So get your ass up, how me how you burlesque!
I'm not going to lie, I really do love that movie so much. I may or may not know all the songs...
I got quite excited about a burlesque event in Second Life. I love lingerie, I love corsets and I love strutting about the place like I'm the sexiest thing to ever hit the grid. I know you do too!
Mariska Simons from Blacklace has teamed up with Erielle Deschanel for a brand new Blacklace Lounge release.
Gin & Kisses is a gorgeous mesh corset and matching mesh panties set. It also includes stockings (not shown) for those who want them and of course those stockings come in SLink and Omega appliers for you mesh bodied ladies. This is the Black and White which reminds me of a tux but if you love a little colour in your lingerie then there are also purple, pink and teal versions available.
If you're more of a dress girl than a lingerie girl then Blacklace Lounge has you covered for that too.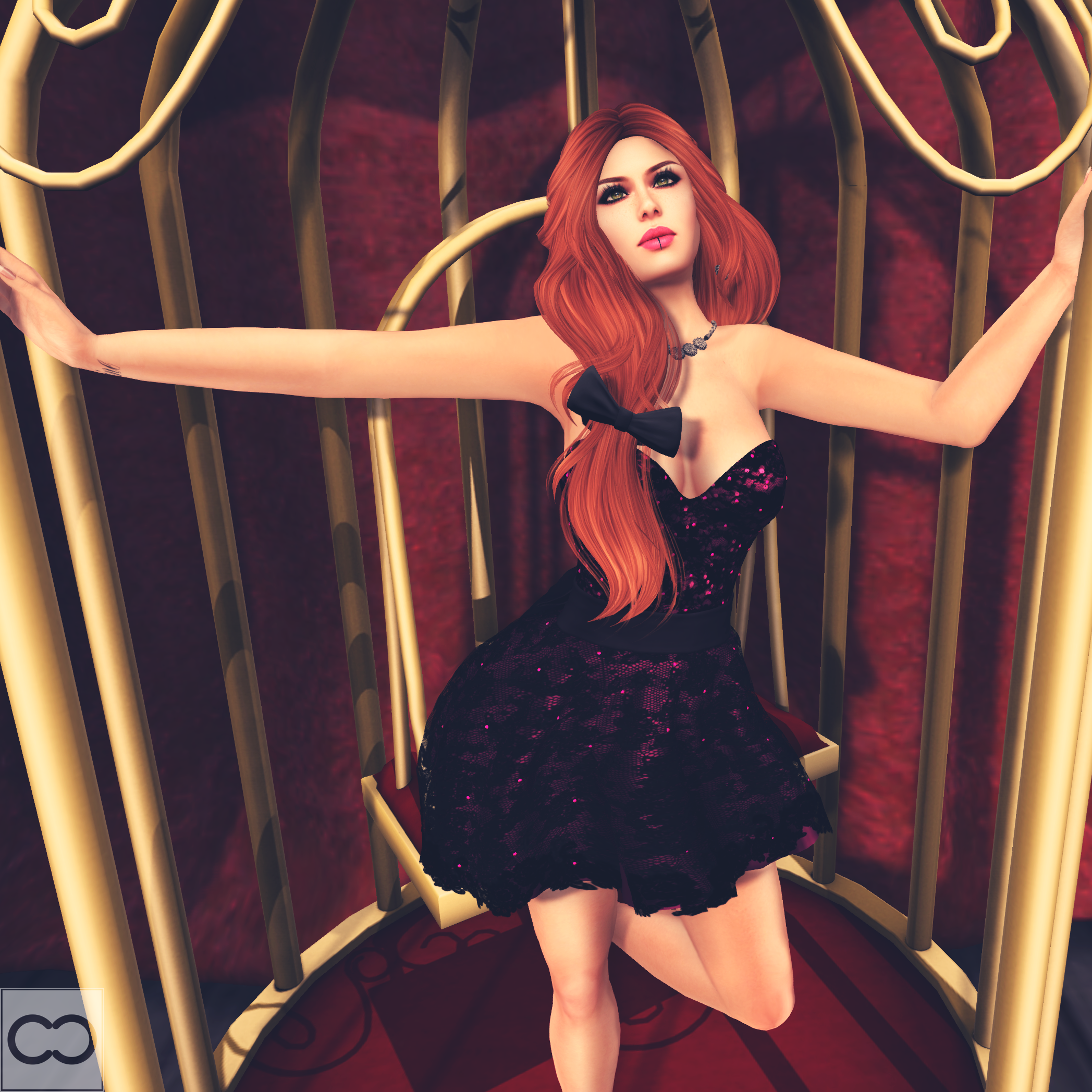 The Jewell Noir Dress comes in all the standard sizes and even has the gems as a separate attachment so you can choose go lacy or bling it up if it takes your fancy. There's also an optional bow that attaches to the back. It's incredibly pretty and this Wine colour is stunning. If it's not your colour then teal and purple are also available.
The hair is from Exile, and while it isn't at the Burlesque event you can find it at their main store for the Enhantment event. You have until Feb 28th to head down there and grab this adorable Librarian Chic style that comes with a colour change bow. Once you do you'll get a stamp card and you'll need to nip around all the other stores and collect stamps and you get yourself an extra prize from Exile (or whichever extra prize you want!)
I've become in a big fan of Maai in the short time I've known about them. Not only is their lingerie pretty but it comes in oodles of colours and is a great price.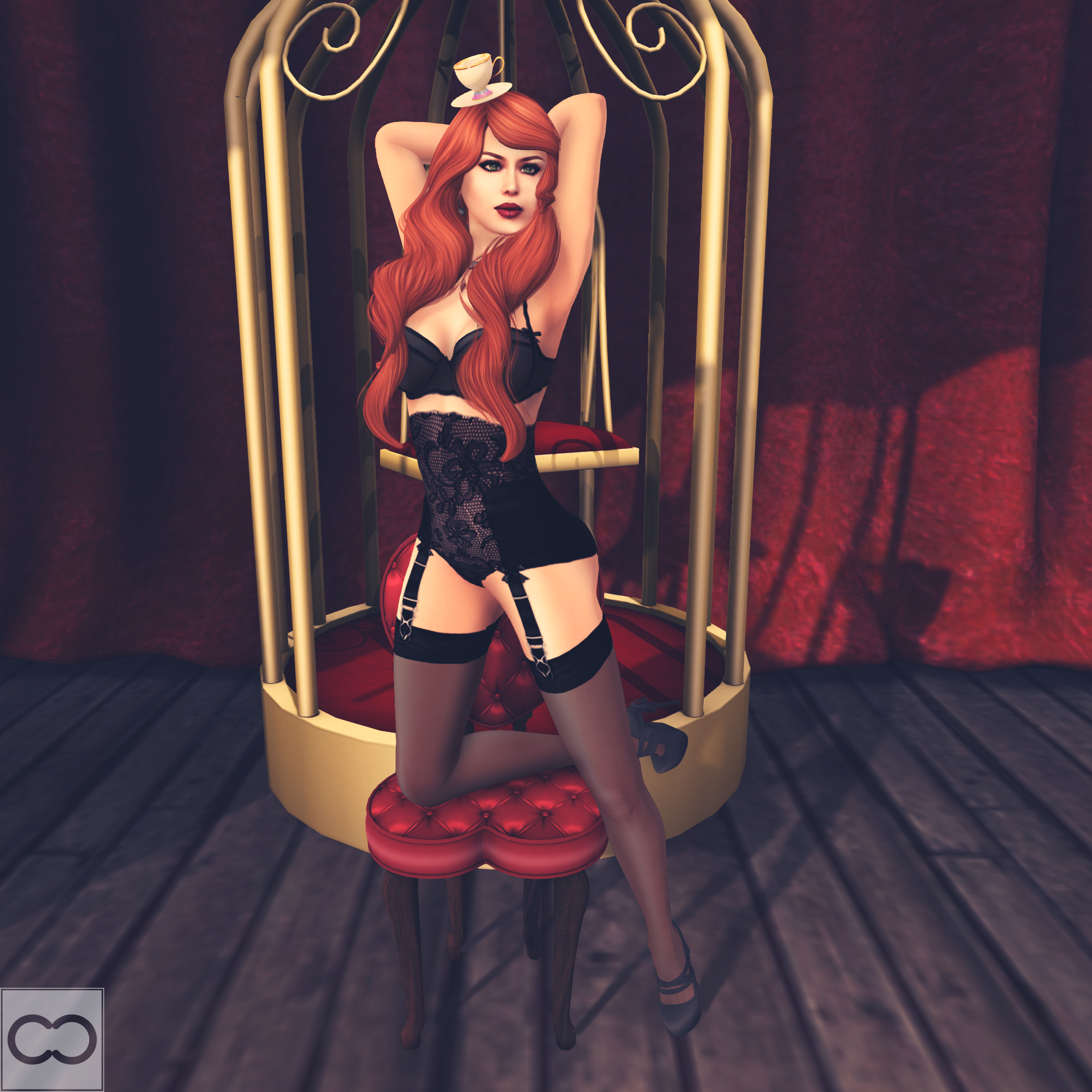 Plus it comes in appliers with what feels like a billion different options. With or without bra, stockings, panties... if you want to flash it then Maai will give you the option to do it! This is the Wabi Lingerie in Beige. The colour is the colour peeking from beneath the lace. I like that the beige looks like my skin through the lace.
The hair is the extra, limited edition, prize from Exile for Enchantment. It's called Tea Time and you get the full fatpack of colours and the adorable little teacup hat. You can only get this by purchasing one of the Enchantment specials from any of the participating stores, collecting all 20 stamps and going to the special prize area to redeem your stamp card. Sounds like a lot of work but it's super quick to do and totally worth it!
Don't think that Burlesque is all about clothing and accessories. If you wanted some great pose props with some incredibly sexy poses then you can find that there too.
Exposeur have released the gorgeous golden cage you see me posing in for the first two pictures. The Burlesque Cage is jammed with poses so you're bound to find something you like in there. I found it hard to choose which poses to use. If you'd rather something a little bit more subtle then Belle Poses have released a Burlesque Chair and it even comes with a free corset. This is also packed with great poses.
Happy Shopping!
Pic 1:
*Lingerie -
Blacklace Lounge
- Gin & Kisses - White & Black @
Burlesque
*Jewellery -
Real Evil Industries
- Lux Mia Set
*Hair -
Truth
- Sally - Gingers Pack
Skin -
League
- Erin Pale - Feline (with Erin tintable lipstick)
Eyes -
IKON
- Hope Eyes - Moor
Eyelashes -
Mon Cheri
- Falsies Eyelash
Hands -
SLink
- Avatar Enhancement Mesh Hands - Casual (with League appliers)
*Pose Prop -
Exposeur
- Burlesque Cage @
Burlesque
Pic 2:
*Dress -
Blacklace Lounge
- Jewell Noir Dress - Wine & Black @
Burlesque
*Jewellery -
Real Evil Industries
- Lux Mia Set
Hair -
Exile
- Librarian Chic - Naturals Pack @
Enchantment
Skin -
League
- Erin Pale - Feline (with Erin tintable lipstick)
Eyes -
IKON
- Hope Eyes - Moor
Eyelashes -
Mon Cheri
- Falsies Eyelash
Hands -
SLink
- Avatar Enhancement Mesh Hands - Casual (with League appliers)
*Pose Prop -
Exposeur
- Burlesque Cage @
Burlesque
Pic 3:
Lingerie -
Maai
- Wabi Lingerie - Beige @
Burlesque
Hair -
Exile
- Tea Time - Reds Pack @
Enchantment
Skin -
League
- Erin Pale - Feline (with Erin tintable lipstick)
Eyes -
IKON
- Hope Eyes - Moor
Eyelashes -
Mon Cheri
- Falsies Eyelash
Body & Feet -
Maitreya
- Lara Mesh Body (with League appliers)
Pose Prop -
Belle Poses
- Burlesque Chair @
Burlesque