So I'm not a huge shopper of The Men's Dept. Not because it's not a great event but because I find myself lacking in the male area of things, despite my every so manly face (thanks Plurk!)
However I do happen to know two incredibly gorgeous men who do love to shop The Men's Dept. Plus when I do find my way down there it's to grab some fantastic furniture or poses that I just can't do without.
I've heard it's THE place to pick up men. Which might explain the abundance of female avatars standing around!
So once you've fought your way past the hoard of potential suitors then you're going to want to grab some of the goodies on offer. Especially this truely stunning suit from Deadwool.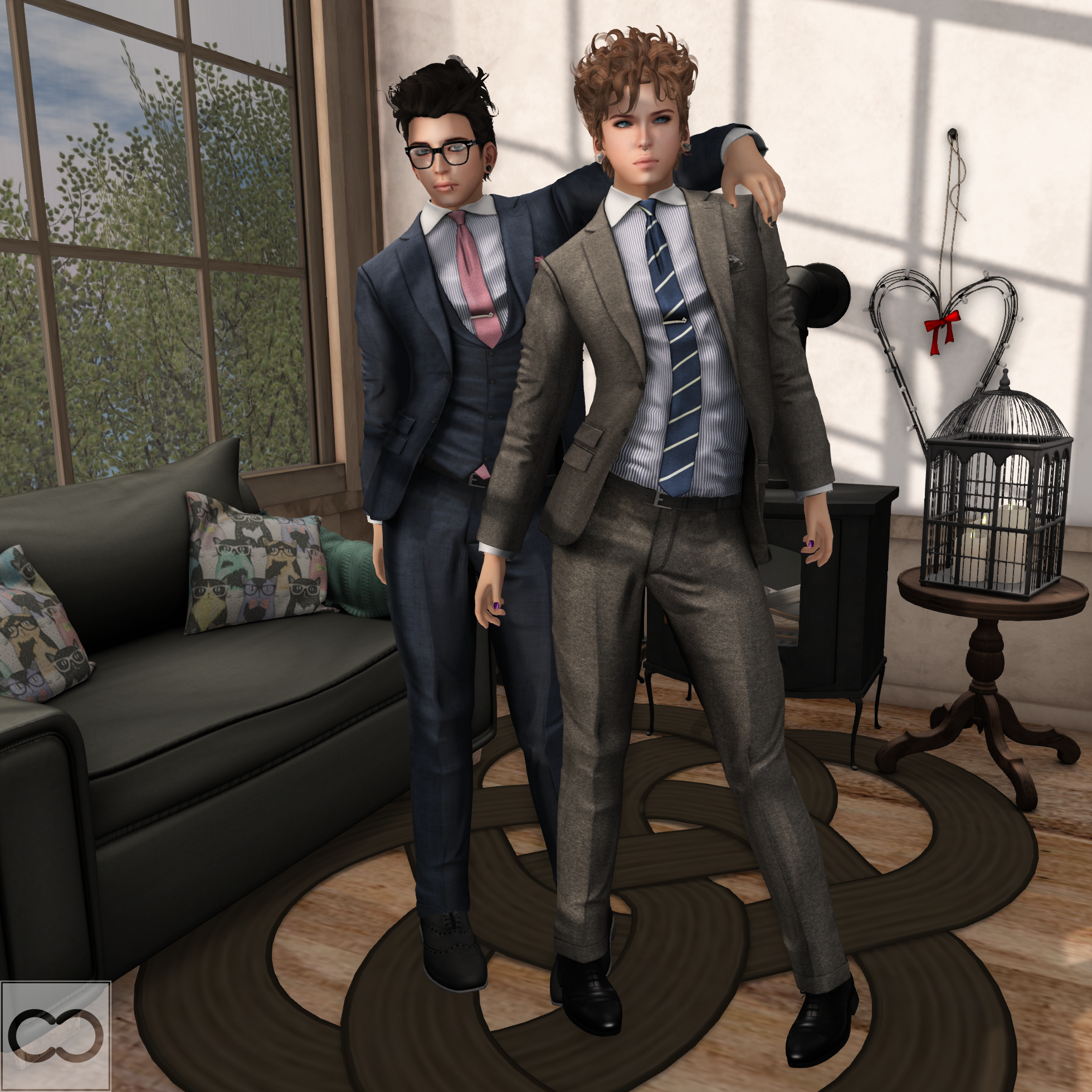 Valentine and Amadeo are both wearing The Dandy suit from Deadwool. When I saw this suit my jaw hit the desk because it's probably one of the best made and detailed suits I've ever seen in Second Life and suits are like catnip for the ladies! (and the men apparently as Amadeo kindly informed me).
You get a hud that allows you to change the colour of the shirt, tie and little pocket handkerchief. You have the option of wear it with or without the waistcoat too. The Taupe colour on Ama can be found at The Men's Dept and the Blue colour on Valentine can be found at the Deadwool Mainstore.
If you want the fantastic furniture set hiding in the background there then please pop on over to the Cheeky Pea booth while you're down at this round of The Men's Dept.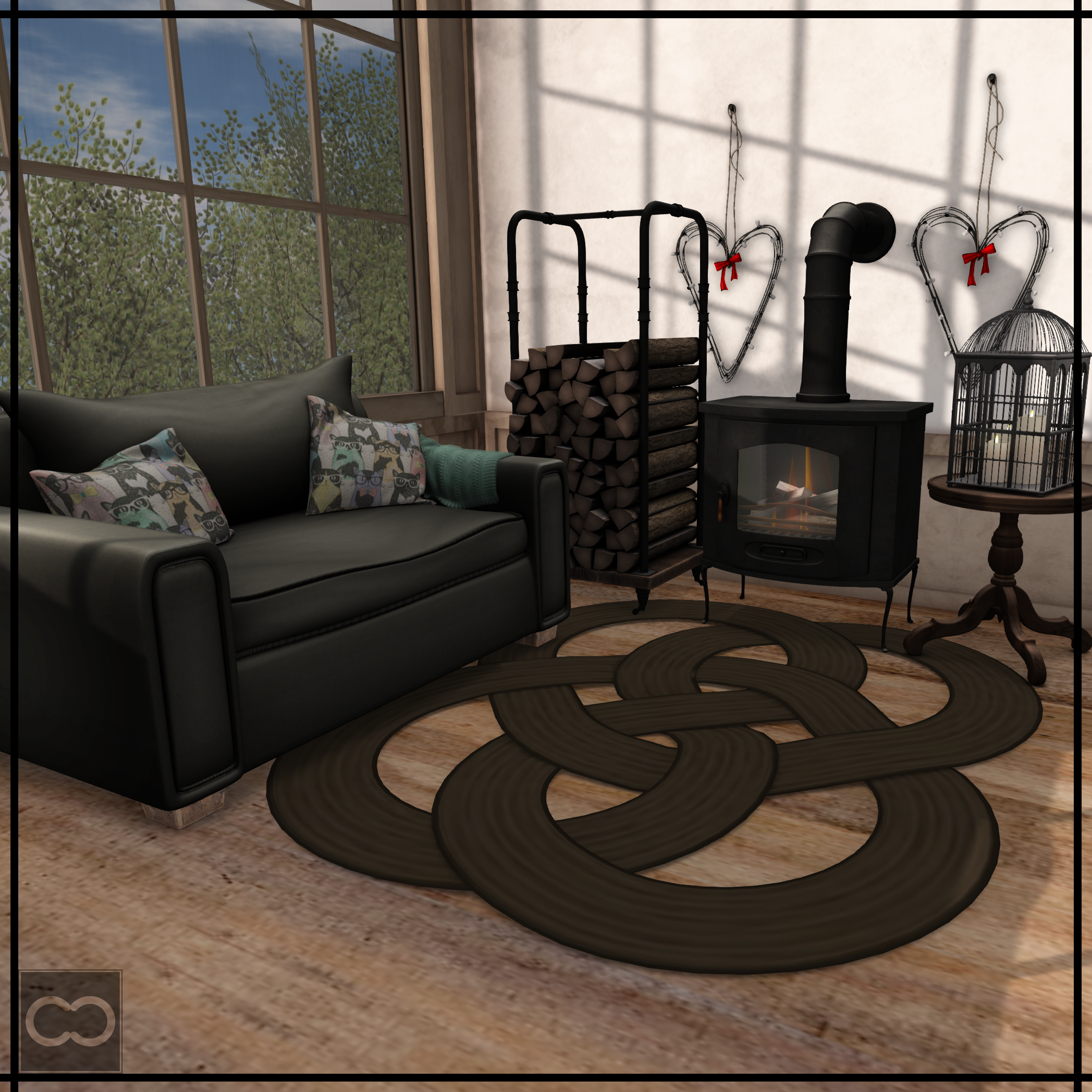 The Woodcutter Corner pieces make a lovely warm feeling, cozy area in your house. You have the option of PG or Adult animations in the couch you choose and you can change the colour of the couch and the pattern on the cushions using the menu inside.
Happy Shopping!
Valentine:
Suit -
Deadwool
- The Dandy - Blue
Shoes -
Ispachi
- Mason Brogues
Glasses -
Sorgo
- Swan - Black
Hair -
Exile
- Machinehead - Blacks Pack
Skin -
Pink Fuel
- Ashton - Peach
Ears -
CheerNo
- Human Ears - Plug Open
Hands -
SLink
- Avatar Enhancement Male Mesh Hands - Relax (with Pink Fuel appliers)
Amadeo:
Suit -
Deadwool
- The Dandy - Taupe @
The Men's Dept
Shoes -
Kauna
- Oxfords - Black
Hair -
Mina
- Mark - Browns Pack @
The Chapter Four
Skin -
Pink Fuel
- Ash - Peach
Hands -
SLink
- Avatar Enhancement Male Mesh Hands - Relaxed (with Pink Fuel appliers)
Pose -
Label Motion
- Cutie
Furniture:
*Couch -
Cheeky Pea
- Woodcutter Corner - Cosy Patterns Couch @
The Men's Dept
*Fireplace -
Cheeky Pea
- Woodcutter Corner - Fireplace @
The Men's Dept
*Wreath -
Cheeky Pea
- Woodcutter Corner - Heart Wreath @
The Men's Dept
*Rug -
MudHoney
- Priya Rug - Brown
*Candles -
Alouette
- Bird Cage Candle Holder
Building -
Scarlet Creative
- Hudson Townhouse @
Collabor88