The theme for this round of Collabor88 is My Love and all the participants had the option to bring another creator as their date to this round. That means double the creators and double the goodies on offer.
Be prepared to empty your purse!
Fishy Strawberry were invited to this round by Glam Affair have released a fantastic dress/cardi combo that comes with an extra little twist.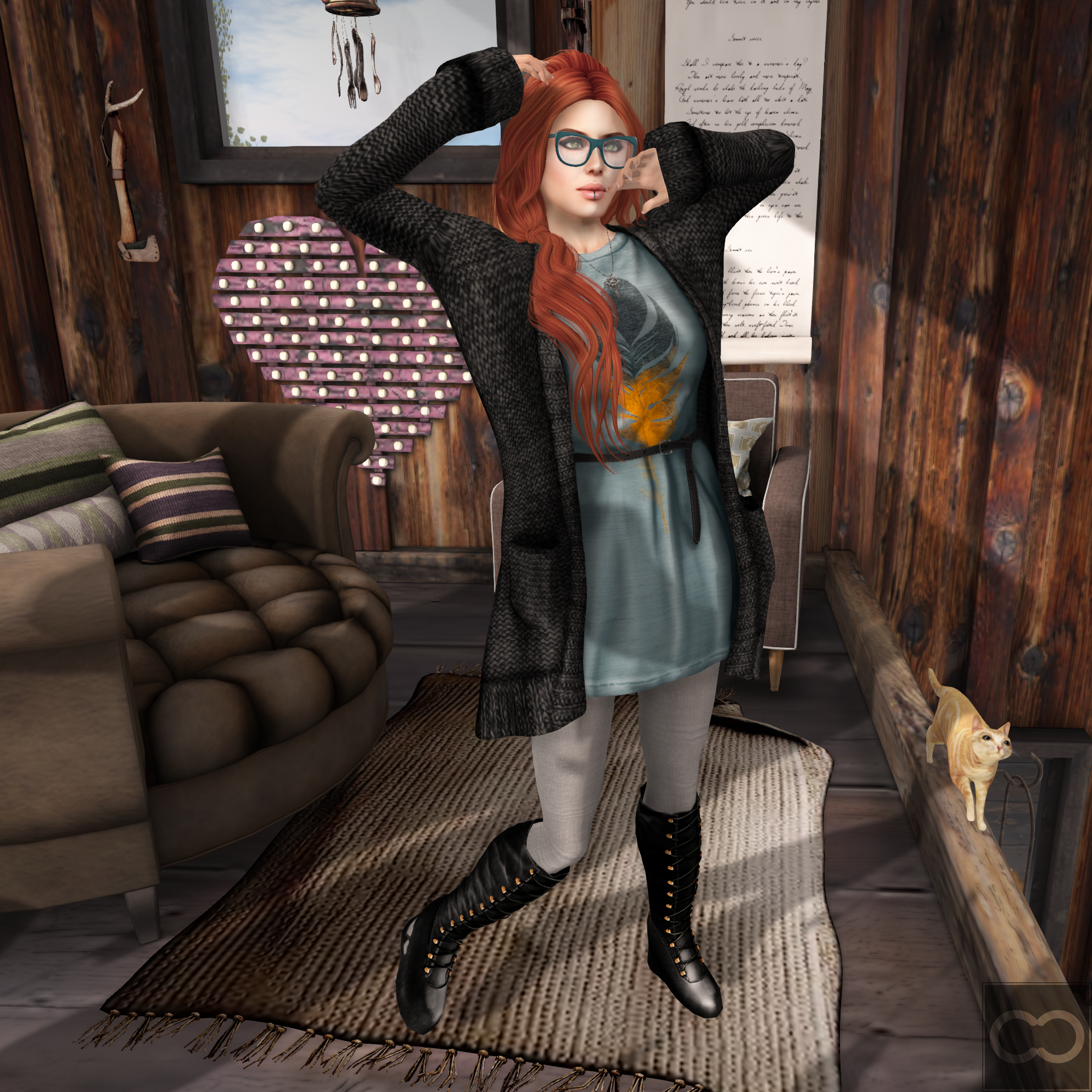 The Embrace Me Cardi And Dress comes in a choice of colours. Make sure the colour you choose is for the Cardigan and not the dress because you get a hud with basic dress colours included. It also allows you to change the colour of the belt and the metal. The awesome twist with this dress is Fishy Strawberry have also released three additional huds with even more gorgeous dress colours for you to add. This particular dress is in the 'I'm Hip' add on hud. Each additional hud is only 88L so you're basically getting a ton more dresses for a bargain price.
The boots are the Love Boots from Boom. These are rigged mesh boots that comes in a few different sizes so make sure you dry a demo before you buy. Each colour has cute little hearts on the wedge heel.
While you are at Collabor88 don't get to head over to the Exile booth to get yourself the Scribbled Hearts style. Exile have a brand new colour pack system that includes even more colours than they used to. Grab whichever takes your fancy but I've always been a big fan of the naturals pack because it includes the red I always choose to wear and a bunch of other colours.
Baiastice have released the Cleo Sweater and the Nayra Long Skirt for this round.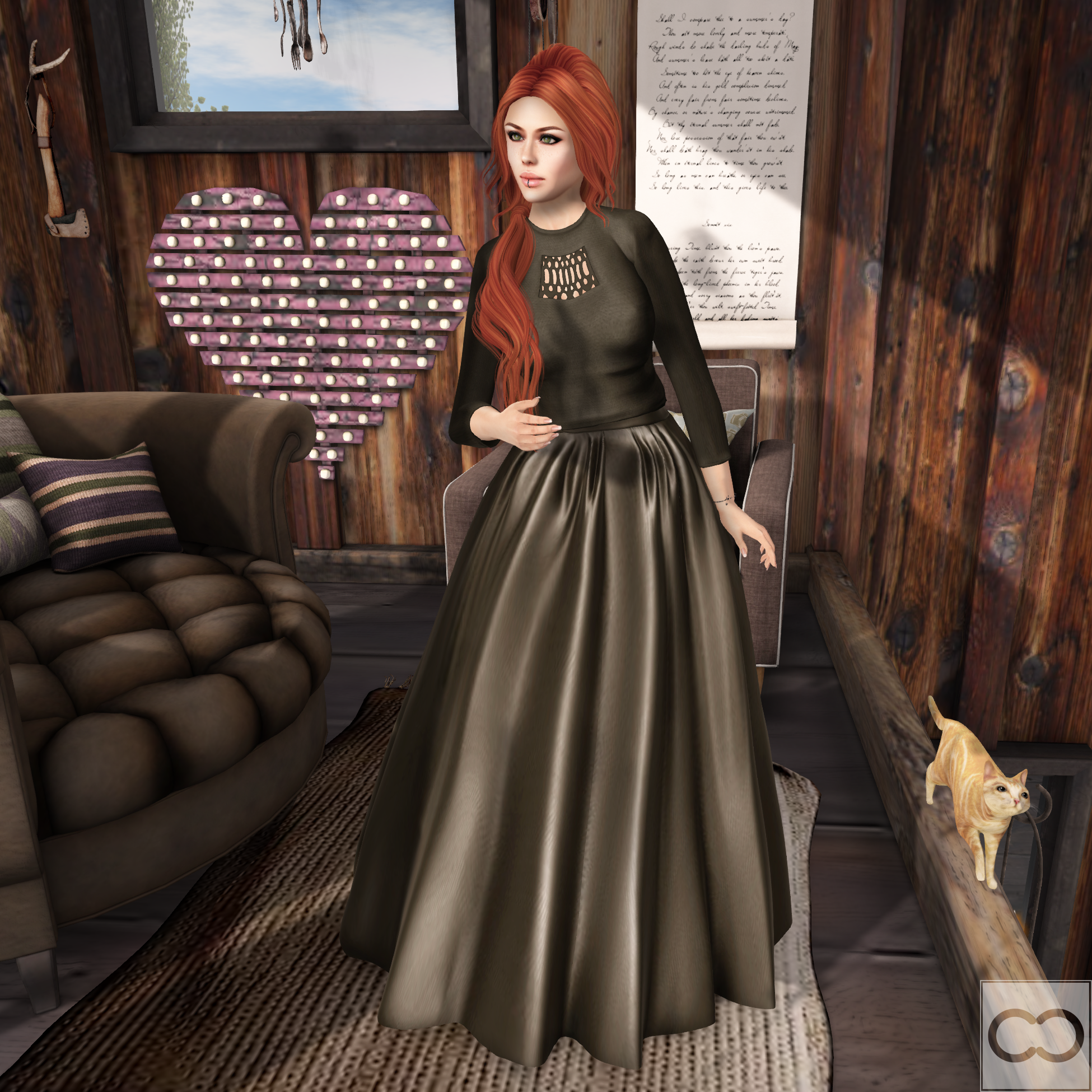 The Cleo Sweater is a cute 3/4 sleeve sweater with a lace panel on the front. It comes in a range of muted colours and of course it fits perfectly with the Nayra Long Skirt which also comes in the matching colours. I'm a big fan of this dark olive colour. It's rich and earthy and feels warming and cozy in this ridiculously cold weather.
If you aren't much of a skirt person but still want something that looks cozy and warm then you can find what you are looking for by nipping over to the ISON booth.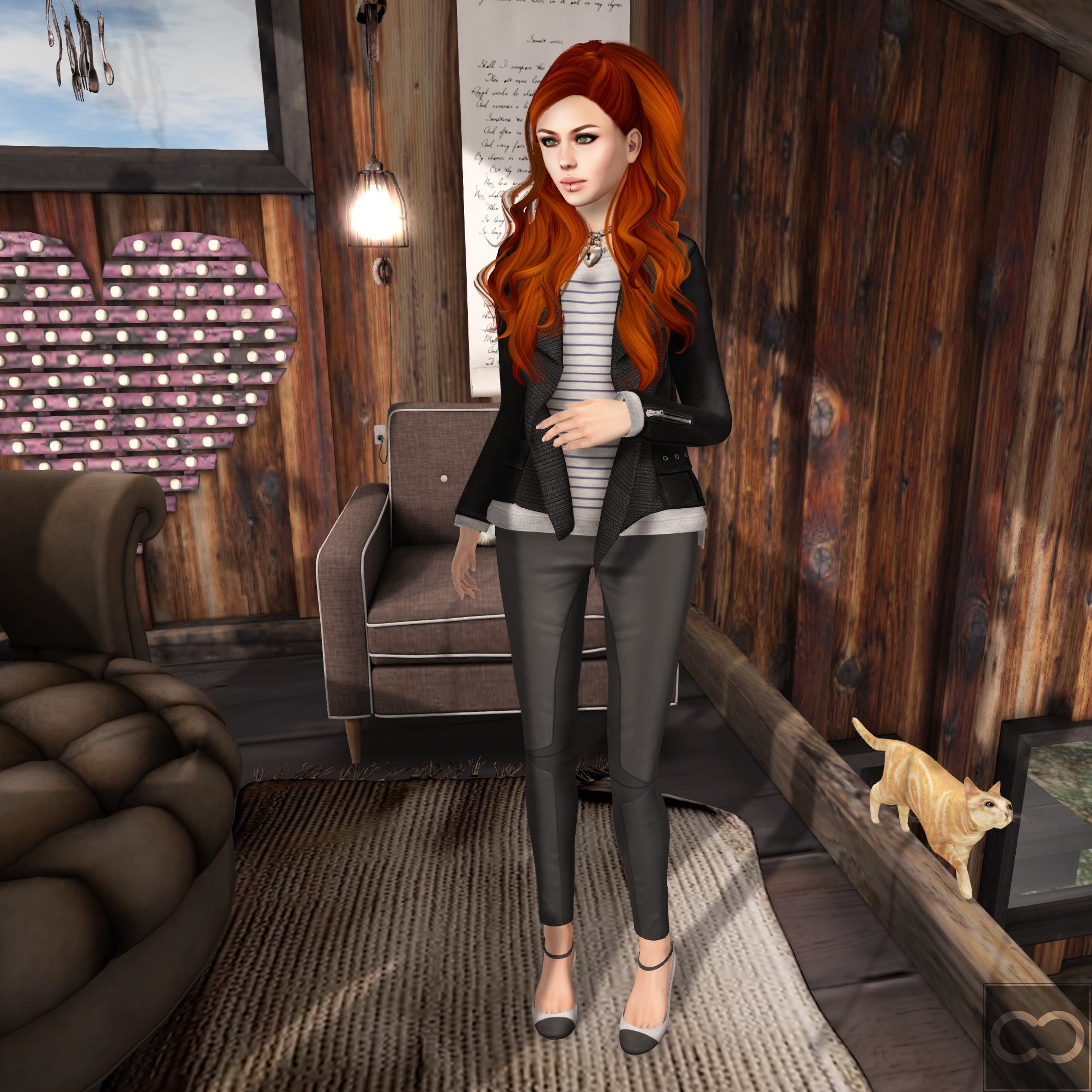 The Serino Leather Jacket and the Tova Leather Leggings make an adorable outfit. The jacket has leather arms and a lovely cozy looking woolen collar. It also includes a hud that allows you to change the colour of the shirt underneath. The leggings that fit underneath are gorgeous and leather too. You have a choice of colours for both the jacket and the leggings. I'm loving this outfit right now and I don't want to take it off.
Lamb have impressed me once again with their Illuminate style. They are slowly making their way into my heart with each Collabor88 round. Of course I made a beeline for the gingers pack but they have lots of colours. I adore the volume in this style because I am a fan of big hair. Poof it up!!!
Foxes is getting ready for Spring with their Wallflower Dress and Wallflower Cardigan.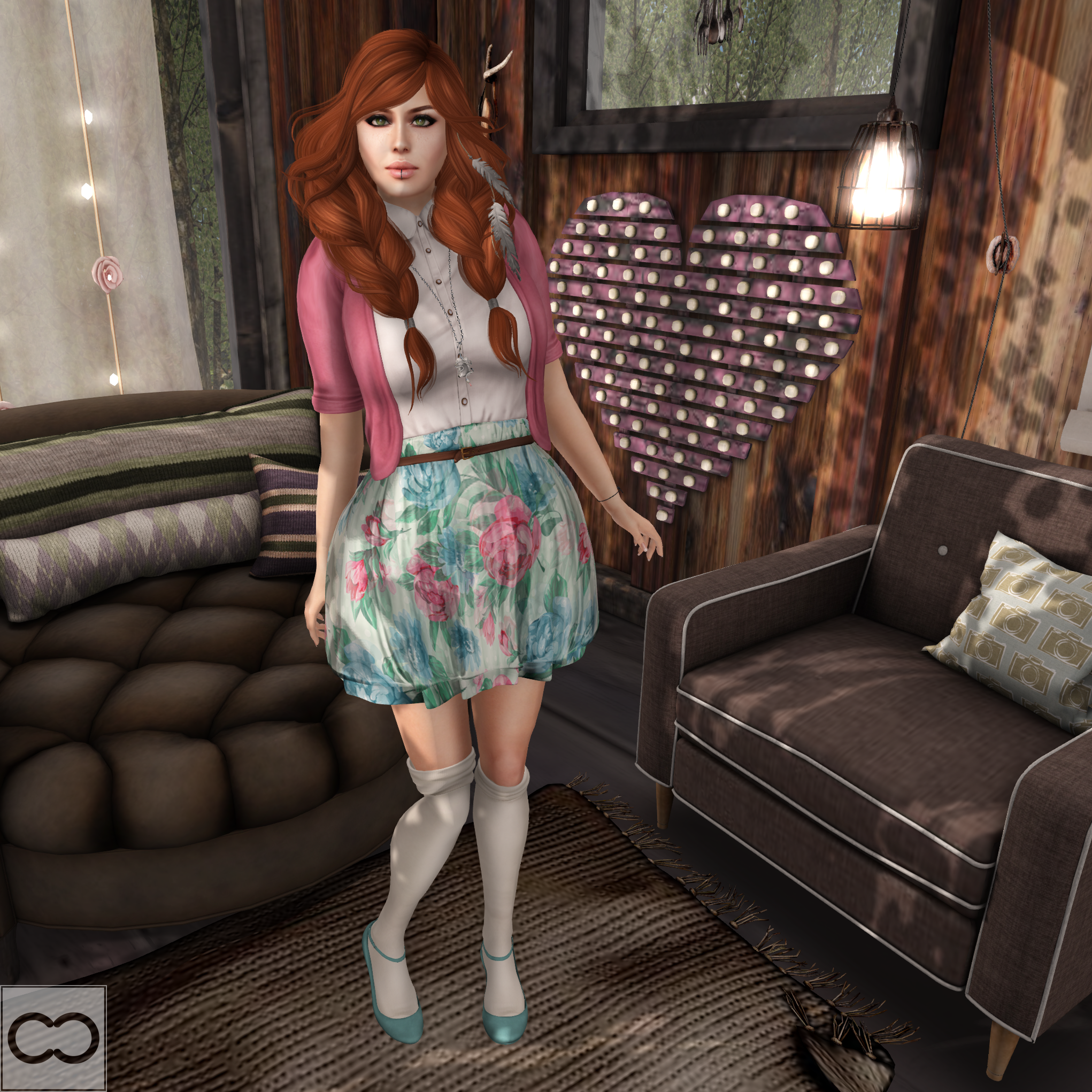 The cardigan is included with the dress but is a separate piece so you can wear them individually or even mix and match with other dresses from other colour packs.
Of course the Slouchy Knee Socks from Atomic are the perfect accompaniment to the cute little dress. These comes with appliers for your mesh bodies or standard system layers. The tops of the socks are separate mesh pieces that can be resized to fit you perfectly.
As we already know I'm a big fan of options so to see Tee*fy release their Freya Dress in two different lengths was a big plus for me.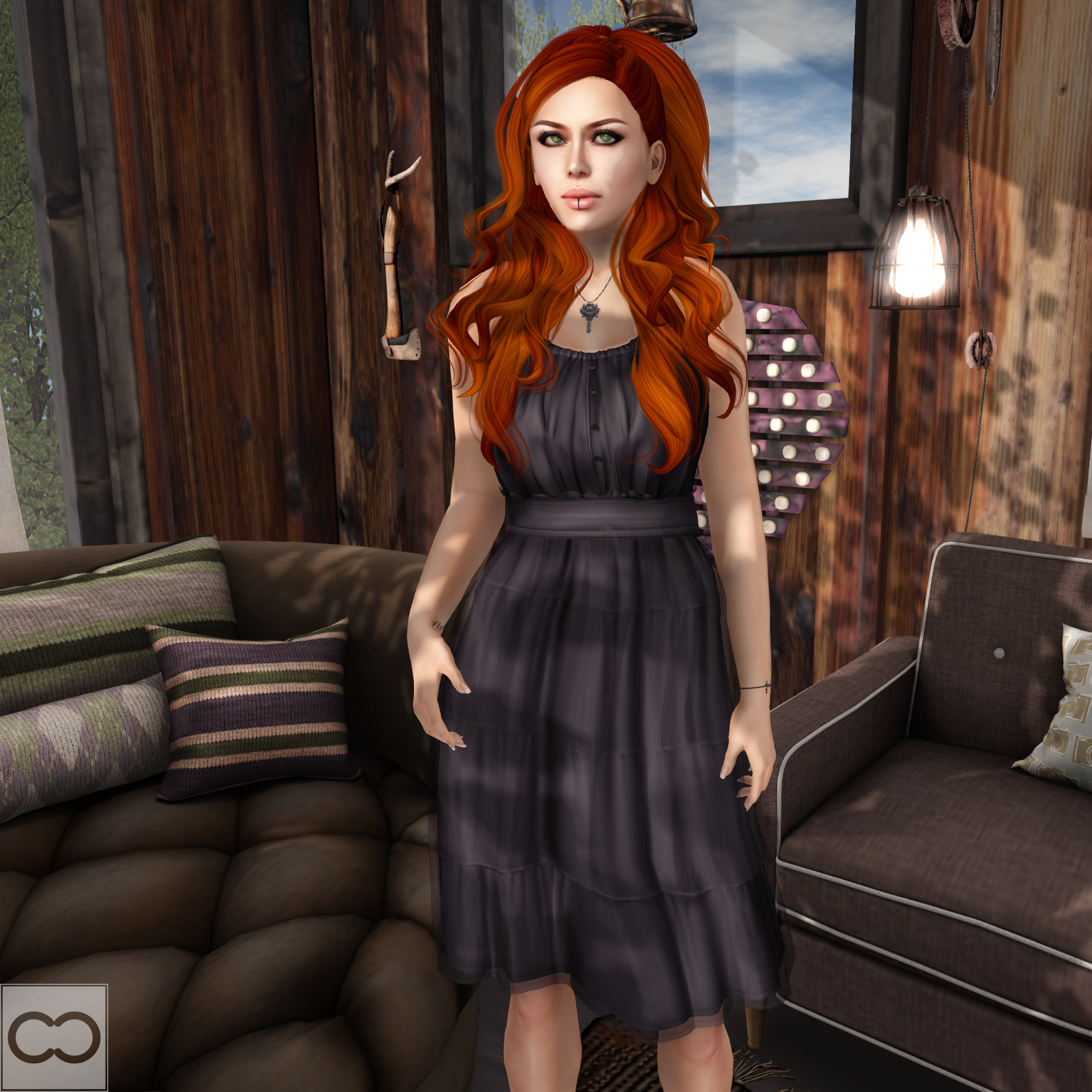 I personally liked the longer version that comes down past the knees but if you like your standard length short dress that flashes a little bit of thigh then you have that option too. I like the slightly sheer layer too, it makes it all feel a bit more floaty and pretty even in a darker colour.
The last thing I grabbed from this round was some pretty lingerie from Lark.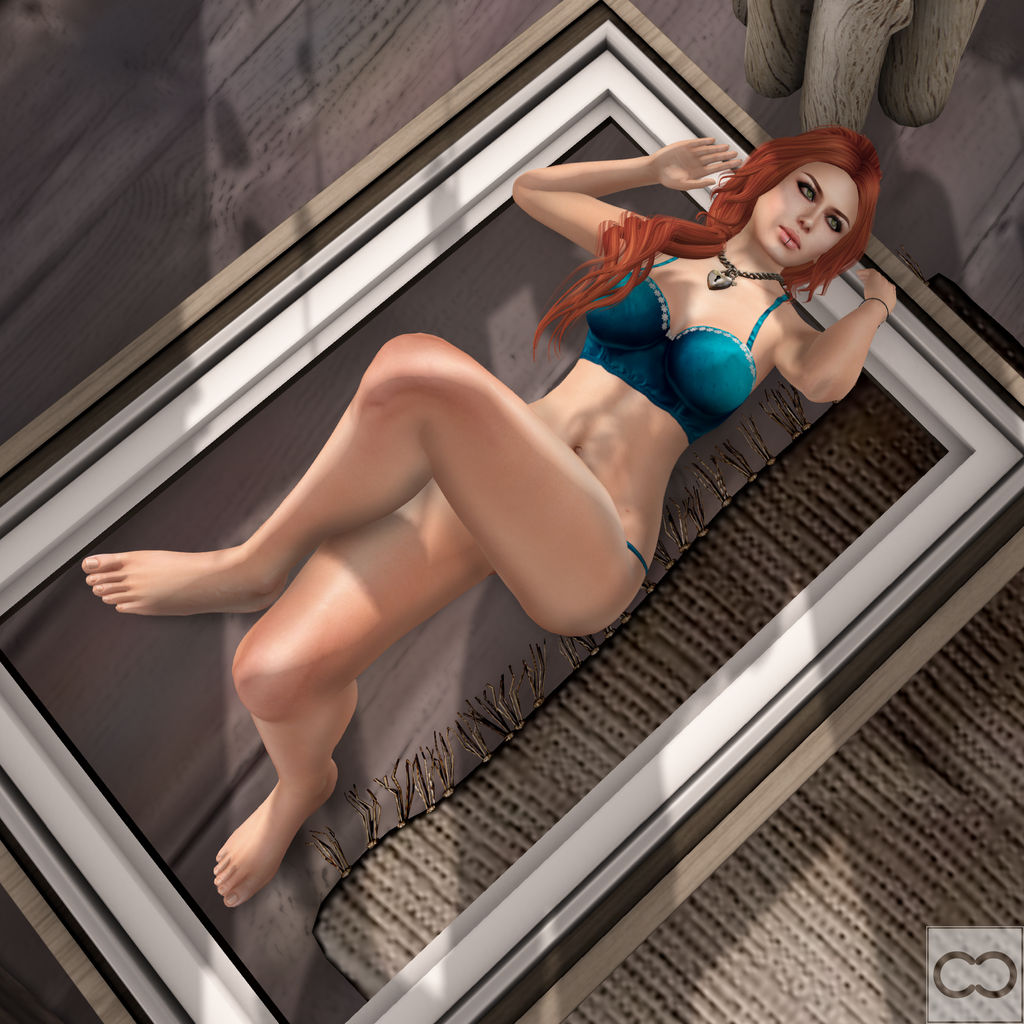 TrueLove is a pretty panties and bra set that comes in appliers for SLink or Maitreya mesh bodies or as a standard system layers. I went for the blue because the colour was so rich and pretty.
The frame is part of a set from from Exposeur called Living Picture. There are 5 different frames, each with a different pose. They are attachable so you can even use them on no rez sims. Have fun and take some crazy living pictures!
Some of the furniture goodies I grabbed from this round are shown below.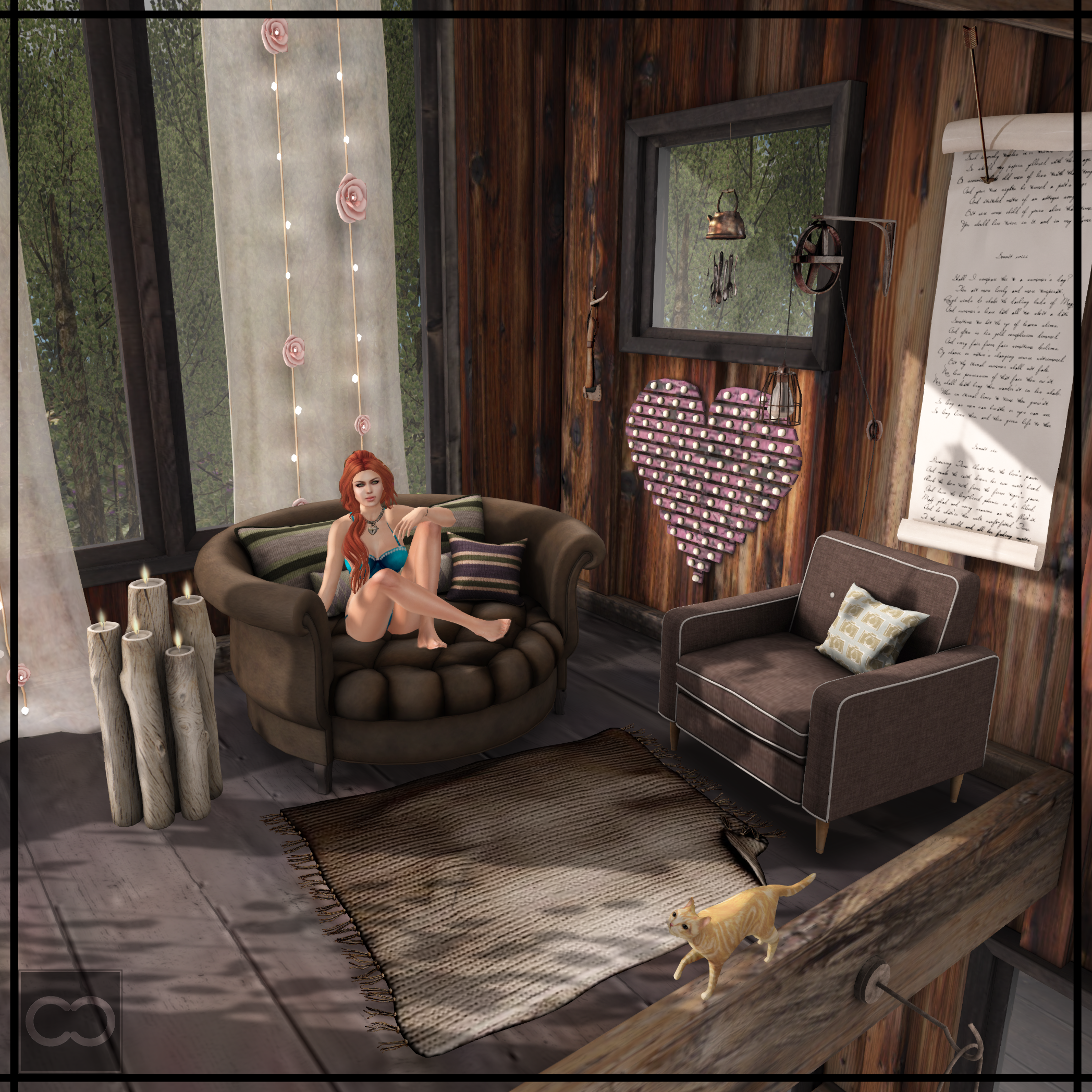 Check out the credits for info on what I grabbed!
Happy Shopping
Pic 1:
Dress -
Fishy Strawberry
- Embrace Me Cardi And Dress - Black @
Collabor88
(Additional Embrace Me Dress - I'm Hip add-on hud used on dress)
Boots -
Boom
- Love Boots - Pitch @
Collabor88
Glasses -
Fishy Strawberry
- Feline Glasses @
The Chapter Four
Necklace -
Yummy
- Embellished Key Necklace - Silver @
Collabor88
Tights -
Izzie's
- Cozy Tights - Grey
Hair -
Exile
- Scribbled Hearts - Naturals Pack
Skin -
League
- Erin Pale - Feline
Eyes -
Ikon
- Charm Eyes - Moor
Hands -
SLink
- Avatar Enhancement Mesh Hands - Casual (with League appliers)
Pose -
oOo Studio
- Army - One
Pic 2:
Shirt -
Baiastice
- Cleo Sweater - Dark Olive @
Collabor88
Skirt -
Baiastice
- Nayra Long Skirt - Dark Olive @
Collabor88
Hair -
Exile
- Scribbled Hearts - Naturals Pack @
Collabor88
Skin -
League
- Erin Pale - Feline
Eyes -
Ikon
- Charm Eyes - Moor
Hands -
SLink
- Avatar Enhancement Mesh Hands - Casual (with League appliers)
Pose -
Elephante Poses
- Lucy - #1
Pic 3:
Shirt -
ISON
- Serino Leather Jacket - Coal @
Collabor88
Pants -
ISON
- Tova Leather Leggings - Gray @
Collabor88
Necklace -
Yummy
- Chunky Heart And Key - Silver @
Collabor88
Hair -
Lamb
- Illuminate - Gingers Pack @
Collabor88
Skin -
League
- Erin Pale - Feline
Eyes -
Ikon
- Charm Eyes - Moor
Hands -
SLink
- Avatar Enhancement Mesh Hands - Casual (with League appliers)
Feet -
SLink
- Avatar Enhancement Mesh Feet - Flat (with League appliers)
Pose -
An Lar Poses
- The Beauty Series - Grace
Pic 4:
Dress -
Foxes
- Wallflower Dress - Lullaby @
Collabor88
Cardigan -
Foxes
- Wallflower Cardigan - Pink (comes with dress) @
Collabor88
Necklace -
ANE
- Forbidden Fruit Necklace - Silver Diamond @
Collabor88
Hair -
Truth
- Wren - Gingers Pack (includes feathers)
Skin -
League
- Erin Pale - Feline
Eyes -
Ikon
- Charm Eyes - Moor
Hands -
SLink
- Avatar Enhancement Mesh Hands - Casual (with League appliers)
Feet -
SLink
- Avatar Enhancement Mesh Feet - Flat (with League appliers)
Pose -
EverGlow
- Sugar - 07
Pic 5:
Dress -
Tee*fy
- Freya Dress Long - Midnight @
Collabor88
Necklace -
Yummy
- Embellished Key Necklace - Silver @
Collabor88
Hair -
Lamb
- Illuminate - Gingers Pack @
Collabor88
Skin -
League
- Erin Pale - Feline
Eyes -
Ikon
- Charm Eyes - Moor
Hands -
SLink
- Avatar Enhancement Mesh Hands - Casual (with League appliers)
Pose -
Mien
- Honeybun - 03
Pic 6:
Lingerie -
Lark
- TrueLove - Blue (Maitreya appliers) @
Collabor88
Necklace -
Yummy
- Chunky Heart And Key - Silver @
Collabor88
Hair -
Exile
- Scribbled Hearts - Naturals Pack @
Collabor88
Skin -
League
- Erin Pale - Feline
Eyes -
Ikon
- Charm Eyes - Moor
Body -
Maitreya
- Mesh Body Lara - Includes Hands & Feet (with League appliers)
Pose Prop -
Exposeur
- Living Picture - Frame 4 @
Collabor88
Furniture:
House -
Trompe Loeil
- Amelia Cabin @
Collabor88
Loveseat -
Trompe Loeil
- Amelia Loveseat - Brown Leather @
Collabor88
Armchair -
LISP
- My Love Chair @
Collabor88
Heart Artwork -
A.D.D Andel
- Heart Pallet - Chipped Paint With Lights - Pink @
Collabor88
Scroll Artwork -
Floorplan
- Arrow Scroll @
Collabor88
Curtains -
Half Deer
- Fairy Curtain - White @
Collabor88
Rug -
Dust Bunny
- Braided Rug
Axe -
Dust Bunny
- Lumberjack's Axe
Wind Chime -
Dust Bunny
- Teapot Wind Chimes
Lamp -
Dust Bunny
- Engineer's Lamp
Candles -
Hideki
- Wooden Candles
Cat -
Fashonably Dead
- Cat - 12 Curious