The Liaison Collaborative is about to close it's door for this round because they'll be moving to a brand set up for their next round. So now is your last chance to get some goodies as it closes on the 28th. I always forget February is a short month.
Before I delve into the furniture I just wanted to show you one last outfit I nabbed from this round of TLC.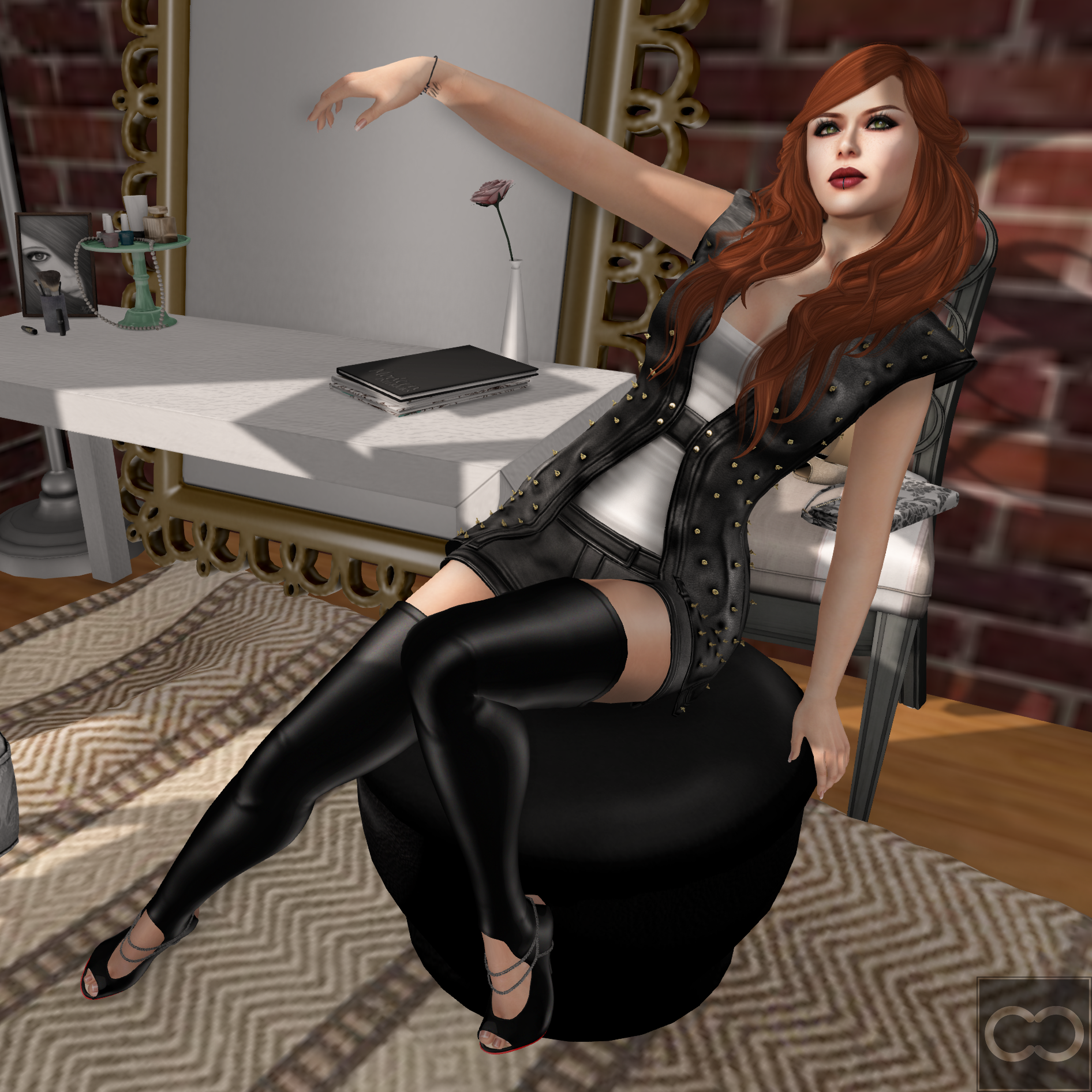 United Colors is a brand I was unfamiliar with before this round of TLC but I was pleasantly surprised to find this outfit available. It's a jacket and shirt combo and a matching leather shorts. The Leather Vest and the Leather Shorts both come in a choice of rich leather colours. With the vest you get a hud that allows you to change the colour of the shirt underneath or make it invisible. You can also change the colour of the studs on the vest to match your other metal accessories.
The furniture that I've used in both of these posts are from some of the best stores and they really out did themselves for this Leather and Lace themed round.
MudHoney made my favourite set with the Alicia pieces.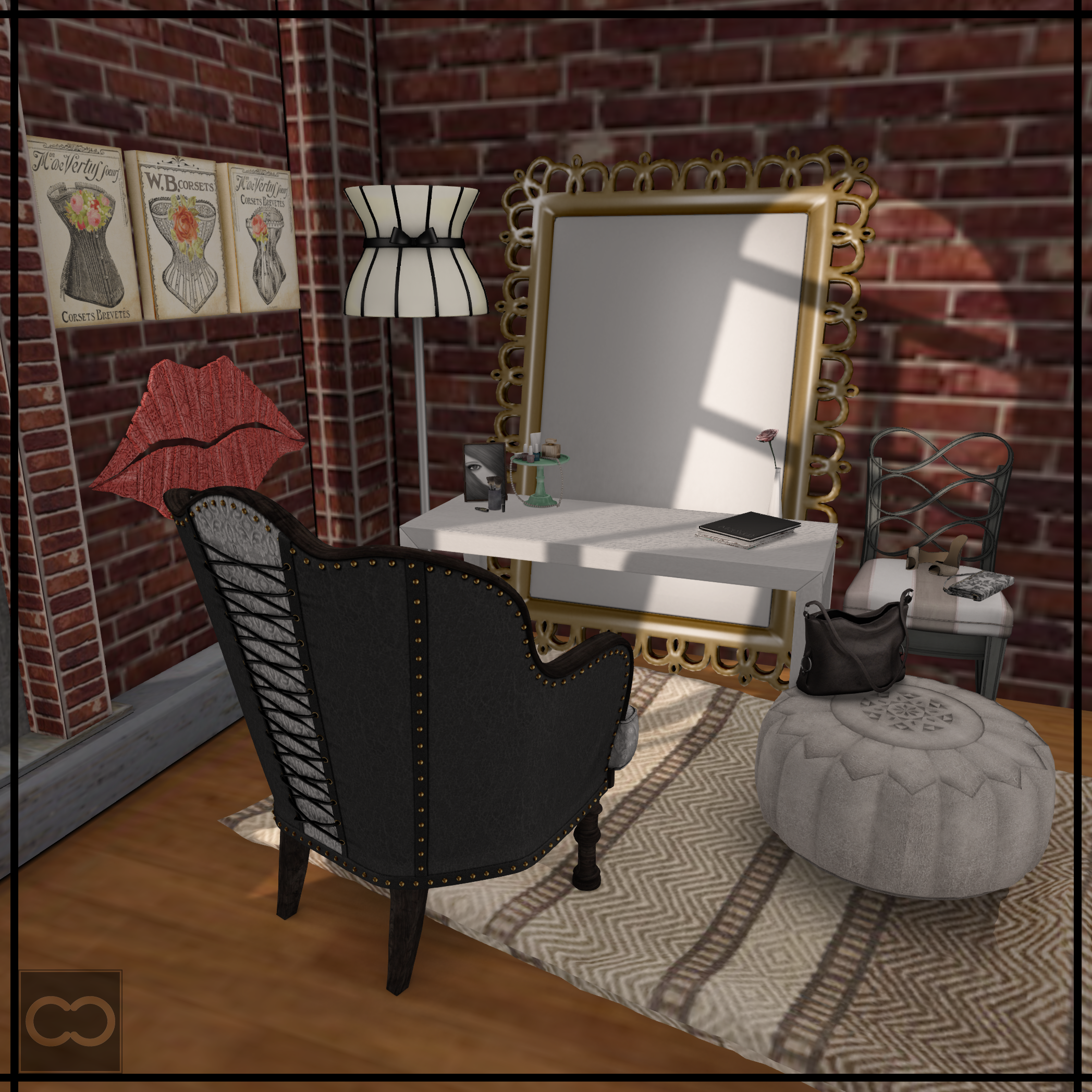 Each is available to purchase separately from the HUGE mirror to the small desk decor pieces. There is also a stool available that matches the rest of the Alicia pieces but I decided I wanted a much more comfortable chair for my delicate ass so I opted for The Corset Chair from Stockholm & Lima. The Corset Chair has menu options to change the fabric from Leather to Lace and to change the colour of that fabric too. I'm a big fan of the corset detailing up the back of the chair.
Kalopsia released a whole set of goodies that include the Lips on the wall in this pretty pink colour. I love the shape and design of this piece and the best thing about it being mod is you can resize it to have a massive pair of lips on the wall should it take your fancy or something a bit more smaller like this. The Tan Print Rug and the white Leather Pouf are also from Kalopsia. The Leather Pouf seems a little understated by you can buy a version with PG or adult animations to make it way naughtier than it looks!
Exposeur surprised me with a furniture release because as we all know they usually do poses. However this was a great release for them and I really want one of the Corset Lamps for my RL house. It's pretty and girly without being over sexual.
Sway's has made a chaise that is making it's way into a permanent spot in my house.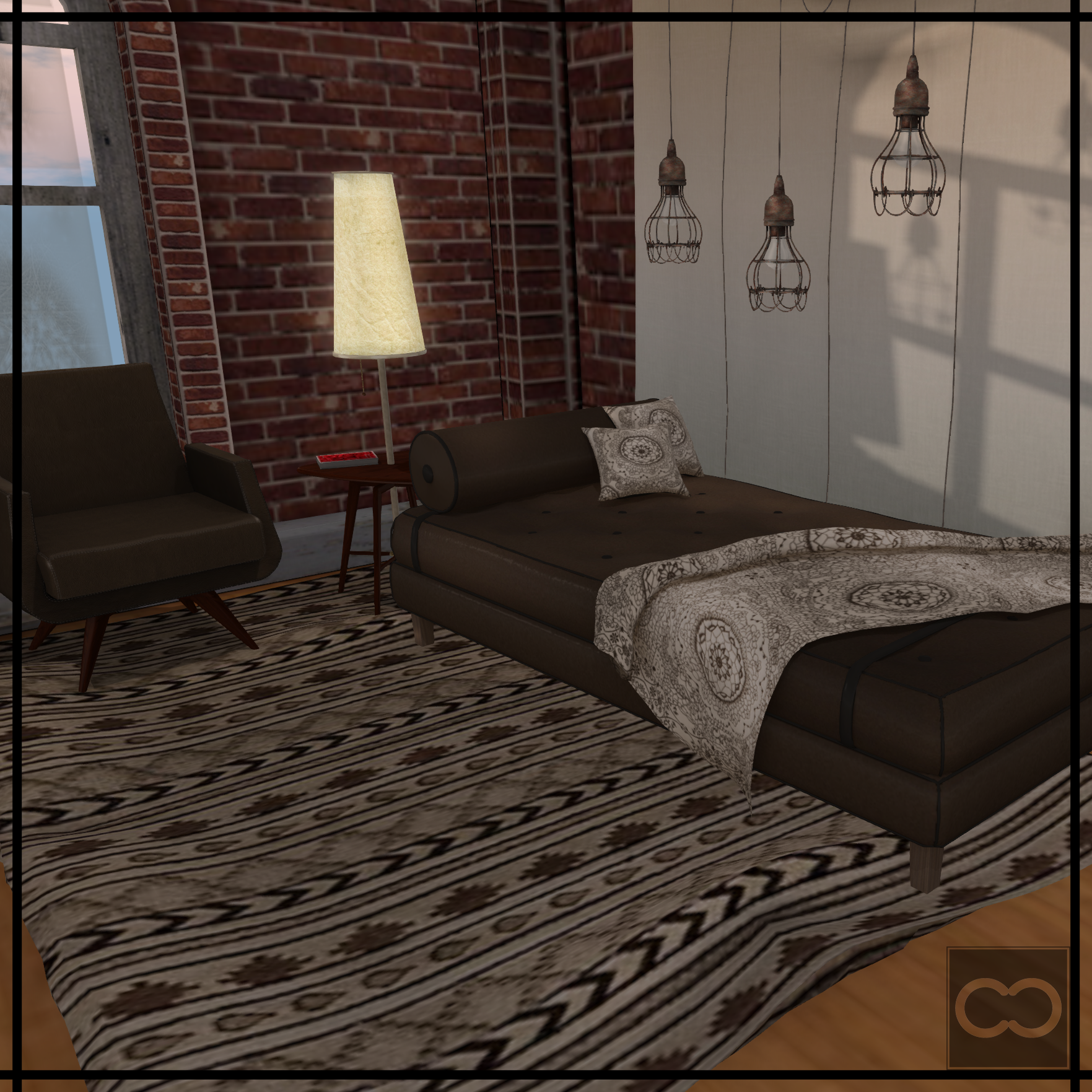 The Katya Chaise Lounge is lovely and has some great poses in it for singles, friends and couples. I love how you have the option to change the colour of the pillows and blanket to suit your decor. This rich brown was irresistable though.
I can't forget to show some love to the pose makers so I grabbed Cat and two of my favourite poses to take some slightly naughty pics.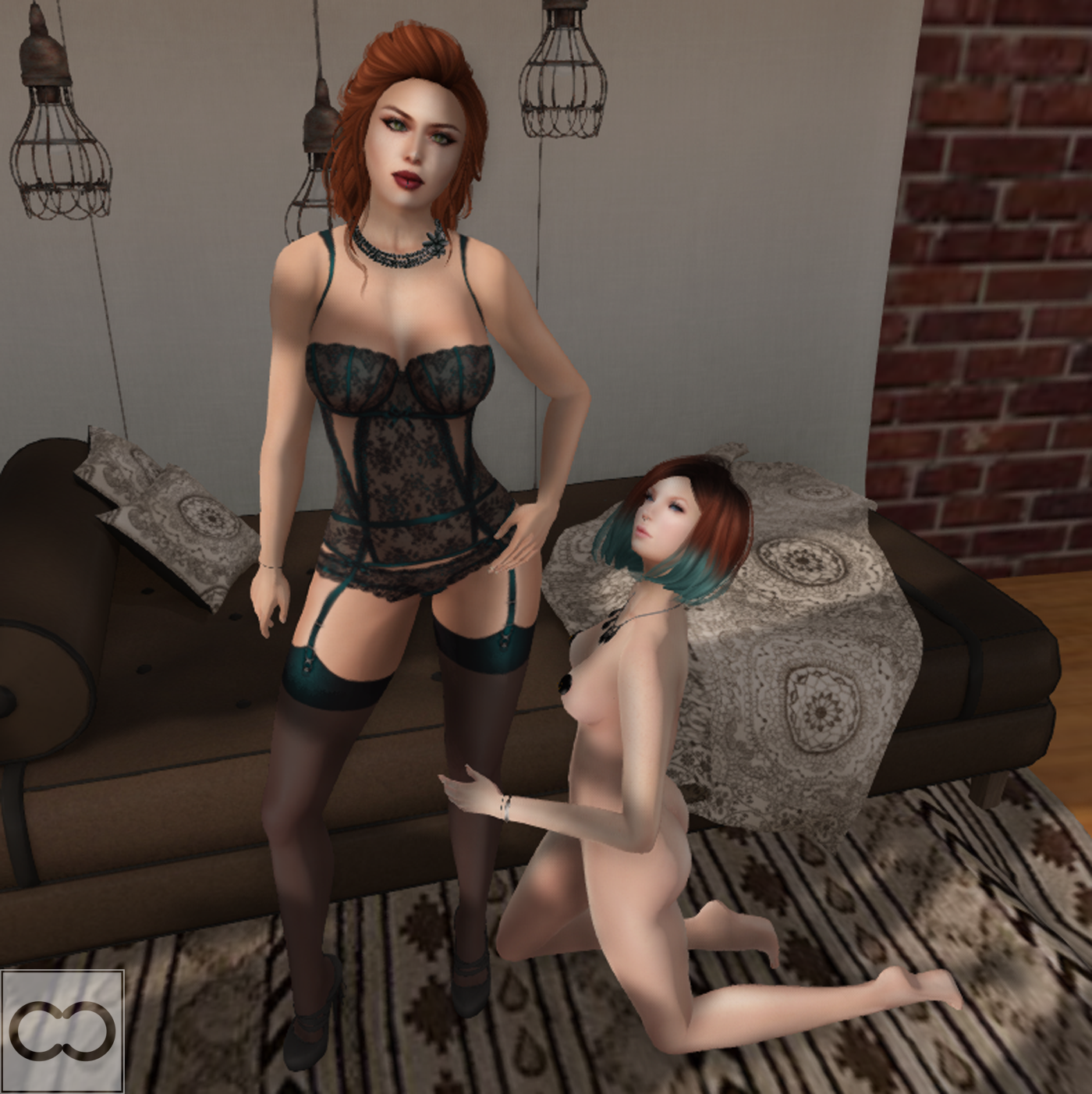 This is The Boss pose from Picture This Poses. Perfect for all your dominant ladies out there or for you sassy dominant men. The submissive pose would work equally well for men or women because the pose is mod and you can move it around to fit your avatars.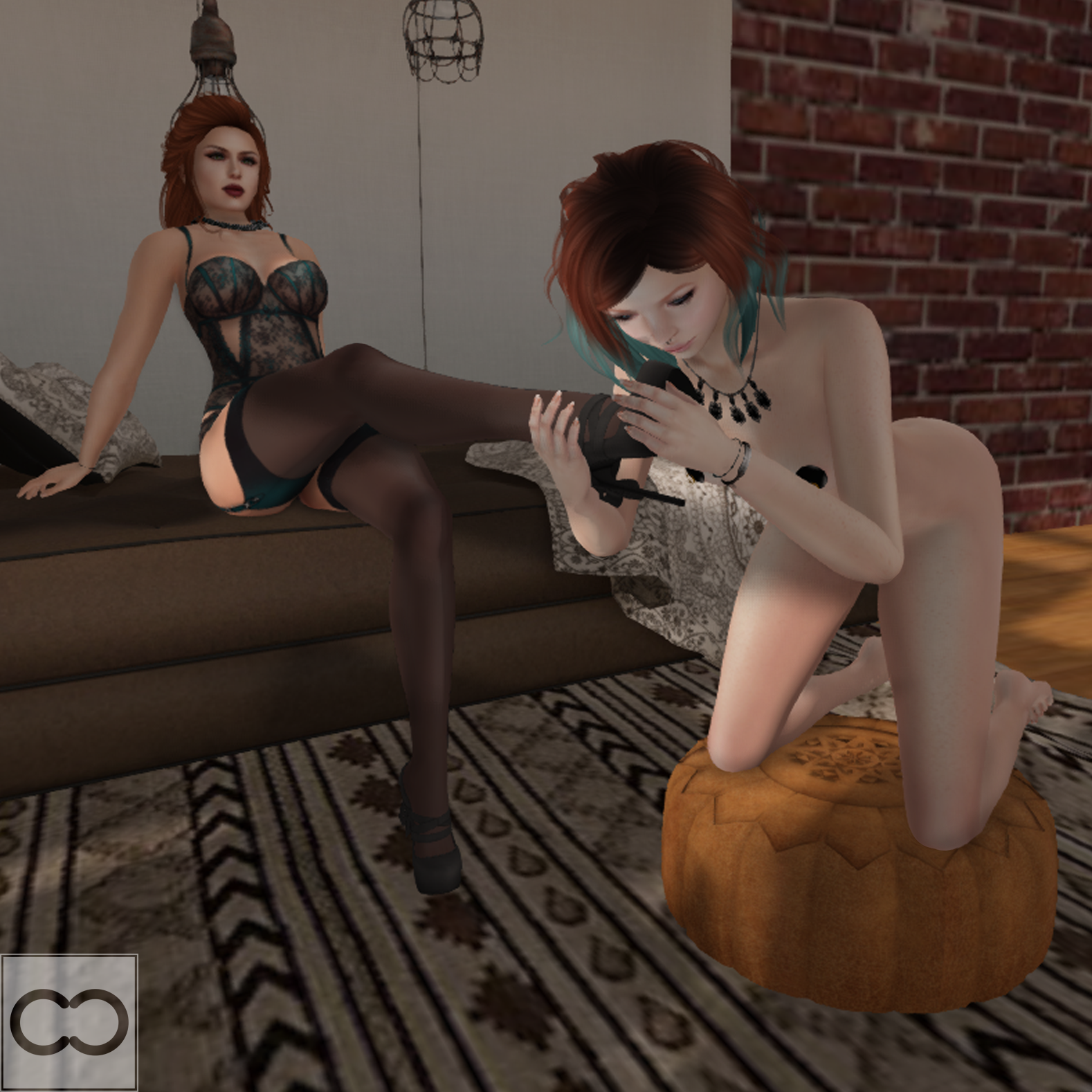 The Worship Me pose from Rack Poses is great for all those with a shoe or foot fetish. Although honestly I think Cat is just trying to steal my shoes here because they are too cute. I'll have to keep my eye on her. The pose was a little difficult to use with Cat because she's soo small and my legs are kind of long but with the help of a Kalopsia pouf we made it work. It would probably work better with a larger male avatar like the pose intended but honestly it's nothing a cushion or pouf couldn't fix.
Happy Shopping!
*Shirt -
United Colors
- Leather Vest - Black @
The Liaison Collaborative
*Shorts -
United Colors
- Leather Shorts - Black @
The Liaison Collaborative
Boots -
Hucci
- Deale Boots - Silver Midnight (require SLink high feet)
*Hair -
Truth
- Dulce - Gingers Pack
Skin -
League
- Erin Pale - Feline (with Erin tintable lipstick)
Eyes -
Ikon
- Charm Eyes - Moor
Eyelashes -
Mon Cheri
- Falsies Eyelash
Hands -
SLink
- Avatar Enhancement Mesh Hands - Casual (with Ama. appliers)
Feet -
SLink
- Avatar Enhancement Mesh Feet - High (with League appliers)
*Pose Prop -
Elephante Poses
- All Or Nothing @
The Liaison Collaborative
Furniture:
*Desk -
MudHoney
- Alicia Table @
The Liaison Collaborative
*Mirror -
MudHoney
- Alicia Mirror @
The Liaison Collaborative
*Picture Frame -
MudHoney
- Alicia Frame @
The Liaison Collaborative
*Books -
MudHoney
- Alicia Books @
The Liaison Collaborative
*Stand -
MudHoney
- Alicia Make Up Stand @
The Liaison Collaborative
*Brushes -
MudHoney
- Alicia Brush Jar @
The Liaison Collaborative
*Flower -
MudHoney
- Alicia Rose Pink @
The Liaison Collaborative
*Hand Bag -
MudHoney
- Zelia Bag @
The Liaison Collaborative
*Arm Chair -
Stockholm & Lima
- The Corset Chair @
The Liaison Collaborative
*Rug -
Kalopsia
- Tan Print Rug @
The Liaison Collaborative
*Pouf -
Kalopsia
- Leather Pouf - White @
The Liaison Collaborative
*Lips -
Kalopsia
- Lips Pink @
The Liaison Collaborative
*Artwork -
Exposeur
- Corsets Canvas Art Prints @
The Liaison Collaborative
*Lamp -
Exposeur
- Corset Lamp - White @
The Liaison Collaborative
*Chair -
Exposeur
- Ashley Loops Chair - Neutral @
The Liaison Collaborative
*Shoes -
YS&YS
- Capri Sabot - Taupe
*Clutch Bag -
Baiastice
- Lilia Clutch - Iceberg
*Building -
Breno
- Ballet Studio @
The Liaison Collaborative
Furiture:
*Chaise -
Sway's
- Katya Chaise Lounge - Brown @
The Liaison Collaborative
*Chair -
Convair
- Langdon Chair - Brown @
The Liaison Collaborative
*Table -
Convair
- Langdon Table @
The Liaison Collaborative
*Rug -
Kalopsia
- Brown Print Rug @
The Liaison Collaborative
*Lamp -
Kalopsia
- Wire Lamp - Bronze @
The Liaison Collaborative
*Pouf -
Kalopsia
- Leather Pouf - Brown @
The Liaison Collaborative
Drape -
DIGS
- Holden Wall Hanging - Ombre 3
*Building -
Breno
- Ballet Studio @
The Liaison Collaborative
Cryssie:
Lingerie -
Maai
- Melinda Lingerie - Teal
*Necklace -
Izzie's
- Pearl Necklace - Tahiti
*Shoes -
Fri.Day
- Cora Heels - Coal (for Maiterya)
*Hair -
Truth
- Delphie - Gingers Pack
Skin -
League
- Erin Pale - Natural (with Erin tintable lipstick)
Eyes -
Ikon
- Charm Eyes - Moor
Eyelashes -
Mon Cheri
- Falsies Eyelash
Body -
Maitreya
- Mesh Body Lara - Includes Hands And Feet (with League appliers)
Cat:
Pasties -
Ama
. - Ring Pasties
Hair -
Magika
- Things - Hud 03
Skin -
Pink Fuel
- Doll V2 - Crystal
Body -
Maitreya
- Mesh Body Lara
Hands -
SLink
- Avatar Enhancement Mesh Hands - Casual (with Pink Fuel Appliers)
Feet -
SLink
- Avatar Enhancement Mesh Feet - High (with Pink Fuel Appliers)
*Pose 1 -
Picture This Poses
- The Boss @
The Liaison Collaborative
*Pose 2 -
Rack Poses
- Worship Me @
The Liaison Collaborative