Have you been to The Chapter Four yet?
They opened on the 4th with a brand new round of goodies for you to delve into. I grabbed a few things and played some gachas and probably had the luckiest run on a gacha I have ever had in my life! More about that later...
I grabbed two outfits and both happened to be from ionic.
The first is Outfit 2 Sweater & Skirt.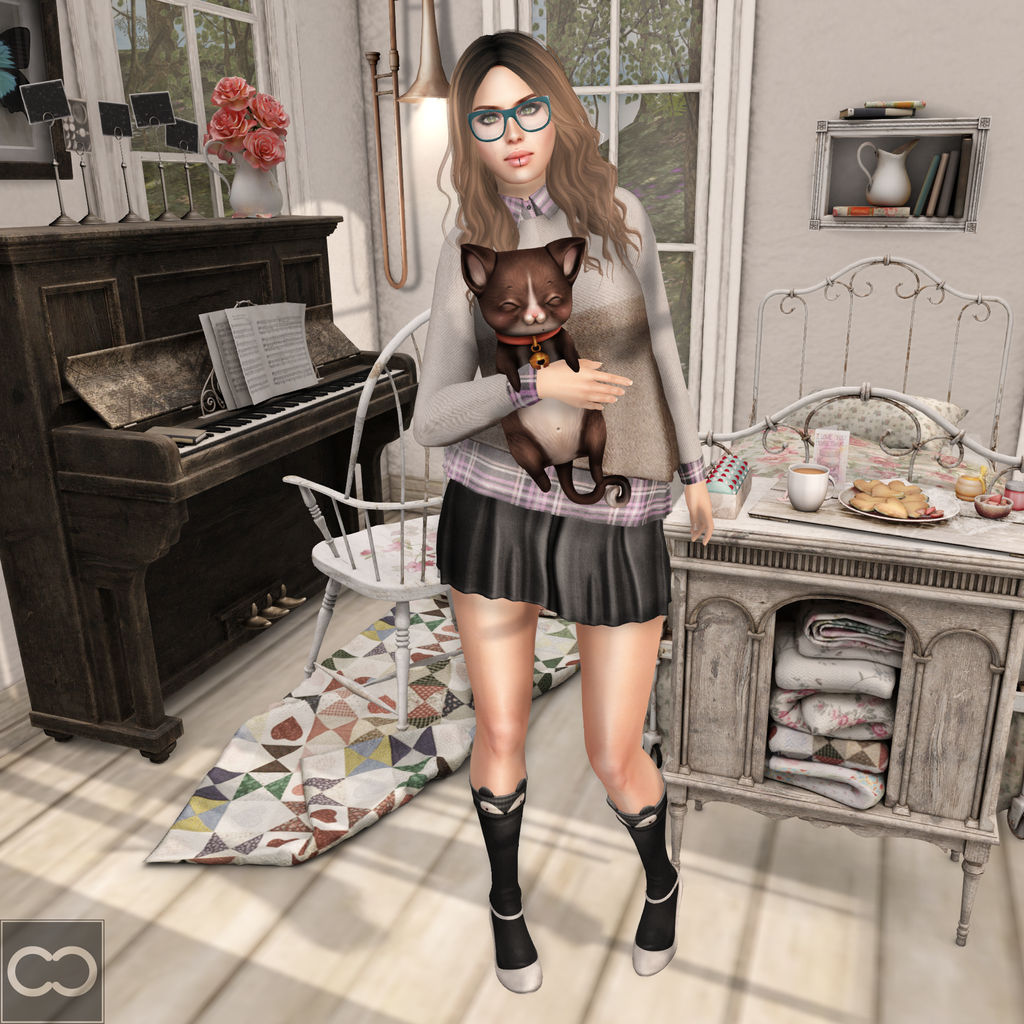 The outfit includes a cute sweater and shirt combo and a short skirt. There's three different colour sets to choose from. You can wear the top and skirt separately so if you get more than one colour then of course of you can mix and match.
The second outfit is the Winter Dress.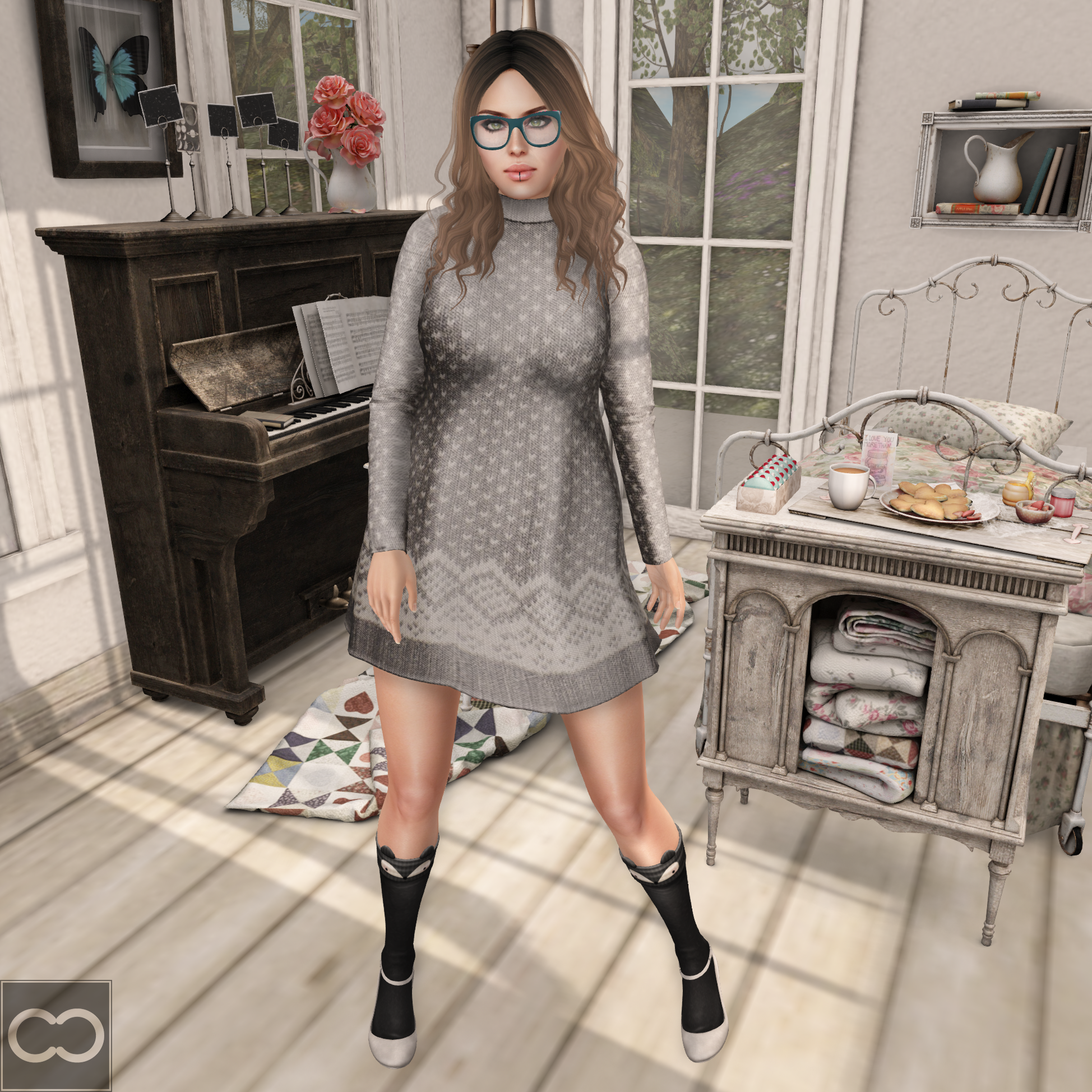 You get both the black and lilac colours in the pack so you don't have to decide between the two. It's an adorable dress and it even fit over the top of my Maitreya body using the hud to alpha out where needed. I love things I can wear over my mesh bodies.
The socks in both pictures are the Foxy Socks from Atomic. You get system layers and appliers for your mesh bodies in the pack. The tops of the socks are separate mesh pieces that you can resize to fit your legs perfectly. These were too adorable to pass up.
The glasses are from Fishy Strawberry and are the Feline Glasses.You get both a normal and sunglasses version and a hud that lets you change the colour of different parts of the frame to make yourself a unique pair if you wish. It includes not only colour but different patterns such as animal furs. Super cute!
Also while you're at The Chapter Four throw a few lindens into the Pr!tty gacha to get yourself a Dara hair. I ended up with Brown 3 & 4 which is a bit of a different look for me but I think it's cute. You can keep playing until you hit the colour you want, trade some, give some to your friends or just wear whatever pops out first!
Talking of gachas I mentioned my luckiest gacha streak ever and that was when I found my way over to the Apple Fall gacha.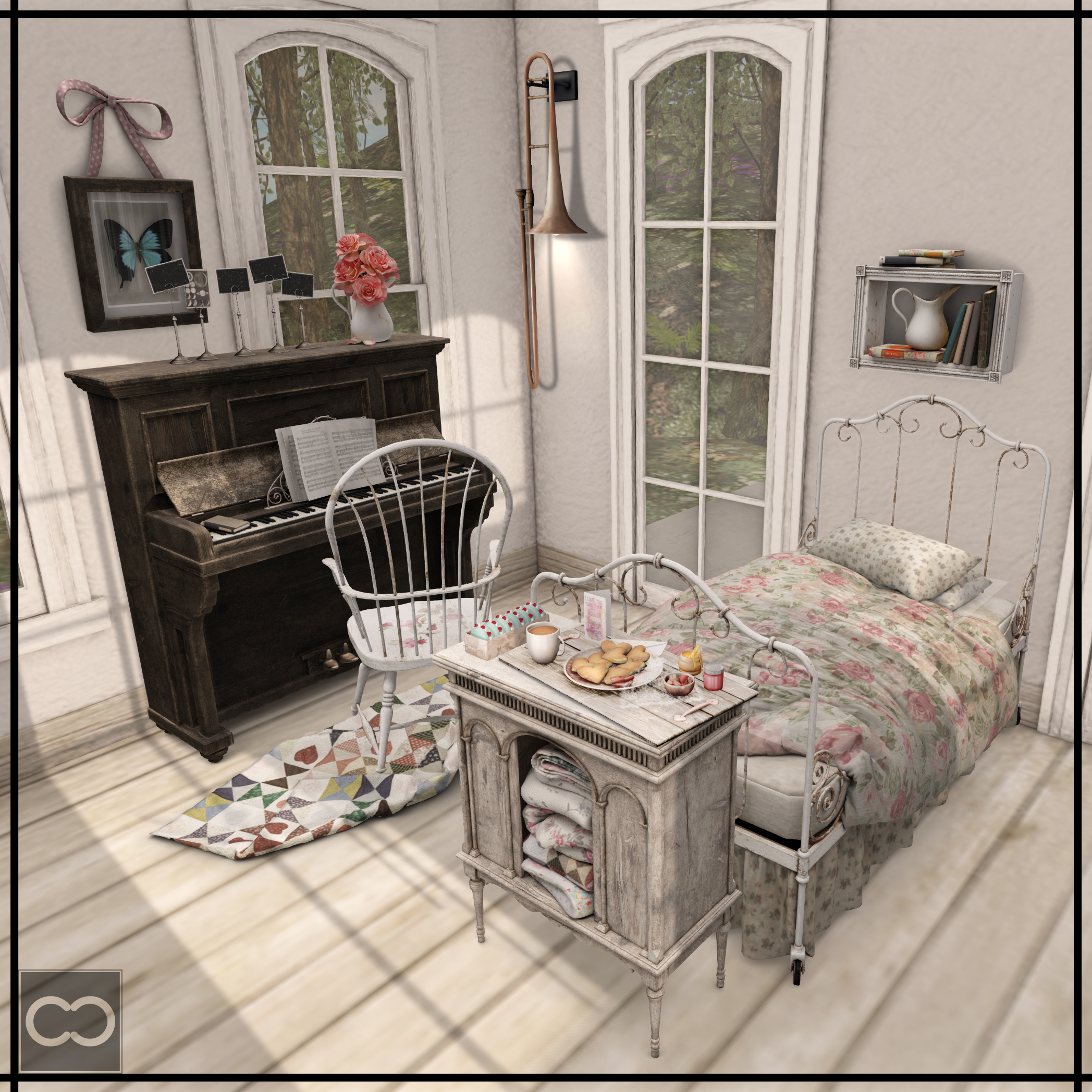 When it comes to furniture gachas I tend to play a few times and as soon as I hit a double I'll give up. It's how I stop myself plowing thousands into the machines. I'll give away my double to a friend and then use whatever it was I managed to grab. However when I put my lindens into the Apple Fall gacha I managed to land every item in it, one after the other, without a single double. Not going to lie there was a lot of over excited chair dancing. I've never managed that ever and I don't think I ever will again.
However even if you only play a couple of times you're going to get some really pretty furniture to rez at your house so throw a few lindens in the Apple Fall gacha direction.
The cute little tray with goodies on it is a collaboration from Dust Bunny and Windsong. It's only 85L and has gorgeous looking food and a card. It might be a touch late for Valentine's Day but who says you can't send someone a card that says you love them more than peanut butter all year round? I'd love that.
Happy Shopping!
Outfit -
Ionic
- Outfit 2 Sweater & Skirt @
The Chapter Four
Socks -
Atomic
- Foxy Socks - Black @
The Chapter Four
*Glasses -
Fishy Strawberry
- Feline Glasses @
The Chapter Four
Kitty -
Birdy
- Chibi Kitty - Choc @
The Chapter Four
Hair -
Pr!tty
- Dara - Brown 3 @
The Chapter Four
Skin -
League
- Erin Pale - Feline
Body -
Maitreya
- Mesh Body Lara - Hands & Feet Included (with League appliers)
Eyes -
Ikon
- Hope Eyes - Moor
Pose -
Le Poppycock
- Cupid's Fault Female - Love Is True (arm altered by kitty) @
The Chapter Four
Dress -
Ionic
- Winter Dress - Black @
The Chapter Four
Socks -
Atomic
- Foxy Socks - Black @
The Chapter Four
*Glasses -
Fishy Strawberry
- Feline Glasses @
The Chapter Four
Kitty -
Birdy
- Chibi Kitty - Choc @
The Chapter Four
Hair -
Pr!tty
- Dara - Brown 3 @
The Chapter Four
Skin -
League
- Erin Pale - Feline
Body -
Maitreya
- Mesh Body Lara - Hands & Feet Included (with League appliers)
Eyes -
Ikon
- Hope Eyes - Moor
Pose -
Le Poppycock
- Cupid's Fault Female - Heart Throb Inc @
The Chapter Four
Furniture:
Bed -
Apple Fall
- 1. Dolly Bed RARE @
The Chapter Four
Cupboard -
Apple Fall
- 4. Blanket Curio @
The Chapter Four
Shelf -
Apple Fall
- 5. Book Shelf @
The Chapter Four
Rug -
Apple Fall
- 7. Patchwork Rug @
The Chapter Four
Chair -
Apple Fall
- 6. Shauna's Chair @
The Chapter Four
Piano -
Apple Fall
- 2. Dolly Piano @
The Chapter Four
Flowers -
Apple Fall
- 8. Roses Jug @
The Chapter Four
Butterfly -
Apple Fall
- 3. Ulysses Butterfly @
The Chapter Four
Tray -
Dust Bunny
& Windsong - Valentine's Tray @
The Chapter Four
Macarons -
Glam Affair
- Raspberry Macarons @
The Chapter Four
Photo Stands -
Floorplan
- Telescoping Photo Holders @
The Chapter Four
Trombone Light -
Hideki
- Tromebone Lamp @
The Chapter Four
House -
Llorisen
- Lils Shotgun Cottage @
Collabor88