FaMESHed has open for their newest round on a brand new
sim
! I love when events get their own sim because it means that people love them and they're going to be around for a while!
I'm loving my mesh bodies so whenever I see stores have released fitted mesh versions for mesh bodies that I own then that stuff flies right into my inventory. Just like this dress from Bueno.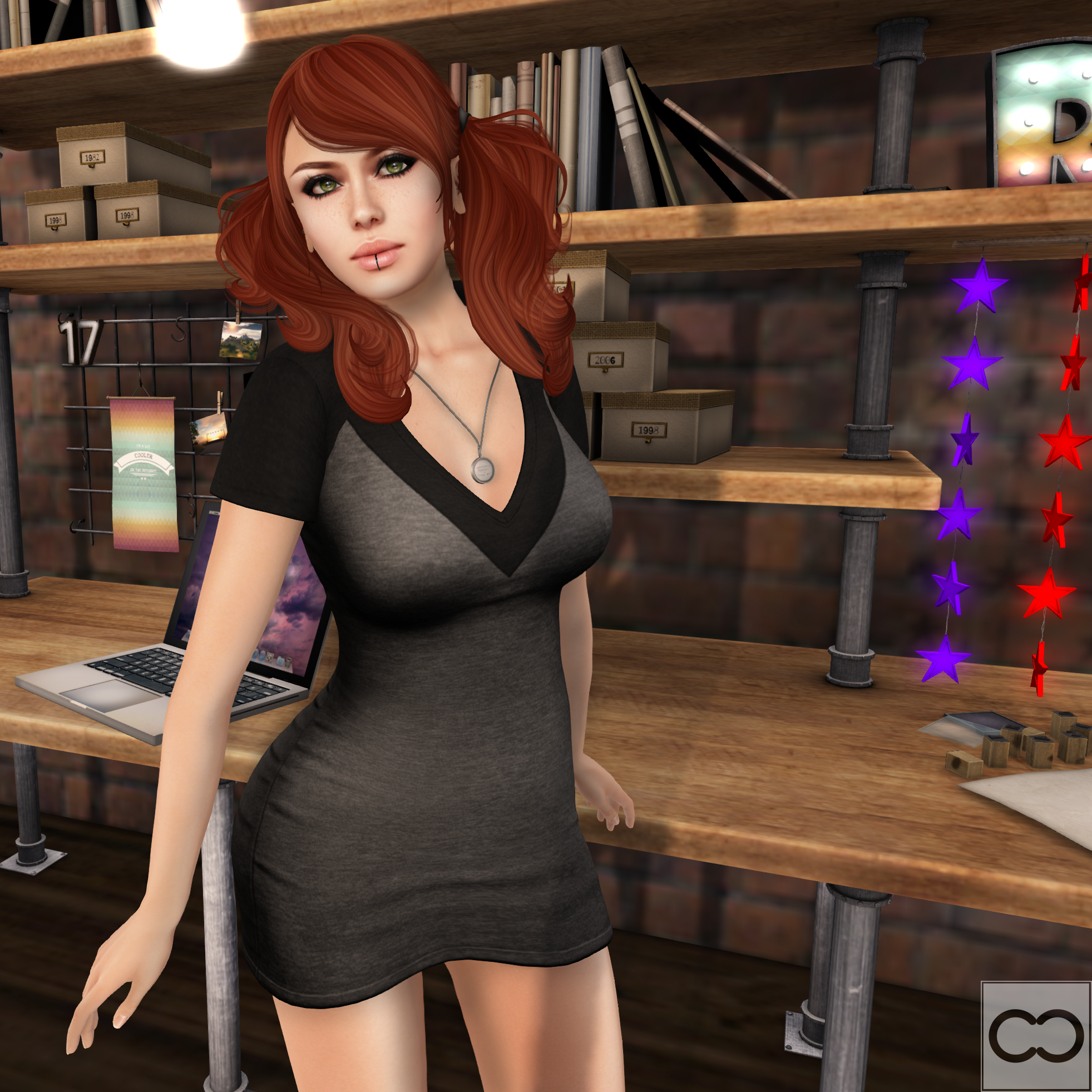 The V Neck Dress is available in a great bunch of colours, with or without the pronounced neckline colour. The best part is not only your usual standard sizing but it also has a SLink Physique version, Maitreya Lara version and a Belleza Venus version in both regular and push up breast shapes. This is the Maitreya Lara version and I am loving the curves!
The cute little pigtail style hair is Reiko from Wasabi Pills. You get a hud included in your colour pack of choice that will allow you to change the colours of the hair ties to suit your mood or your other clothing items.
Fishy Strawberry is taking advantage of my adoration of pieces that fit together by releasing the Bejewelled Dress and the Bejewelled Cardigan.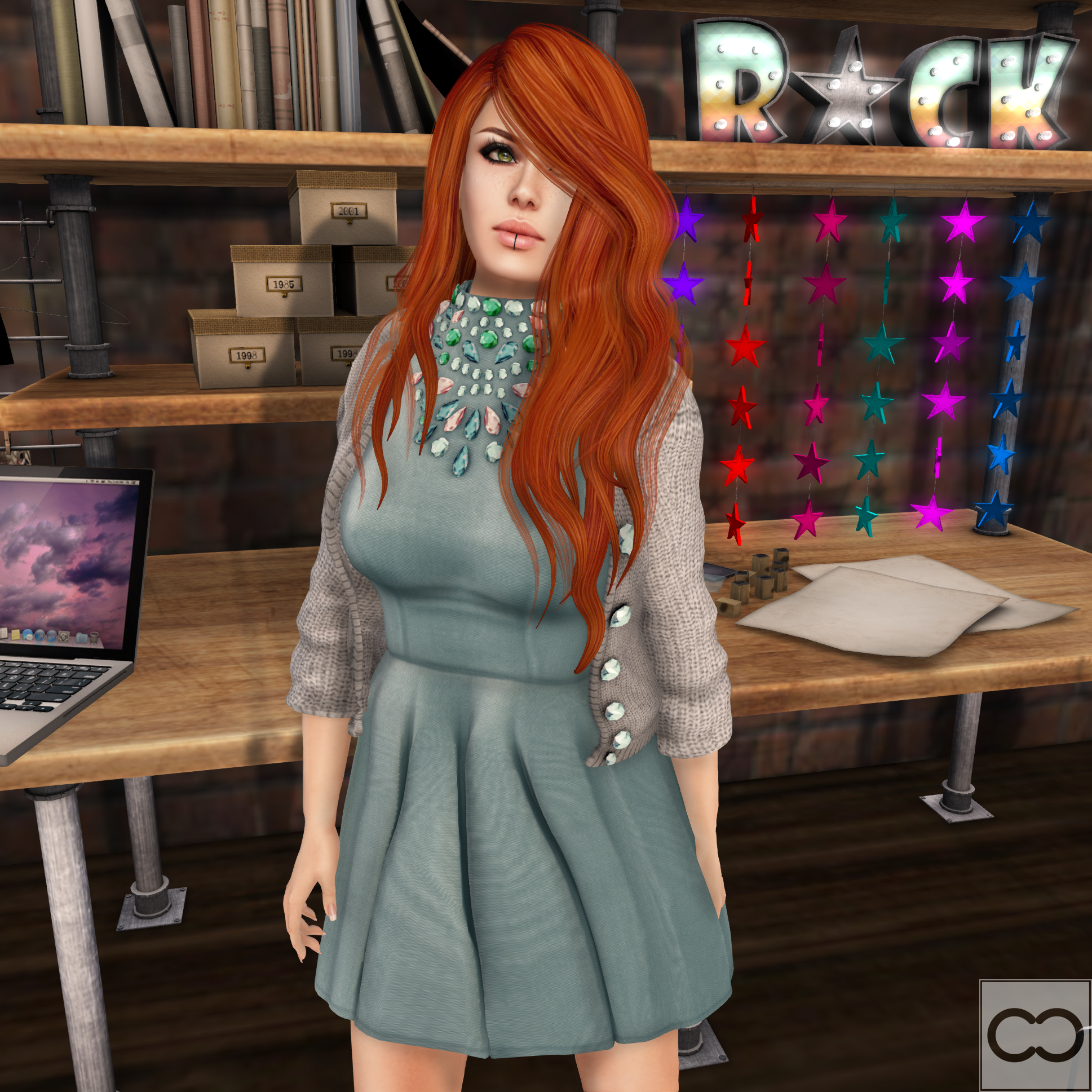 Love, love, LOVE the jewels on the front of the dress and you even get a hud to let you change the colours of the gems to make what is probably an endless combination of colours. The cardigan, which also has a hud that allows the gem buttons to change, fits like a glove over the top of the dress and could easily be worn with other dresses, shirts and pants. Give it a try with other things in your inventory too.
The hair is a brand new release from Mina for FaMESHed. This is the Peggy style and they have included two additional 'busty' options for those ladies who have some impressive ladylumps! I know some of you love to rock the larger breast size so it's always nice to have more hair options where it's not going to poke through.
Kicking it up from cute to formal is Baiastice.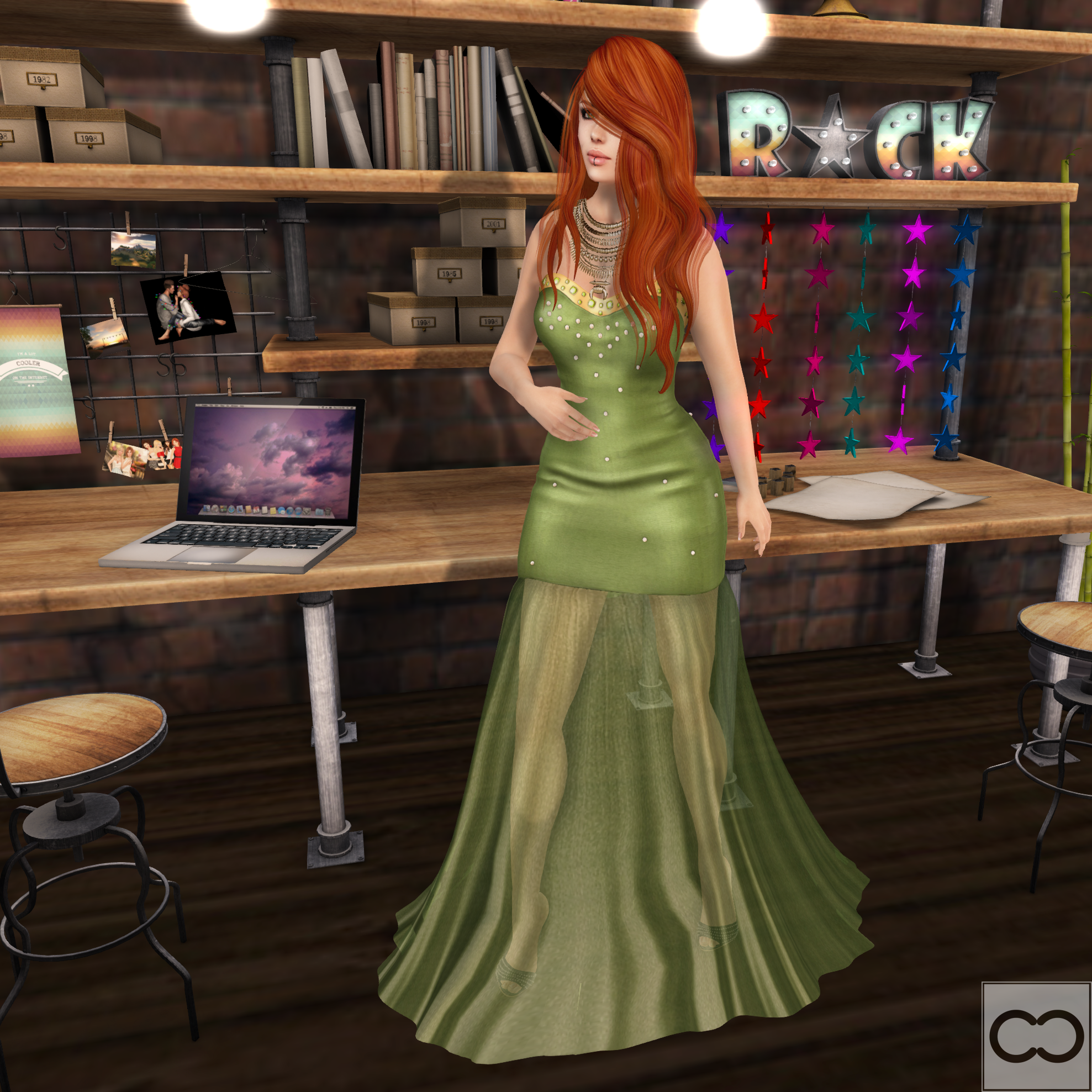 I wore the Ayla Dress out dancing the other night and I felt like a million dollars! The gem work and the pearls dotted all over are a nice touch and not only do you get the version with the sheer skirt but if sheer isn't your thing then the full version is included too. I'm digging the sheer so I can flash my pins! As usual there are so many colours to choose from it'll make your head spin but all are gorgeous.
Zenith heard me saying a couple of weeks back that I was a sucker for hounds tooth and have added to my little obsession by releasing this adorable poncho, Manteau.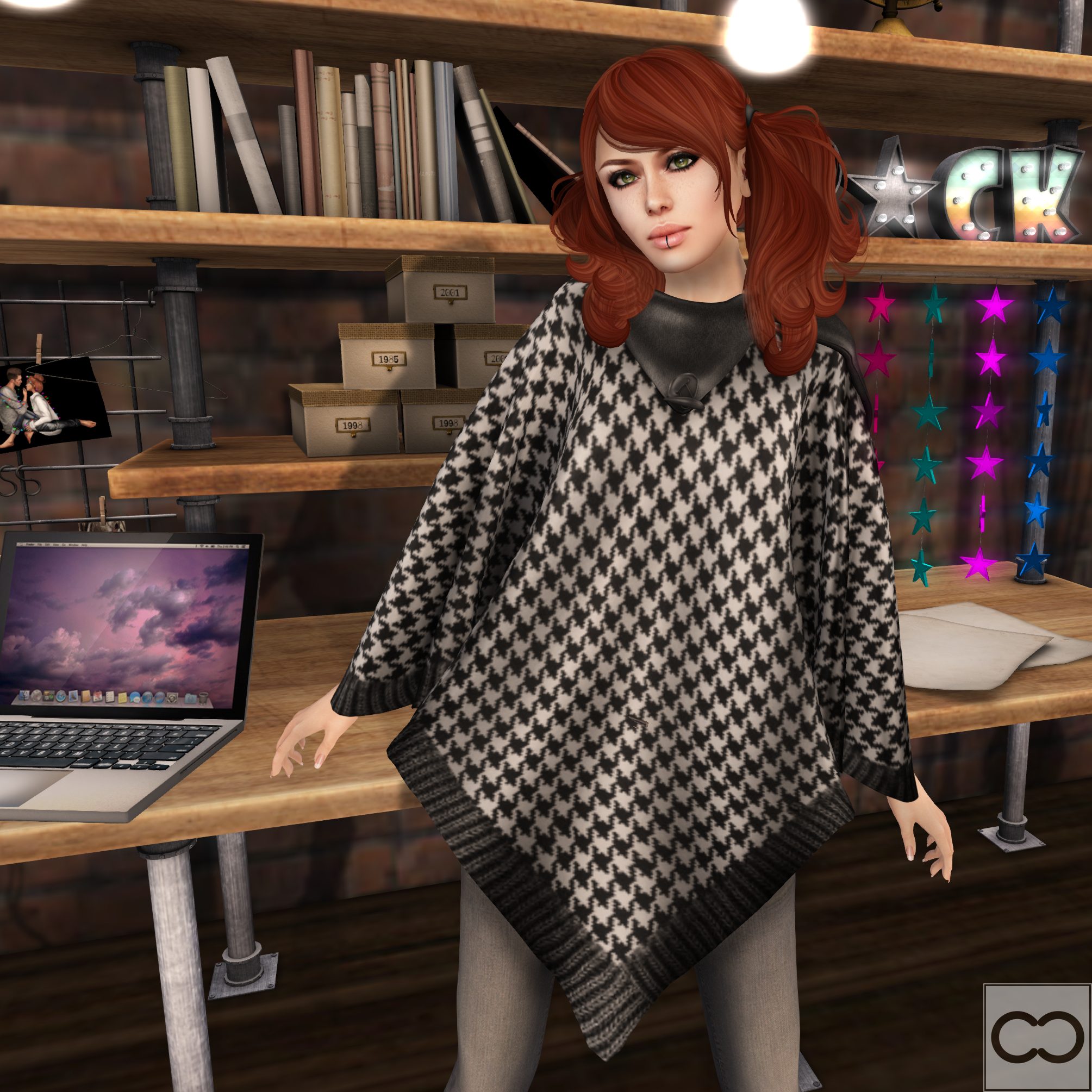 Is it a poncho? A cape? I'm not sure what you would call it but I'm going with poncho. No matter what you call it's pretty and great for feeling warm while the weather still insists on freezing my butt off. I like the leather collar and shoulder pieces as I think sometimes ponchos can end up looking a little bit like you stuck your head through a hole in a blanket but this one definitely avoids that. I will say that if you have an AO that flails your arms around a lot then if you are like me and wear prim hands you might want to detach them as the poncho won't move with the AO. Try a demo before you buy!
Exposeur have released a pose prop and an adorable little retro record player for this round.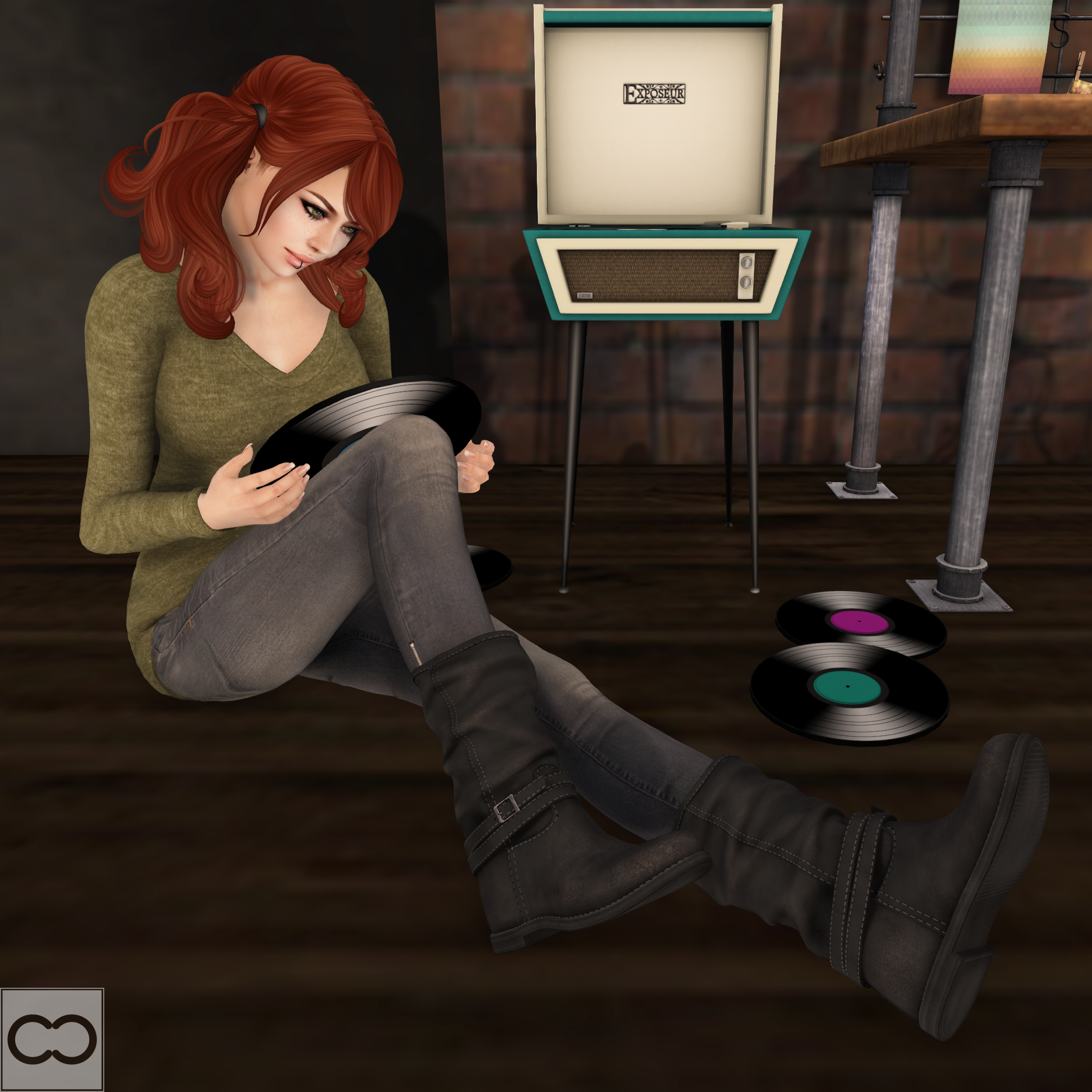 The Dunette Standing Record Player comes in several different colours but I thought the teal was the prettiest. If you wanted to sit around listening to music then while you are there grab yourself the Put Your Records On pose prop. It's the records that are spilled over the floor. It even includes an attachable record to wear for the poses or you could even rez a few more out.
The desk and all the lovely little goodies all over it are from Cheeky Pea.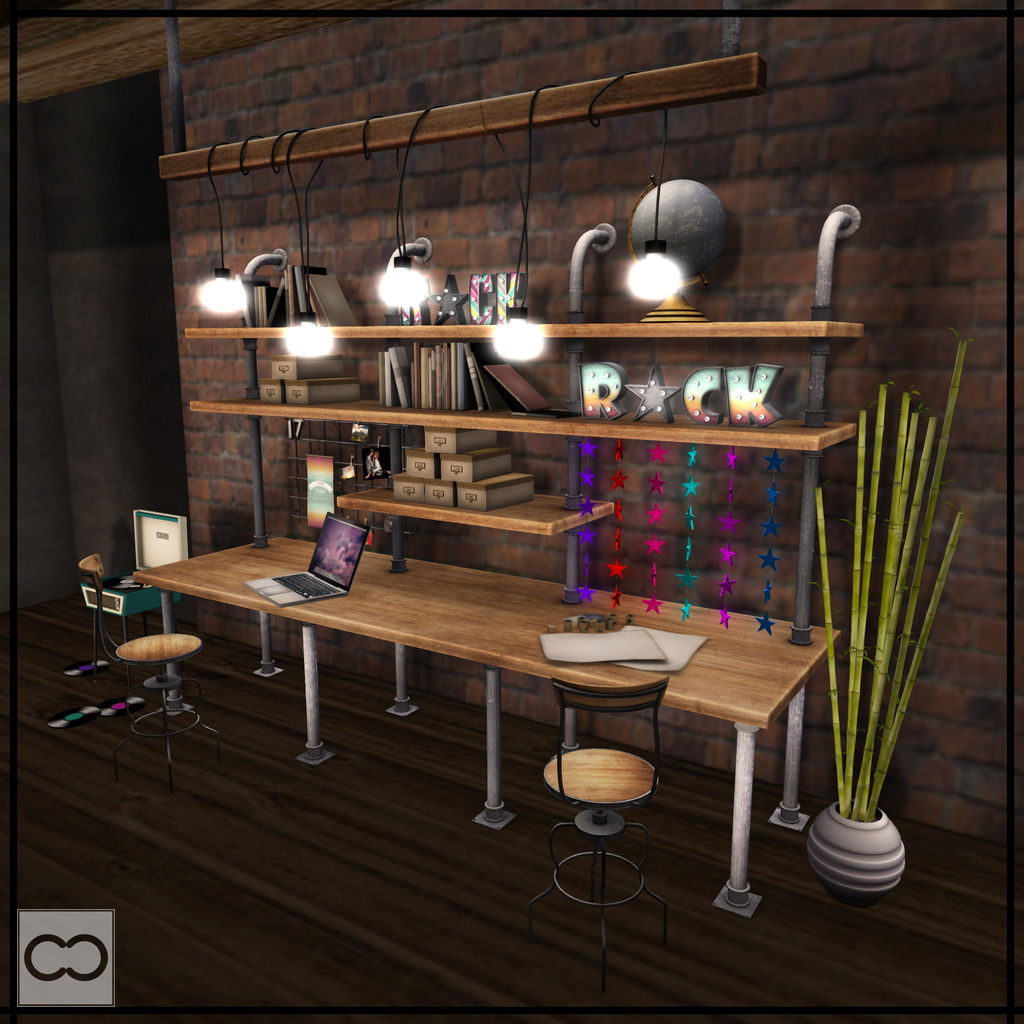 So many pieces I lost count but the best part is you can either purchase the Dawson's Desk Set all in one go with either Adult or PG animations or you can purchase the pieces separately and have the cute little decor pieces to scatter around your home. Either way none of it is linked so if you do buy the set then you still have the option to place the decor in any way you want or rez it anywhere you want in your home.
Happy Shopping!
Pic 1:
Dress -
Bueno
- V Neck Dress - Shadow (Maitreya mesh body version) @
FaMESHed
Necklace -
Wimey
- Practically Poppins Silver Necklace
Hair -
Wasabi Pills
- Reiko - Reds Pack @
FaMESHed
Skin -
League
- Erin Pale - Feline
Body & Hands -
Maitreya
- Mesh Body Lara (with League appliers)
Eyes -
Ikon
- Hope Eyes - Moor
Eyelashes -
Mon Cheri
- Falsies Eyelash
Ears -
CheerNo
- Human Ears - Tragus
*Pose -
Elephante Poses
- Jane - #6
Pic 2:
*Dress -
Fishy Strawberry
- Bejewelled Dress - Aquamarine @
FaMESHed
*Cardigan -
Fishy Strawberry
- Bejewelled Cardigan - Light Grey @
FaMESHed
*Hair -
Mina
- Peggy - Dark Reds Pack @
FaMESHed
Skin -
League
- Erin Pale - Feline
Hands -
SLink
- Avatar Enhancement Mesh Hands - Casual (with League appliers)
Eyes -
Ikon
- Hope Eyes - Moor
Eyelashes -
Mon Cheri
- Falsies Eyelash
*Pose -
Elephante Poses
- Bryan - #6
Pic 3:
*Dress -
Baiastice
- Ayla Dress - Sheer Green @
FaMESHed
Shoes -
Hucci
- Riverton Sandal Silver - Midnight (require SLink high feet)
Necklace -
ISON
- Safari Tribe Necklace - Gold
*Hair -
Mina
- Peggy - Dark Reds Pack @
FaMESHed
Skin -
League
- Erin Pale - Feline
Hands -
SLink
- Avatar Enhancement Mesh Hands - Casual (with League appliers)
Feet -
SLink
- Avatar Enhancement Mesh Feet - High (with League appliers)
Eyes -
Ikon
- Hope Eyes - Moor
Eyelashes -
Mon Cheri
- Falsies Eyelash
*Pose -
Elephante Poses
- Bryan - #3
Pic 4:
Poncho -
Zenith
- Manteau - Houndstooth @
FaMESHed
Pants -
Maitreya
- Zipper Skinny Jeans - Dirty
Hair -
Wasabi Pills
- Reiko - Reds Pack @
FaMESHed
Skin -
League
- Erin Pale - Feline
Hands -
SLink
- Avatar Enhancement Mesh Hands - Casual (with League appliers)
Eyes -
Ikon
- Hope Eyes - Moor
Eyelashes -
Mon Cheri
- Falsies Eyelash
Ears -
CheerNo
- Human Ears - Tragus
*Pose -
Elephante Poses
- Lucy - #2
Pic 5:
Shirt -
Tulip
- V-Neck Sweater - Forest
Pants -
Maitreya
- Zipper Skinny Jeans - Dirty
Boots -
Maitreya
- Stagioni Boots - Coal
Hair -
Wasabi Pills
- Reiko - Reds Pack @
FaMESHed
Skin -
League
- Erin Pale - Feline
Hands -
SLink
- Avatar Enhancement Mesh Hands - Casual (with League appliers)
Eyes -
Ikon
- Hope Eyes - Moor
Eyelashes -
Mon Cheri
- Falsies Eyelash
Ears -
CheerNo
- Human Ears - Tragus
*Pose Prop -
Exposeur
- Put Your Records On @
FaMESHed
*Record Player -
Exposeur
- Dunette Standing Record Player - Teal @
FaMESHed
Pic 6:
*Desk -
Cheeky Pea
- Dawson's Desk Set - Desk @
FaMESHed
*Chair -
Cheeky Pea
- Dawson's Desk Set - Chair @
FaMESHed
*Light -
Cheeky Pea
- Dawson's Desk Set - Light @
FaMESHed
*Globe -
Cheeky Pea
- Dawson's Desk Set - Astronomy Globe @
FaMESHed
*Plant -
Cheeky Pea
- Dawson's Desk Set - Bamboo Planter @
FaMESHed
*Rock Top Shelf -
Cheeky Pea
- Dawson's Desk Set - Geometric Rock Marquee @
FaMESHed
*Rock Middle Shelf -
Cheeky Pea
- Dawson's Desk Set - Cute Rock Marquee @
FaMESHed
*Laptop -
Cheeky Pea
- Dawson's Desk Set - Laptop @
FaMESHed
*Board -
Cheeky Pea
- Dawson's Desk Set - Memory Board @
FaMESHed
*Books Top Shelf -
Cheeky Pea
- Dawson's Desk Set - Leaning Small Books @
FaMESHed
*Books Middle Shelf -
Cheeky Pea
- Dawson's Desk Set - Falling Over Books @
FaMESHed
*Stars -
Cheeky Pea
- Dawson's Desk Set - Hanging Plastic Stars @
FaMESHed
*Papers -
Cheeky Pea
- Dawson's Desk Set - Joey's Stamp Set @
FaMESHed
*Storage Boxes Large -
Cheeky Pea
- Dawson's Desk Set - Storage Boxes - Large @
FaMESHed
*Storage Boxes Small -
Cheeky Pea
- Dawson's Desk Set - Storage Boxes Small @
FaMESHed