Wayward Market is back for it's December round and there are lots of goodies on offer for you to get your little pixel fingers on.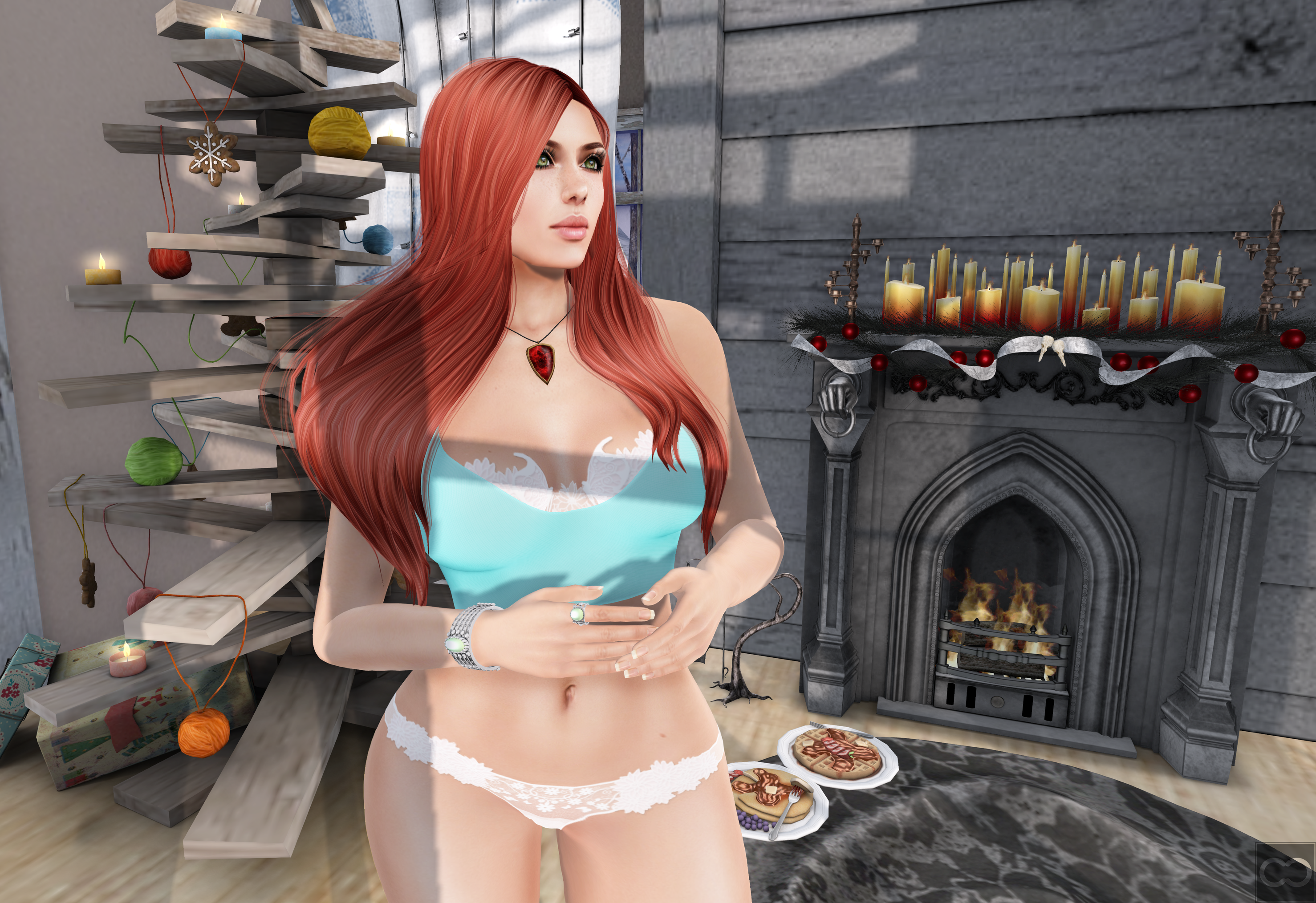 This cute little Basic Cropped Tank you can find by nipping over to the Le Fil Casse booth. The tanks come in 8 colours and are made to fit the Maitreya Lara mesh body.
Underneath the tank is the Regina lingerie from Chocolate Atelier. It comes in 6 colours and includes appliers for Belleza, Lolas, Maitreya, Omega, SLink and The Mesh Project along with the usual system layers.
The Bracelet and Ring are from Minimal and you have a chance to win them by playing their gacha. These are both version 1 in silver but there are many others to find in that gacha too!
Pr!tty have impressed with their Megan hair. I found this colour in the Reds Pack but they have all their usual colour packs available for you Pr!tty shoppers.
There will be more coming from Wayward Market soon!
Merry Christmas, Happy Holidays and Happy Shopping!
*Shirt -
Le Fil Casse
- Basic Cropped Tank - Mint @
Wayward Market
*Lingerie -
Chocolate Atelier
- Regina - White @
Wayward Market
*Necklace -
Ama
. - Madina Necklace - Ruby (advent gift)
*Bracelet -
Minimal
- Bracelet 1 - Siver @
Wayward Market
*Ring -
Minimal
- Ring 1 - Silver @
Wayward Market
*Hair -
Pr!tty
- Megan - Reds Pack @
Wayward Market
Skin -
League
- Erin Pale - Bronze
Eyes -
Ikon
- Triumph Eyes - Moor
Eyelashes -
Mon Cheri
- Falsies Eyelash
Body -
Maitreya
- Lara - Includes Hands (with League appliers)
*Pose -
Bang
- Stand 585 M @
We Love RP
H&G Items:
*Fireplace -
Nefarious Inventions
- Cast Iron Fireplace @
Wayward Market
*Mantle Deco -
Nefarious Inventions
- Mantle @
Wayward Market
*Rug -
Nefarious Inventions
- Rug @
Wayward Market
*Tools -
Nefarious Inventions
- Fireplace Tools @
Wayward Market
*Plates -
Jian
- Sunday Breakfast - Pancakes & Waffles @
Wayward Market
Tree -
8f8
- Granny's Winter Cottage - Christmas Tree
*Building -
22769
- Little Winter Cottage @
Wayward Market