It's another boutique round down at The Liaison Collaborative and this time the theme is Winter Calm. Not only do they have the awesome boutique designers but there's also a little gacha area in the middle with range of different goodies.
Ama has released the Talgea Sweater for both men and women in double packs of muted winter colours and in two special holiday packs.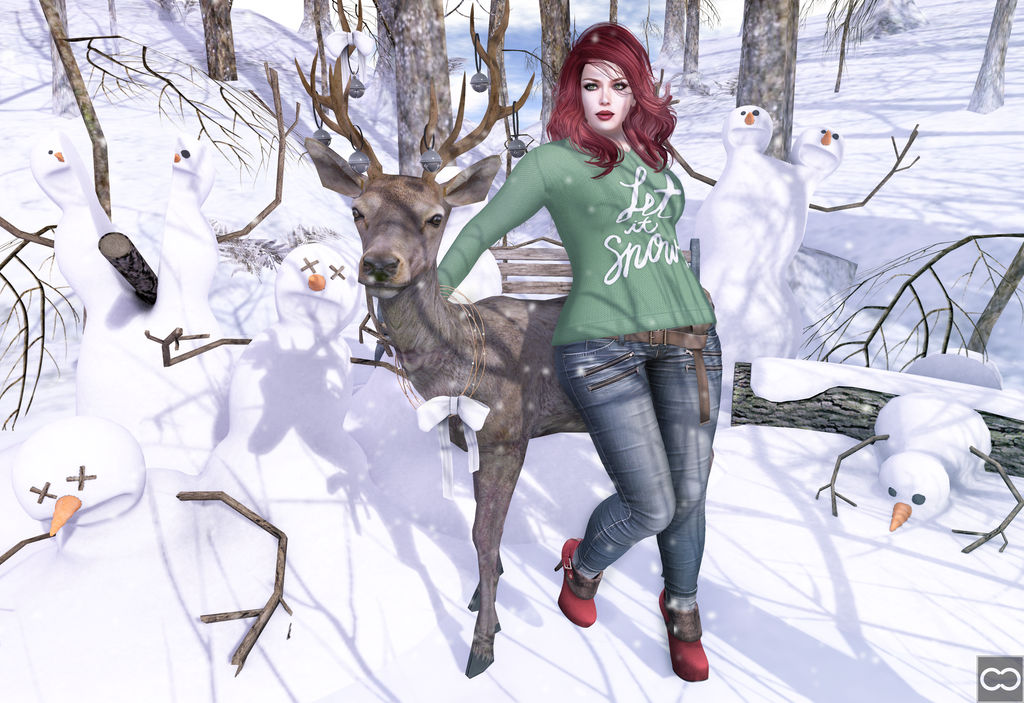 You get two colours in each pack, three in the holiday packs, and the male sweaters come in Standard Sizes and fitmesh for the Male SLink Physique. The female sweaters have the Standard Sizes and fitmesh for both SLink bodies. The female packs also include a flat chested version for those of you who require it. The Standard Size sweater fitted over my Maitreya Lara body with a little bit of tweaking so I suggest you try a demo before purchasing!
The hair, which is also at The Liaison Collaborative, is from D!va. This is a big style that demands attention and Garnet colour I'm wearing I think is even more attention grabbing. Big styles can sometimes look a little be overwhelming on me but I like the balance on this one.
If you want your very own Reindeer friend, who is of course called Jeff, then you'll have to throw a few lindens at the La Paix gacha by Le Poppycock. This one is the Bliss pose and it comes with the prop. This is the rare in the gacha but there are reindeer props in some of the commons too. They are great for wintry pictures with you friends so pass along your doubles and all get together for an adorable pic or save them for Christmas presents for your picture taking friends!
Aphorism is making sure you bundle up in the Winter by releasing the Trench Coat.
It comes in six colours, this one is the Vintage colour, and comes in Standard Sizes (XS - M), a regular fitted mesh and also fitmesh for both SLink bodies and the Maitreya Lara.
Izzie's have made some tights for us to keep our legs warm. These are the Reindeer Tights (more Izzie's tights coming soon) and you get a whopping 26 colours on a hud for SLink, Belleza or Maitreya. The system layers are also included in the pack for those who still require them. The adorable little reindeer pattern is too adorable to pass up.
Chocolate Atelier is keeping you not so warm with their naughty Meta Lingerie.
Although honestly I don't think you're supposed to be running around outside in this but there's nothing stopping you if you wanted to! It comes in 5 colours and in each pack you will find appliers for Belleza, SLink, OMega, Maitreya, Lola's and The Mesh Project along with the system layers.
NanTa gave me a good giggle with their Bah Humbug gacha. There are 8 different poses to win, each with a different sign with some serious hate for Christmas. This one is number 8 but I think my favourite sign was in pose 4. You'll have to go check out the gacha to see what it says...
If you'd like your snowman friends then 22769 have the Snowman Gacha with some great ones in there. Some of these are really cute and funny. Grab as many as you can and make your very own Snowman army!
More coming from The Liaison Collaborative soon.
Merry Christmas, Happy Holidays and Happy Shopping!
Pic 1:
*Shirt -
Ama
. - Talgea Female Sweater - Holiday @
The Liaison Collaborative
*Pants -
Blueberry
- Tink Rolled Cuff Jeans - Stoned
Booties -
League
- Neve Boot - Red
*Hair -
D!va
- Calista - Garnet @
The Liaison Collaborative
Skin -
League
- Erin Pale - Feline (with Erin tintable lipstick)
Eyes-
Ikon
- Triumph Eyes - Moor
Body -
Maitreya
- Lara (with League appliers)
*Pose -
Le Poppycock
- La Paix - Bliss RARE @
The Liaison Collaborative
Pic 2:
*Coat -
Aphorism
- Trench Coat - Vintage @
The Liaison Collaborative
*Tights -
Izzie's
- Reindeer Tights @
The Liaison Collaborative
*Hair -
Mina
- Nell - Light Browns Pack @
Christmas On 34th Street
Skin -
League
- Erin Pale - Feline (with Erin tintable lipstick)
Eyes-
Ikon
- Triumph Eyes - Moor
Body -
Maitreya
- Lara - Includes Hands & Feet (with League appliers)
*Pose -
An Lar Poses
- The Holly Series - One @
The Liaison Collaborative
Pic 3:
*Lingerie -
Chocolate Atelier
- Meta - Red @
The Liaison Collaborative
*Necklace -
Zibiska
- Lore Collar RARE @
The Liaison Collaborative
Hair -
Truth
- Focus - Black & Whites Pack
Skin -
League
- Erin Pale - Feline (with Erin tintable lipstick)
Eyes-
Ikon
- Triumph Eyes - Moor
Body -
Maitreya
- Lara - Includes Hands & Feet (with League appliers)
*Pose -
NanTra
- Bah Humbug - 8 (includes sign) @
The Liaison Collaborative
H&G items:
*Snowmen -
22769
- Snowmen Gacha @
The Liaison Collaborative