I was rather delayed in heading over to Collabor88 this round because it was jam packed for days on end. But you still have a little bit of time left before it closes for this round so if you get your pixel butt over there you can still grab the goodies.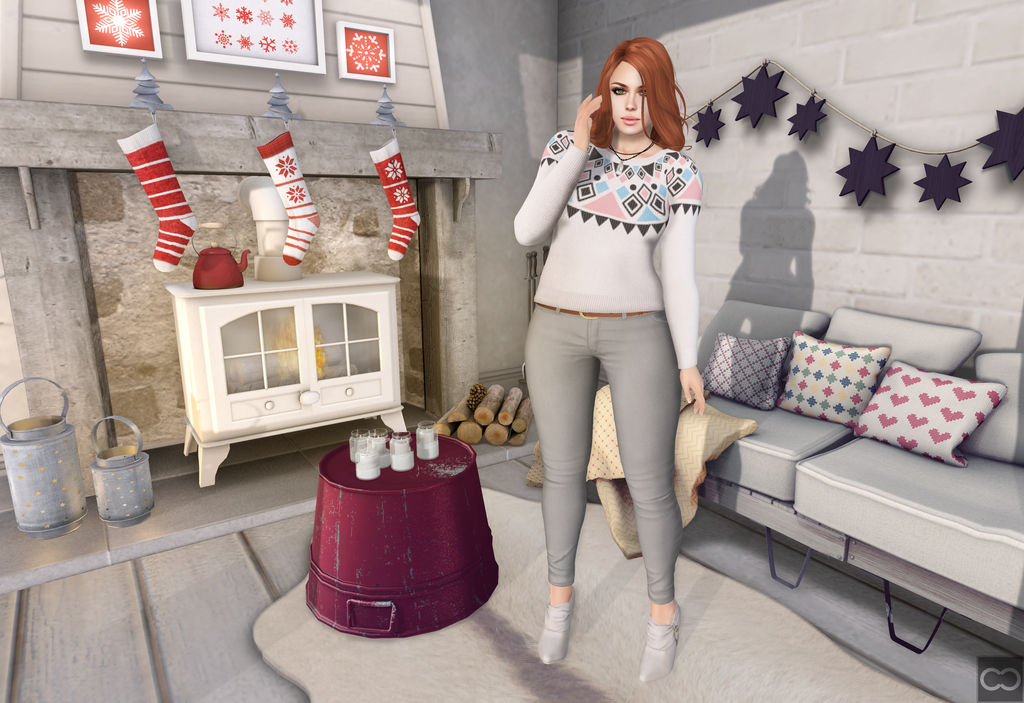 I grabbed the Katya Sweater and the Masha Pants, both from The Secret Store, while I was there. Both the sweater and the pants come in Standard Sizes (XXS - M) and fitmesh for both Physique bodies and the Maitreya Lara. You can choose between 10 colours for both the sweater and pants so you can mix and match to your hearts content.
The shoes are the Jacqualine Booties and you can nab these from the Baiastice booth while you're at Collabor88. You have an enormous 14 leather colours to choose from and they are made to fit the mid/medium versions of the Belleza, Maitreya, MyFeet, SLink and TMP feet.
Merry Christmas, Happy Holidays and Happy Shopping!
Shirt -
The Secret Store
- Katya Sweater - Sweet Mix @
Collabor88
Pants -
The Secret Store
- Masha Pants - Ash @
Collabor88
Necklace -
Maxi Gossamer
- Mama Owl With Baby Owlets @
Collabor88
*Shoes -
Baiastice
- Jacqualine Booties - Snow @
Collabor88
Hair -
Exile
- Cozy Winter Nights - Naturals Pack @
Collabor88
Skin -
League
- Erin Pale - Bronze
Eyes -
Ikon
- Triumph Eyes - Moor
Eyelashes -
Mon Cheri
- Falsies Eyelash
Body -
Maitreya
- Lara - Includes Hands & Feet (with League appliers)
*Pose -
Kirin
- Himawari - Pose 6
H&G Items:
Stove -
What Next
- Hanne Woodburning Stove - Almond @
Collabor88
Fireplace -
What Next
- Hanne Fireplace Surround - Light @
Collabor88
Stockings -
What Next
- Nordic Stocking - Red #2, Red #1 & Red '3 @
Collabor88
Art -
What Next
- Red Nordic Print - 3, 1 & 2 @
Collabor88
Kettle -
What Next
- Hanne Kettle - Red @
Collabor88
Lanterns -
What Next
- Nordic Lanterns - Large & Small @
Collabor88
Wood -
What Next
- Hanne Log Pile @
Collabor88
Fireplace Tools -
What Next
- Hanne Fireplace Tools @
Collabor88
Sofa -
Second Spaces
- Nordic Winter Lounge Seat - Light @
Collabor88
Rug -
Second Spaces
- Nordic Winter Lounge Totally Faux Fur Rug @
Collabor88
Table -
Second Spaces
- Nordic Winter Lounge Bucket Table - Red @
Collabor88
Candles -
Second Spaces
- Nordic Winter Lounge Candles - Grouped @
Collabor88
Stars -
Second Spaces
- Nordic Winter Lounge Stars @
Collabor88
Building -
Trompe Loeil
- Haldis Skybox @
Collabor88