I hope you all had a lovely Christmas yesterday. I cooked and ate way too much food and could barely move. Good times!
If you fancied a bit of boxing day shopping (Boxing day is the day after Christmas in some parts of the world, like mine) then you can nip over to The Liaison Collaborative and spend all your left over lindens.
If you're looking for a gorgeous dress for your New Year celebrations then Baiastice have released the Victoria Dress in 10 stunning satin colours. Each one comes in Standard Sizes (XXS - L) and fitmesh for SLink and Maitreya.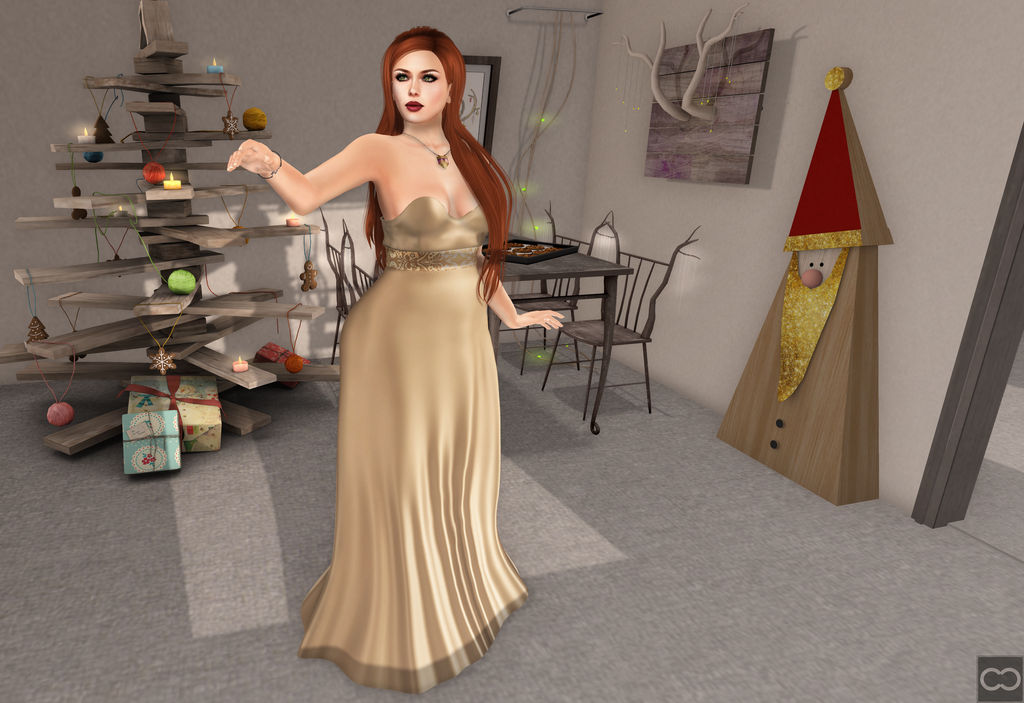 You can find the Ciaran Crystal Necklace by heading over to the Ama. main store. It's part of the The Fantasy Collective hunt. It's only 10L so it's a great little bargain if you're willing to spend time time looking for the hunt pumpkin. There's even a hint at the store to help you out.
If you wanted to get your hands on a cute little Winter outfit then Noche has released the Sweater Shirt / Skirt Outfit.
If you have materials enabled you will see an amazing sheen on the skirt, it sparkles and glitters. So awesome. It only fits the Maitreya Lara body and only comes in one colour but it's a very pretty colour and definitely worth parting with your lindens for.
The Chevron Tights are from Izzie's. You get a whopping 24 colours on the hud for SLink, Belleza or Maitreya, as well as the system layers should you need them.
The hair, and hat, are the Jade style from Mina. They have all their usual colour packs available and you can find this colour in the Light Browns pack.
Happy Shopping!
Pic 1:
*Dress -
Baiastice
- Victoria Dress - Gold @
The Liaison Collaborative
*Necklace -
Ama
. - Ciaran Crystal Necklace
~ For The Fantasy Collective Hunt
*Hair -
Truth
- Neema [Without bow] - Gingers Pack
Skin -
League
- Erin Pale - Feline (with Erin tintable lipstick)
Eyes-
Ikon
- Triumph Eyes - Moor
Body -
Maitreya
- Lara (with League appliers)
*Pose -
Black Tulip
- The Ice Queen - #2
The Liaison Collaborative
Pic 2:
*Outfit -
Noche
- SweaterShirt/Skirt Outfit
The Liaison Collaborative
*Tights -
Izzie's
- Chevron Tights
The Liaison Collaborative
*Boots -
Baiastice
- Raka Boots - Tan Suede
*Necklace -
Ama
. - Madina Necklace - Emerald
*Hair -
Mina
- Jade - Light Browns Pack
Skin -
League
- Erin Pale - Feline (with Erin tintable lipstick)
Eyes-
Ikon
- Triumph Eyes - Moor
Body -
Maitreya
- Lara (with League appliers)
*Pose -
Elephante Poses
- Winter Magic - #6 RARE
The Liaison Collaborative
H&G items:
*Table & Chairs -
Toiz
- X-Mas Reindeer Gacha - 3. Reindeer Dining Set
The Liaison Collaborative
*Cookies -
Toiz
- X-Mas Reindeer Gacha - 4. Cookie
The Liaison Collaborative
*Snowman Globe -
Toiz
- X-Mas Reindeer Gacha - 6. Snowman Deco
The Liaison Collaborative
*Cherry Pot -
Toiz
- X-Mas Reindeer Gacha - 7. Cornelian Cherry Pot
The Liaison Collaborative
*Reindeer Art -
Toiz
- X-Mas Reindeer Gacha - 5. Reindeer Art Frame
The Liaison Collaborative
*Antlers Art -
Toiz
- X-Mas Reindeer Gacha - 1. Reindeer Deco
The Liaison Collaborative
*Hanging Lights -
Toiz
- X-Mas Reindeer Gacha - 2. Wall Deco
The Liaison Collaborative
*Christmas Tree -
8f8
- Granny's Winter Cottage Gacha - Christmas Tree
Santa Triange -
Sway's
- Wood Santa Decoration (advent gift)
The Liaison Collaborative
*Building -
Toiz
- X-Mas Reindeer Gacha - 9. X-Mas House
The Liaison Collaborative