The Fantasy Collective's Birthday round is about to move into it's final week since it's closing on the 15th December. That means if you've been delaying going down there or debating a purchase then now is your chance before the event ends.
There won't be a December round of The Fantasy Collective but they have a little surprise coming up for you so stay tuned!
Since the theme is Fairy Tales I've got a few more Princesses coming your way.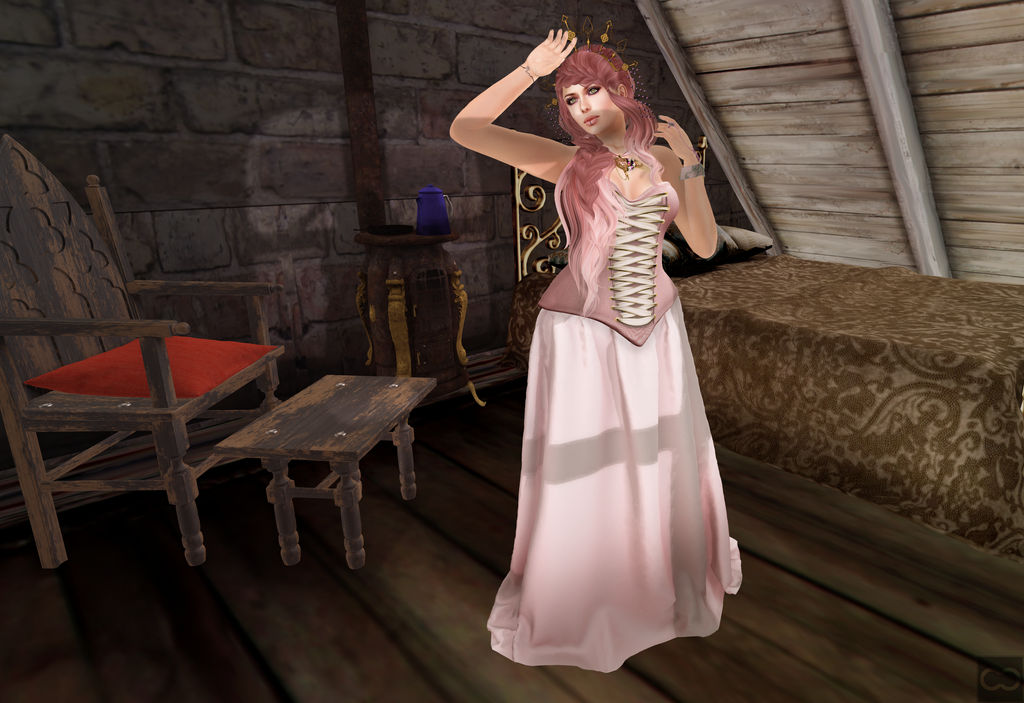 Una have released the Elsa dress which comes in 8 colours. Each one is a fitmesh size and I had no problem fitting it over my Maitreya Lara but please try a demo before purchasing. You buy the colour of the corset you want because each one includes a hud that allows you to choose between 14 skirt colours.
The Ever After Necklace you can grab by hopping on over to the 187 booth. There are eight different colours available this one is the Pink & Gold version. It's a pretty heart pendant with wings on a ribbon. So cute that you can't pass it up.
If you want a pretty dramatic headdress then Wicca's Wardrobe has the Countess Headpiece available for you. It comes with an additional piece that goes over the forehead (not shown) and includes a hud with that changes all the parts of the hud individually. Perfect for mixing at matching colours to suit your outfits.
Sweet Kajira also have an adorable princess dress for you.
You can find the Magarita Dress in five different colours and this one is also fitmesh. I had a little more trouble fitting this over my Maitreya and a little bit was poking out at the back but it was covered by my hair so I wasn't too bothered. However if you planned to wear it with short hair it would show so as I always suggest... DEMO!
The crown you can get your hands on by throwing a few lindens into the Erach gacha. It's 50L per play and this one is called Crown B. It's one of the commons and is really pretty and detailed. Definitely worth having a go to see if you can get your pixel fingers on it!
The hair that I used in all the pictures is the Camilla style from Doe. You can find this colour in their Colors Pack but they have all their usual packs available. I love the big chunky braid on this one and how there's a smaller braid sneaking across the forehead. Super cute and you get SOOO many colours for 300L (350L for the essentials pack) that it really is a great deal.
Lastly is a very unique Dragon Dress from NeverWish
As their ad says 'every fairy tale needs a dragon' and you can definitely be the dragon in this scaly little number. There are 8 colours on offer and each one has a hud that lets you change the middle strip of the dress. It's a very short dress and comes in standard sizes but the medium fitted over my Maitreya Lara with ease (my shape is a SS M) so try the standard size you normally wear and see how it fits.
There's a ton more stuff to see and don't forget to join The Fantasy Collective group and grab the gifts before they disappear.
Happy Shopping!
Pic 1:
*Dress -
Una
- Elsa - Pink @
The Fantasy Collective
*Necklace -
187
- Ever After Necklace - Pink/Gold @
The Fantasy Collective
*Bracelet -
Abrasive
- Mystic Mirror Bracelet @
The Fantasy Collective
*Crown -
Wicca's Wardrobe
- Countess Headpiece @
The Fantasy Collective
*Hair -
Doe
- Camilla - Colors Pack @
The Fantasy Collective
Skin -
League
- Erin Pale - Aurora
Eyes -
Ikon
- Triumph Eyes - Moor
Eyelashes -
Mon Cheri
- Falsies Eyelash
Ears -
CheerNo
- Human Ears - Tragus
Body -
Maitreya
- Lara - Includes Hands (with League appliers)
*Pose -
La Jolie Rose
- Hands Elegance - Pose 1 @
The Fantasy Collective
Pic 2:
*Dress -
Sweet Kajira
- Margarita Dress - Pink @
The Fantasy Collective
*Crown -
Ersch
- Dead Queen - Crown B @
The Fantasy Collective
*Necklace -
Kibitz
- Nit Collar - Copper @
The Fantasy Collective
*Hair -
Doe
- Camilla - Colors Pack @
The Fantasy Collective
Skin -
League
- Erin Pale - Aurora
Eyes -
Ikon
- Triumph Eyes - Moor
Eyelashes -
Mon Cheri
- Falsies Eyelash
Ears -
CheerNo
- Human Ears - Tragus
Body -
Maitreya
- Lara - Includes Hands (with League appliers)
Pose -
oOo Studio
- Footsie - Four
Pic 3:
*Dress -
NeverWish
- Dragon Dress - Pink @
The Fantasy Collective
*Shoes -
Phedora
- Violet Heels @
The Fantasy Collective
*Necklace -
NeverWish
- Dragon Egg - Black (gift) @
The Fantasy Collective
*Hair -
Doe
- Camilla - Colors Pack @
The Fantasy Collective
Skin -
League
- Erin Pale - Aurora
Eyes -
Ikon
- Triumph Eyes - Moor
Eyelashes -
Mon Cheri
- Falsies Eyelash
Ears -
CheerNo
- Human Ears - Tragus
Body -
Maitreya
- Lara - Includes Hands & Feet (with League appliers)
Pose -
Le Poppycock
- Head Sprain
H&G items:
*Bed -
PPK
- Tudor Bed - Brown @
The Fantasy Collective
*Chair -
Zerkalo
- Masters Chair - Dark @
The Fantasy Collective
*Stool -
Zerkalo
- Masters Chair Ottoman - Dark @
The Fantasy Collective
*Stove -
Rustica
- Cast Iron Wood Stove - Rust/Gold @
The Fantasy Collective