Fashion For Life has opened it's doors with TEN, yes TEN, sims packed to the rafters with goodies that all have a donation amount to the American Cancer Society.
It runs from the 7th - 20th June and the theme is Wanderlust. Travel, movement and the carefree attitude that summer evokes in people.
You can find out more about Fashion For Life at their
website.
The organisers of Fashion For Life said the following about their chosen theme this year...
"
The theme is Wanderlust - expressing the joy of the journey. Many people struggling with cancer describe it as a journey, one fraught with peril and sometimes despair, but there are also moments of joy and recovery. The global struggle against cancer is also a journey from our impotent past to our current present where we have many more tools to treat cancer to a hopeful future where cancer no longer looms large in our lives.
"
You can help be part of that future by visiting the sims and buying exclusive Fashion For Life items from one of the many generous designers.
There is literally so much to choose from and this is going to be a long post! So buckle up shopping addicts... here we go!
My personal favourite from the entire fair is by far the gorgeous Sachi Flare Dress from Mon Cheri.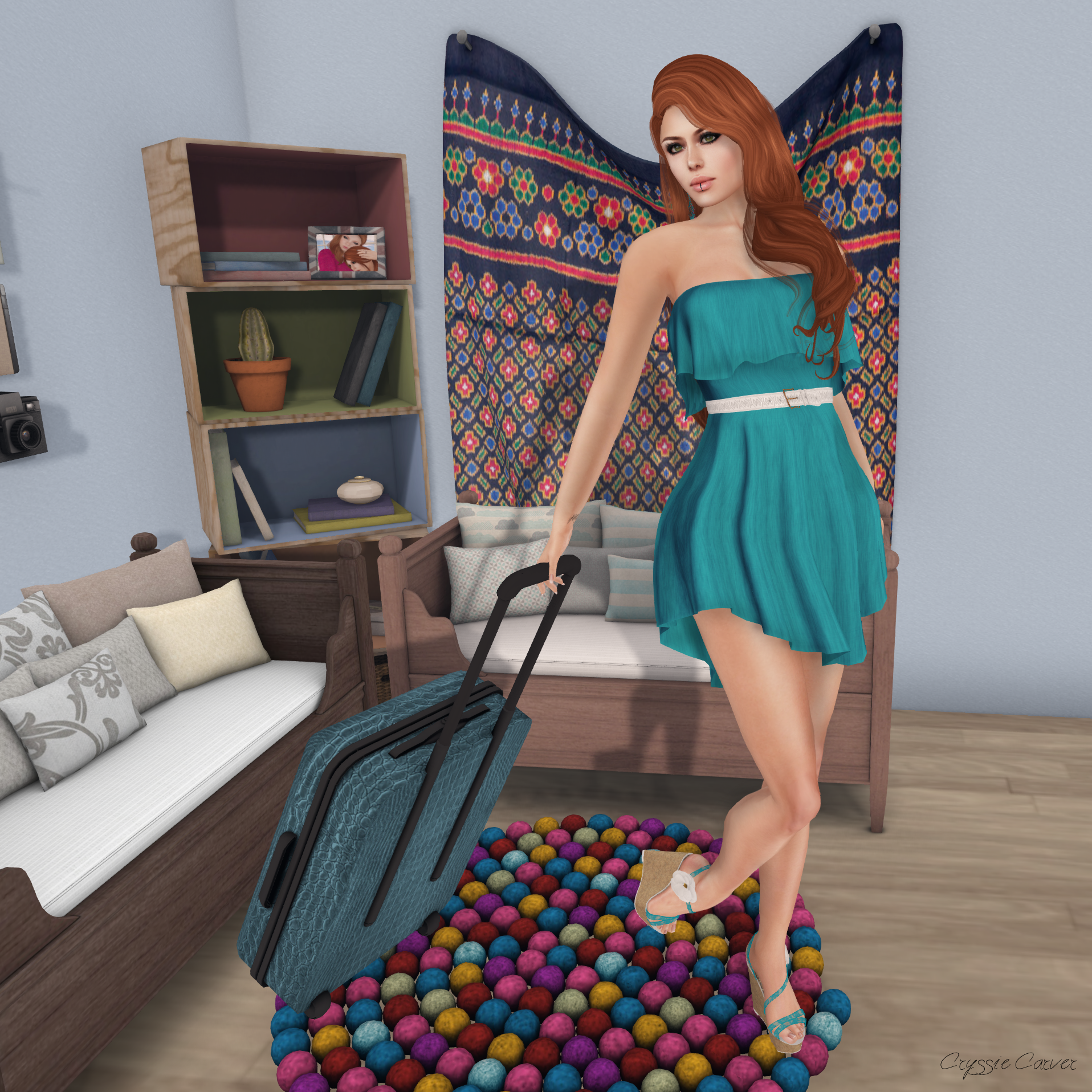 Not only has she created a gorgeous dress, but beautiful Rose Espadrilles and two different sets of earrings to go with them. The first pair are the Gypsy Beads Earrings and I promise to show you the others a little bit later on in this post. Also the dress does come with optional sleeves if you want to make it even more floaty and feminine looking.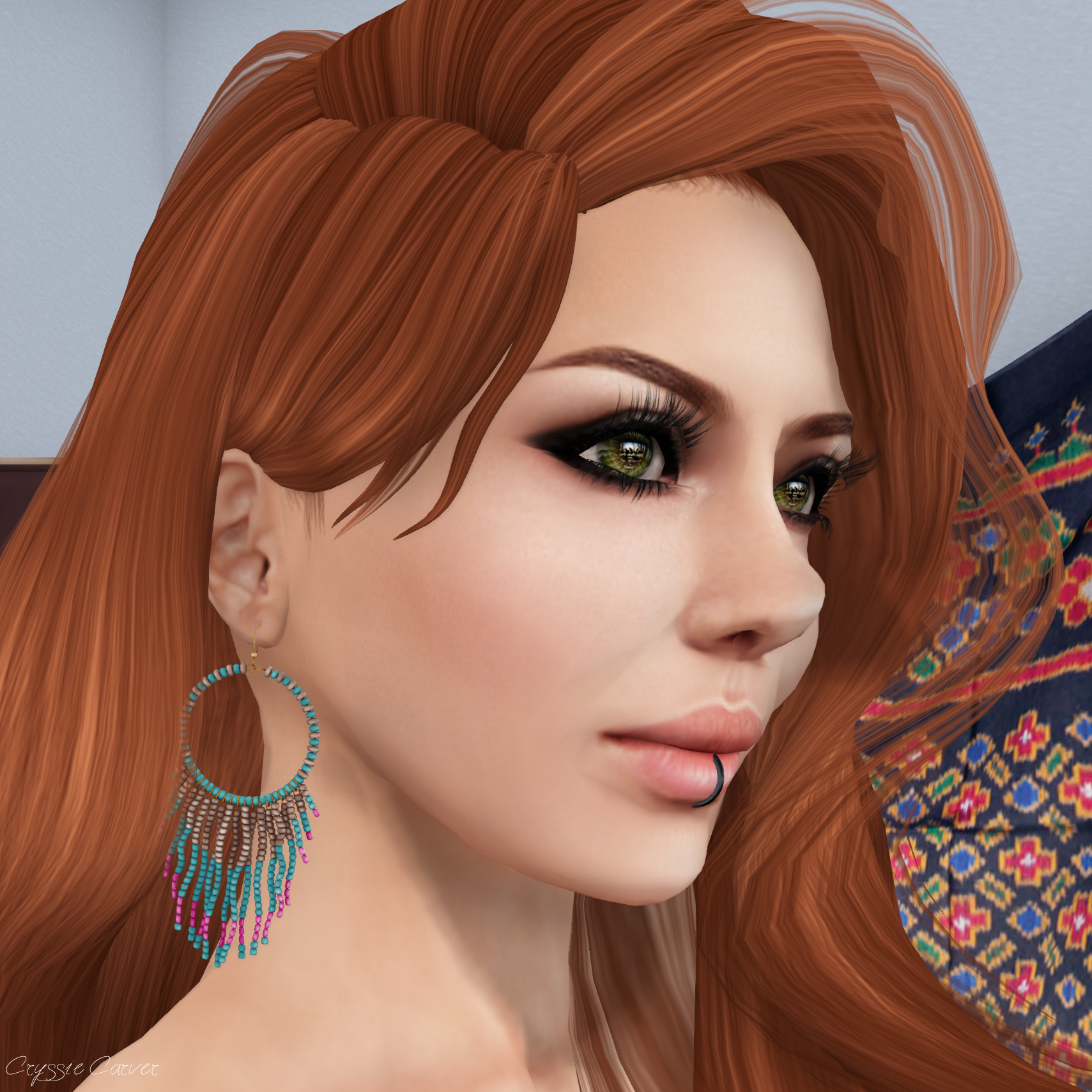 The Kippar Hair, also available at Fashion For Life, is from Damselfly. Damselfly have really come SO far with their hair recently. I am 100% impressed with this one and as much as I love to stop I'm a bit of a picky chooser when it comes to hair. However this one is a keeper and will be heading into regular hair circulation in my inventory!
The fun suitcase is from NanTra and comes in a pose pack called Jet Set. Perfect for all those holiday pics you plan on taking right?
I discovered Lacuna in a previous round of My Attic and they've been making some lovely stuff. I was pleased to see them in Fashion For Life and they have a great Halterneck Dress on offer.
Not to be outdone on the matching accessories Lacuna also made the sandals for this outfit. The Santorini Flats come in a big range of colours so you're bound to find a pair to suit your tastes or to match your brand new Halterneck Dress.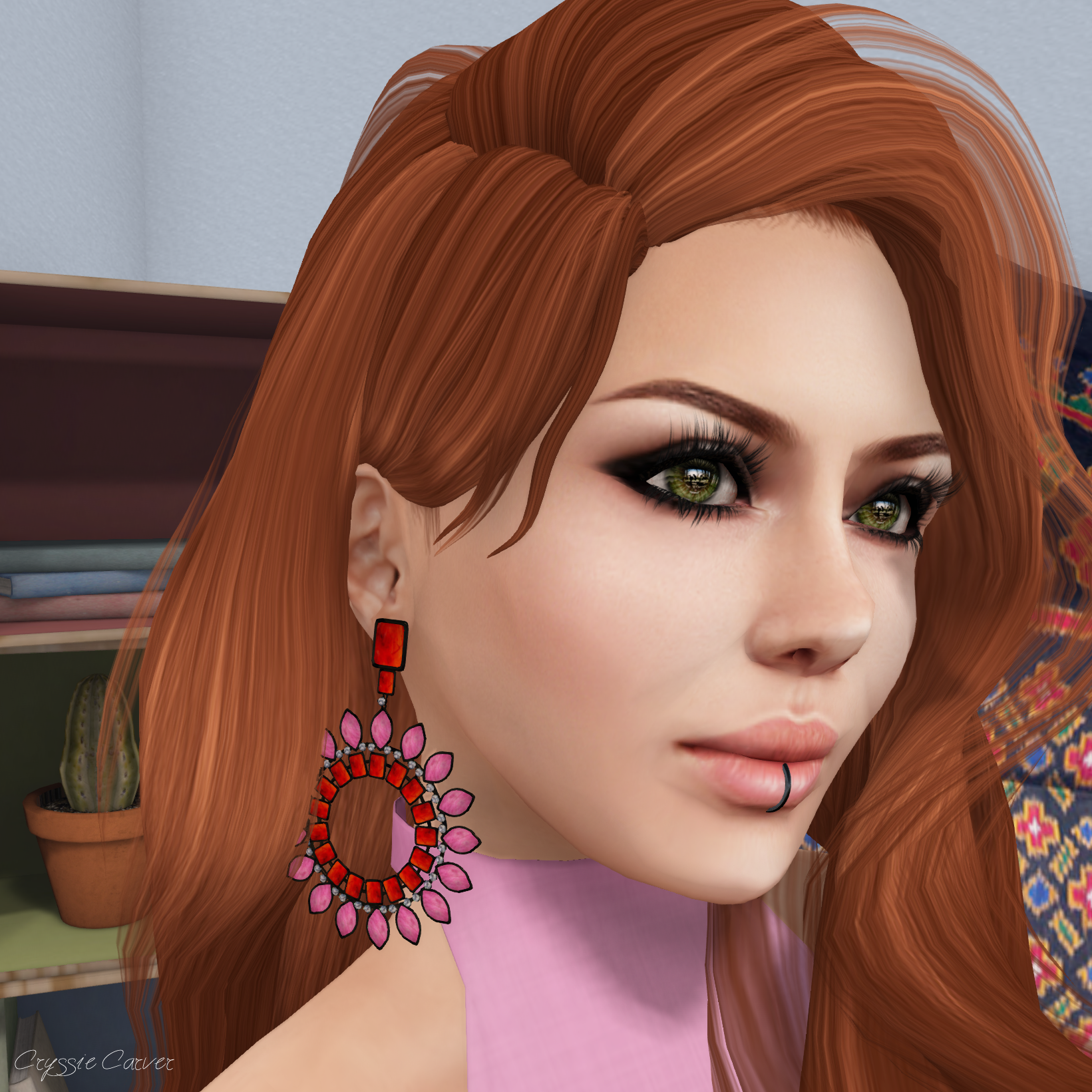 The earrings are a stunning pair from Bliensen + MaiTai. What's great about these is the colour change hud and the ability to change different parts of the earrings separately, plus a choice of metal colours. You can match them to all your outfits.
When I saw the teaser pics for this dress from SYSY's on Plurk I was kind of excited. I was desperate for a nice, casual short dress that didn't show off my lady bits to the world. I fell in love with this colour and the pattern is so cute.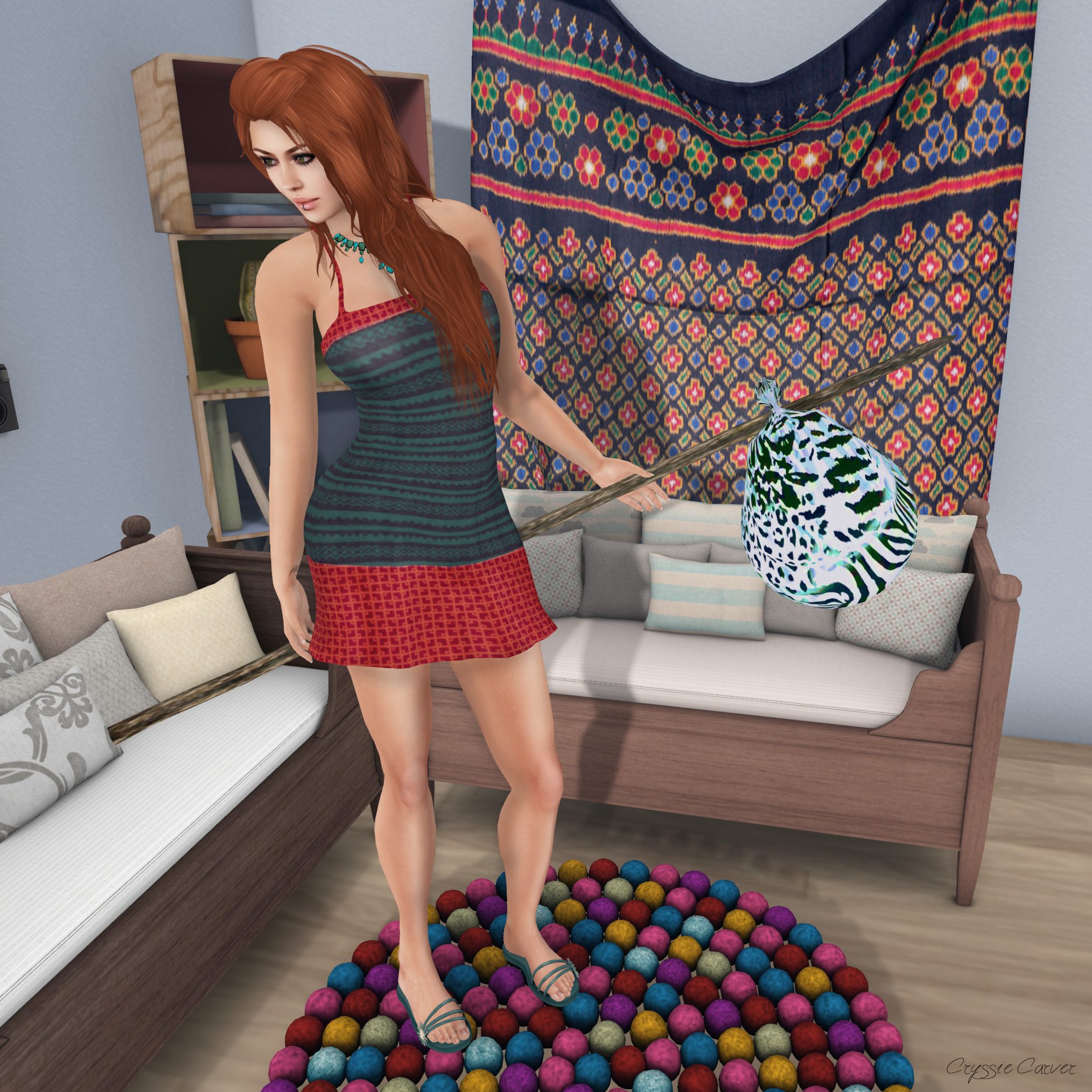 I am never going to knock matching shoes for an outfit and SYSY's has delivered with the Sunny Sandals. Although they would just as easily work with any other summery outfit you have lying around in your inventory or are planning to buy soon!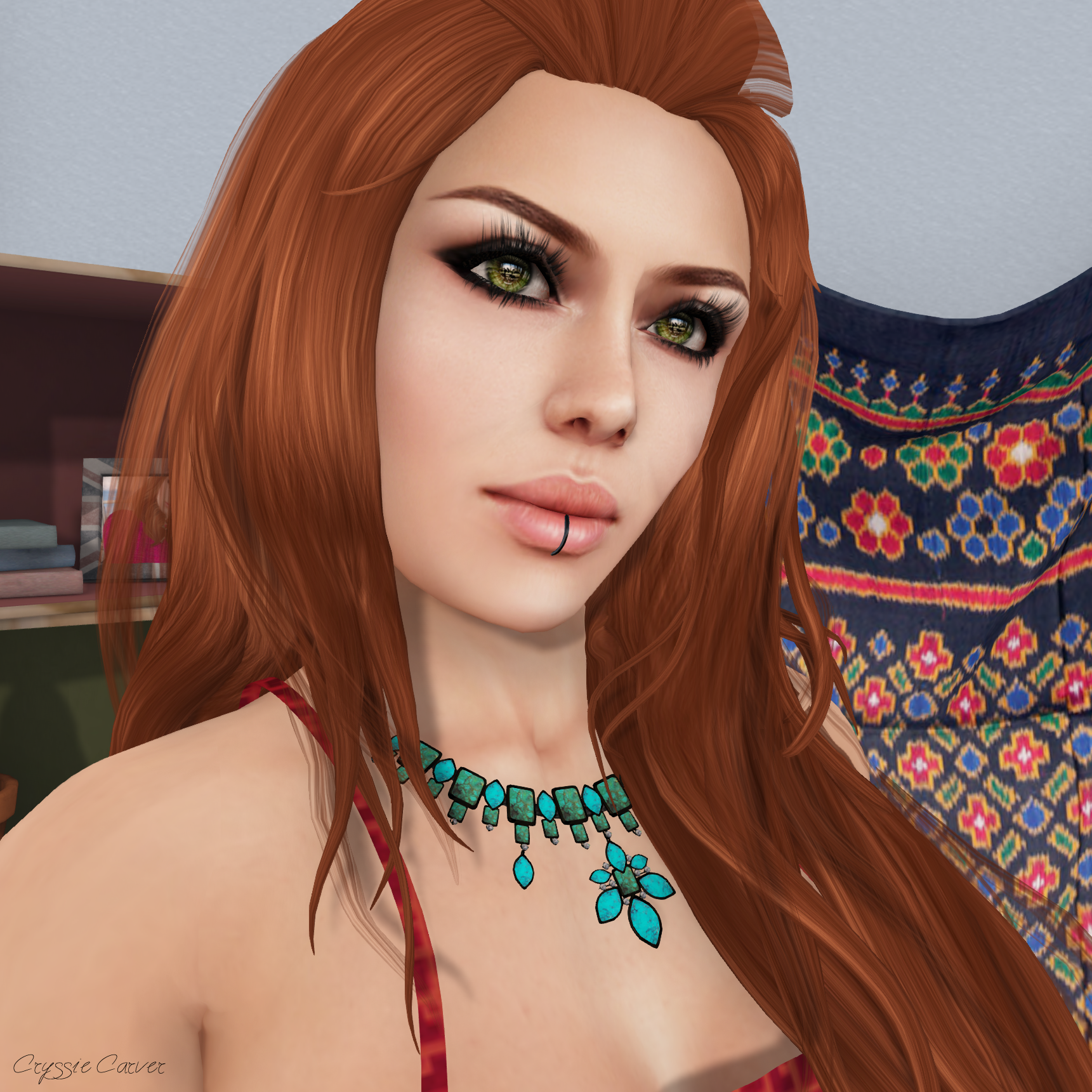 The necklace is another released from Bliensen + MaiTai. Just like the previous earrings you get all those fab colour change features and you can mix and match to your hearts content. The hair, again from Damselfly, is the Zendaya Hair. This style even comes with optional flexi parts for those who are maybe missing their flexi styles or just like a bit more whispy movement in their hair.
We're getting there, I promise... you stuck with me this long, you can do it!
Another halterneck dress for fans of that style. This one is from Stars Fashion.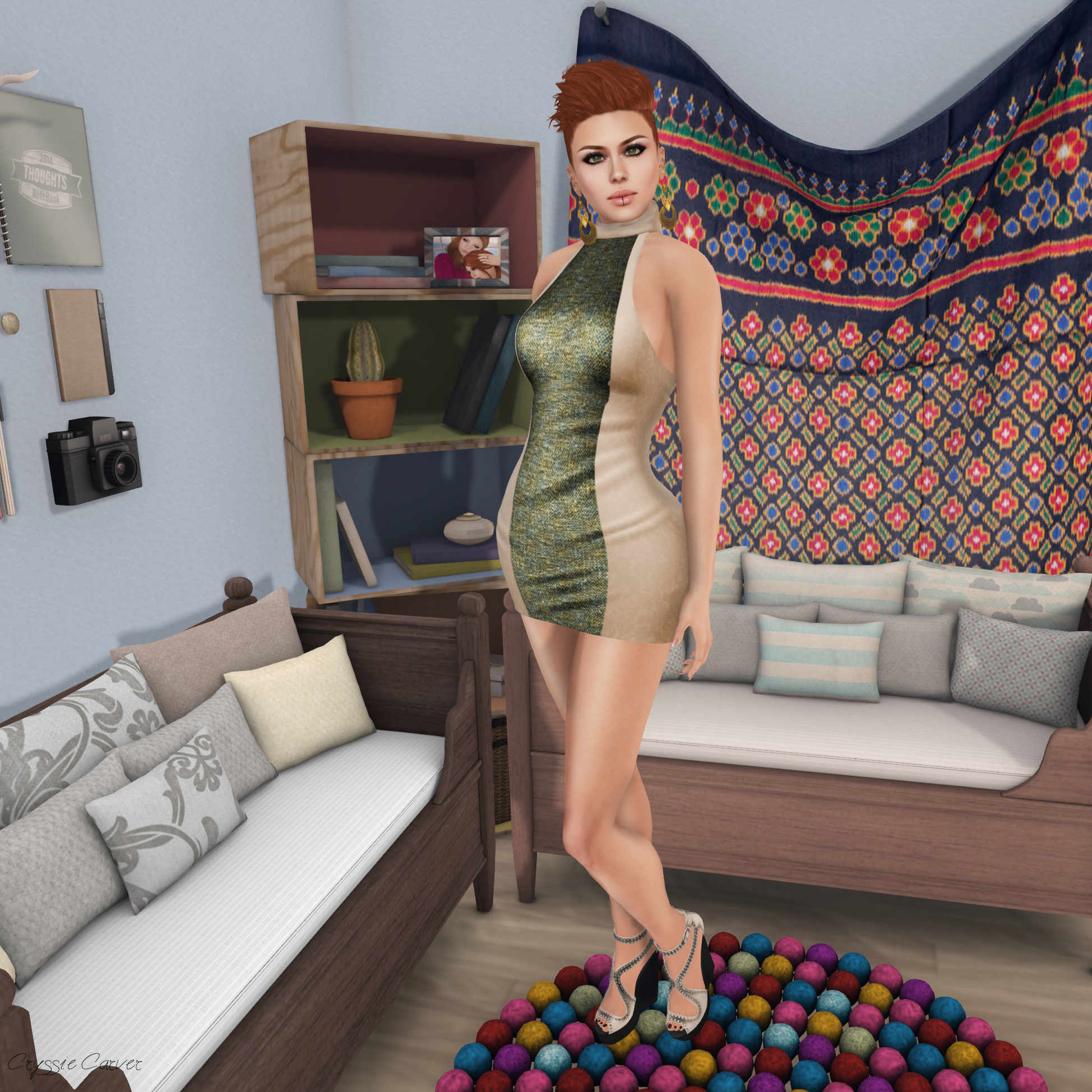 The Night Enchantress outfit is just that... and outfit. You also get shoes included with this outfit. It comes with a hud to change the colour of the dress, the shoes and to match the skin.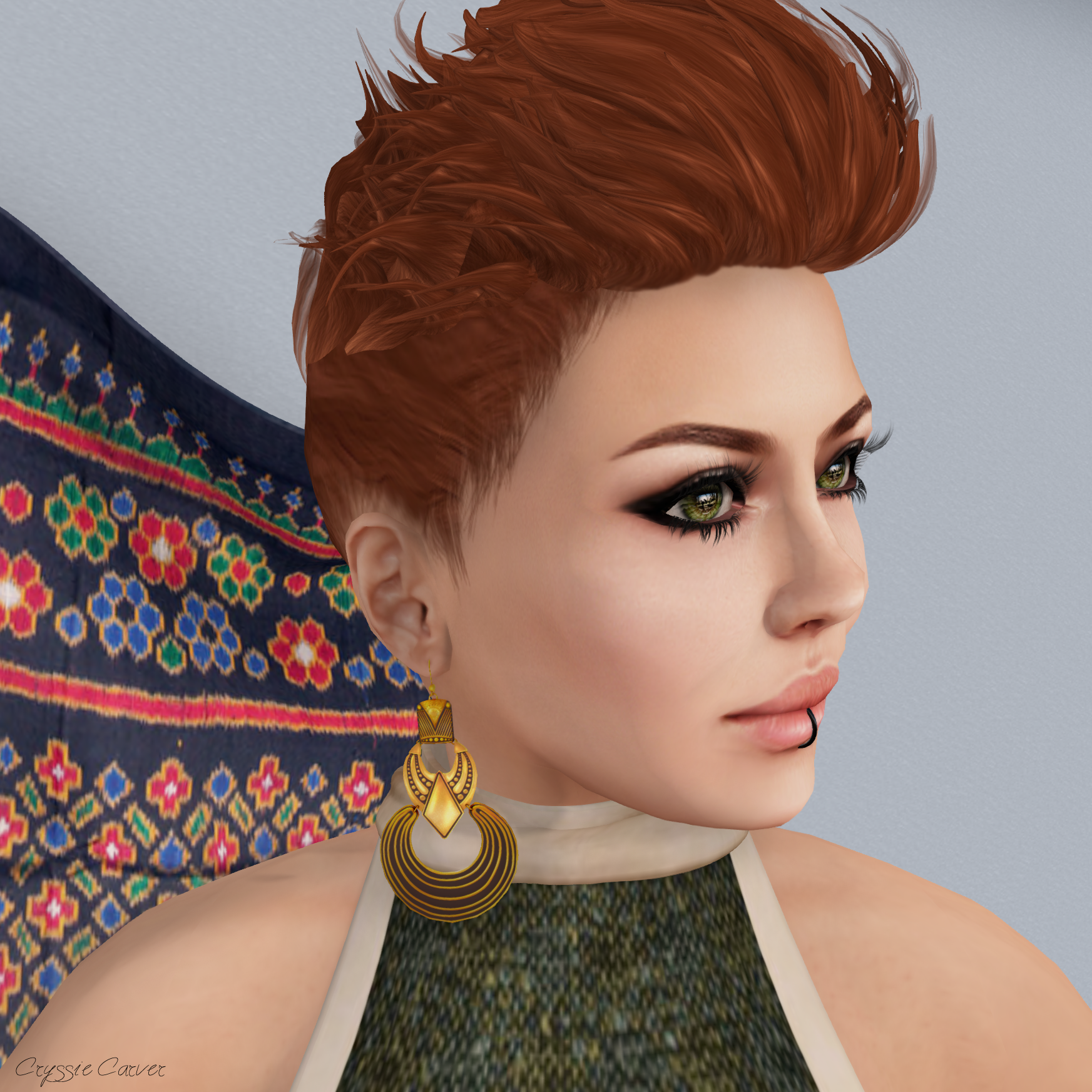 Remember I promised to show you more earrings from Mon Cheri later well they looked perfect with this outfit. These are the Isis earrings and they are gorgeous. I think they have become my new favourites.
The hair is from Damselfly too but with a twist. This is actually their male hair called Jase. It's non rigged so it's resizable and I thought I'd try it on to see how it looked. I actually really liked it. The only thing I changed was the hair base. The base that comes with the hair is definitely for guys, but my Truth hair base is much more feminine and matched almost perfectly with the colour I choose to wear.
The last outfit is from Sky and includes several pieces that they have at Fashion For Life.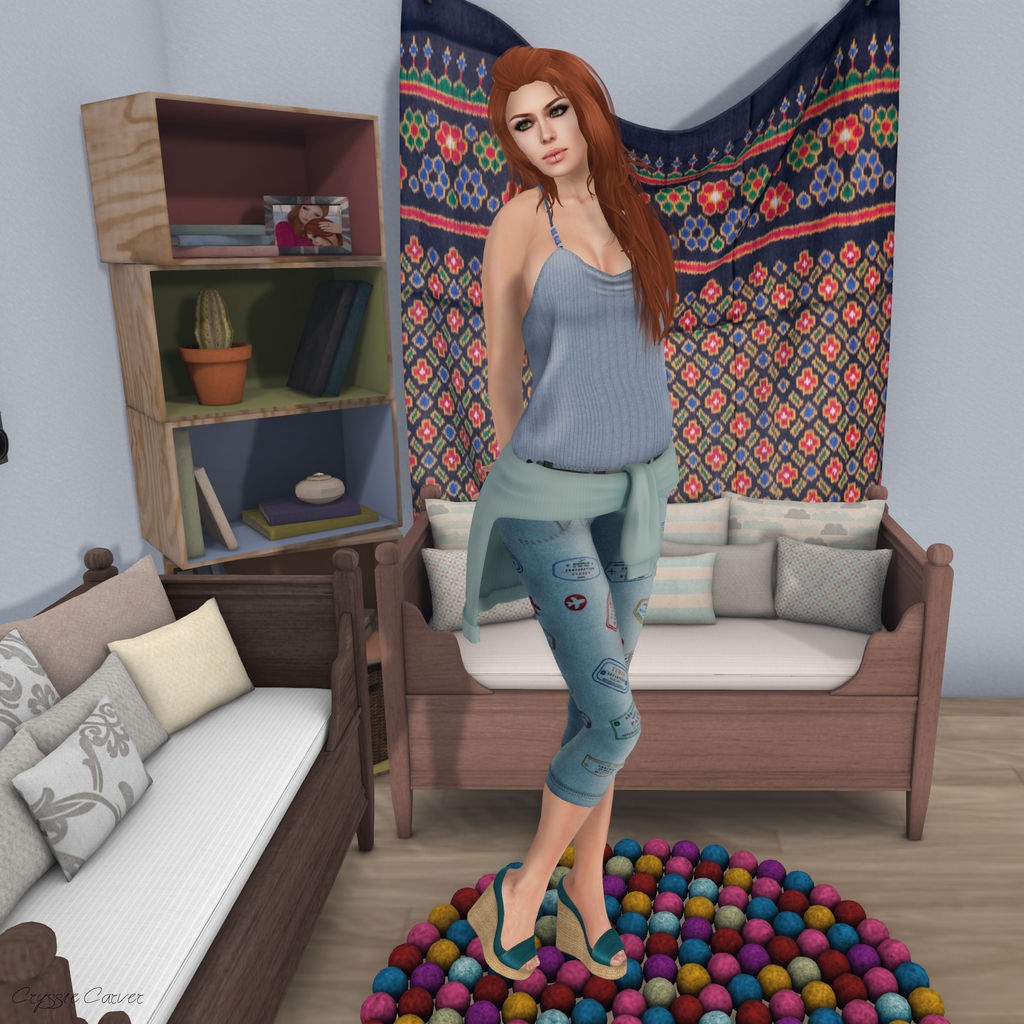 The capris and the shirt are from the Passport To Fun set. The waist sweater is an optional extra that fits perfectly with this outfit.
I couldn't resist teaming this outfit with the Jenny Wedges from Hopscotch. The Teal colour are an exclusive for Fashion For Life so make sure you pick up a pair. You will need SLink medium feet for these.
Last, but by no means least is the gorgeous furniture I used for my pictures. These include a brand new release and VIP group gift from Alouette and a piece from the Junk gatcha at The Arcade. You can find all the credits for these below.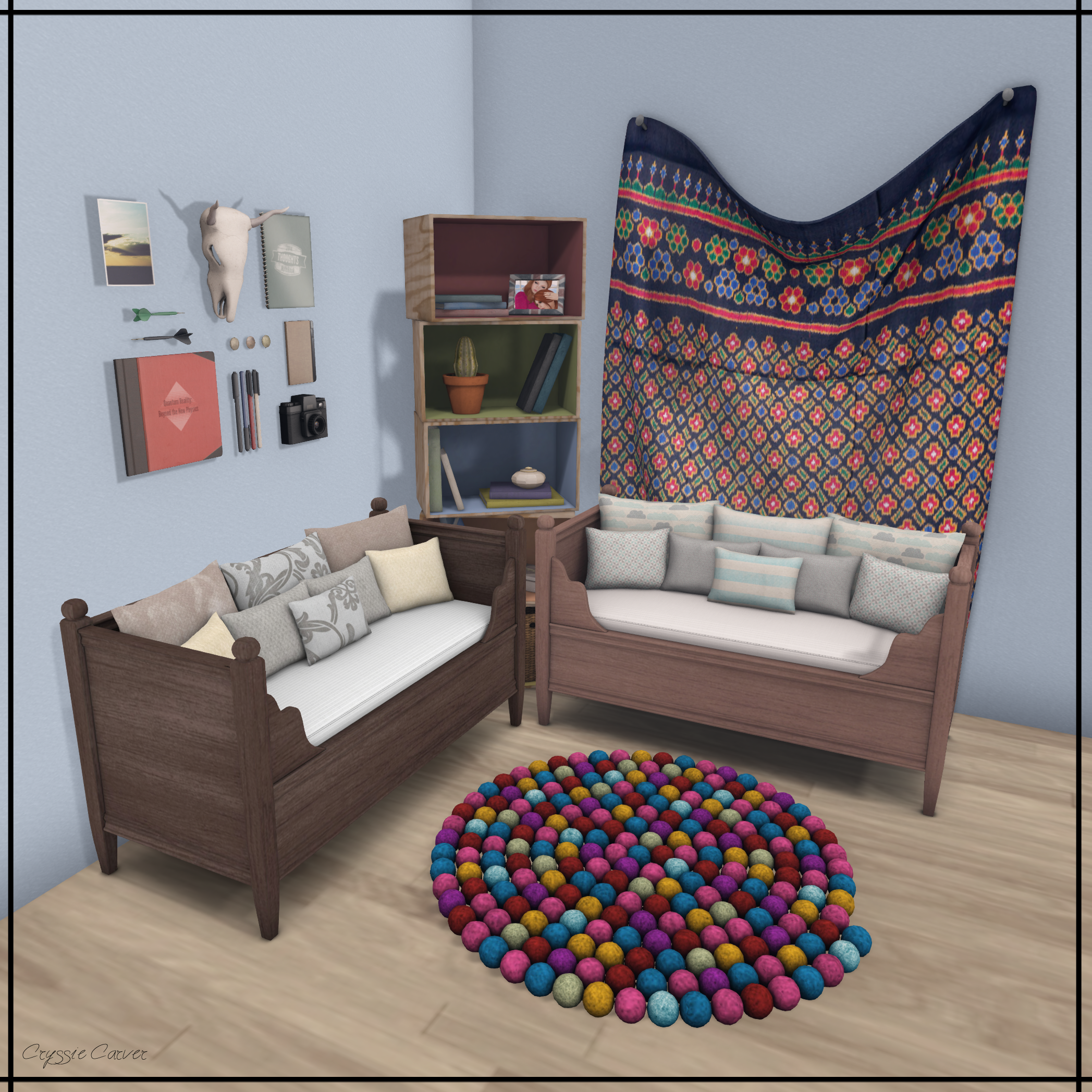 Happy Shopping and don't forget that Fashion For Life supports a great cause and I want you to go there and throw your lindens around like crazy!
Pic 1 & 2:
Dress -
Mon Cheri
- Sachi Flare Dress @
FFL: Wanderlust VOYAGE
Earrings -
Mon Cheri
- Gypsy Beads Earrings - Azure Pink @
FFL: Wanderlust VOYAGE
Shoes -
Mon Cheri
- Rosa Espadrilles (require SLink medium feet) @
FFL: Wanderlust VOYAGE
Hair -
Damselfly
- Kippar - Light Reds And Fades Pack @
FFL: Wanderlust TREK
Skin -
League
- Erin Pale - Feline
Eyes -
Ikon
- Spectral Eyes - Moor
Hands -
SLink
- Mesh Hands - Casual (with League appliers)
Feet -
SLink
- Mesh Feet - Medium (with League appliers)
Pose -
NanTra
- Jet Set - 2 (includes case) @
FFL: Wanderlust VOYAGE
Pic 3 & 4:
Dress -
Lacuna
- Halterneck Dress - Pink Pash & Samba @
FFL: Wanderlust PROMENADE
Shoes -
Lacuna
- Santorini Flats - Samba (require SLink flat feet) @
FFL: Wanderlust PROMENADE
Earrings -
Bliensen + MaiTai
- Laylah - Colour Change Hud @
FFL: Wanderlust WANDER
Hair -
Damselfly
- Kippar - Light Reds And Fades Pack @
FFL: Wanderlust TREK
Skin -
League
- Erin Pale - Feline
Eyes -
Ikon
- Spectral Eyes - Moor
Hands -
SLink
- Mesh Hands - Casual (with League appliers)
Feet -
SLink
- Mesh Feet - Flat (with League appliers)
Pose -
Label Motion
- Set - Pose 2
Pic 5 & 6
Dress -
SYSY's
- Wanderette - Aqua Coral @
FFL: Wanderlust TREK
Shoes -
SYSY's
- SunnySandal - Teal (require SLink flat feet) @
FFL: Wanderlust TREK
Necklace -
Bliensen + MaiTai
- Yasemine - Colour Change Hud @
FFL: Wanderlust WANDER
Hair -
Damselfly
- Zendaya - Light Reds And Fades Pack @
FFL: Wanderlust TREK
Skin -
League
- Erin Pale - Feline
Eyes -
Ikon
- Spectral Eyes - Moor
Hands -
SLink
- Mesh Hands - Casual (with League appliers)
Feet -
SLink
- Mesh Feet - Flat (with League appliers)
Pose -
NanTra
- Wanderlust Pack - 6 (includes pack on stick) @
FFL: Wanderlust VOYAGE
Pic 7 & 8
Dress -
Stars Fashion
- Night Enchantress (includes shoes) @
FFL: Wanderlust EXCURSION
Earrings -
Mon Cheri
- Isis Earrings @
FFL: Wanderlust VOYAGE
Hair -
Damselfly
- Jase - Light Reds And Fades Pack (male hair) @
FFL: Wanderlust TREK
Hair Base -
Truth
- Gingers03 Hair Base
Skin -
League
- Erin Pale - Feline
Eyes -
Ikon
- Spectral Eyes - Moor
Hands -
SLink
- Mesh Hands - Casual (with League appliers)
Pose -
Marukin
- Game - Need You
Pic 9:
Shirt -
Sky
- Passport To Fun - Top - Colour Hud @
FFL: Wanderlust VOYAGE
Pants -
Sky
- Passport To Fun - Capri - Colour Hud @
FFL: Wanderlust VOYAGE
Waist Sweater -
Sky
- Waist Sweater - 20 Colours Hud @
FFL: Wanderlust VOYAGE
Shoes -
HopScotch
- Jenny - Teal (require SLink medium feet) @
FFL: Wanderlust TREK
Hair -
Damselfly
- Zendaya - Light Reds And Fades Pack @
FFL: Wanderlust TREK
Skin -
League
- Erin Pale - Feline
Hands -
SLink
- Mesh Hands - Casual (with League appliers)
Feet -
SLink
- Mesh Feet - Medium (with League appliers)
Pose -
Countdown
- Pose 098
Furniture:
Left Couch -
Alouette
- Rainy Day Bench - VIP Group Gift
Right Couch -
Alouette
- Cloudy Day Bench
Wall Art -
Hideki
- Wall Stationary Decor
Shelf -
Pilot
- Bohn Crate Shelf
Wall Hanging -
Junk
- Wannabe Boho Wall Hanging - Navy @
The Arcade
Rug -
Lark
- Felt Ball Rug - Multi