So I wrote an entire blog post about The Chapter Four, did all my credits and SURLS so you could hop around quickly to find the bits you wanted and then as I hit save Blogger decided to have a bit of a fit and crashed.
I lost everything. Thanks Blogger! I really wanted to write this post twice.
So moving on from Blogger having a tantrum at me to the real reason why you're here. To peek at some things for The Chapter Four.
Gizza has brought you a fantastic bargain with their 99L Nordic Outfit.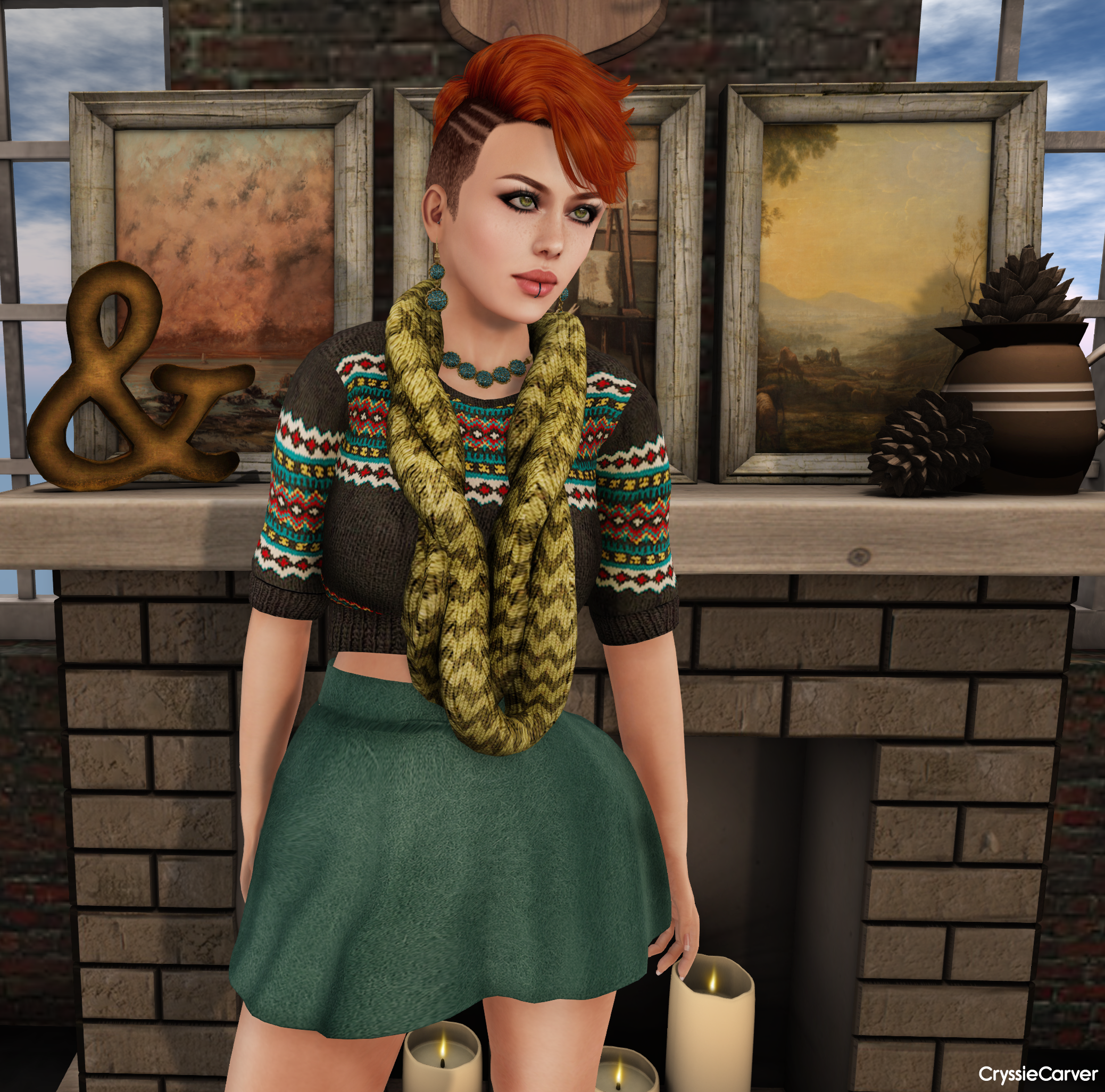 I went for the Olive/Teal combo because how could I not? However there are other colours for you to get your mits on. The outfit comes as a set but the skirt and shirt are actually separate pieces. This means that if you buy more than one colour set, and why wouldn't you at 99L, then you can mix and match the pieces to make combos that are unique for you!
The hair is a brand new unisex release from Mina. Bas comes in male and female sizes already pre-sized so no need to fiddle to make it fit your head (unless you usually have to do some tweaking). It includes hairbases in premade colours to match the hair but also has a tintable version for those who maybe tint the hair or wanted to perfect their own colour.
Fishy Strawberry have a great two for one deal at The Chapter Four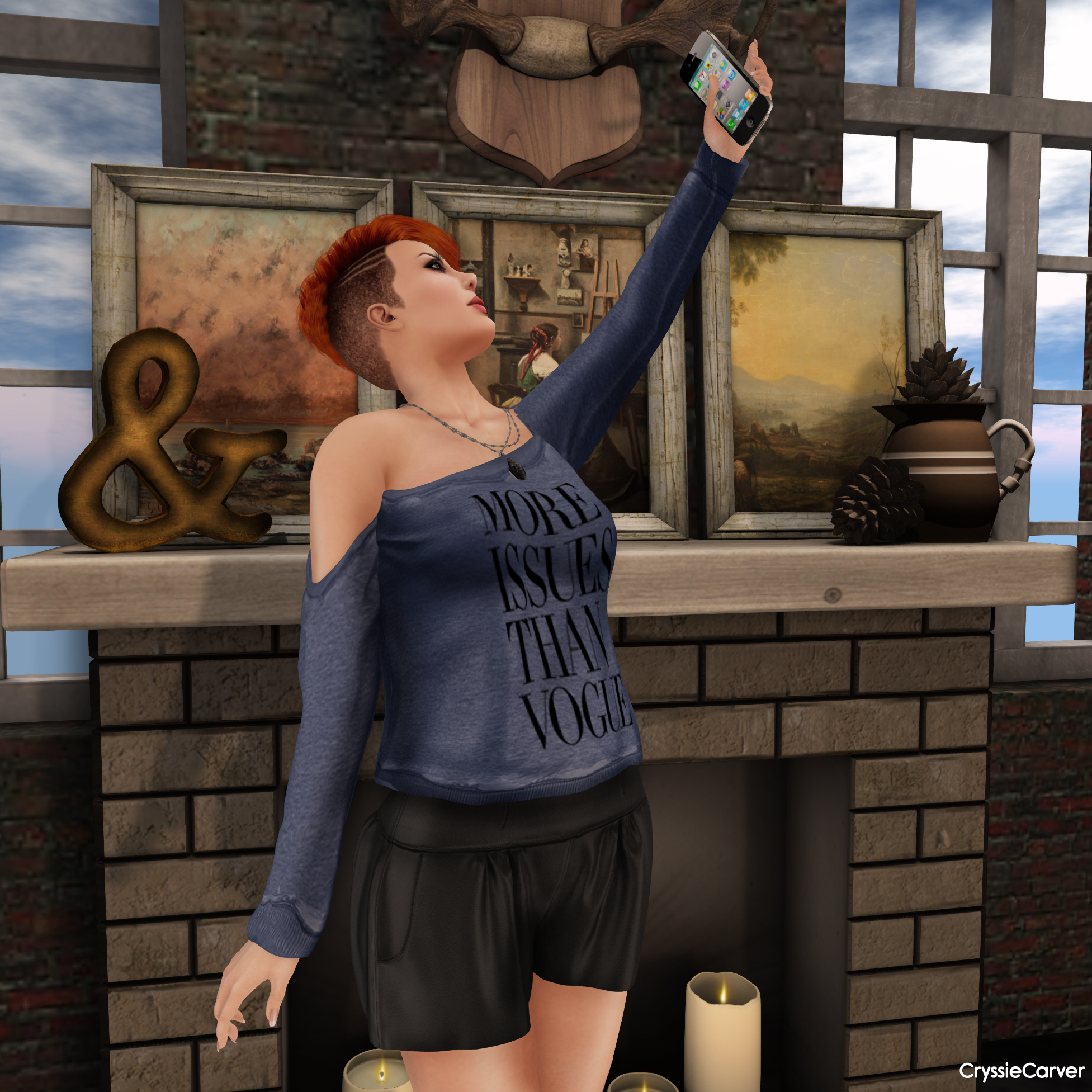 The Off Shoulder Sweater comes in packs of two colours. Make sure you buy the colour packs of the shirts you want and not the text on the front because the text can be changed or removed completely with an included hud. I definitely have more issues than Vogue. Most of them are with Blogger today!
I made a little corner to sit in and of course take some pics with some new and old furniture and décor. I like to show you some of the things I have hiding in there along with the new things I've grabbed.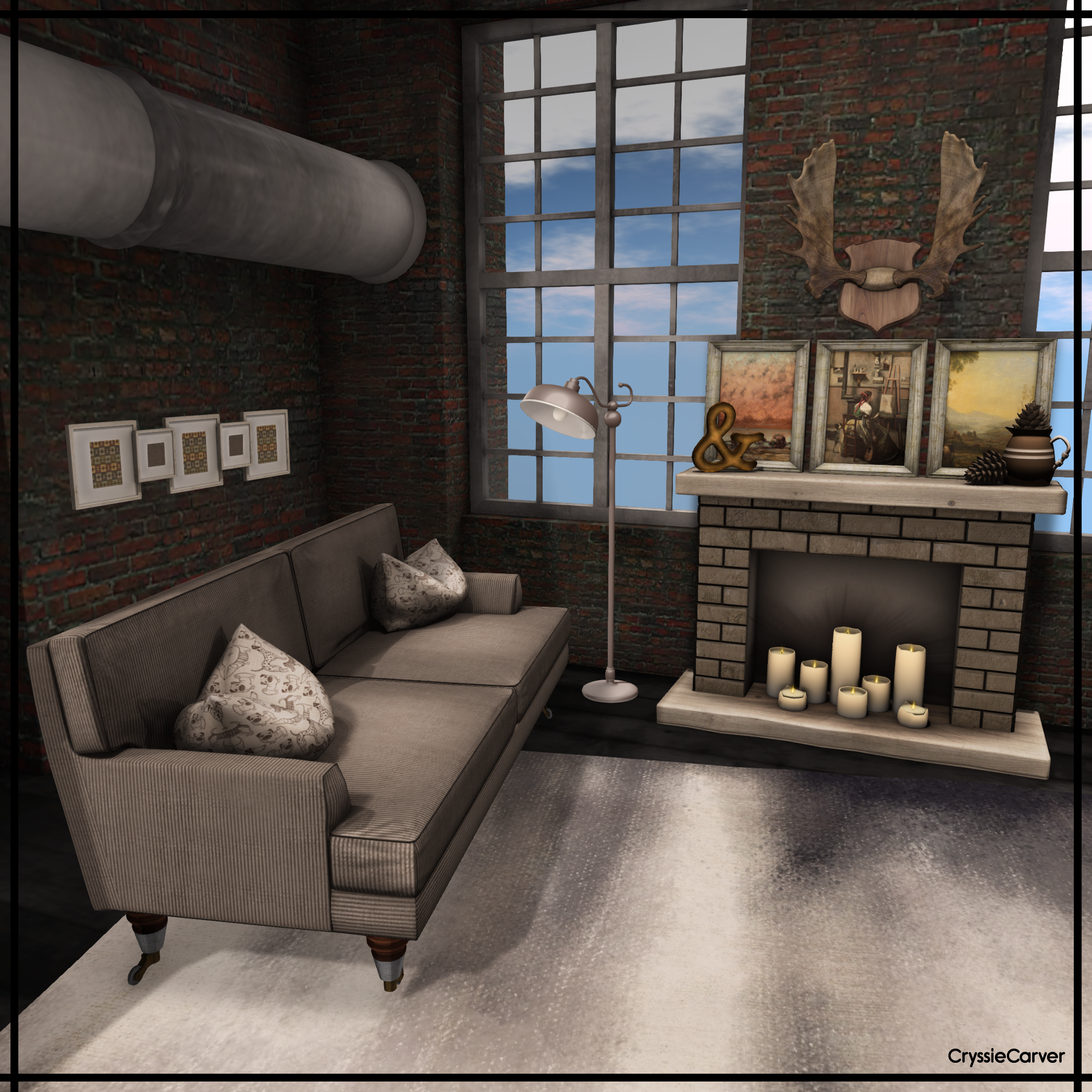 So the newess is from Cheeky Pea and is the Reston Sofa, Fireplace and collection of photo frames on the wall. Perfect for filling up your man dungeon or for those of you with a love of a much more neutral palette. You can find these pieces at The Mens Dept so don't forget to nip on down there once you've finished your run around The Chapter Four.
Happy Shopping!
Pic 1:
Outfit -
Gizza
- Nordic Outfit - Olive Teal @
The Chapter Four
Scarf -
Miel
- Infinity Scarf - Chevron Puffy
*Jewellery -
Real Evil Industries
- Lux Mia Necklace & Earrings
*Hair -
Mina
- Bas - Dark Reds (includes hairbase) @
The Chapter Four
Skin -
League
- Erin Pale - Feline (with tintable lipstick)
Eyes -
Ikon
- Spectral Eyes - Moor
Ears -
CheerNo
- Human Ears - Tragus
Hands -
SLink
- Avatar Enhancement Mesh Hands - Casual (with League appliers)
Pose -
Imeka
- Cora - Pose 4 @
The Chapter Four
Pic 2:
*Shirt -
Fishy Strawberry
- Off Shoulder Sweater - Blue (Pack 3) @
The Chapter Four
Shorts -
Mutresse
- Guzla Shorts - Black
Necklace -
Maxi Gossamer
- Fairy Infinity - Short
*Hair -
Mina
- Bas - Dark Reds (includes hairbase) @
The Chapter Four
Skin -
League
- Erin Pale - Feline (with tintable lipstick)
Eyes -
Ikon
- Spectral Eyes - Moor
Ears -
CheerNo
- Human Ears - Tragus
Hands -
SLink
- Avatar Enhancement Mesh Hands - Casual (with League appliers)
Pose -
Mien
- Selfies - 04 (includes phone) @
TDRF
Furniture:
*Sofa -
Cheeky Pea
- Reston Corduroy Pinstripe Sofa @
The Mens Dept
*Fireplace & Pictures -
Cheeky Pea
- Reston Fireplace @
The Mens Dept
*Picture Frames -
Cheeky Pea
- Homemade Picture Frames Light @
The Mens Dept
Rug -
MudHoney
- Ryan Rug
Antlers -
Pilot
- Moose Antlers - Natural
Lamp -
Floorplan
- Metal Floor Lamp
Skybox -
Trompe Loeil
- The Chatham Loft Skybox - Dark (past Facebook gift)