My Attic has one more day left until it closes on the 30th. I wish this event ran a bit longer because by the time I've shopped, taken pictures and found time to blog it's often already closed or about to be. It's a shame because there is always a great bargain there to grab.
So let's sneak this post in quick before you miss those bargains!
Rebel Hope has a pretty dress on offer for you.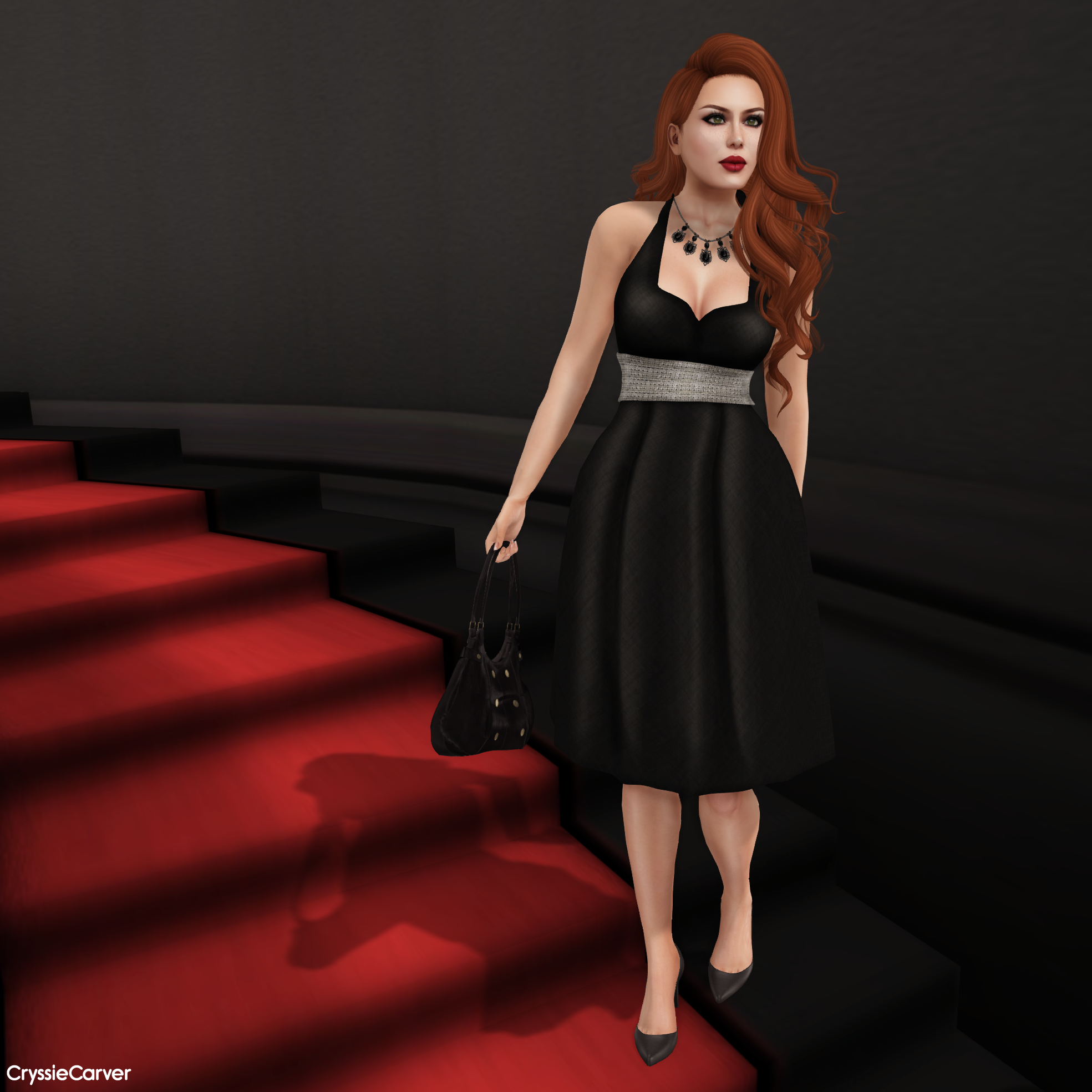 The My Attic Mesh Dress comes in several colours and is a perfect cocktail dress for the upcoming party season. Not only does it come in standard sized mesh but also includes a Physique version for all you SLink body owners.
The Shoes, which require the SLink medium feet, are the Zurich shoes from Essenz. Essenz have made some great SLink shoes recently and these are simple, but classy. They went perfectly with the dress too.
The Millionaire bag is a steal from Pure Poison at only 95L and while I'm not usually a big bag collector but this one found it's way into my inventory in about 3 seconds after seeing the ad.
The pose is in the Glam Steps from W.Winx & Flair. This is the only pose I used from this but it also makes an amazing background for the rest of my pictures too as you'll see soon.
If you wanted something a bit more formal then Dead Dollz has absolute bargain of a gown that you can't pass up.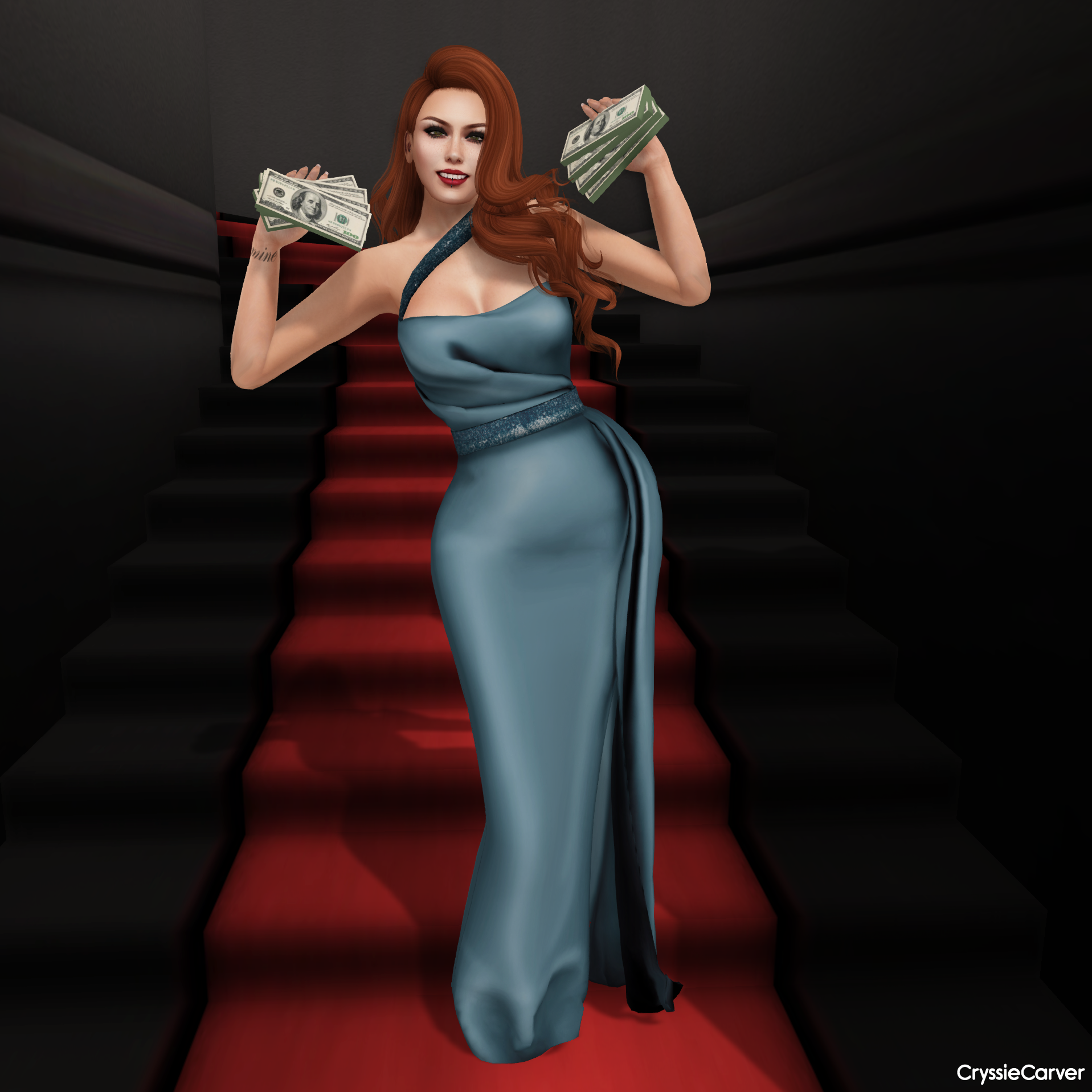 I went for the Blue because of it's lovely colour and the texture is a gorgeous satin type fabric with a little bit of sparkle.
If you want to look like you are flashing the cash then you'll want to grab the Money Honey poses set from NanTra. It comes with the stacks of money so you can look like you've got enough to buy ALL the dresses. I hope you really do!
Last up are some pants and a shirt from Le Primitif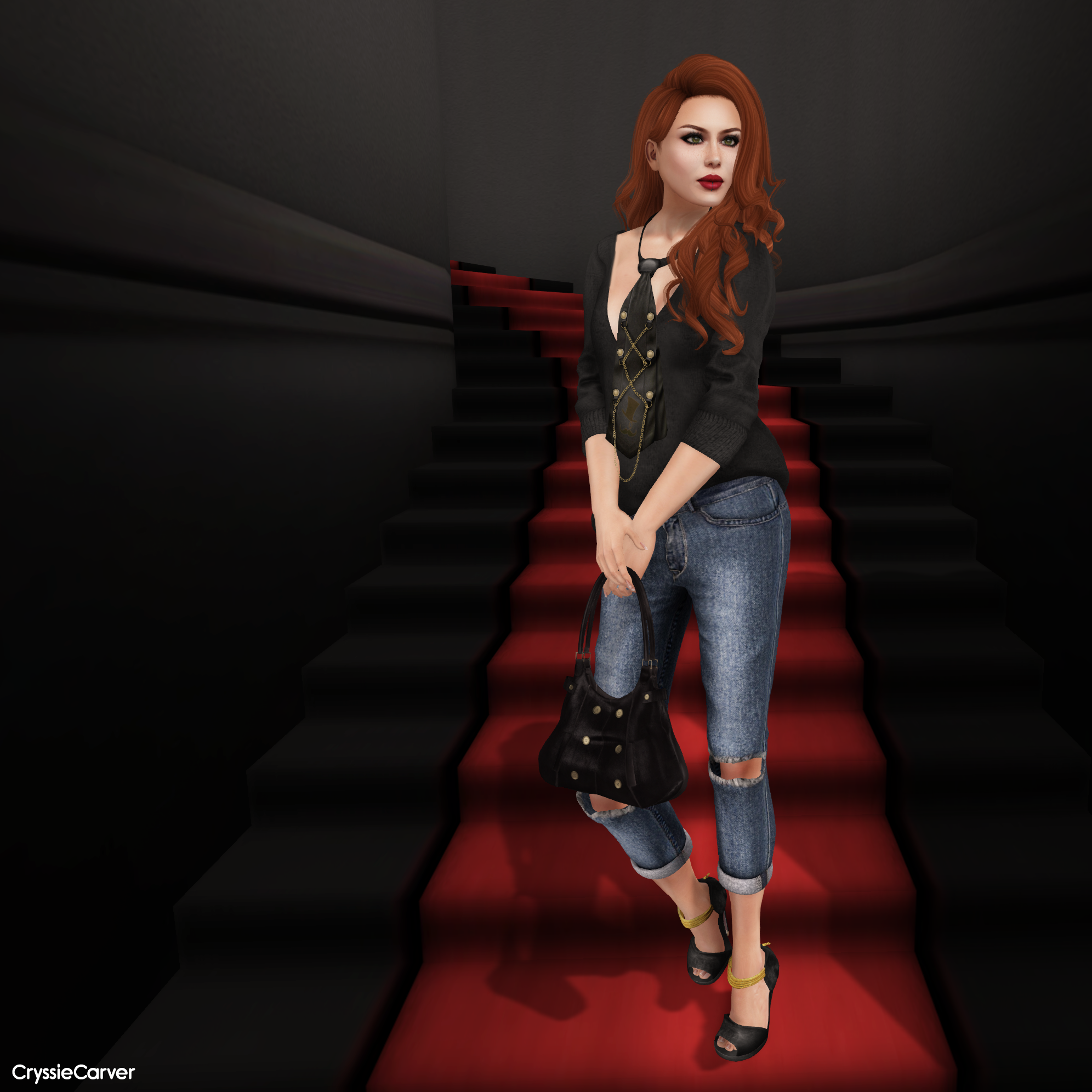 The Love Him Thermal and Love Him BF Jeans are a great casual outfit. The jeans come in the usual denim colours with lots of colourful shirts to match.
I threw on the Dandy Tie from SYS because it couldn't resist how great it looked with this outfit. I love the studs and chains on it and it takes a basic casual outfit and makes it bit more snazzy.
The shoes, which will need the SLink high feet, are from Fishy Strawberry. The Gold Digger heels are in several colours so you'll probably find a colour to match your outfit. They also include a hud so you can change the colour of the metal to match your accessories.
You've not got a lot of time to get your butts down to My Attic so get them moving!
Happy Shopping!
Pic 1:
Dress -
Rebel Hope
- My Attic Mesh Dress - Black @
My Attic
Shoes -
Essenz
- Zurich - Black (requires SLink medium feet) @
My Attic
Bag -
Pure Poison
- Millionaire Bag @
My Attic
Necklace -
Maxi Gossamer
- Karina Court - Short
Hair -
Truth
- Aida - Gingers Pack
Skin -
League
- Erin Pale - Feline (with Erin tintable lipstick)
Eyes -
Ikon
- Spectral Eyes - Moor
Eyelashes -
Mon Cheri
- Falsies Eyelash
Hands -
SLink
- Avatar Enhancement Mesh Hands - Casual & Bag (with League appliers)
Feet -
SLink
- Avatar Enhancement Mesh Feet - Medium (with League appliers)
Pose -
W.Winx
&
Flair
- How To Marry A Millionaire - Glam Steps @
My Attic
Pic 2:
Dress -
Dead Dollz
- Pola - Blue @
My Attic
Hair -
Truth
- Aida - Gingers Pack
Skin -
League
- Erin Pale - Feline (with Erin tintable lipstick)
Eyes -
Ikon
- Spectral Eyes - Moor
Eyelashes -
Mon Cheri
- Falsies Eyelash
Hands -
SLink
- Avatar Enhancement Mesh Hands - Casual (with League appliers)
Pose -
NanTra
- Money Honey - 5 (includes money stacks) @
My Attic
Pic 3:
Shirt -
Le Primitif
- Love Him Thermal - Black @
My Attic
Pants -
Le Primitif
- Love Him BF Jeans - Original @
My Attic
Tie -
SYS
- Dandy Tie - Black/Gold @
My Attic
Bag -
Pure Poison
- Millionaire Bag @
My Attic
*Shoes -
Fishy Strawberry
- Gold Digger Heels - Black (require SLink high feet) @
My Attic
Hair -
Truth
- Aida - Gingers Pack
Skin -
League
- Erin Pale - Feline (with Erin tintable lipstick)
Eyes -
Ikon
- Spectral Eyes - Moor
Eyelashes -
Mon Cheri
- Falsies Eyelash
Hands -
SLink
- Avatar Enhancement Mesh Hands - Casual & Bag (with League appliers)
Feet -
SLink
- Avatar Enhancement Mesh Feet - High (with League appliers)
Pose -
oOo Studio
- Paulina - Five