So many great events in Second Life that sometimes it's hard to keep track. I know there's been lots of complaining recently that there are way too many and people don't like them but personally I'm a HUGE event fan. Where else can you go and find things from several of your favourite designers at great prices and even get the opportunity to stumble upon a new creator that you've never spotted before!
Long live the SL event!
So obviously since I've been shopping events I've grabbed some things from several and decided to share them all with you.
Here we go!
My favourite piece is this Oslo shirt from Fishy Strawberry which you can find at The Chapter Four.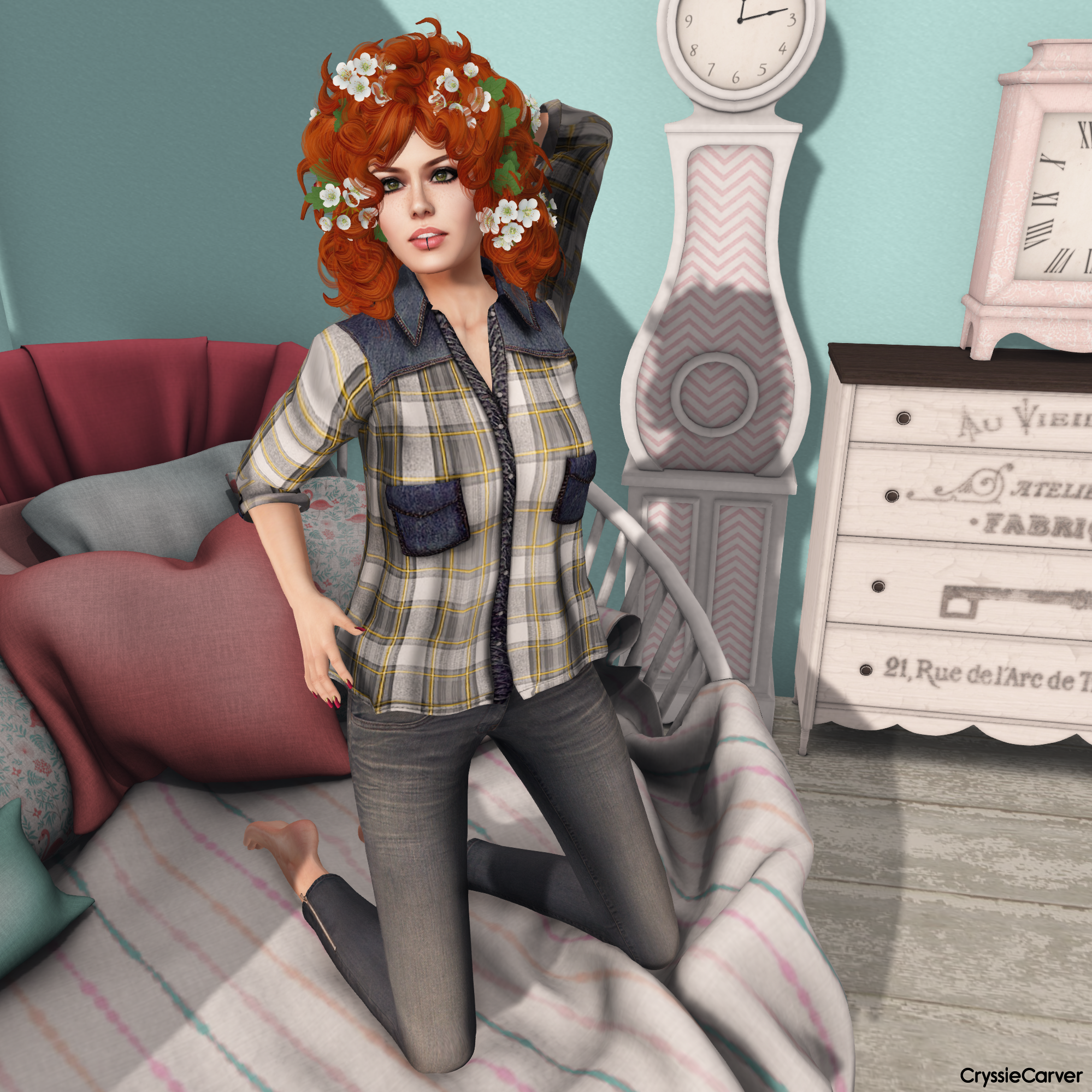 Super cute and casual and comes in several colours that you can use a hud to change. You buy the colour of the denim parts that most takes your fancy and the plaid changes at the click of a button to suit whatever you decide to wear underneath it.
You might be looking at my hair and going... o.O
I did too! But it made me laugh and I HAD to blog it for that reason alone. It's a gatcha win from Mina Hair at The Chapter Four. It's called bloom and is Bloom crazy and curly, and you can even win the flowers and leaves that go with it.
Even though I have crazy hair right now I have some very sleek and sexy looking nails.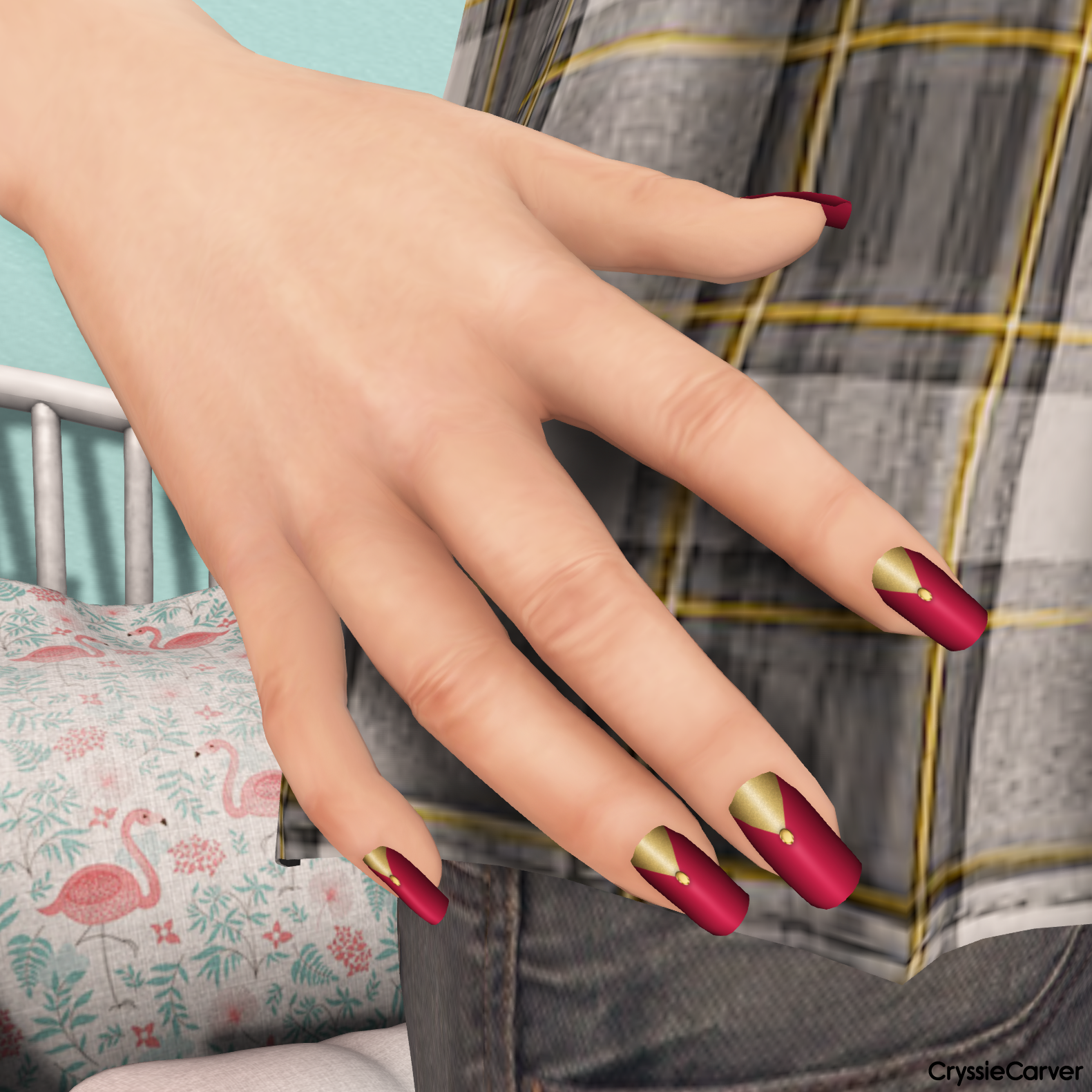 These are the Fall Studded V nails from LVLE and you can grab them from My SLink Obsession. This means you're going to need SLink hands or feet to wear these but if you don't have SLink enhancements by now... WHY NOT! You are missing out on so many great things that people make for the SLink system.
In case you didn't notice I've created myself a little nap spot with some bits from some of my favourite furniture creators in SL.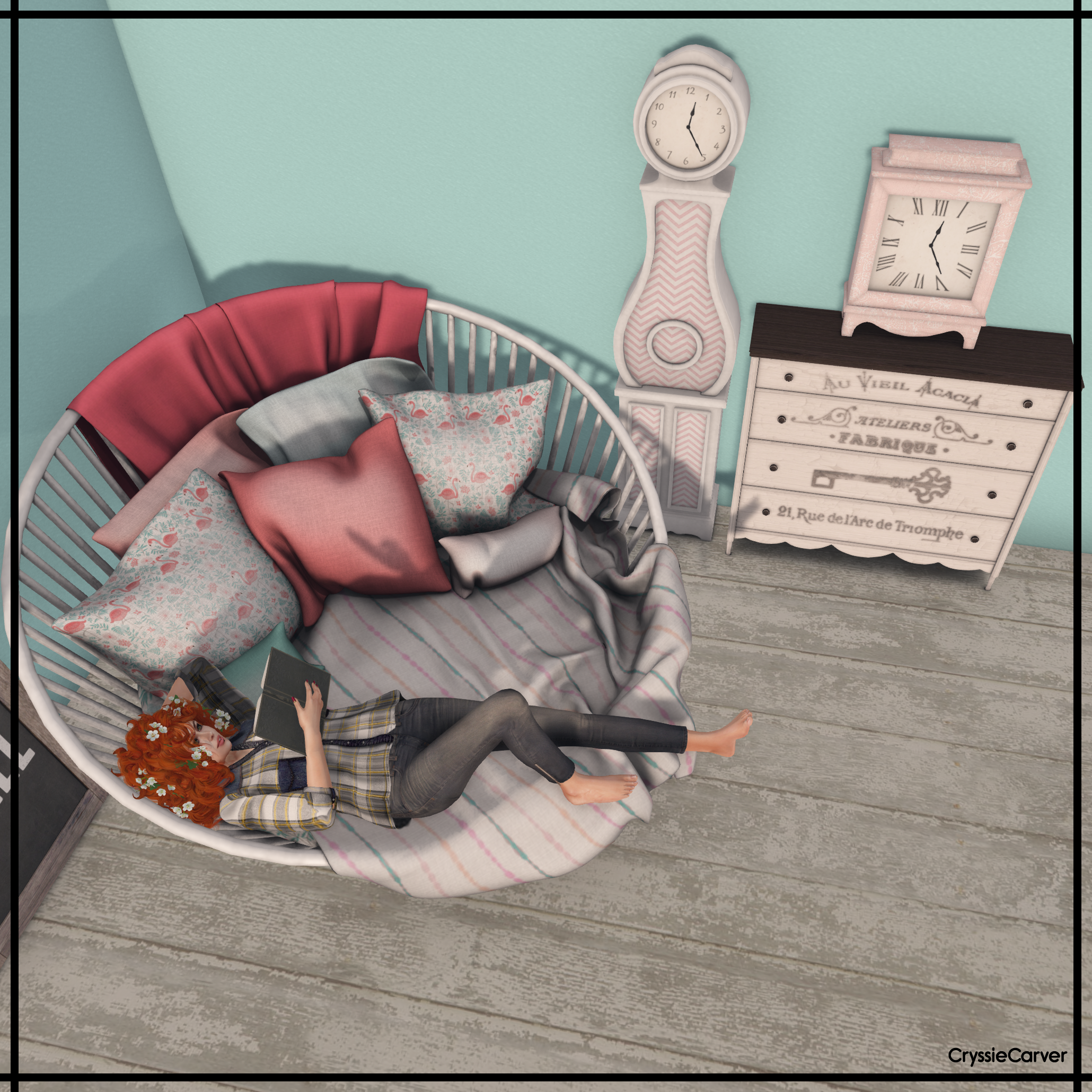 This adorable little round chair bed is the Shae Cosy from Cheeky Pea. You can find it at The Mens Dept in 3 different colours but of course I went for the girly option. The clocks and the dresser you can get from the Alouette mainstore. The Meghan Clock is the large, freestanding clock and the Table Clock is the smaller on that I have perched on top of the Worn French Dresser.
You're going to want to check out all the events and grab all the pieces you want before they close!
Happy Shopping!
Pic 1 & 2
*Shirt -
Fishy Strawberry
- Oslo Shirt - Dark Denim @
The Chapter Four
Pants -
Maitreya
- Zipper Skinny Jeans - Dirty
*Hair -
Mina
- Bloom - Dark Red 01 @
The Chapter Four
*Flowers -
Mina
- Head Flower - White @
The Chapter Four
Skin -
League
- Erin Pale - Feline
Eyes -
Ikon
- Spectral Eyes - Moor
Teeth -
Whatever
- Teeth 2.0 - Gem Piercing
*Nail Colour -
LVLE
- Fall Studded V (SLink hands required) @
My SLink Obsession
Hands -
SLink
- Avatar Enhancement Mesh Hands - Flat (with League appliers)
Feet -
SLink
- Avatar Enhancement Mesh Feet - High (with League appliers)
*Pose -
Elephante Poses
- Get A Leg Up - #4
Furniture:
*Chair -
Cheeky Pea
- Shae Cosy - Flamingo @
The Mens Dept
*Large Clock -
Alouette
- Meghan Clock Fabrics - Pink Chevron
*Small Clock -
Alouette
- Table Clock Fabrics - Pink Floral
*Dresser -
Alouette
- Worn French Dresser Drawers