Would you spend a whole night in a haunted house? You know the old abandoned houses that every town has and every one of those houses has an equally creepy story to go with it.
A ghost who creeps around in the talk and terrifies anyone brave (or stupid) enough to go inside!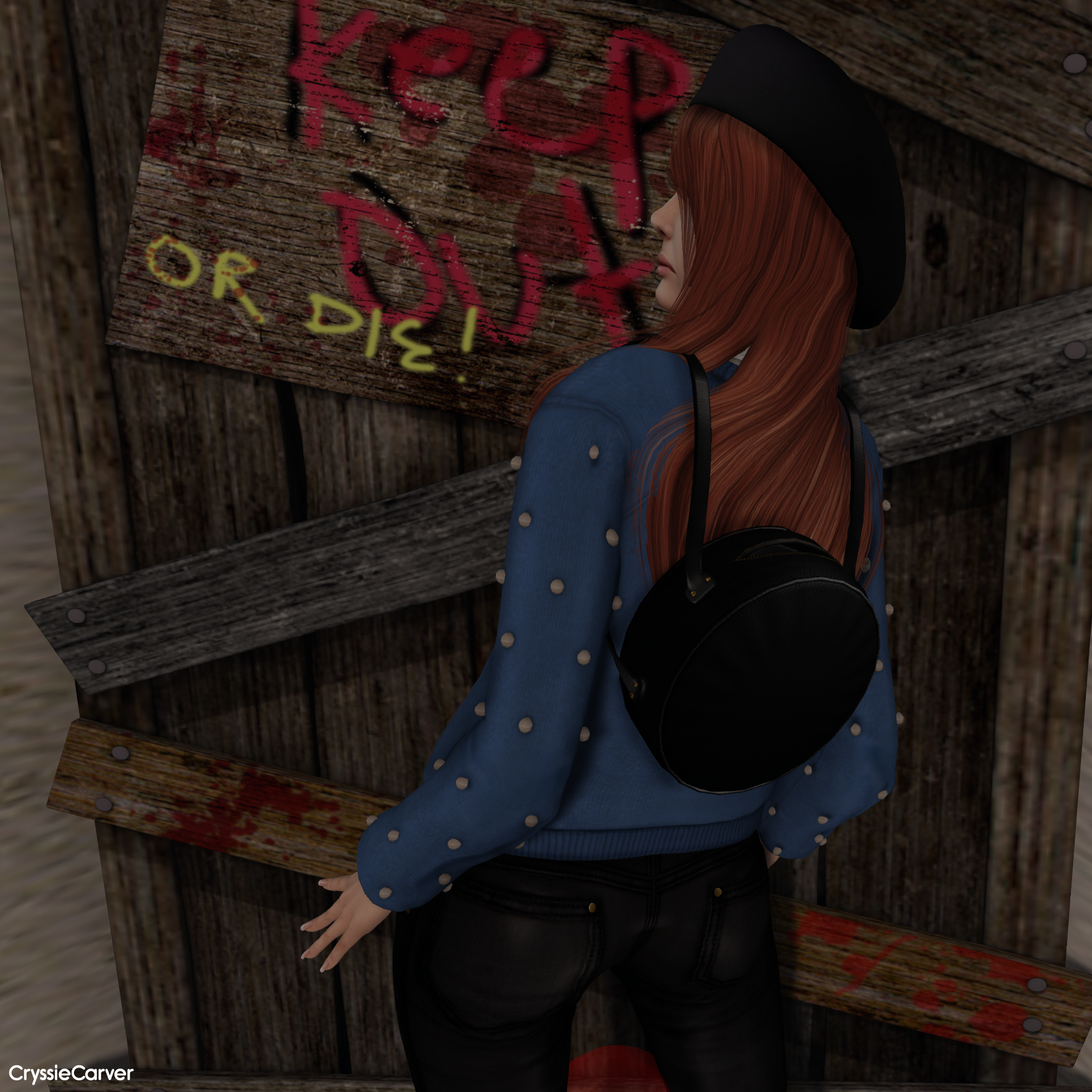 Would you go inside?
I don't feel too good about this.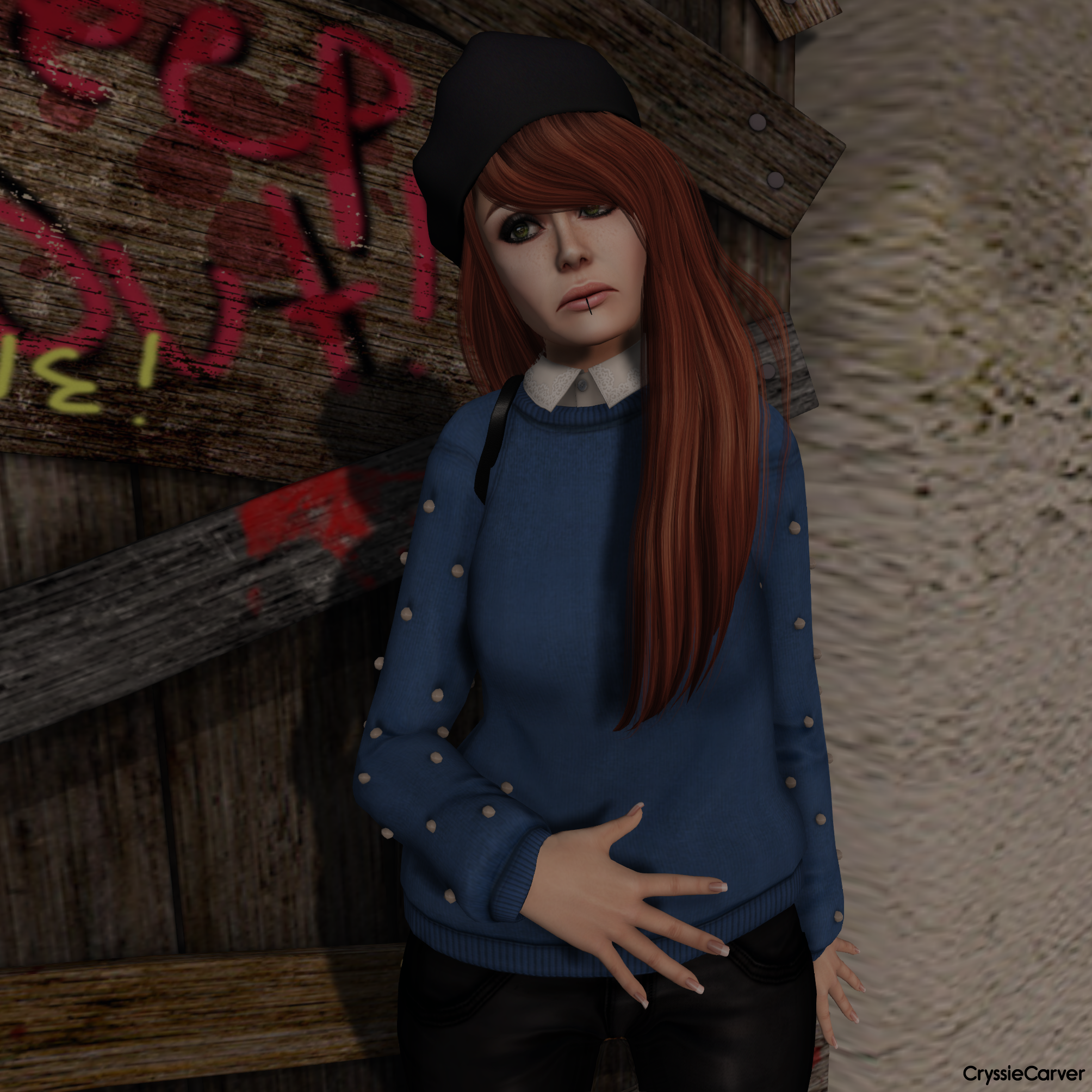 I don't think I'd be able to spend the whole night in one. I don't think I'd cope with 5 minutes. Maybe just take a change of clothes and try and sneak out without being caught by your friends...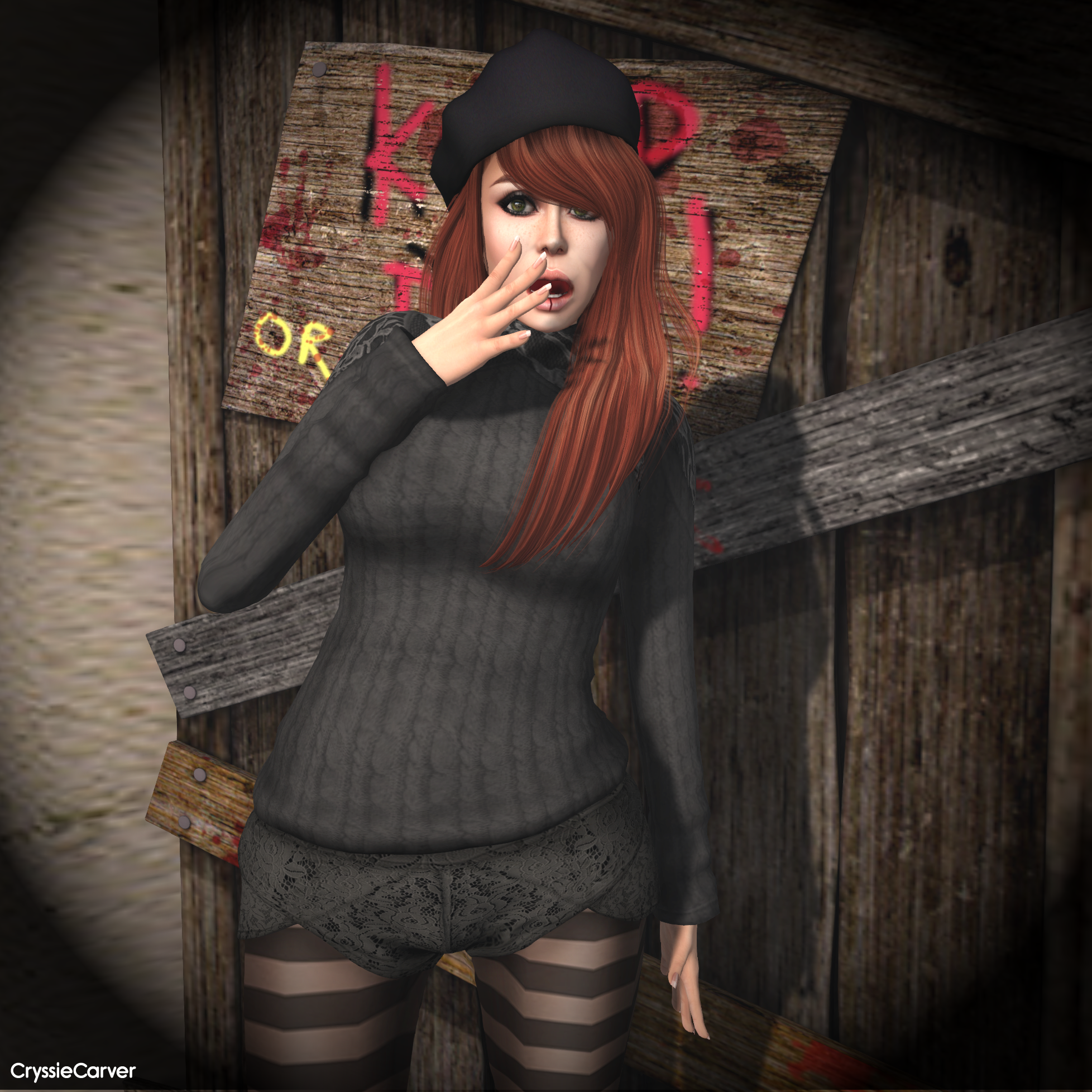 Oops. I got caught!
Okay so silliness over and done with! lol. These are some of the great things that are available in this round of Kustom9.
I got this adorable little Cece Backpack from Amala. I went with the plain but I was SO tempted by the one that says 'My Anaconda Don't'. I have that song permanently stuck in my head recently.
The blue sweater is part of a double pack from Pixicat. This is the Cold colour pack of the Sweet Sweater but there are others available too. I really like the bobbles on the arms and adorable little collar that comes with it. The collar is optional too.
The hair you can get from Spellbound. It comes with the hat that has a colour changing hud and you can also show or hide several different logos. As usual I went with the Reds pack.
In my sneaking out picture you can see a super cute outfit from Fishy Strawberry. This is the Lace Mock Turtleneck and the Lace Shorts. You purchase them separately so you can mix and match colours to suit you. I love the shape on the shorts and the lacey feel. I used to have something similar in a system layer years back and I'm glad to now have a version in mesh!
Go check everything out!
Happy Shopping!
Pic 1 & 2:
Shirt -
Pixicat
- Sweet Sweater - Cold Pack @
Kustom9
Pants -
Pixicat
- Biker Pants - Black
Bag -
Amala
- The Cece Backpack - Plain Leather @
Kustom9
Hair -
Spellbound
- Boo! - Reds Pack @
Kustom9
Skin -
League
- Erin Pale - Feline
Hands -
SLink
- Avatar Enhancement Mesh Hands - Splayed (with League appliers)
Eyes -
Ikon
- Spectral Eyes - Moor
Pose -
Kirin
- Hikari Pose - 1 @
Kustom9
Pic 3:
*Shirt -
Fishy Strawberry
- Lace Mock Turtleneck - Black @
Kustom9
*Shorts -
Fishy Strawberry
- Lace Shorts - Black @
Kustom9
Tights -
Erratic
- Patterned Stockings - Stripes Black
Hair -
Spellbound
- Boo! - Reds Pack @
Kustom9
Skin -
League
- Erin Pale - Feline
Hands -
SLink
- Avatar Enhancement Mesh Hands - Splayed (with League appliers)
Eyes -
Ikon
- Spectral Eyes - Moor
Pose -
Imeka
- Nyla - Pose 5 @
Kustom9
Furniture:
House -
Apple Fall
- Adobe Home (old group gift)
Door -
Second Spaces
- Monster's Study - Barred Door