Hey all, I know I'm running a little late with FaMESHed this month but it's been a bit of a frantic week. My poor little Lemmiwinks is sick and I've been running around taking care of her and trips back and forth the vet while still being sick myself.
But how could I not look after something with this face... poor little bugger. She needs lots of loving and special care now. If you're on my Plurk you've probably seen lots of updates about her from me. (feel free to add me if you aren't already on there).
But back onto the reason you came here. FaMESHed!
Lots of lovely goodies in this round but the creator who got me most excited was definitely Coco.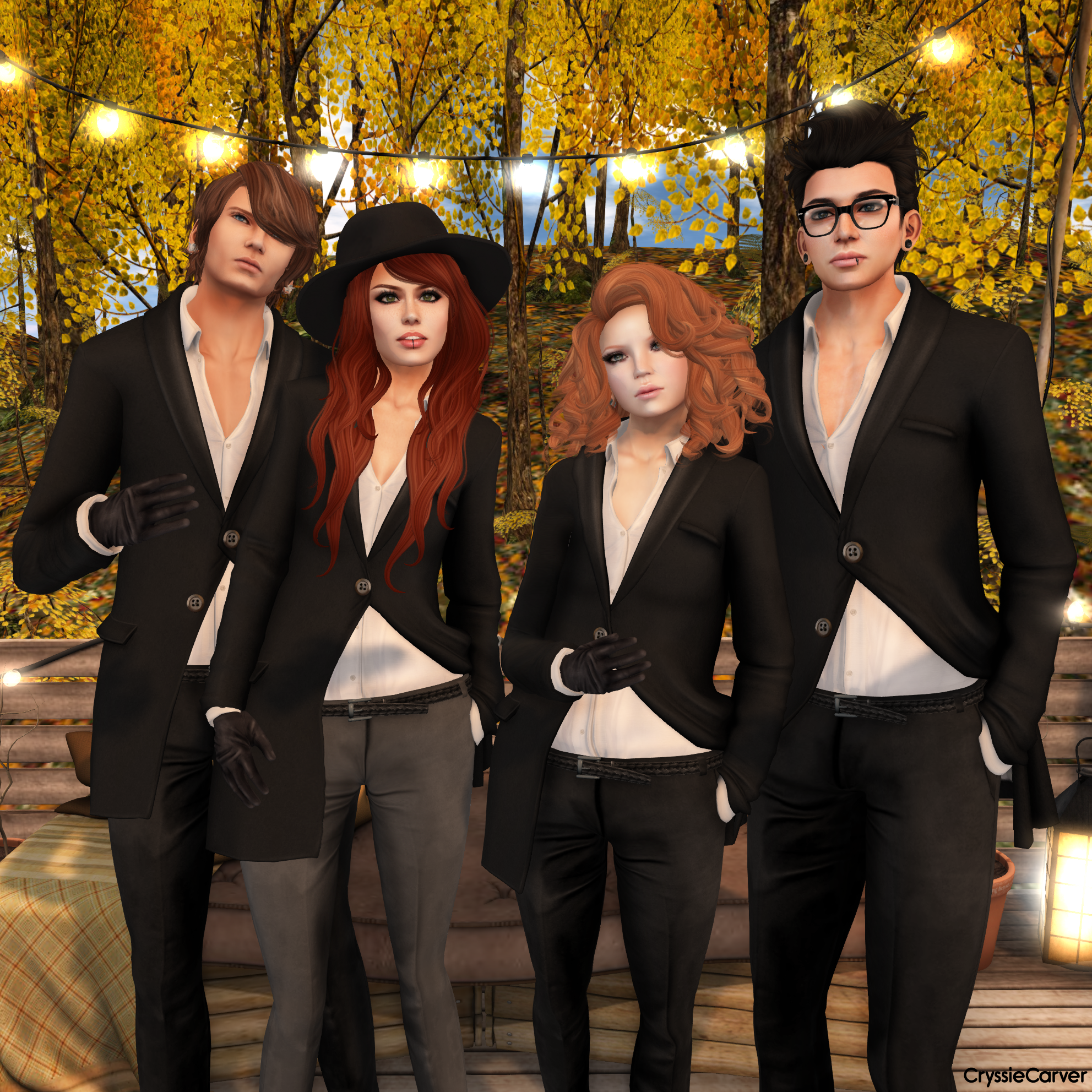 I'm totally in love with the Shawl Collar Coat and Tailored Pants. You can grab the female version from FaMESHed where you also have the option to get the Felt Fedora Hat and the male version is at The Mens Dept.
Both have the arm in the pants pocket shape and a glove for your exposed hand. There are different colour choices but it seems that me, Ama, Cat and Val all have very similar tastes!
The hair is from Wasabi Pills and is called Roberta. Just so there is full disclosure on this post and so I'm not tricking anyone the hair DOES NOT fit under the Felt Fedora Hat from Coco. I did some modding in photoshop (since you can't mod rigged mesh hair like you could prim hair).
Mutresse always released great stuff for FaMESHed and this round they have brought us the Malena Tio Shirt and the Nikita Leggings.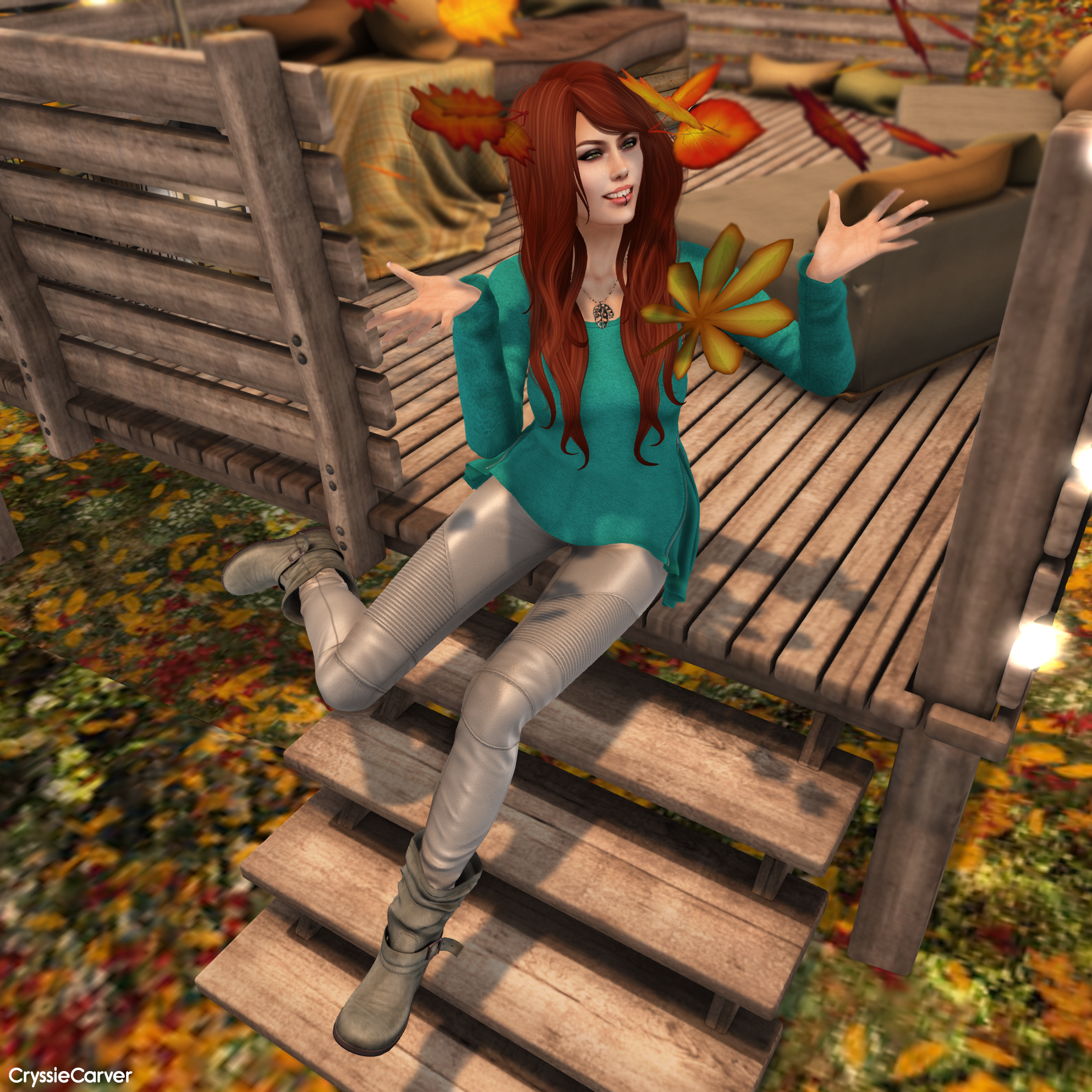 As always they come with the full colour pack hud and it lets you change pieces of the shirt and leggings individually to really create your very own perfectly coloured outfit.
I really like the zip details on the sides of the shirt and on the leggings. This is a really pretty set and perfect for autumn now the weather really has changed.
I'm not usually a lover of jackets that don't come with a shirt that fits underneath already or one that doesn't already have a built in shirt but when I demo'd the Liberia Bomber Jacket from Emery I had to have it. I even went with the Petrol colour the demo came in because once I tried it on I was hooked.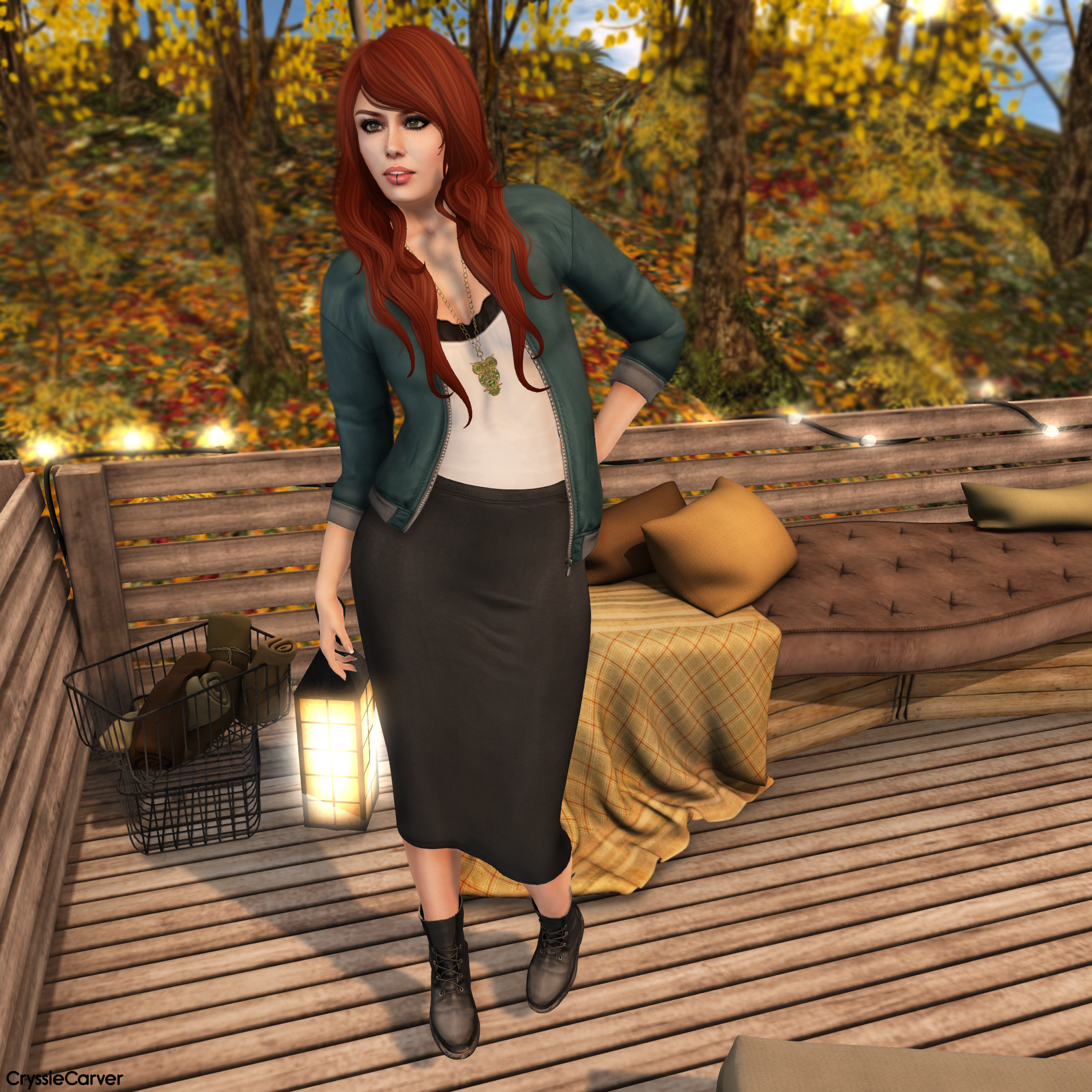 It fits nicely over the top of other emery products so I pulled out my favourite Emery Midi Skirt to go underneath it and delved really deep into my inventory to find a system top. It's been a while but this Truffle Top from Snatch definitely still works.
Last up is a truly stunning autumn dress from Baiastice that just screams the colours of this season.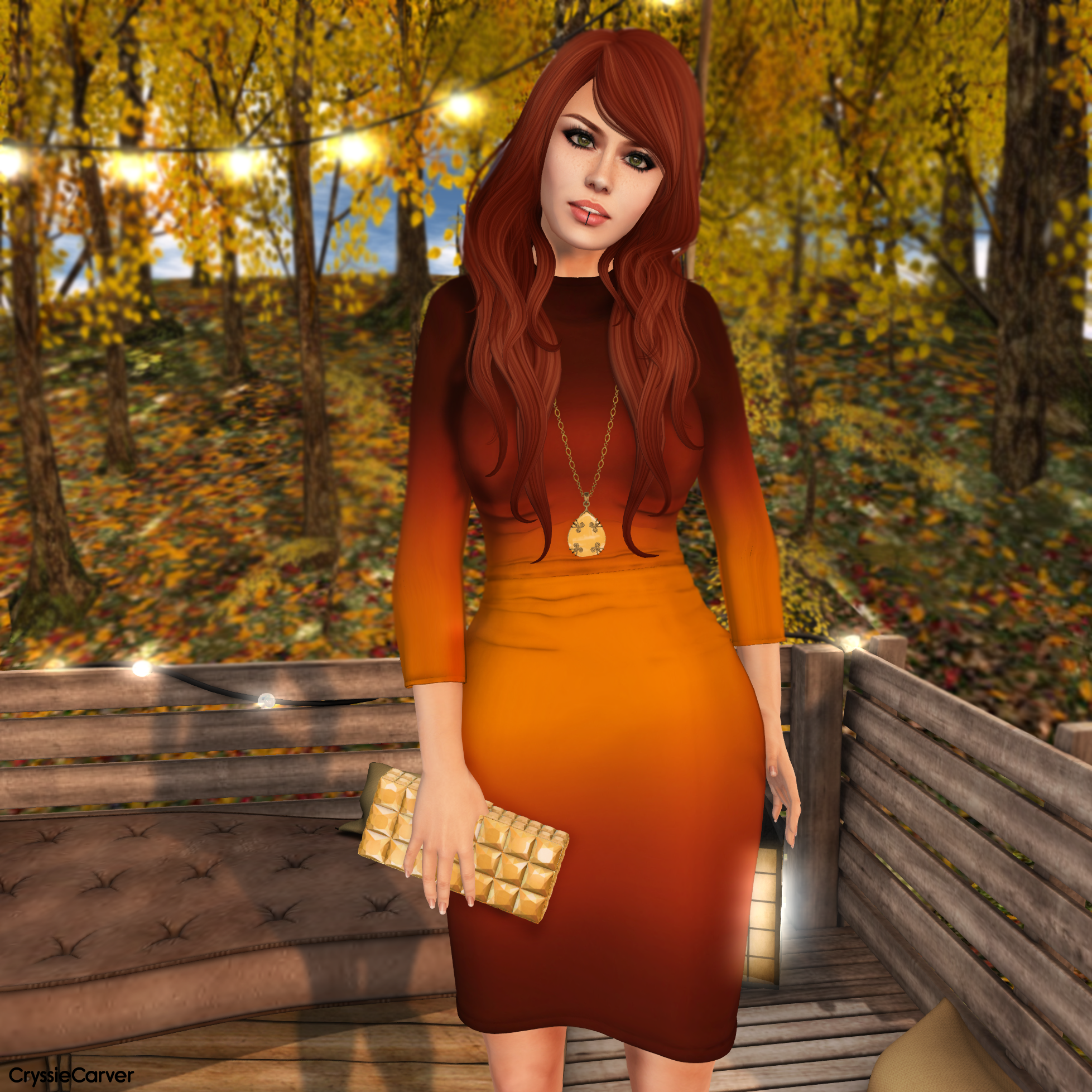 Of course I had to go with the Ombre Brown/Orange version of the Iggy dress. I don't think I've seen anything this autumnal for a while. Gorgeous colours that caught my eye the second I saw it. If you'd prefer something brighter there are other colour options to choose from that might suit your tastes.
To go with it Baiastice have released the Diamonsd Clutch. The Gold looked lovely with the brown and orange of the Iggy Dress but as always there are more colours than you can shake a stick at. Go find one that you fall in love with.
The lovely deck and furniture that I used are from Cheeky Pea.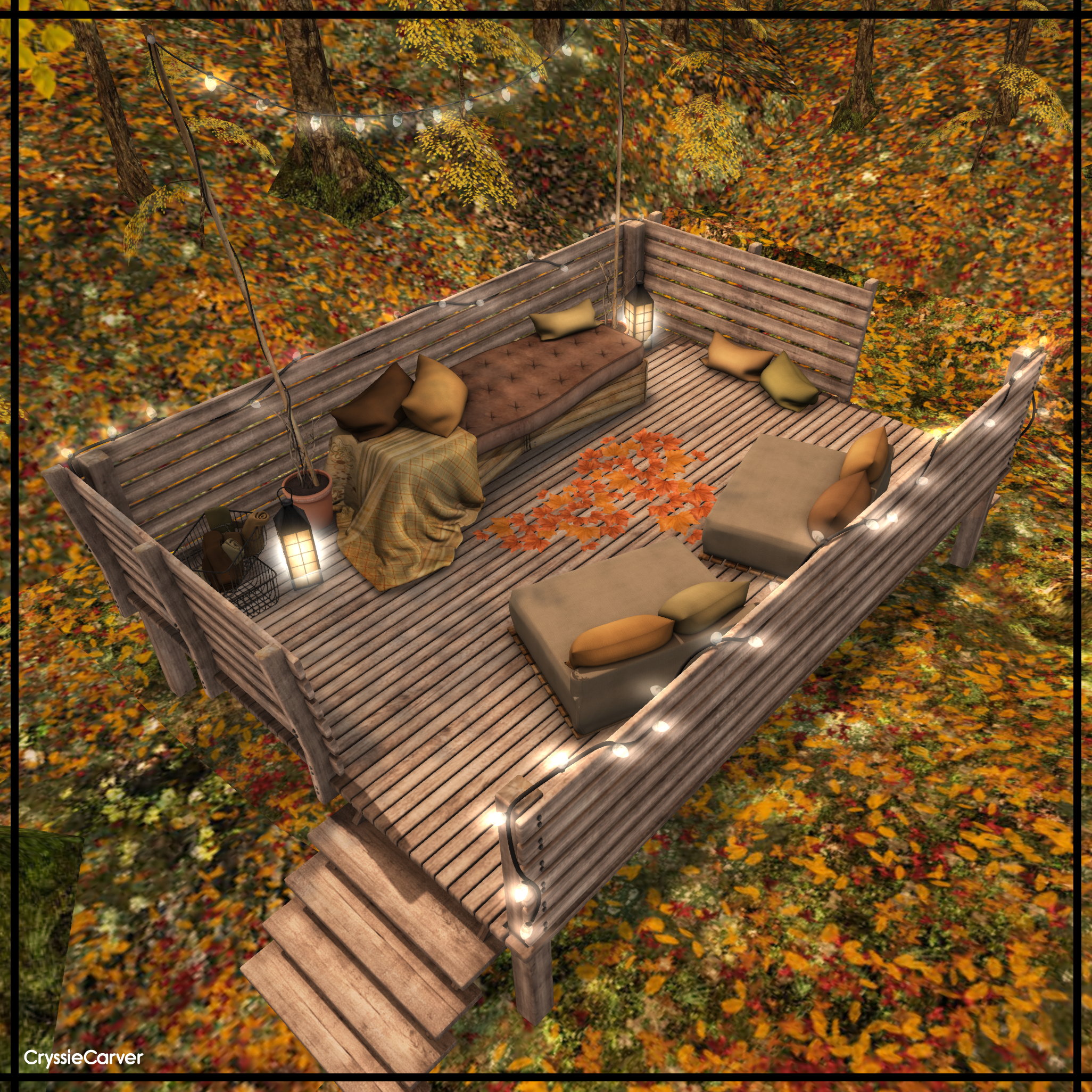 You can find the Stargazer Landing Set at FaMESHed where you can buy the pieces separately or all together a pack. The deck has long legs for you to put it in water or on land and there are adult or PG versions of the furniture.
Happy Shopping!
Pic 1:
Ama:
Jacket & Glove -
Coco
- Shawl Collar Coat For Men - Black @
The Mens Dept
Pants -
Coco
- Tailored Pants For Men - Black @
The Mens Dept
Hair -
Ink
- Painter - Brown & Maple @
The Mens Dept
Ears -
Atiui
- Gen 4 Ears - Acrylimals - White Rat
Eyes -
Ikon
- Immortal Eyes - Denim
Skin -
FRUK
- Jeremy - Shade 03 Light Brown
Cryssie:
Jacket & Glove -
Coco
- Shawl Collar Coat - Black @
FaMESHed
Pants -
Coco
- Tailored Pants - Grey @
FaMESHed
Hat -
Coco
- Felt Fedora Hat - Black @
FaMESHed
Hair -
Wasabi Pills
- Roberta - Reds Pack @
FaMESHed
Eyes -
Ikon
- Spectral Eyes - Moor
Teeth -
Whatever
- Teeth 2.0 - Gem Piercing
Skin -
League
- Erin Pale - Feline
Cat:
Jacket & Glove -
Coco
- Shawl Collar Coat - Black @
FaMESHed
Pants -
Coco
- Tailored Pants - Black @
FaMESHed
Hair -
Truth
- Vixen - Gingers Pack
Eyes -
Ikon
- Immortal Eyes - Denim
Skin -
Pink Fuel
- Doll V2 - Crystal
Valentine:
Jacket & Glove -
Coco
- Shawl Collar Coat For Men - Black @
The Mens Dept
Pants -
Coco
- Tailored Pants For Men - Black @
The Mens Dept
Glasses -
Sorgo
- Sawn Black - Glasses
Hair -
Exile
- Machinehead - Blacks Pack @
The Mens Dept
Ears -
CheerNo
- Human Ears - Plug Open
Eyes -
Ikon
- Spectral Eyes - Evening
Skin -
Belleza
- Ethan Pale - 0
Pose -
An Lar Poses
- Slainte
Pic 2:
Shirt -
Mutresse
- Malena Tio - Colour Pack @
FaMESHed
Pants -
Mutresse
- Nikita Leggings - Colour Pack @
FaMESHed
Boots -
Maitreya
- Stagioni Xtd Leather - Artichoke
Necklace -
Izzie's
- Leaves Necklace - Silver
Hair -
Wasabi Pills
- Roberta - Reds Pack @
FaMESHed
Eyes -
Ikon
- Spectral Eyes - Moor
Skin -
League
- Erin Pale - Feline
Hand -
SLink
- Avatar Enhancement Mesh Hands - Splayed (with League appliers)
Pose -
Focus Poses
- Autumn Leaves - 1 (includes leaves prop)
Pic 3:
Jacket -
Emery
- Liberia Bomber Jacket - Petrol @
FaMESHed
Shirt -
Snatch
- Truffle Top - White
Skirt -
Emery
- Midi Skirt Elle - Smoke
Boots -
Deadwool
- Patmos Boots - Black
Necklace -
Maxi Gossamer
- Jewelled Owl - Long Gold
Hair -
Wasabi Pills
- Roberta - Reds Pack @
FaMESHed
Eyes -
Ikon
- Spectral Eyes - Moor
Teeth -
Whatever
- Teeth 2.0 - Gem Piercing
Skin -
League
- Erin Pale - Feline
Hand -
SLink
- Avatar Enhancement Mesh Hands - Casual (with League appliers)
*Pose -
Ma Vie
- Missing Pieces - 10
Pic 4:
*Dress -
Baiastice
- Iggy Dress - Ombre Orange/Brown @
FaMESHed
*Bag -
Baiastice
- Diamonds Clutch - Gold @
FaMESHed
Necklace -
Maxi Gossamer
- Crystal Glass Teardrop - Long Gold
Hair -
Wasabi Pills
- Roberta - Reds Pack @
FaMESHed
Eyes -
Ikon
- Spectral Eyes - Moor
Teeth -
Whatever
- Teeth 2.0 - Gem Piercing
Skin -
League
- Erin Pale - Feline
Hand -
SLink
- Avatar Enhancement Mesh Hands - Casual (with League appliers)
Pose -
Kirin
- Rinka Pose - 1
Furniture:
*Deck -
Cheeky Pea
- Stargazer Landing Set - Landing w/Lights @
FaMESHed
*Bench -
Cheeky Pea
- Stargazer Landing Set - Makesift Loveseat @
FaMESHed
*Chair (left) -
Cheeky Pea
- Stargazer Landing Set - Squash 1 @
FaMESHed
*Chair (right -
Cheeky Pea
- Stargazer Landing Set - Squash 2 @
FaMESHed
*Basket -
Cheeky Pea
- Stargazer Landing Set - Blanket Basket @
FaMESHed
*Lamp -
Cheeky Pea
- Stargazer Landing Set - Lamp @
FaMESHed
*String Lights -
Cheeky Pea
- Stargazer Landing Set - Lights @
FaMESHed
*Pillows -
Cheeky Pea
- Stargazer Landing Set - Cuddle Pillow @
FaMESHed
*Leaves -
Serenity Style
- Autumn Leafs Ground
Trees -
Studio Skye
- Enchanted Woods V2