I grabbed a couple of goodies from this round of The Chapter Four to share with you so let's take a peek.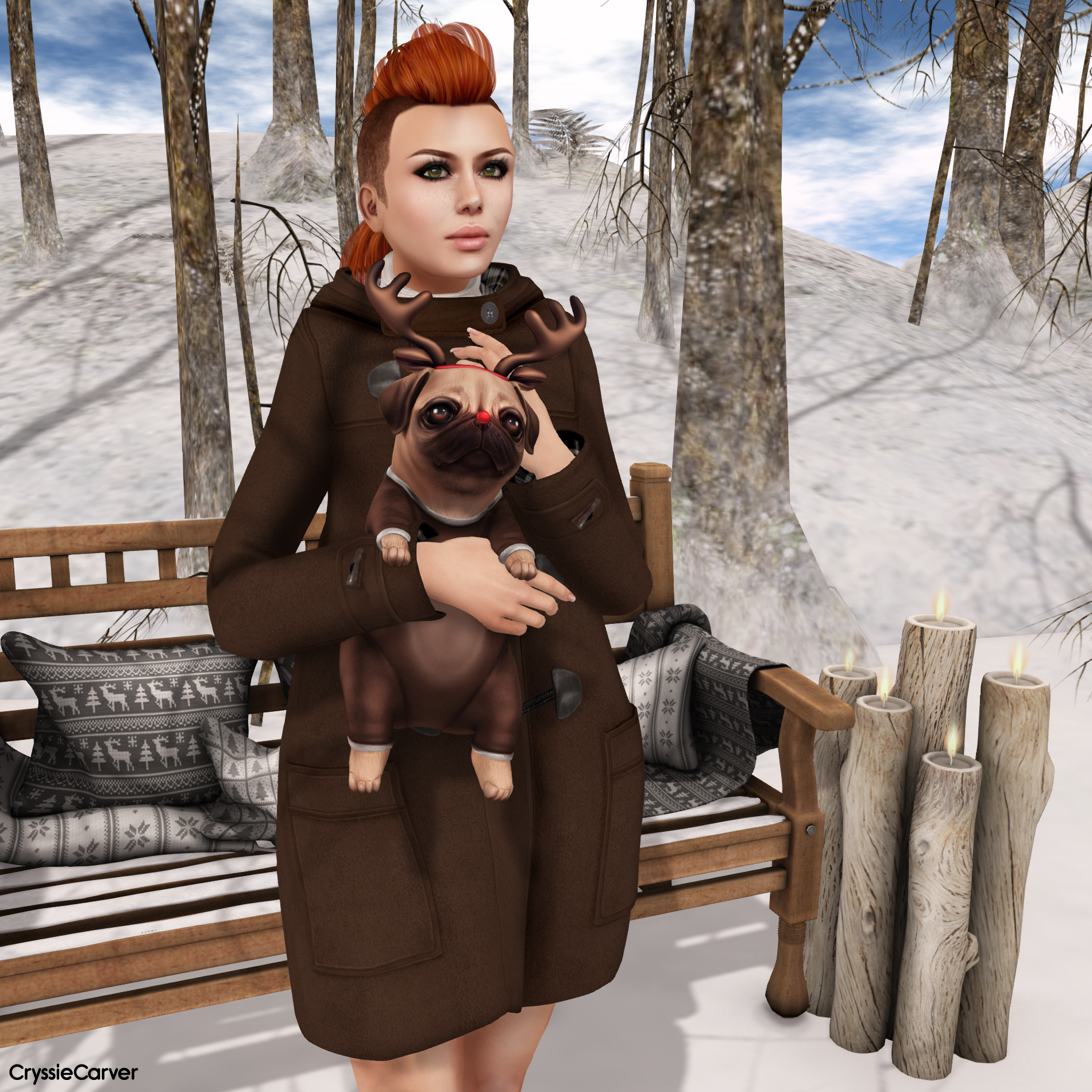 The hair you can grab from Mina. It's the Ashton style and comes in all the usual colour packs. I love the mohawk with the pony tail going down the back. It also includes the hair bases and also a tintable one that you can make any colour.
If you want an adorable little pug of your own you'll need to drop some lindens into The Birdy gatcha. I landed myself a Rudolf Pug but they have lots of pugs with adorable outfits and you're sure to fall in love with one of them.
If you wanted the nice, warm duffle coat then you'll need to pop over to The Arcade and try your luck with the Coco gatcha.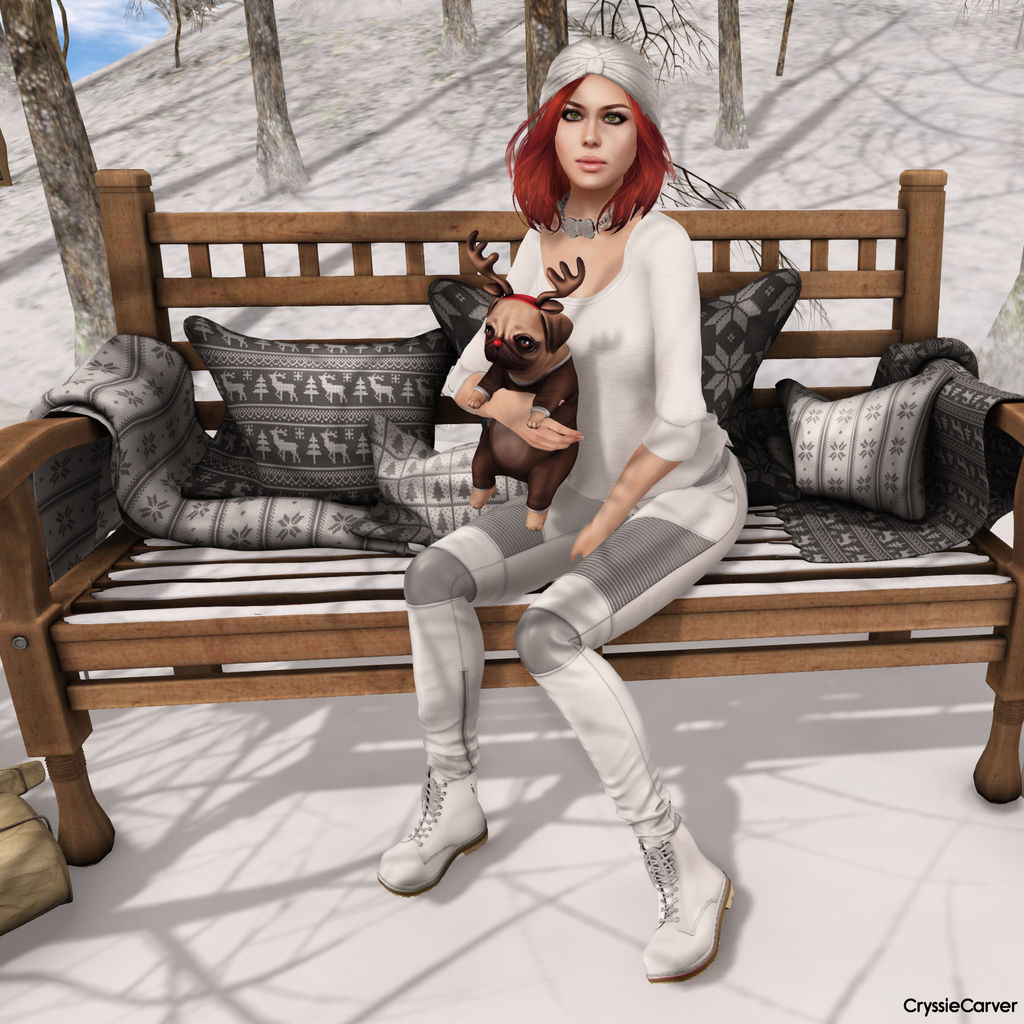 These awesome boots are from Gizza and you can find them in a gatcha at The Chapter Four. I got the white pair which I'm happy about because it was the pair I had my eye on. Perfect for winter!
I really like the adorable Bowtie Necklace from Fishy Strawberry. You get a hud that lets you change the colour of the metal and the gems on it. You can match it with your other accessories and it's something a bit different than your usual necklace.
Little Bones has a great hair at The Chapter Four that I just couldn't resist. The Tarot style comes with the wrapped turban attached and a colour change hud. It's not something I've seen in SL before so I just had to have it.
Happy Shopping!
Pic 1:
Coat -
Coco
- Duffle Coat - Dark Brown @
The Arcade
*Hair -
Mina
- Ashton - Dark Reds Pack @
The Chapter Four
Skin -
League
- Erin Pale - Feline
Eyes -
Ikon
- Spectral Eyes - Moor
Eyelashes -
Mon Cheri
- Falsies Eyelash
Ears -
CheerNo
- Human Ears - Tragus
Hands -
SLink
- Avatar Enhancement Mesh Hands - Casual (with League appliers)
Pug -
Birdy
- A Pug Xmas - Rudolf Pug @
The Chapter Four
Pose -
Imeka
- Chaconnee Pose Pack - 8 (arm altered by pug) @
The Chapter Four
Pic 2:
Shirt -
Maitreya
- Half Tucked Shirt - White
Pants -
Mutresse
- Nikita Leggings - Multicolour Hud
Boots -
Gizza
- Pop Boots - White @
The Chapter Four
*Necklace -
Fishy Strawberry
- Bowtie Necklace @
The Chapter Four
Hair -
Little Bones
- Tarot - Reds Pack @
The Chapter Four
Skin -
League
- Erin Pale - Feline
Eyes -
Ikon
- Spectral Eyes - Moor
Eyelashes -
Mon Cheri
- Falsies Eyelash
Hands -
SLink
- Avatar Enhancement Mesh Hands - Casual (with League appliers)
Pug -
Birdy
- A Pug Xmas - Rudolf Pug @
The Chapter Four
Pose -
oOo Studio
- Sabrina - Three (Arm altered by pug)