Did you want to get your geek on? Did you want to nerd out? Well Geeks and Nerds is the place for you. You can get all geek chic with some of the best Second Life designers. Let's jump right in and take a peek!
Fishy Strawberry has released some really great stuff for this event and the Geek Chic Outfit is so geeky it almost hurts!
You pick your colour choice of pants with attached bracers and you get a neat little hud to change the colour and text on the shirt underneath. This outfit comes as one whole piece so you won't need to fuss with the shirt not fitting quite right underneath, everything fits perfectly.
When I saw this second release from Fishy Strawberry I did a lot of giggling. I need this shirt in RL as I'm a bit of an astronomy geek and I bang on a lot about Pluto. I STILL LOVE YOU PLUTO!
How super cute is this shirt? I'll never forget about Pluto either!
The Secret Store got their geek on by releasing this Luna Preppy Cardigan. The pink Argyle caught my attention immediately and so it bounced right into my inventory. Nothing is cuter or geekier than an adorable cardigan and shirt combo.
If you like to have an adventure time then you're going to want to grab the Lynne Outfit from FATEplay.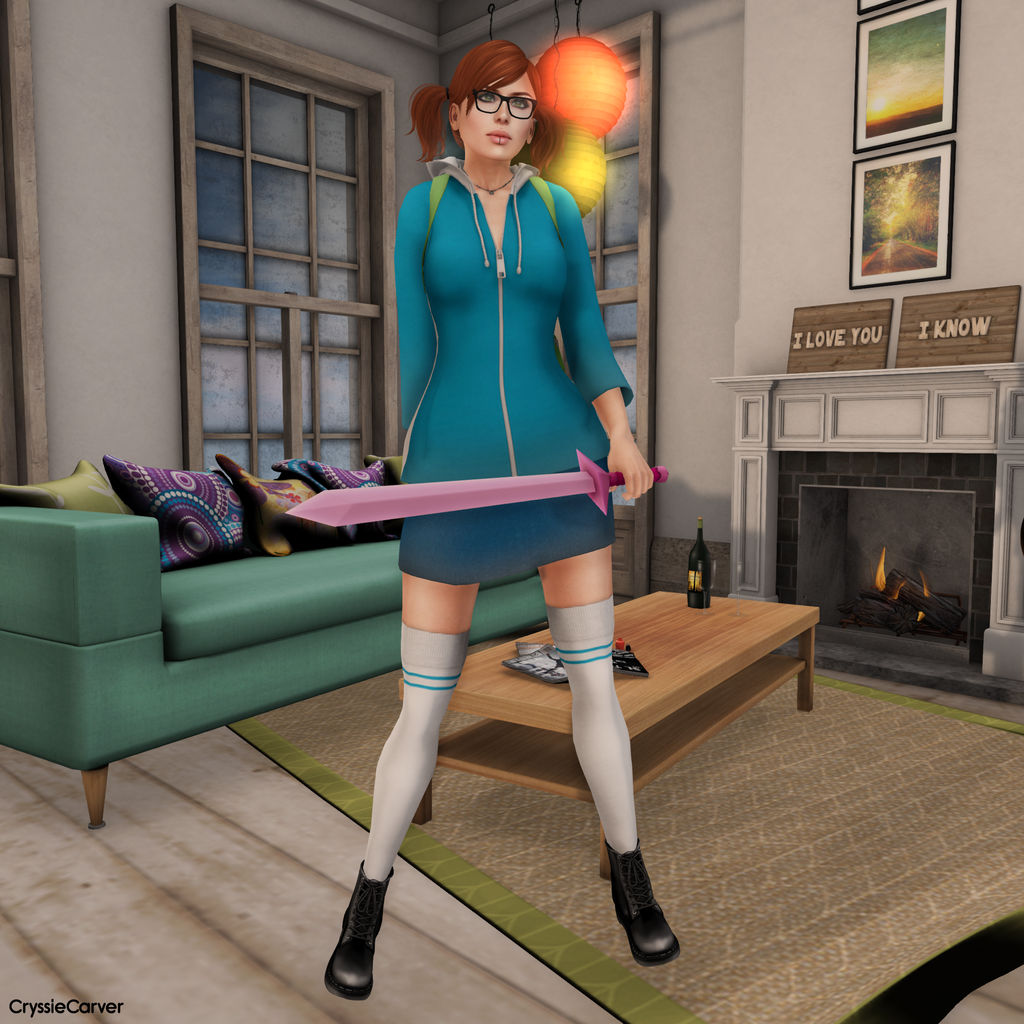 It even includes the socks, backpack and the sword. If you're a guy then there is also a male version and both versions have lots of different colour options. You can also buy the swords and backpacks separately too.
While you're down at the fair don't forget to nip into the Boom stall and throw some lindens into the gatcha machine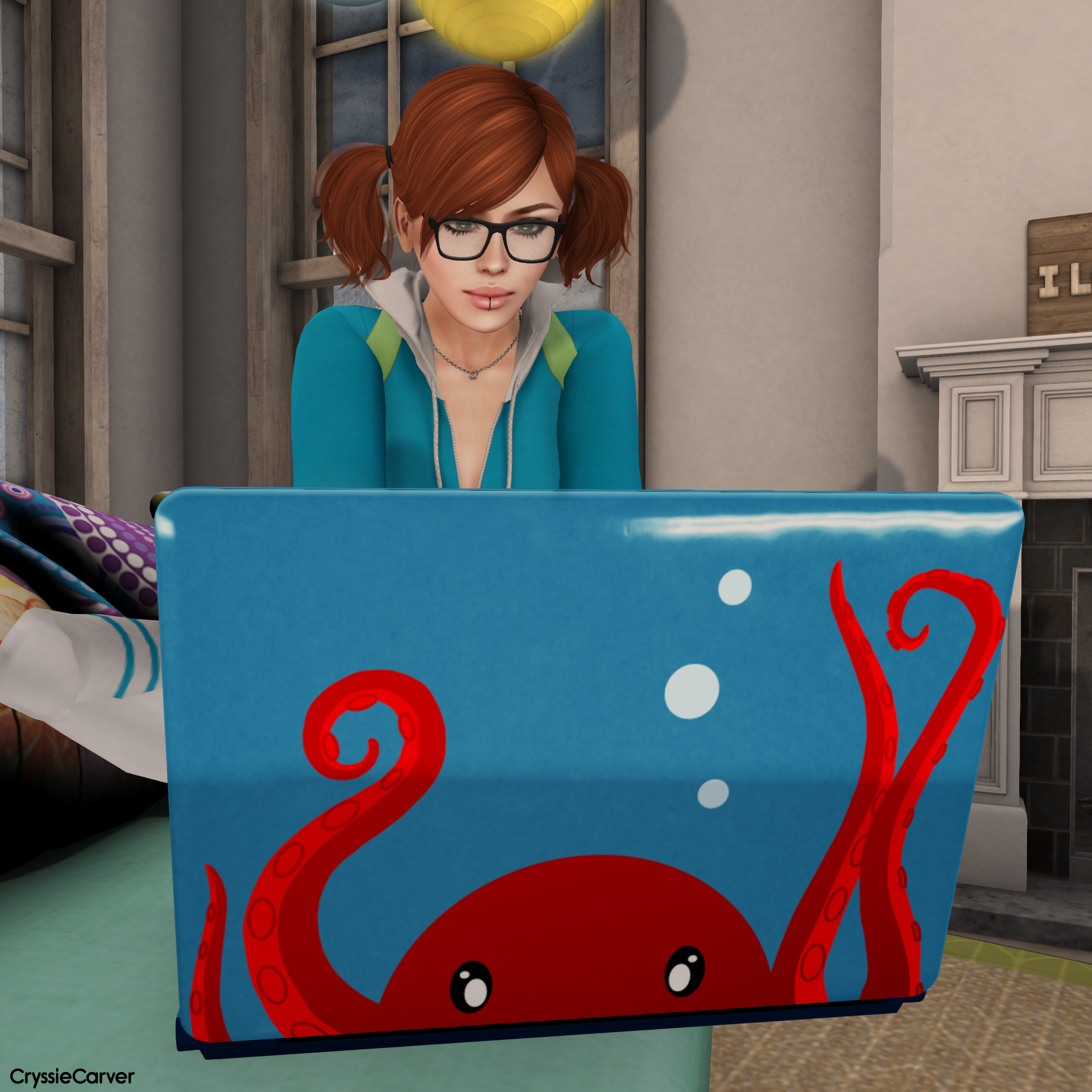 You can win yourself a Super Magical Portable Internet Machine. I was lucky enough to get the Octo RARE on my first play! Not going to lie, I did a little dance about it. Good luck on getting the one you want!
The gorgeous furniture is the Los Robles Set from Cheeky Pea. It's loosely based off the furniture in Penny's apartment on The Big Bang Theory.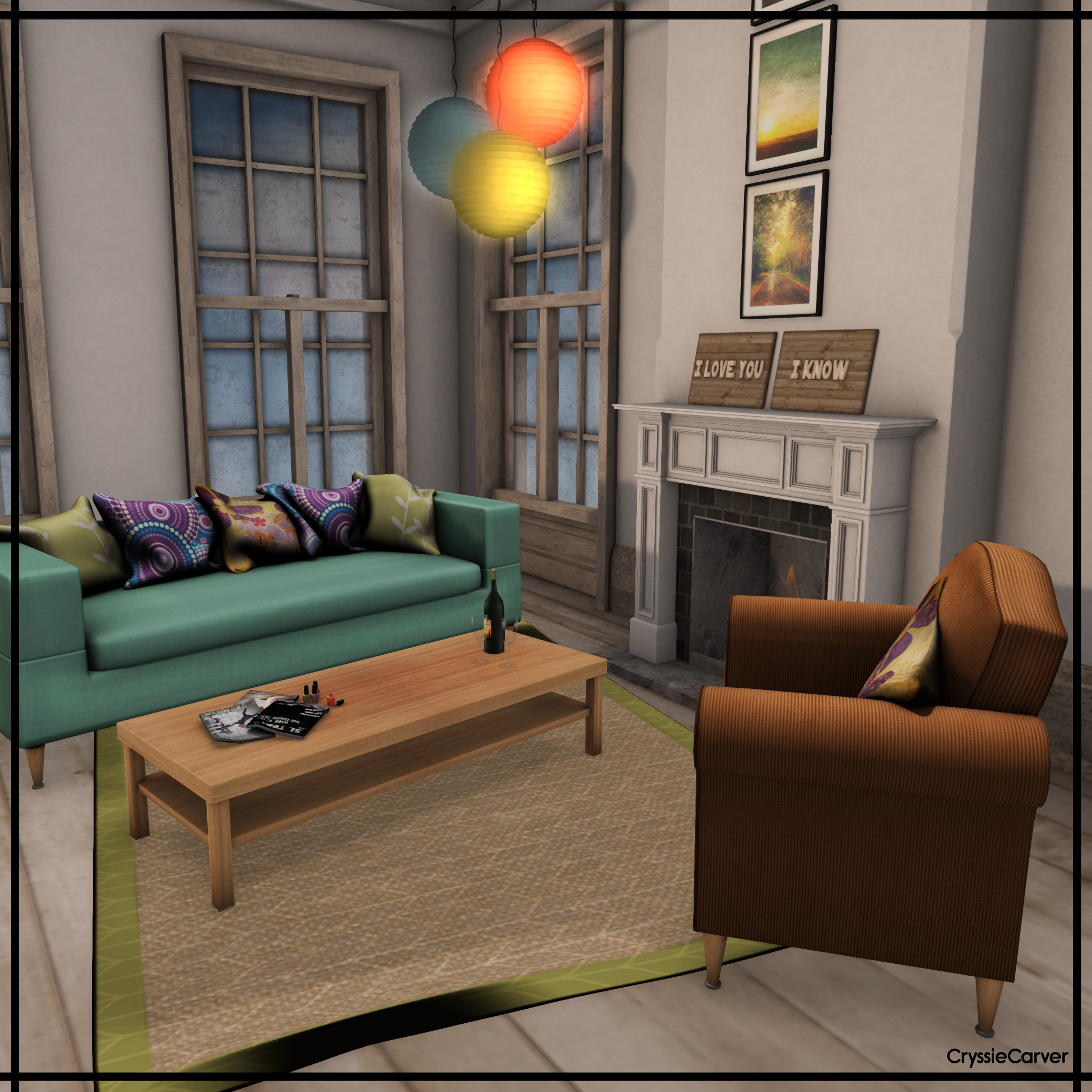 I thought that was pretty awesome and a great set for all your TBBT fans out there. The 'I Love You / I Know' wooden boards you can nab from Alouette while you're down there. Star Wars fans will get this immediately (hopefully) and you're going to want this!
Happy Shopping!
Pic 1:
*Outfit -
Fishy Strawberry
- Geek Chic - Black @
Geeks 'N' Nerds
Boots -
Fashionably Dead
- Bossy Boots - Shiny Black
Glasses -
Mad Mesh
- Nerd Glasses - Black
Hair -
Truth
- Aviva - Gingers Pack
Skin -
League
- Erin Pale - Feline
Eyes -
Ikon
- Spectral - Moor
Eyelashes -
Mon Cheri
- Falsies Eyelash
Hands -
SLink
- Avatar Enhancement Mesh Hands - Casual (with League appliers)
Pose -
Kirin
- May - Pose 1
Pic 2:
*Shirt -
Fishy Strawberry
- G&N2014 - Pluto @
Geeks 'N' Nerds
Pants -
ColdLogic
- Wharton Pants - Black
*Necklace -
Haste
- Pewp - Black @
Geeks 'N' Nerds
*Choker -
Haste
- Diamond Choker (free gift) @
Geeks 'N' Nerds
Glasses -
Mad Mesh
- Nerd Glasses - Black
Hair -
Truth
- Aviva 2 - Gingers Pack
Skin -
League
- Erin Pale - Feline
Eyes -
Ikon
- Spectral - Moor
Eyelashes -
Mon Cheri
- Falsies Eyelash
Hands -
SLink
- Avatar Enhancement Mesh Hands - Casual (with League appliers)
*Pose -
Double Take
- Iron - Steel Alloy @
Geeks 'N' Nerds
Pic 3:
Shirt -
The Secret Store
- Luna Preppy Cardigan - Pink Argyle @
Geeks 'N' Nerds
Pants -
ColdLogic
- Wharton Pants - Black
*Backpack -
Fri.day
- Dreamer Backpack - Wizarding Coal @
Geeks 'N' Nerds
Glasses -
Mad Mesh
- Nerd Glasses - Black
Hair -
Truth
- Aviva 2 - Gingers Pack
Skin -
League
- Erin Pale - Feline
Eyes -
Ikon
- Spectral - Moor
Eyelashes -
Mon Cheri
- Falsies Eyelash
Hands -
SLink
- Avatar Enhancement Mesh Hands - Casual (with League appliers)
*Pose -
Elephante Poses
- Slayer - #1 (includes stake) @
Geeks 'N' Nerds
Pose -
Bang
- Stand 421
Pic 4:
*Outfit -
FATEplay
- Lynne - Original (includes sword) @
Geeks 'N' Nerds
Boots -
Fashionably Dead
- Bossy Boots - Shiny Black
*Necklace -
Haste
- Cloud Necklace - Happy Silver @
Geeks 'N' Nerds
Glasses -
Mad Mesh
- Nerd Glasses - Black
Hair -
Truth
- Lottie - Gingers Pack
Skin -
League
- Erin Pale - Feline
Eyes -
Ikon
- Spectral - Moor
Eyelashes -
Mon Cheri
- Falsies Eyelash
Hands -
SLink
- Avatar Enhancement Mesh Hands - Casual (with League appliers)
*Pose -
Elephante Poses
- Slayer #3 @
Geeks 'N' Nerds
Laptop -
Boom
- Super Magical Portable Internet Machine - Octo RARE @
Geeks 'N' Nerds
Furniture:
*Sofa -
Cheeky Pea
- Los Robles Set - Sofa @
Geeks 'N' Nerds
*Armchair -
Cheeky Pea
- Los Robles Set - Armchair @
Geeks 'N' Nerds
*Coffee Table -
Cheeky Pea
- Los Robles Set - Coffee Table @
Geeks 'N' Nerds
*Lights -
Cheeky Pea
- Los Robles Set - Ball Lights @
Geeks 'N' Nerds
*Rug -
Cheeky Pea
- Los Robles Set - Rug @
Geeks 'N' Nerds
*Artwork -
Cheeky Pea
- Los Robles Set - Art @
Geeks 'N' Nerds
*Wooden Signs -
Alouette
- I Love You/I Know Signs @
Geeks 'N' Nerds
House -
Trompe Loeil
- Attic Skybox