I love fantasy events but sometimes I can be at a bit of a loss with what to do with the products I find at them.
I've not really been RPing much recently but I still love to get dressed up in cosplay and fantasy outfits and you'll probably see me out shopping in them (or my underwear).
I grabbed a couple of bits and then couldn't resist taking a picture with the outfit.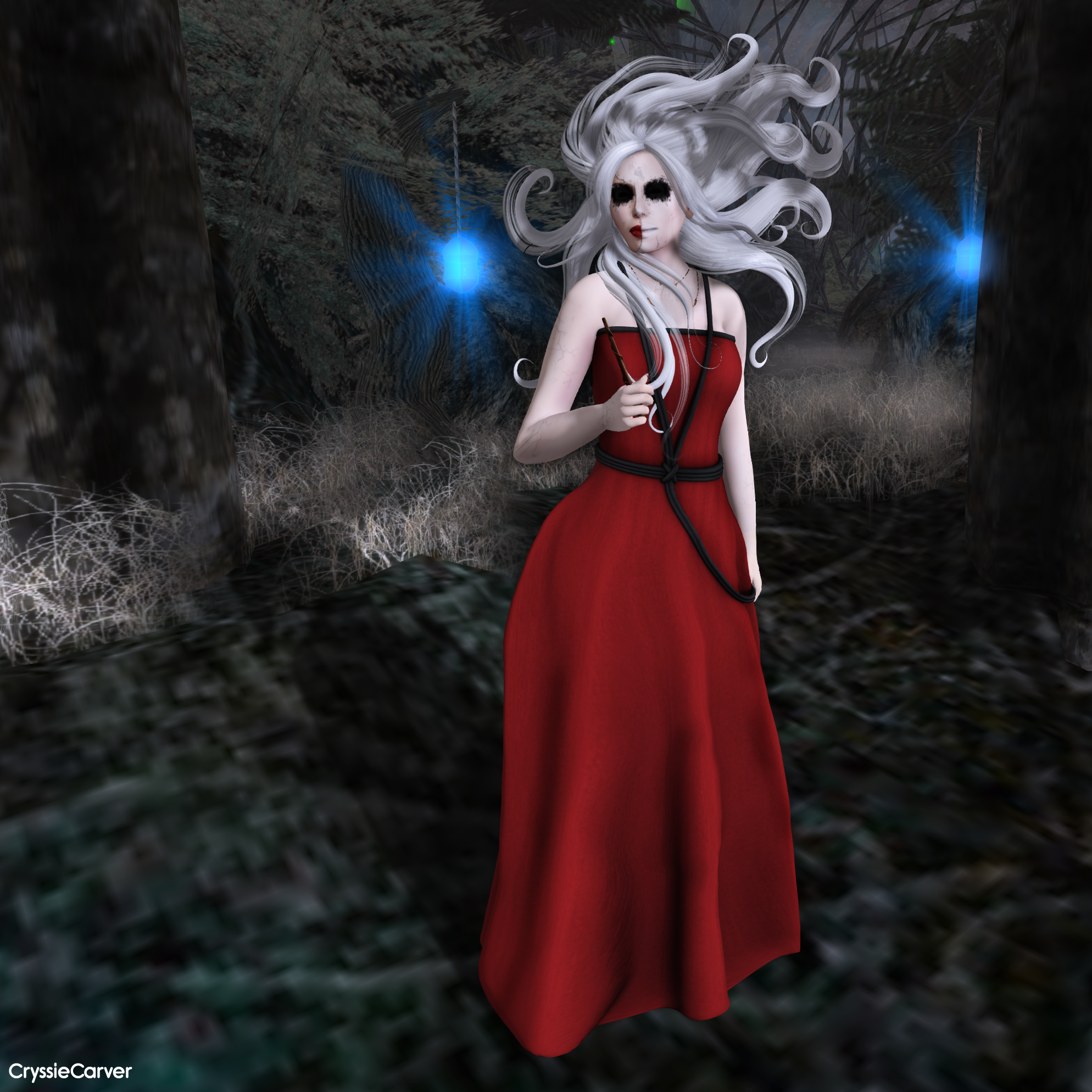 The dress is the Dragon Lady Dress from Haste. You can find it by nipping over to Tales Of Fantasy. I love the rope detailing on the dress and it comes with a hud that lets you choose between black, brown or white rope.
When I got this Roosje hair from Mina it made me giggle. It's a wild style and while I'm guessing it's supposed to work with lying down poses but it looks great for fly away windy scenes too.
The Stormborn Necklace, also from Haste, you can find along with the dress. I liked the cooper most but you have a choice of different metal colours to match your other accessories.
The full body make-up and eye make-up you can find at Horrorfestive from Ama. Alive inside covers the whole body with a tattoo layer and includes SLink appliers for body, hands and feet. Blackout Eyes come with the tattoo layer for the face and mesh blackout eye attachments to give your face two soulless bottomless pits!
The pose and the wand you can find at We Love Role Play. The pose is part of the Swish collection from Elephante Poses and that pack includes two wands. If you wanted some additional wands, like this Diggleberry one, then you'll also need to grab the Swish And Flick Collection while you are there.
Happy Shopping And Merry Christmas!
*Dress -
Haste
- Dragon Lady Dress - Red @
Tales Of Fantasy
*Necklace -
Haste
- Stormborn Necklace - Bronze @
Tales Of Fantasy
*Hair -
Mina
- Roosje - Black & White Specials Pack @
Kustom9
*Wand -
Elephante Poses
- Swish And Flick Collection - Diggleberry @
We Love Role Play
*Body Make Up -
Ama
. - Alive Inside @
Horrorfestive
*Eyes & Eye Make Up -
Ama
. - Blackout Eyes @
Horrorfestive
Skin -
League
- Erin Pale - Feline
Hands -
SLink
- Avatar Enhancement Mesh Hands - Bag (with Ama & League appliers)
*Pose -
Elephante Poses
- Swish - #6 @
We Love Role Play