FaMESHed has gotten me ready for party season with a couple of stunning dresses that you are definitely going to need.
Fishy Strawberry has released the Winter Holiday Party Dress and I went straight for the red.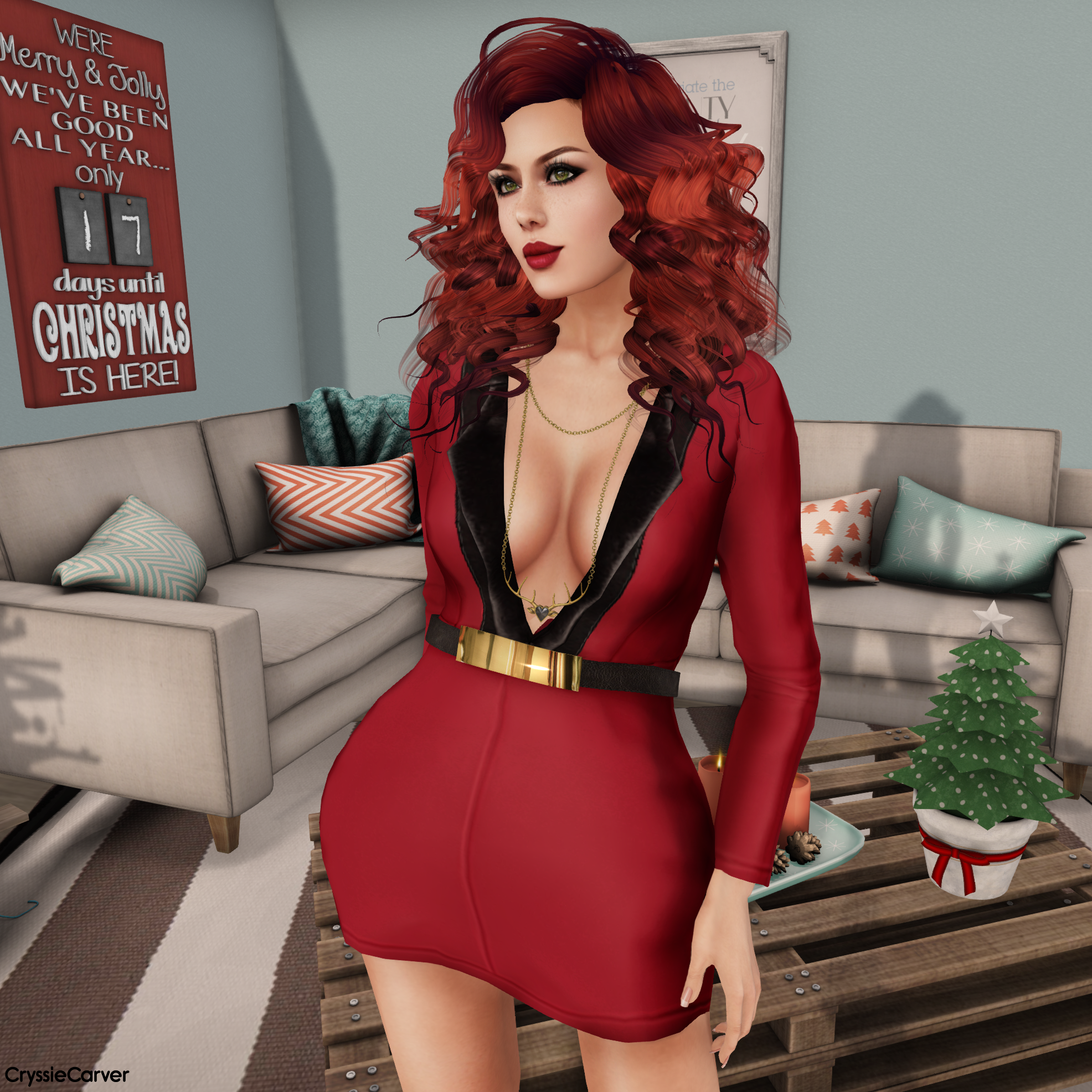 How could you not? There are other colours available but the rich red colour just screamed Christmas at me and I'm going to be hitting up a few parties in this dress.
It looks so pretty with the Lush hair from Little Bones. I've become a huge fan of Little Bones recently and these curls are totally delicious!
If you wanted something longer and more formal then Cracked Mirror has released the Sequin Holiday Dress in a range of sparkly Christmas colours.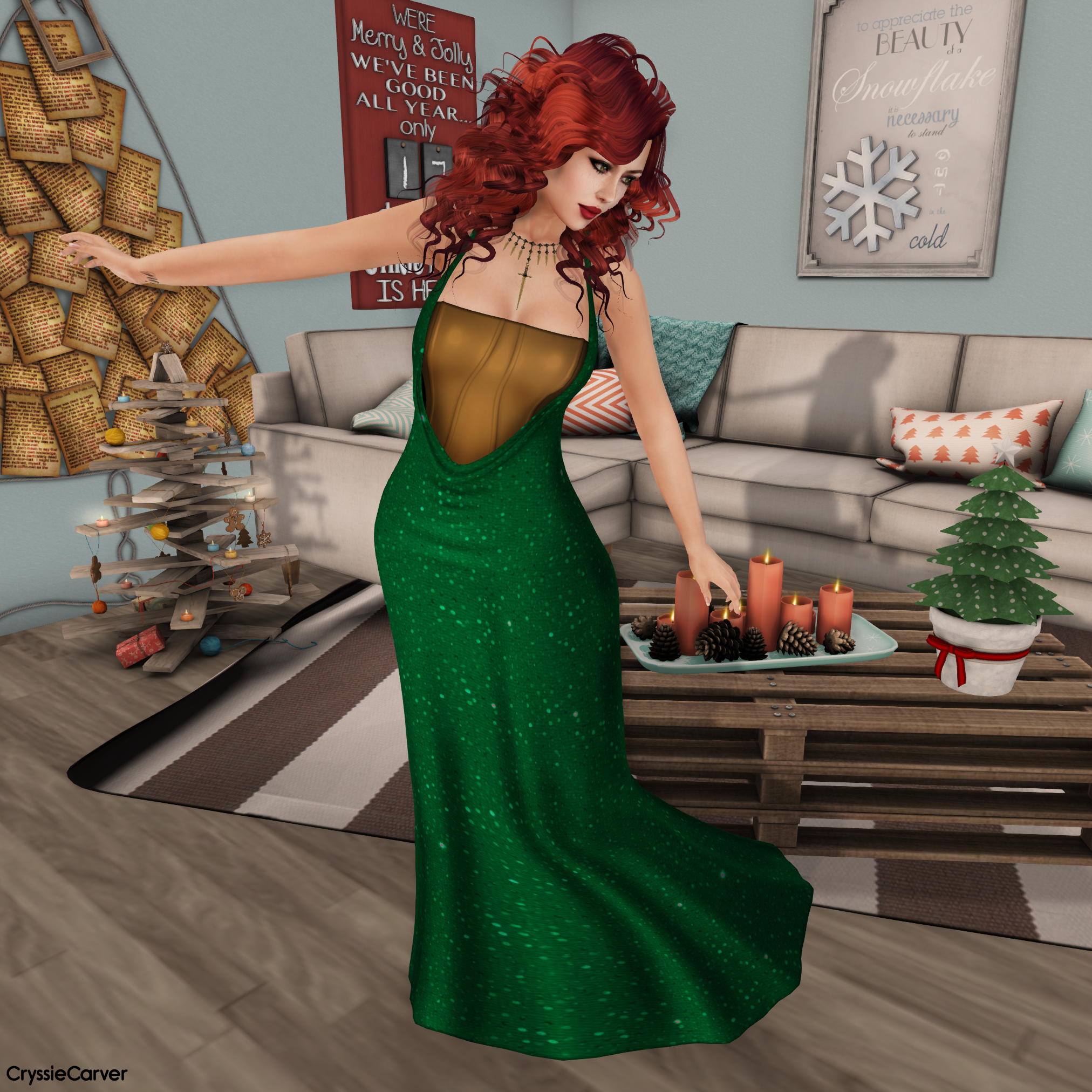 You get both versions of the dress in the pack. One with a gold corset and one with a silver corset. You can choose whichever you want to match your favourite accessories. I love the sparkly texture on this, it really does look like it's covered in sequins. I'll be grabbing Cat and we'll be formal dancing the night away in this one.
The living room set is from Cheeky Pea and you can also find it at FaMESHed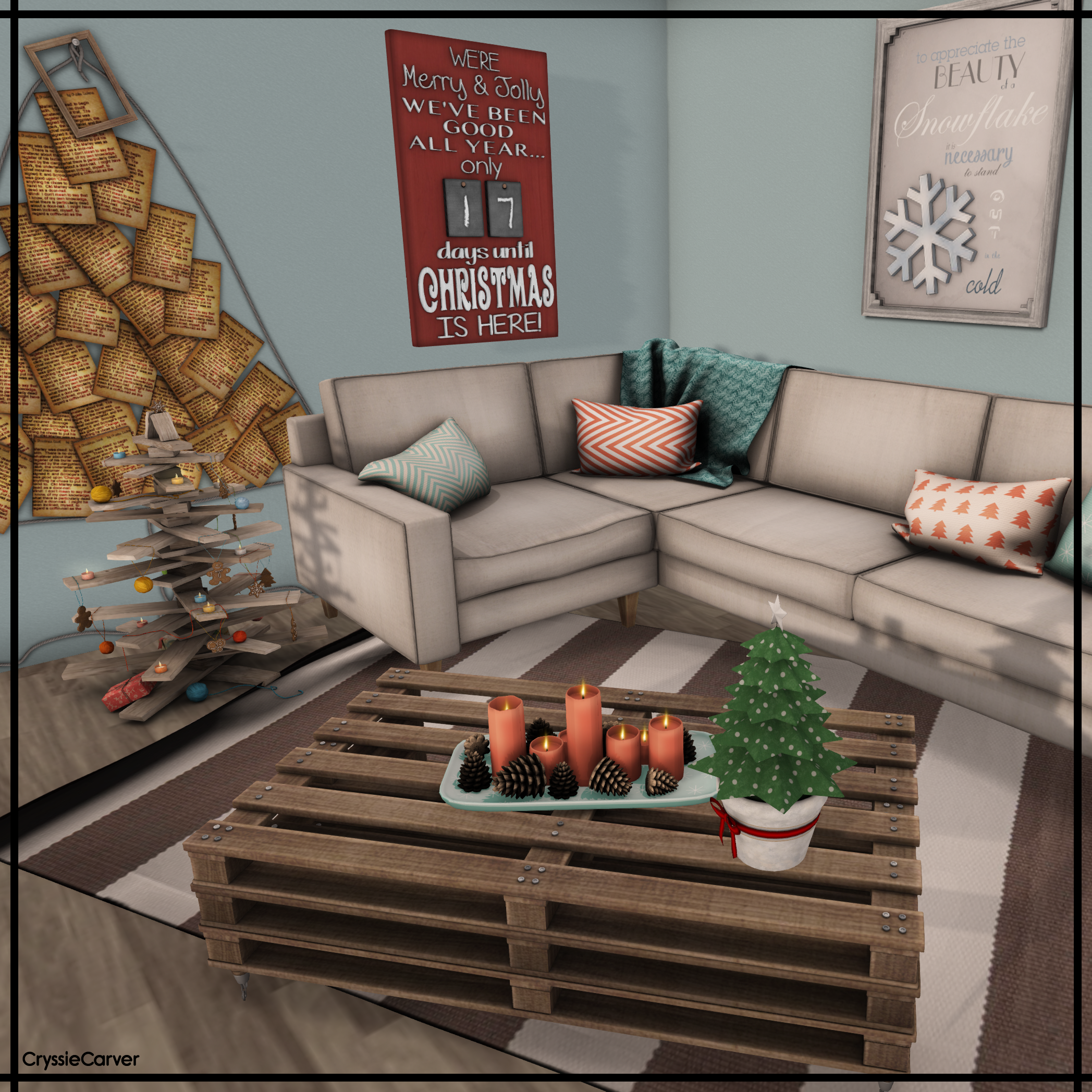 The Lucille Set includes the corner sofa, the wall tree, the palette coffee table, the rug and the tray with candles. You can buy the pieces separately or all as one big pack.
If you wanted to count down to Christmas then you'll need the Christmas Countdown Sign from Alouette. You can change the numbers each day until it's Christmas day! YAY!
The little wooden tree is from 8f8 and is part of their Granny's Winter Cottage gatcha at The Arcade.
Happy Shopping!
Pic 1:
*Dress -
Fishy Strawberry
- Winter Holiday Party - Red @
FaMESHed
Necklace -
Maxi Gossamer
- My Dear Heart - Long
Hair -
Little Bones
- Lush - Reds Pack @
FaMESHed
Skin -
League
- Erin Pale - Feline (with Erin tintable lipstick)
Eyes -
Ikon
- Spectral Eyes - Moor
Eyelashes -
Mon Cheri
- Falsies Eyelash
Hands -
SLink
- Avatar Enhancement Mesh Hands - Casual (with League appliers)
*Pose -
Exposeur
- Back To Black - 2
Pic 2:
Dress -
Cracked Mirror
- Sequin Holiday Dress - Green/Gold @
FaMESHed
Necklace -
Maxi Gossamer
- Diamond Dagger - Gold
Hair -
Little Bones
- Lush - Reds Pack @
FaMESHed
Skin -
League
- Erin Pale - Feline (with Erin tintable lipstick)
Eyes -
Ikon
- Spectral Eyes - Moor
Eyelashes -
Mon Cheri
- Falsies Eyelash
Hands -
SLink
- Avatar Enhancement Mesh Hands - Casual (with League appliers)
*Pose -
Exposeur
- Back To Black - 5
Furniture:
*Couch -
Cheeky Pea
- Lucille Set - Corner Sofa @
FaMESHed
*Rug -
Cheeky Pea
- Lucille Set - Brown Striped Rug @
FaMESHed
*Table -
Cheeky Pea
- Lucille Set - Pallet Coffee Table @
FaMESHed
*Candle Tray -
Cheeky Pea
- Lucille Set - Candle Tray @
FaMESHed
*Tree on Wall -
Cheeky Pea
- Lucille Set - Notes Tree @
FaMESHed
Tree on Floor -
8f8
- Granny's Winter Cottage - 10. Christmas Tree @The Arcade
*Days Counter -
Alouette
- Christmas Countdown Sign
Tree on Table -
Alouette
- Potted Paper Christmas Tree - Dots
Snow Art -
Sway's
- WallArt - Snowflake