Okay so OneWord is open until the 30th of September which means you have just under two weeks to grab all those cat related items you wanted before they go bye bye!
Wimey have a cute little cat themed dress that is a must for any crazy cat lady... or completely sane cat lady too!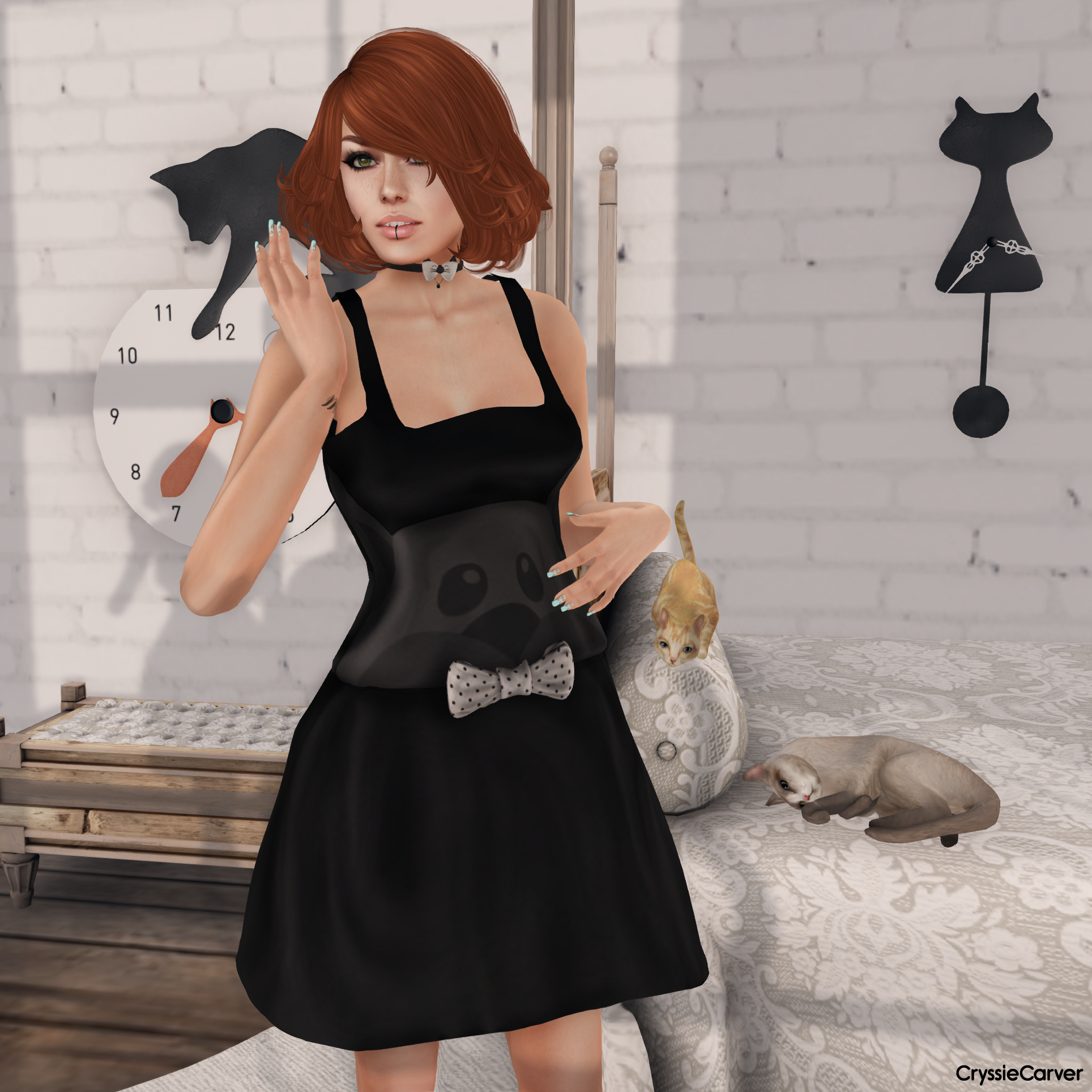 The Meow-zers dress is so cute and gives you some epically perky boobs (you can't argue with that). It went really well with the Sir Fluffybutt collar from Buttery Toast. Lots of colour options in this but a classic black and white really suited what I needed it for.
Last time I gave you tips on how to intergrate into your local cat population. Well I've decided to fully live as a ginger cat so I got myself a fancy ginger tail from Sweet Thing. This Tabby Neko Tail is non animated but also comes with an animated version for swishing at people. You're going to need some cat like poses so grab the Stretch Series from An Lar Poses and you'll blend right in.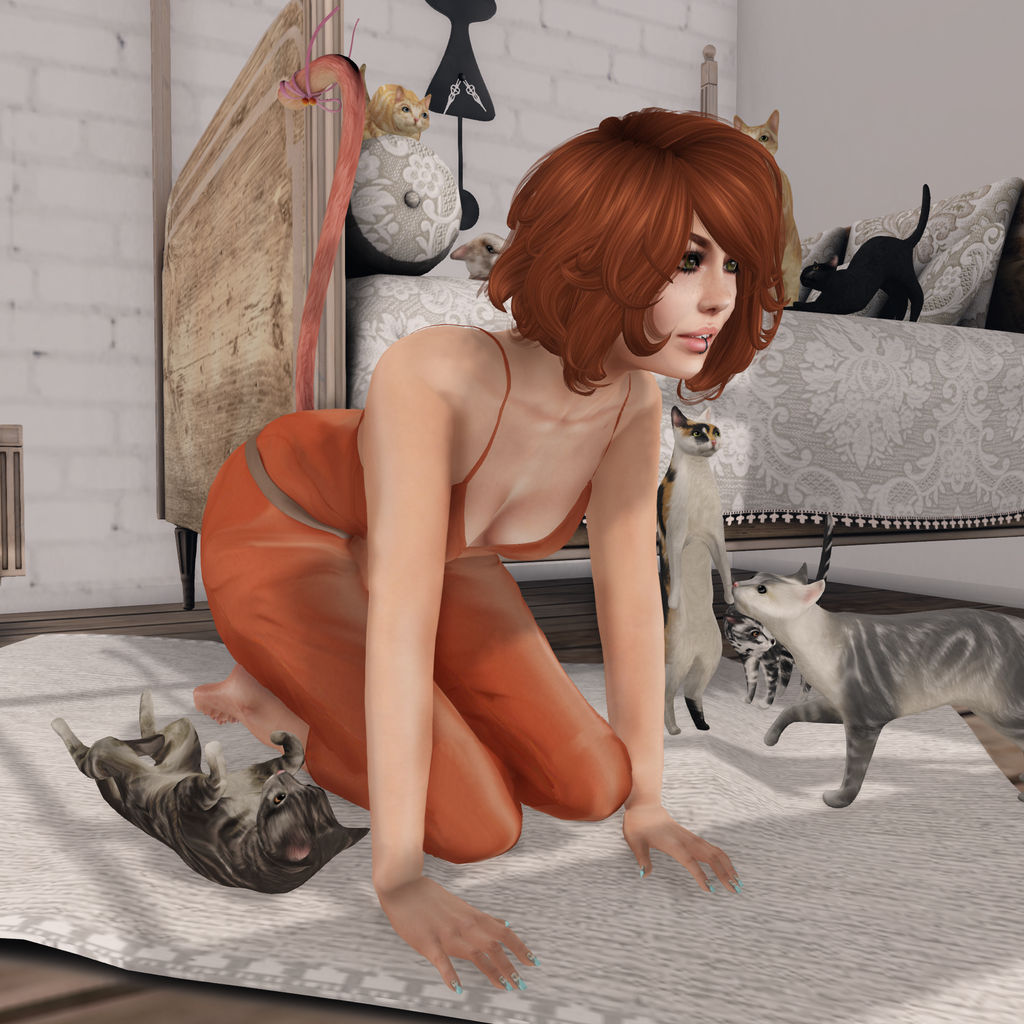 They seem to have accepted me as one of their own. Now to practice my meowing.
Meow mew mew meow mew purrtttt
(translation... Happy Shopping!)
Dress -
Wimey
- Meow-zers Dress @
Oneword
Collar -
Buttery Toast
- Sir Fluffybutt - Fatpack Version @
Oneword
Nail Colour -
Bella Elephante
- Grumpy Tea Cat @
Oneword
Hair -
Truth
- Lunara - Gingers Pack
Skin -
League
- Erin Pale - Feline
Hands -
SLink
- Avatar Enhancement Mesh Hands - Casual (with League appliers)
Teeth -
Whatever
- Teeth 2.0 - Gem Piercing
Eyes -
IKON
- Spectral Eyes - Moor
Pose -
Kirin
- Hera - Pose 1
Jumpsuit -
Baiastice
- Sophia Jumpsuit - Orange
Tail -
Sweet Thing
- Tabby Neko Tail (non Animated) @
Oneword
Nail Colour -
Bella Elephante
- Grumpy Tea Cat @
Oneword
Hair -
Truth
- Lunara - Gingers Pack
Skin -
League
- Erin Pale - Feline
Hands -
SLink
- Avatar Enhancement Mesh Hands - Casual (with League appliers)
Feet -
SLink
- Avatar Enhancement Mesh Feet - Medium (with League appliers)
Teeth -
Whatever
- Teeth 2.0 - Gem Piercing
Eyes -
IKON
- Spectral Eyes - Moor
Pose -
An Lar Poses
- Stretch Series - Arch @
Oneword
Furniture:
House -
Scarlet Creative
- Saturday Morning Simple Skybox
Bed -
Scarlet Creative
- Meribel Lounger Bed @
The Arcade
Rug -
Scarlet Creative
- Meribel Comfort Rug - Light @
The Arcade
Bench -
Scarlet Creative
- Meribel Stool @
The Arcade
*Clock(left) -
Kuro
- Fishercat @
Oneword
*Clock(right) -
Kuro
- Kitty clock @
Oneword
Cats On Bed -
Fashionably Dead
- 09 Ready To Pounce @
The Arcade
Cats On Bed -
Fashionably Dead
- 02 Sleeping Curled @
The Arcade
Cats On Bed -
Fashionably Dead
- 01 Standing @
The Arcade
Cats On Bed -
Fashionably Dead
- 08 Stretching @
The Arcade
Cats On Floor -
Fashionably Dead
- 05 Curled On Back @
The Arcade
Cats On Floor -
Fashionably Dead
- 13 Standing Up @
The Arcade
Cats On Floor -
Fashionably Dead
- 12 Curious @
The Arcade
Cats On Floor -
Fashionably Dead
- 10 Scared @
The Arcade