The Home & Garden Expo opened on the 16th of September and is nine sims of Home and Garden goodness with over 85 designers. If you are a home and garden lover then this is the event for you!
It's open until the 28th so you have lots to see and even more to grab! All the donation items go towards raising money for the American Cancer Society so not only are you grabbing great items for your home but you're also supporting charity.
Okay so let's get onto some goodies!
Follow Us has released the cutest and girliest furniture I've seen in a while.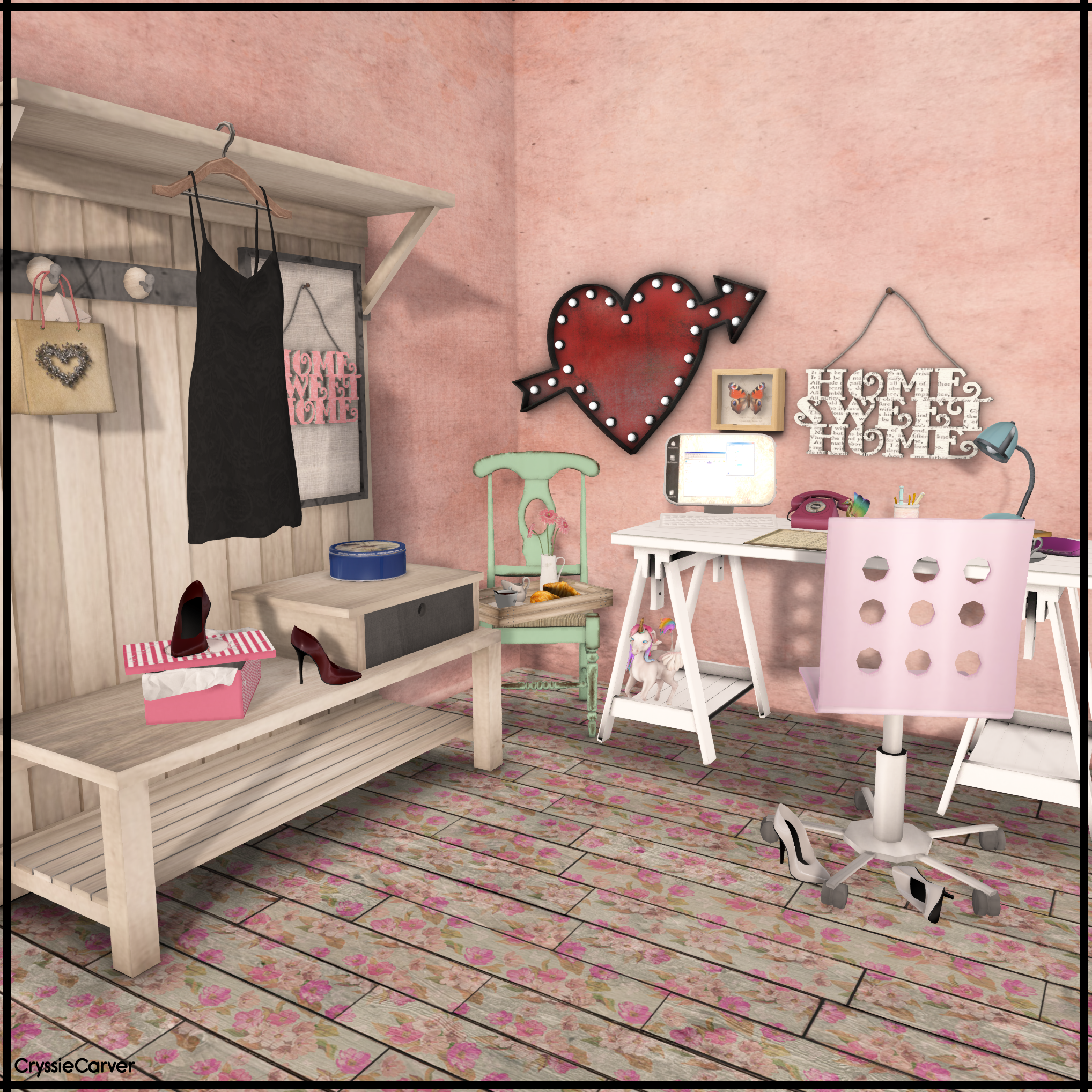 This Glam Coatrack is adorable. I love furniture that comes with bits and pieces already on it and this one includes the shoes, bag, dress and pink home sweet home sign. The little cookie tin there is from RSW but looked cute with all the other little bits on there.
To go with the Glam Coatrack is the Girly Desk and Chair. The desk is full of your usual desk bits and I added a few things that also came from RSW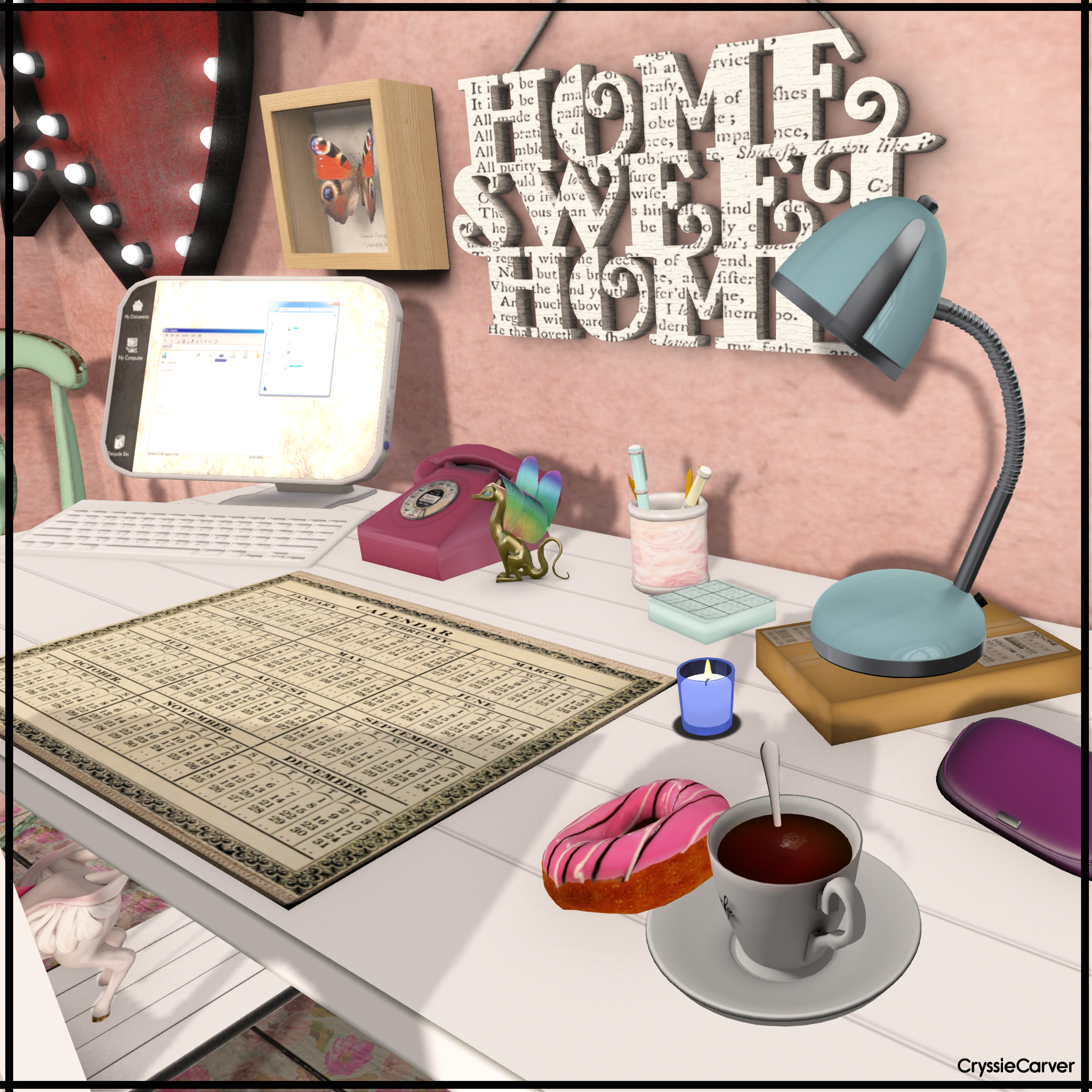 I'm loving the adorable little Dragonfly Dragon. Super cute and the rainbow wings are so pretty. You can also grab the cute little Votive Candle and the Butterfly Shadow Box while you're snapping up your dragon.
The goodies on offer from Johadez are definitely made to go outside but I felt like pulling the outside inside and making something a bit different.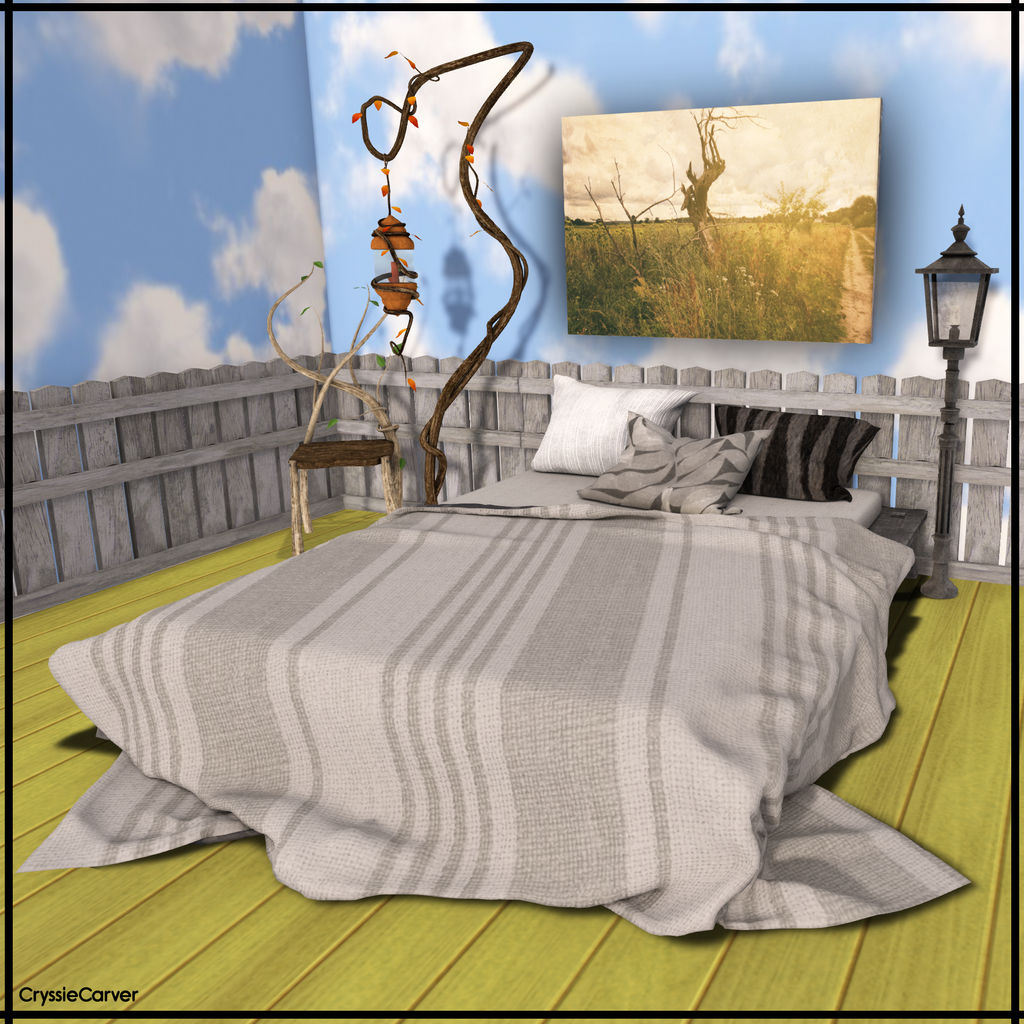 Johadez make some really great, detailed and well textured pieces. The Garden Bed is no exception and it comes with a fence style headboard. I continued the headboard into a full size fence using the Garden Fence pieces and added a little more outside with the Garden Lantern. To add some plant life I found some adorable natural wood pieces from Dreamscapes Décor. The Leaf Chair Summer and the Leaf Lampstand add some trees to your indoor outdoors.
I'm one of these people in SL who like to make rooms for things that our avatars don't really need to do. I have a kitchen and bathroom, a bedroom and a study. I'm all about making my SL home into something I'd love to have in RL. So I think everyone would want their own work out room so they didn't have to lug themselves off to the gym.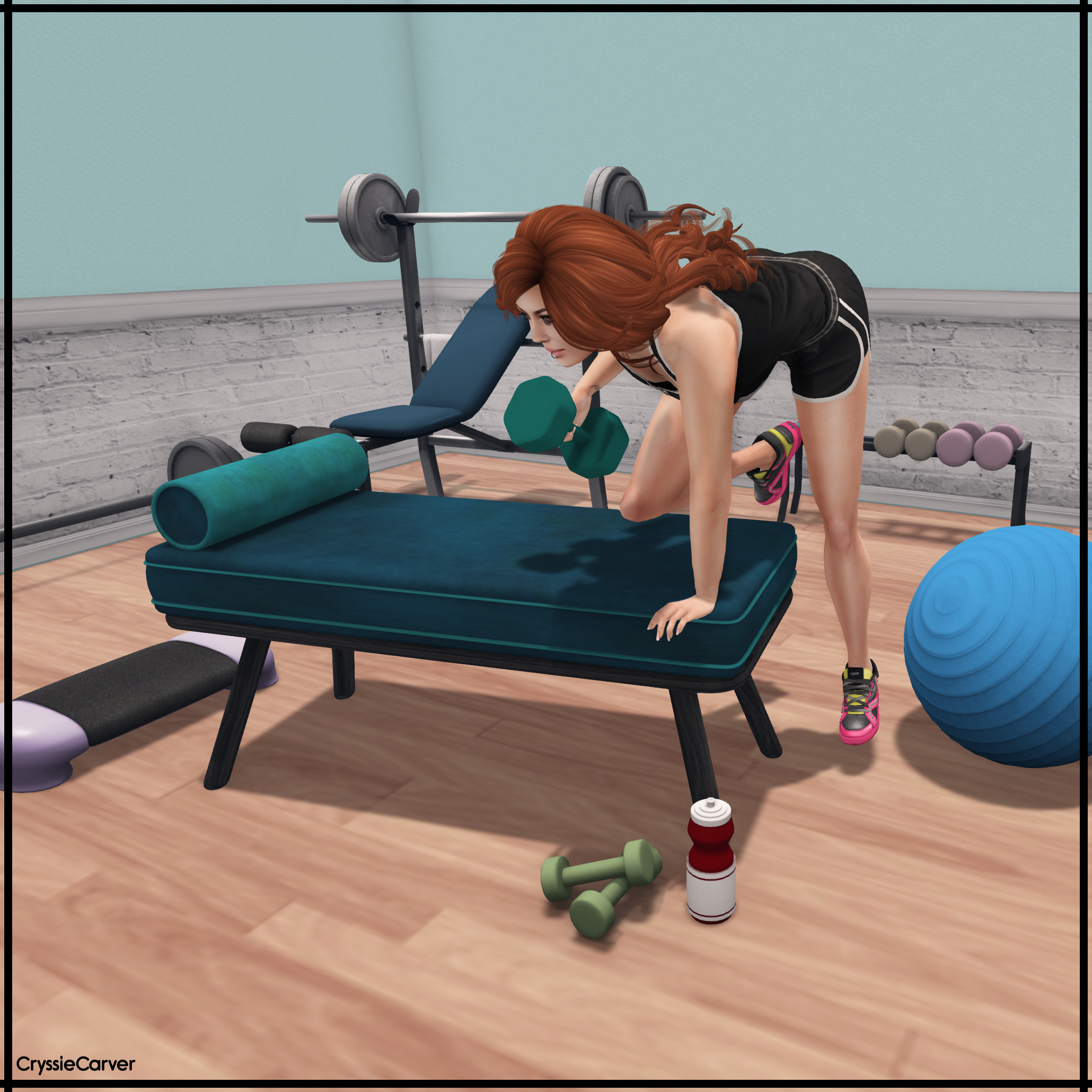 Circa can get you started with the High Degree Workout Bench. This one is the In Colours For Her version but there is also a In Colours For Him version too. It comes complete with the weights to wear and lots of fantastic animations for you to get your virtual sweat on.
Happy Shopping!
Pic 1 & 2:
*Coat Rack -
Follow Us
- Glam Coatrack @
Home & Garden Expo
*Desk -
Follow Us
- Girly Desk @
Home & Garden Expo
*Chair -
Follow Us
- Girly Desk Chair @
Home & Garden Expo
*Snack Tray -
Follow Us
- French Weekend Tray @
Home & Garden Expo
*Wall Sign -
Follow Us
- Home Sweet Home Sign @
Home & Garden Expo
*Chair -
RSW
- Farm Chair - Eyeback @
Home & Garden Expo
*Cookie Tin -
RSW
- Cookie Tin - Picturebook @
Home & Garden Expo
*Butterfly -
RSW
- Butterfly Shadow Box - European Peacock @
Home & Garden Expo
*Dragon Statue -
RSW
- Dragonfly Dragon @
Home & Garden Expo
*Candle -
RSW
- Votive Candle In Glass Cup @
Home & Garden Expo
Pegasus -
Alchemy
- Story Book - Pegasus Prism
Heart Light -
Seven Emporium
- Heart Marquee
Pic 3:
*Bed -
Johadez
- GardenBed - Natural @
Home & Garden Expo
*Light Post -
Johadez
- GardenLantern - Star @
Home & Garden Expo
*Picture -
Johadez
- WallArt - Dead Tree @
Home & Garden Expo
*Fence -
Johadez
- GardenFence - Single @
Home & Garden Expo
*Chair -
Dreamscapes Decor
- Leaf Chair - Summer @
Home & Garden Expo
*Tree Lamp -
Dreamscapes Decor
- Leaf Lampstand - Autumn @
Home & Garden Expo
Pic 4:
*Workout Bench -
Circa
- High Degree Workout Bench - In Colours For Her (includes hand weights) @
Home & Garden Expo
Step -
Pilot
&
Exposeur
- Coates Cardio Set - Aerobic Step
Dumbell -
Pilot
&
Exposeur
- Morello Weight Bench Set - Large Floor Dumbell
Weight Bench -
Pilot
&
Exposeur
- Morello Weight Bench Set - Weight Bench
Weights Rack -
Pilot
&
Exposeur
- Coates Cardio Set - Hand Weights Rack
Exercise Ball -
Pilot
&
Exposeur
- Coates Cardio Set - Exercise Ball
Water Bottle -
Pilot
&
Exposeur
- Coates Cardio Set - Floor Waterbottle
Hand Weights -
Pilot
&
Exposeur
- Coates Cardio Set - Floor Handweights
Outfit:
Bodysuit -
ColdLogic
- Jewel Romper - Black
Shoes -
Deer
- Match WC Shoes - Texture Change Fatpack RARE
Hair -
Truth
- Posy - Gingers Pack
Skin -
League
- Erin Pale - Feline
Hands -
SLink
- Avatar Enhancement Mesh Hands - Casual (with League appliers)