Happy New Year!
I hope your new year celebrations were fun and safe and we wave goodbye to 2014 and say a big, bright HELLO to 2015.
Although maybe not a complete goodbye because the Dec 2014 round of The Liaison Collaborative is still open and I still have a few more things to show you.
22769 have made some lovely things for your winter sim. Somewhere cozy to cuddle and something warm to fill your stomach!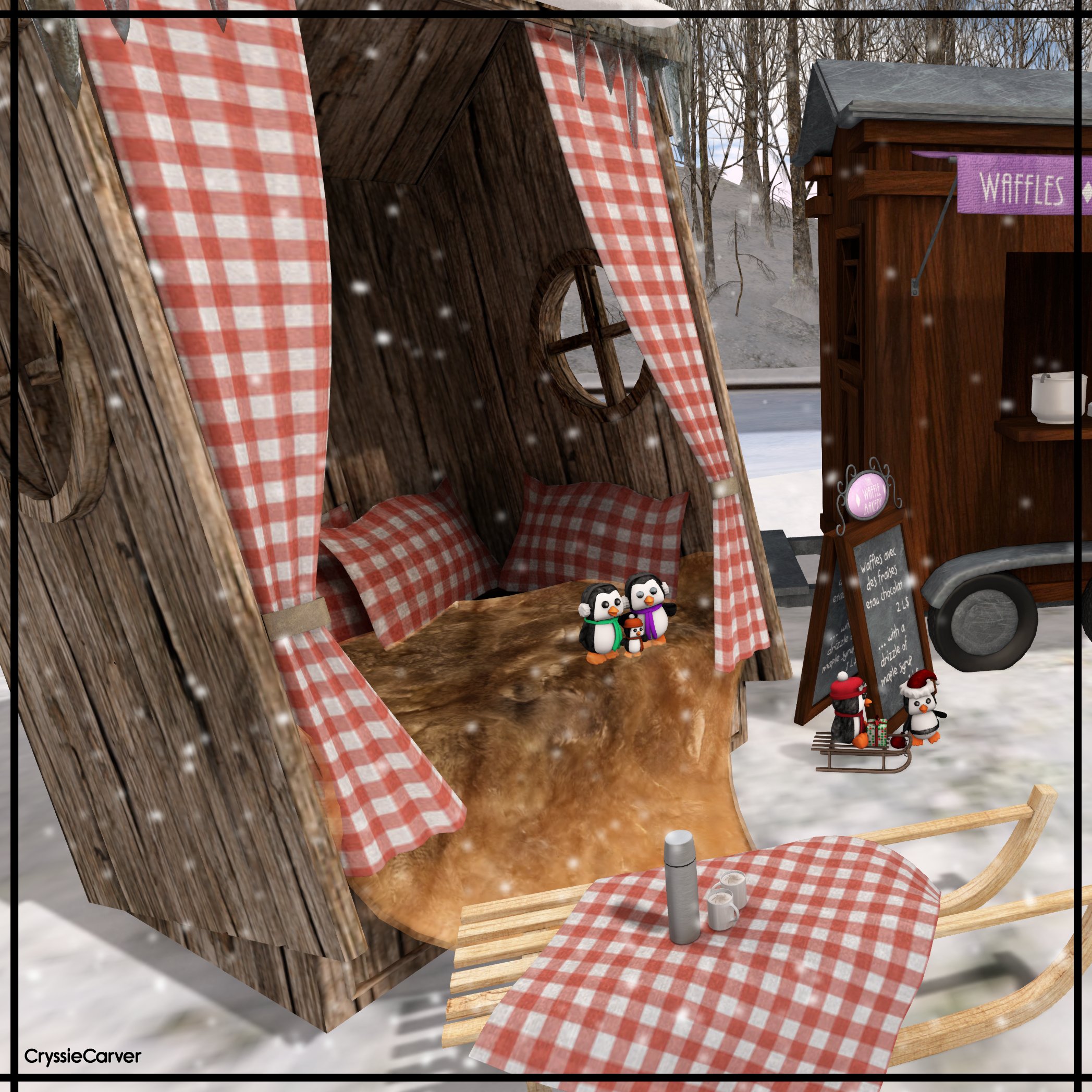 The Cozy Outdoor Nook is adorable. Although a little weird at first glance, it almost looks like it's about to fall over, it has some great poses inside for singles and couples. There are versions with and without snow and ice since you might not have a snowy sim. Either way if you're looking for somewhere cute to cuddle or even just relax by yourself then grab yourself this nook.
If you're anything like me then relaxing of any kind involves something yummy to put in your belly.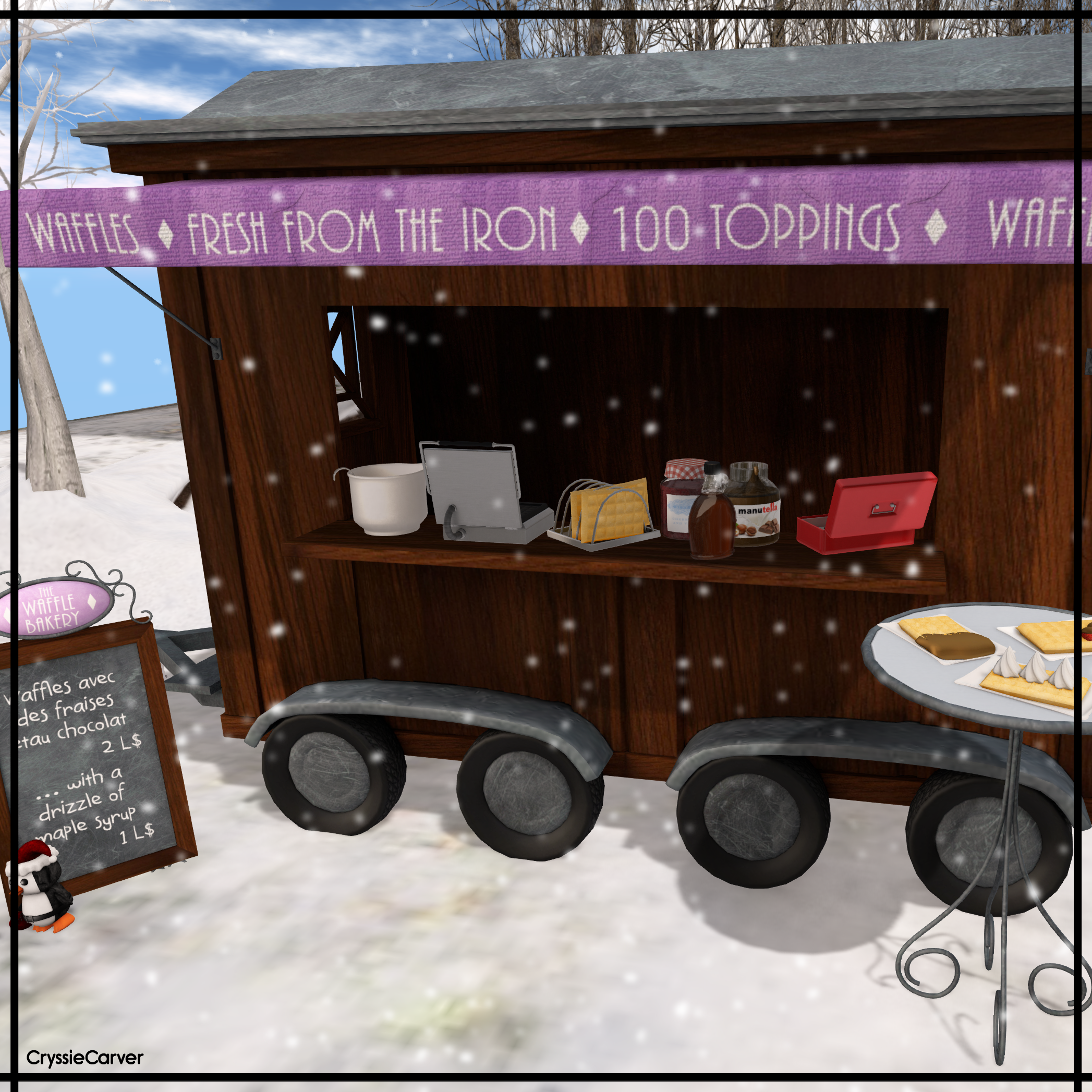 The Waffle Cart is also from 22769. Try your luck at their gatcha to win the pieces for this waffle cart. It has everything you need to have your own waffle stand or even just cute waffle bits for your kitchen. Good luck!
When you're in the gatcha garden don't forget the Exposeur Winter Penguin Gatcha so you can also have some adorable little penguins to dot around your sim, give to your friends or wear them on your shoulders.
While you're out of your house, or off your platform if you're like me, then nip over to Creation.JP and get yourself one of the Pearls Sweatdress from Fishy Strawberry.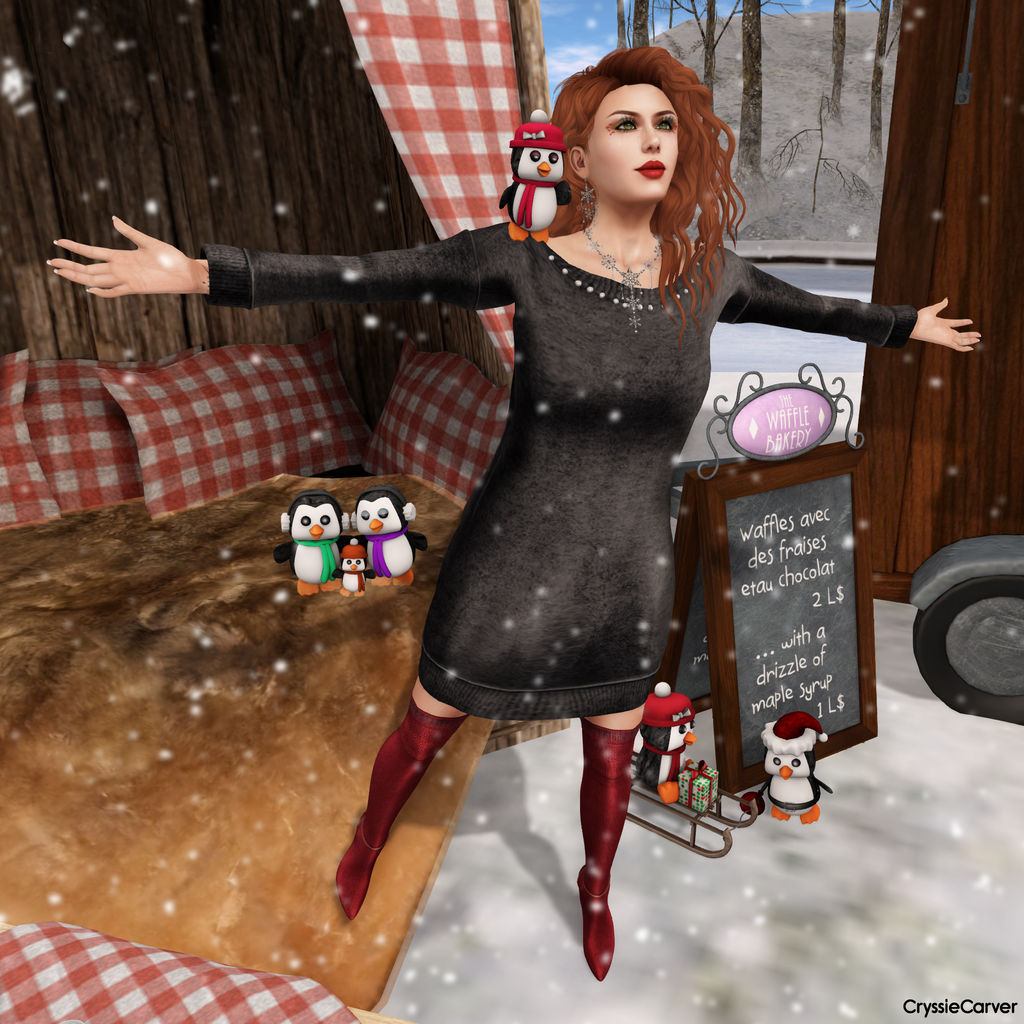 It's a gorgeous looking warm, wooly textured dress with a pretty little surprise on the back. You're going to need one of these for your inventory so go grab one quick before the event closes on the 15th January.
While you're at The Liaison Collaborative you can find the Snowfall Jewellery Set from EarthStones. I'm a sucker for seasonal themed jewellery and these are super pretty little snowflakes. You can purchase the pieces separately or in a set.
Happy Shopping!
Pic 1 & 2
*Nook -
22769
- Cozy Outdoor Nook - Bavaria Set With Snowtop @
The Liaison Collaborative
*Sleigh Table -
22769
- Cozy Outdoor Nook - Sleigh Picnic Table @
The Liaison Collaborative
*Cart -
22769
- Waffle Cart Gatcha - Waffle Cart RARE @
The Liaison Collaborative
*Sign -
22769
- Waffle Cart Gatcha - A Frame @
The Liaison Collaborative
*Table -
22769
- Waffle Cart Gatcha - Bistro Table @
The Liaison Collaborative
*Waffles -
22769
- Waffle Cart Gatcha - Waffle With Chocolate, Waffle With Cream & Waffle With Strawberries @
The Liaison Collaborative
*Bowl -
22769
- Waffle Cart Gatcha - Bowl With Dough @
The Liaison Collaborative
*Waffle Iron -
22769
- Waffle Cart Gatcha - Waffle Iron @
The Liaison Collaborative
*Rack Of Waffles -
22769
- Waffle Cart Gatcha - Waffle Stub @
The Liaison Collaborative
*Sauces -
22769
- Waffle Cart Gatcha - Jar Of Jam, Manutella & Maple Syrup @
The Liaison Collaborative
*Cash Box -
22769
- Waffle Cart Gatcha - Cash Box @
The Liaison Collaborative
*Penguin Family -
Exposeur
- Winter Penguin Gacha - Penguin Family @
The Liaison Collaborative
*Penguin On Sled -
Exposeur
- Winter Penguin Gacha - Sledding Penguin @
The Liaison Collaborative
*Santa Penguin -
Exposeur
- Winter Penguin Gacha - Santa Penguin @
The Liaison Collaborative
Pic 3
*Dress -
Fishy Strawberry
- Pearls Sweatdress - Black @
Creation.JP
*Boots -
Baiastice
- GIll Stretch Boots - Knitted Red RARE
*Jewellery -
Earthstones
- Snowfall Jewelry Set - Necklace & Earrings @
The Liaison Collaborative
Hair -
ISON
- Bee - Reds 02 Pack
*Make Up -
The Wicked Peach
- Season's Greetings - Ribbon @
The Liaison Collaborative
Skin -
League
- Erin Pale - Natural (with Erin tinted lipstick)
Eyes -
Ikon
- Hope Eyes - Moor
Eyelashes -
Mon Cheri
- Falsies Eyelash
Hands -
SLink
- Avatar Enhancement Mesh Hands - Flat (with League appliers)
*Pose -
Ilaya
- Anastasia Pose - 5 @
The Liaison Collaborative
*Penguin -
Exposeur
- Winter Penguin Gatcha - Lil' Girl Penguin Pet @
The Liaison Collaborative