The Dressing Room Fusion has been open since last Friday and I know I'm a little bit behind but there has been a lot going on in my RL right now and add in a little bit of procrastination and you end up here :P
But there were things I did want to show you and you have until the 22nd to go and grab these goodies and the others available there.
I was playing with some bits I got from Kalopsia in a past 50L Friday and then I realised I could get a little bit silly.
There was a sudden gust...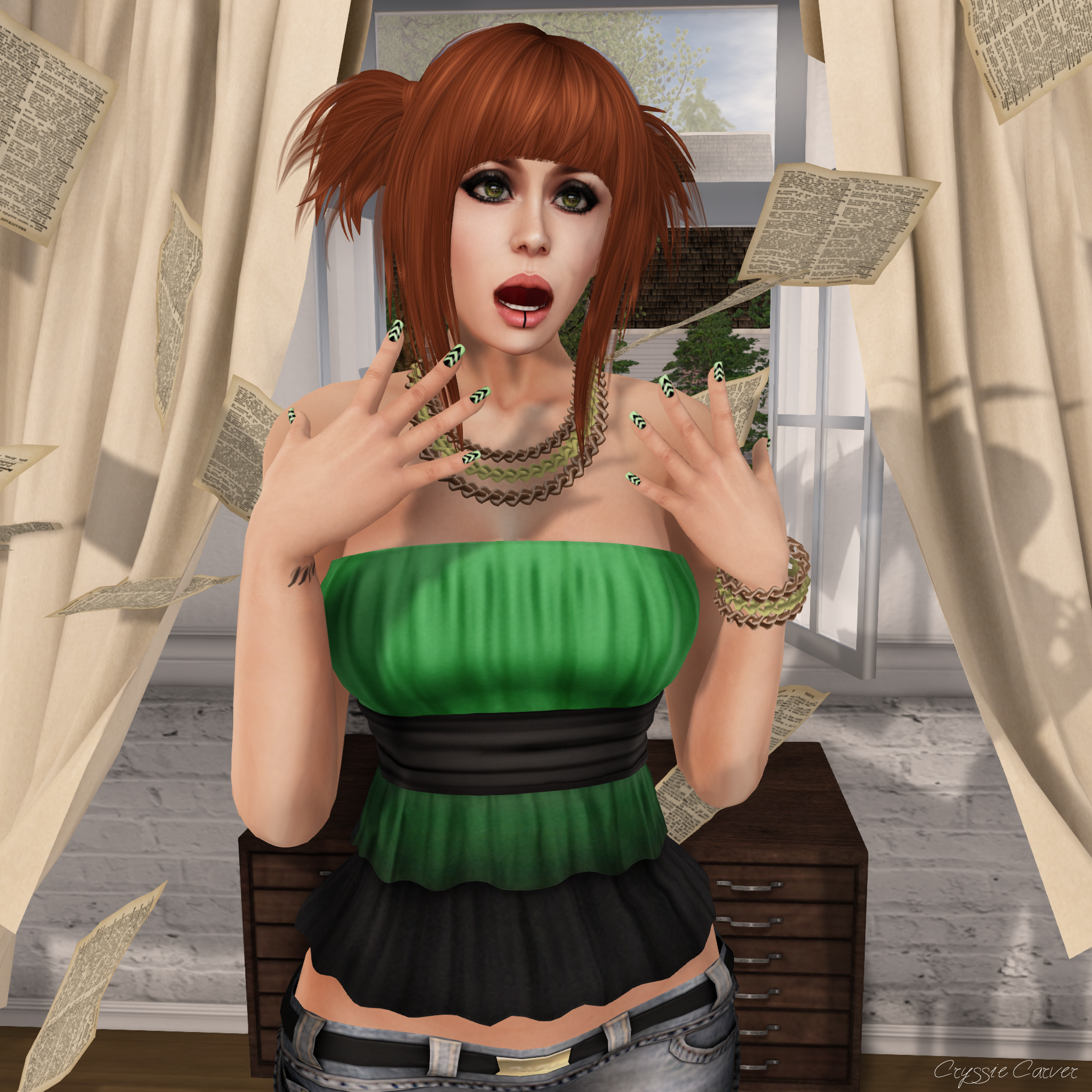 This is so me. Freak out first, pick up the papers later.
The shirt is a bargain from Cynful for 70L. It comes with appliers for those with mesh enhanced lady lumps! It also has a hud so you can change the black parts to white parts for a lighter version of the top. I really like the fit on this, it's lovely.
The jewellery is a set from Glow Studio. I went for the Copper/Pea colour because I'm totally in love with green. You get the bracelet and the necklace for 70L so this is a great deal.
Now for something a bit more dramatic...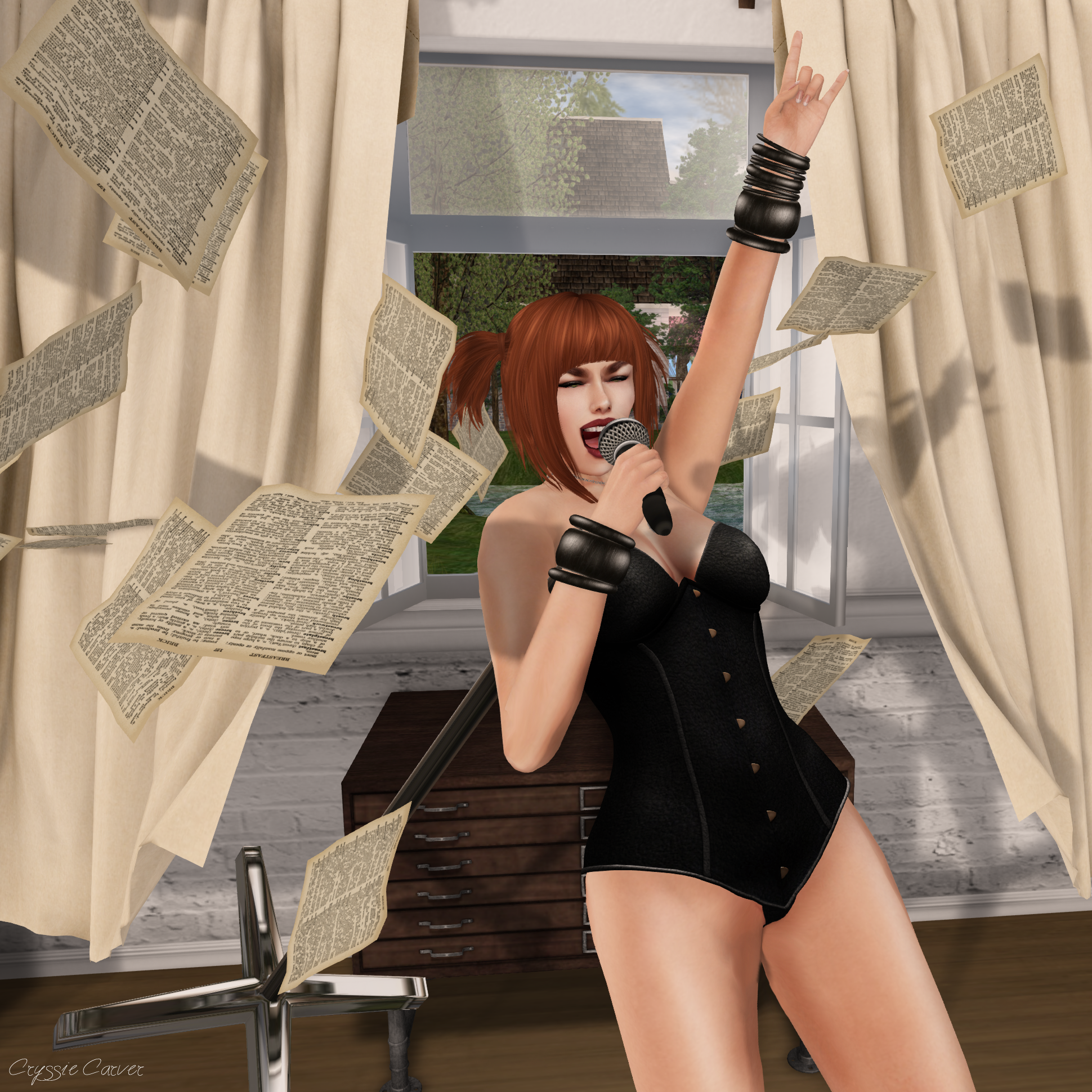 If you don't have your own wind machine then just get nature to do it for you!
The bodysuit is from Baiastice and I love how well this fits. Sometimes I have issues with the crotch (lol) not fitting quite as well as it should, but this fits perfectly. Again a bargain for 70L and you have three colour options to choose from.
That's all I've got for The Dressing Room Fusion but there is so much more there, so go peek before it closes up for the next round!
Happy Sunday and in the words of Bill & Ted... be excellent to each other!
Pic 1:
Top -
Cynful
- The Shimmy Top - Ombre Green @
TDRF
Pants -
Cynful
- Skinny Jeans - New Years Special
Necklace -
Glow Studio
- Kitsch Set - Copper/Peas @
TDRF
Hair -
Truth
- Nova - Gingers Pack
Nail Colour -
Ama
- SLink Polish - Black Chevron Brights
Skin -
League
- Erin Pale - Feline (with Erin lipstick 03)
Eyes -
Ikon
- Spectral Eyes - Moor
Hands -
SLink
- Mesh hands - Casual (with League appliers)
Pose -
Label Motion
- Set Of Poses For TDR - Pose 6 @
TDRF
Pic 2:
Bodysuit -
Baiastice
- Leather Corset - Black @
TDRF
Bangles -
Maxi Gossamer
- Pitch Black Dare
Hair -
Truth
- Nova - Gingers Pack
Skin -
League
- Erin Pale - Feline (with Erin lipstick 07)
Hands -
SLink
- Mesh Hands - Bag (right & Horns (left) (with League appliers)
Pose Prop - MotionLess - Rock God (can no longer find store)
Furniture
Window/Room -
Magnifique Poses
- In The Window Pose Prop
Curtain -
Kalopsia
- Aero Flying Curtain - Left & Right
Papers -
Kalopsia
- Aero Flying Paper
Small Cabinet -
Second Spaces
- Solomon Library Flat File - Dark Wood @
The Mens Dept