I've got a few more things to show you from the Black Fashion Fair. It's open until the 22nd of August so you have plenty of time left to go and grab anything that takes your fancy!
Purple Moon have released two exclusive dresses for The Black Fashion Fair and both are really pretty but very different.
The Baroque Dress is a black slinky style dress with a gorgeous gold detailing on the front.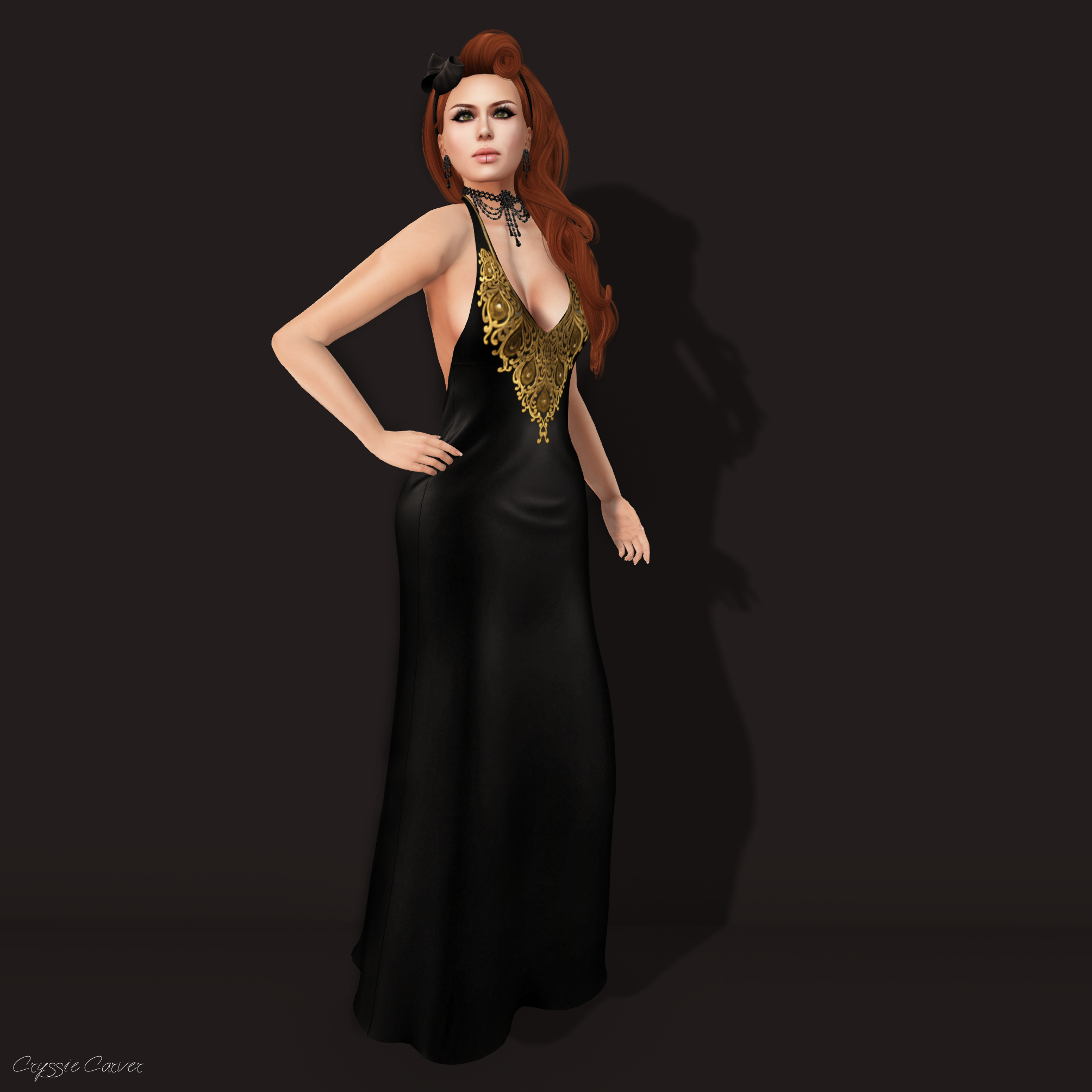 I love collecting formal dresses. Admittedly I enjoy going formal dancing so any chance to make my collection grow.
The Belladonna Crystal Beaded Collar is from Maxi Gossamer and is also available at The Black Fashion Fair. There are matching earrings available for those who love earrings but the collar is impressive enough that you can wear it alone and still look like you've accessorised to the max.
The second dress from Purple Moon is the Prestige Gown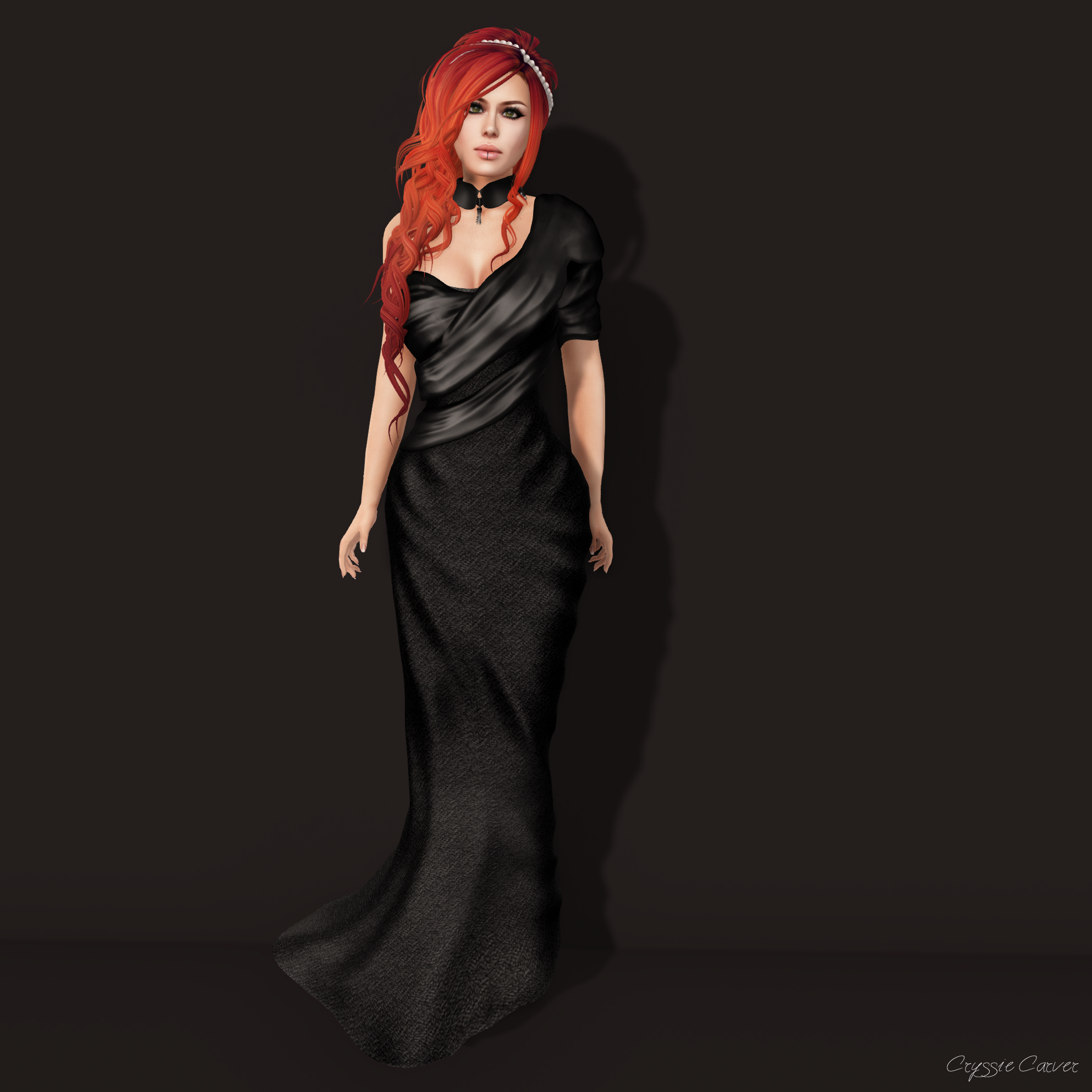 The wrap around look of this dress is gorgeous. It's not something I've seen in a formal dress before but I'm really liking it.
The Yoake Collar is from Ariskea and I thought it looked lovely with this dress. Because of the one shoulder style a long necklace seemed a bit weird with this dress but the collar suited it perfectly and is at The Black Fashion Fair too.
Last up for this post is something sexy from Blacklace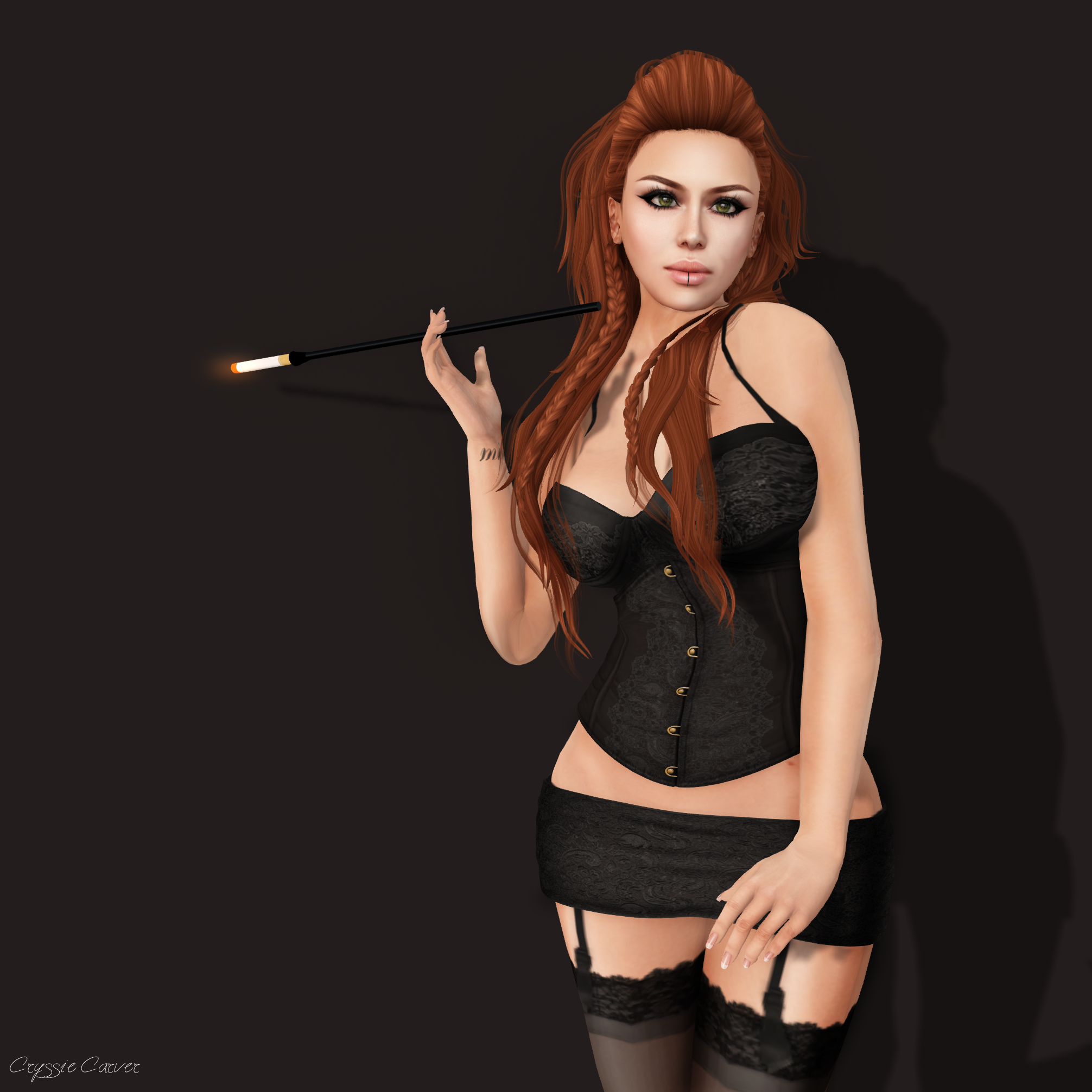 The Seduce Me lingerie comes with a mesh corset and system layers for panties, bra and stockings. The pack also includes lots of appliers for all your favourite mesh bits!
The cigarette holder comes with a pose set from NanTra called Little Black Dress. It's a great pose set and I have to admit I do like pose sets with cute little props. NanTra does great props so check them out and grab this set.
I do have a little bit more for The Black Fashion Fair that will be coming soon.
Happy Shopping!
Pic 1:
*Dress -
Purple Moon
- Baroque Dress - Black/Gold @
The Black Fashion Fair
*Jewellery -
Maxi Gossamer
- Belladonna Crystal Beaded @
The Black Fashion Fair
*Hair -
Truth
- Thelma - Gingers Pack
Skin -
League
- Erin Pale - Feline (with Erin eyeliner 3)
Hands -
SLink
- Avatar Enhancement Mesh Hands - Casual (with League appliers)
*Pose -
Everglow
- Noir - 01 @
The Black Fashion Fair
Pic 2:
*Dress -
Purple Moon
- Prestige Gown - Black @
The Black Fashion Fair
*Collar -
Ariskea
- Yoake Collar - Black @
The Black Fashion Fair
Hair -
Little Bones
- Baptism - Reds Pack
Skin -
League
- Erin Pale - Feline (with Erin eyeliner 3)
Hands -
SLink
- Avatar Enhancement Mesh Hands - Casual (with League appliers)
*Pose -
Ilaya
- Beatrix - Pose 3 @
The Black Fashion Fair
Pic 3:
*Lingerie -
Blacklace
- Seduce Me - Black @
The Black Fashion Fair
*Hair -
Truth
- Lagertha - Gingers Pack
Skin -
League
- Erin Pale - Feline (with Erin eyeliner 3)
Hands -
SLink
- Avatar Enhancement Mesh Hands - Casual (with League appliers)
Breasts -
Lush
- Lush Breasts - 1.4
*Pose -
NanTra
- Little Black Dress - 4 Mirrored (includes cigarette holder) @
The Black Fashion Fair