I'm afraid I didn't do much shopping at either of these events. Not because there was a lack of amazing creations from talented designers but because I wasn't overly in love with the demos of things I tried. That doesn't mean that the items aren't fantastic but we all have our style and taste right? I'm pretty sure that when you check out both of these events that you will find things you love that I didn't show here so please do check them out!
Baiastice were my favourite designer at FaMESHed this month.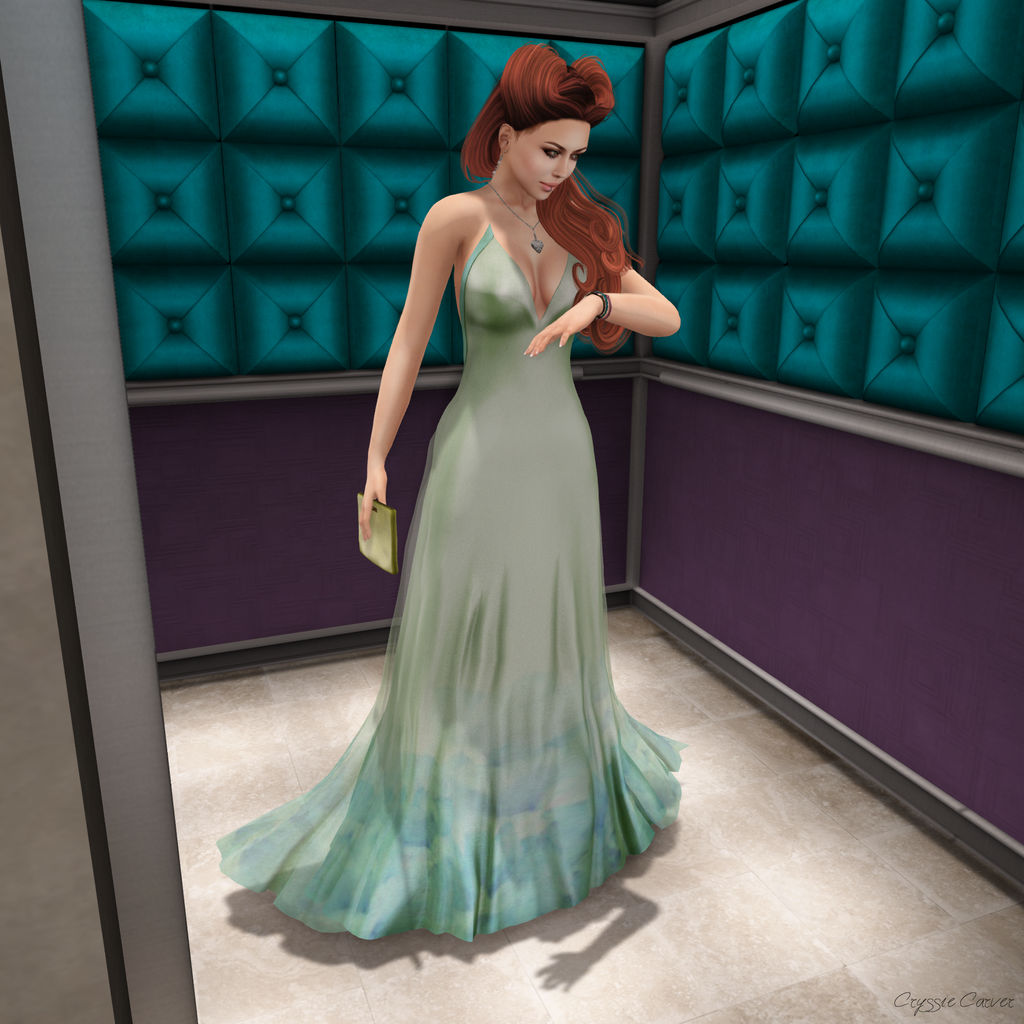 This Vivienne Gown is just gorgeous. I love the pattern around the hem and it's light and airy feel. It's nice to have a gown that feel summery and delicate but still look formal and jaw droppingly stunning.
The hair is a brand new release from Spellbound called Jezebel. It's not at FaMESHed but it looked too good with this dress not to show you.
Coquet have an adorable shirt which is available at FaMESHed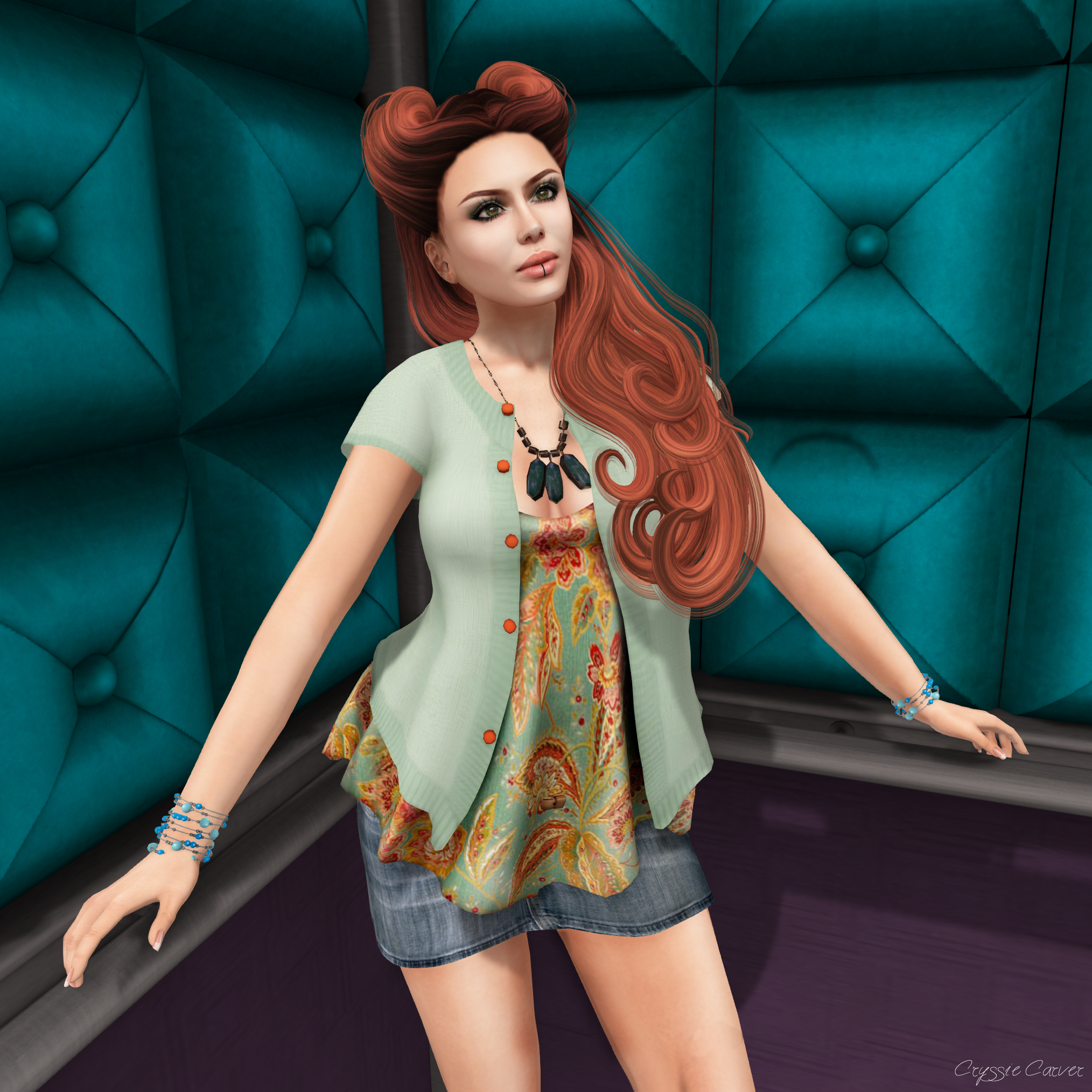 The August Top is lovely and summery, but doesn't expose lots of skin. Casual and perfect for relaxing in. I didn't grab the accompanying skirt but it did fit perfectly over the Denim Mini Skirt from Tres Blah at Uber.
Last up is a top and skirt from Baiastice which is part of a new event called MixMatch.
The idea behind it is you buy one part of the outfit and you get a hud where you can go to the mainstore and buy the other part of the outfit at a discounted price.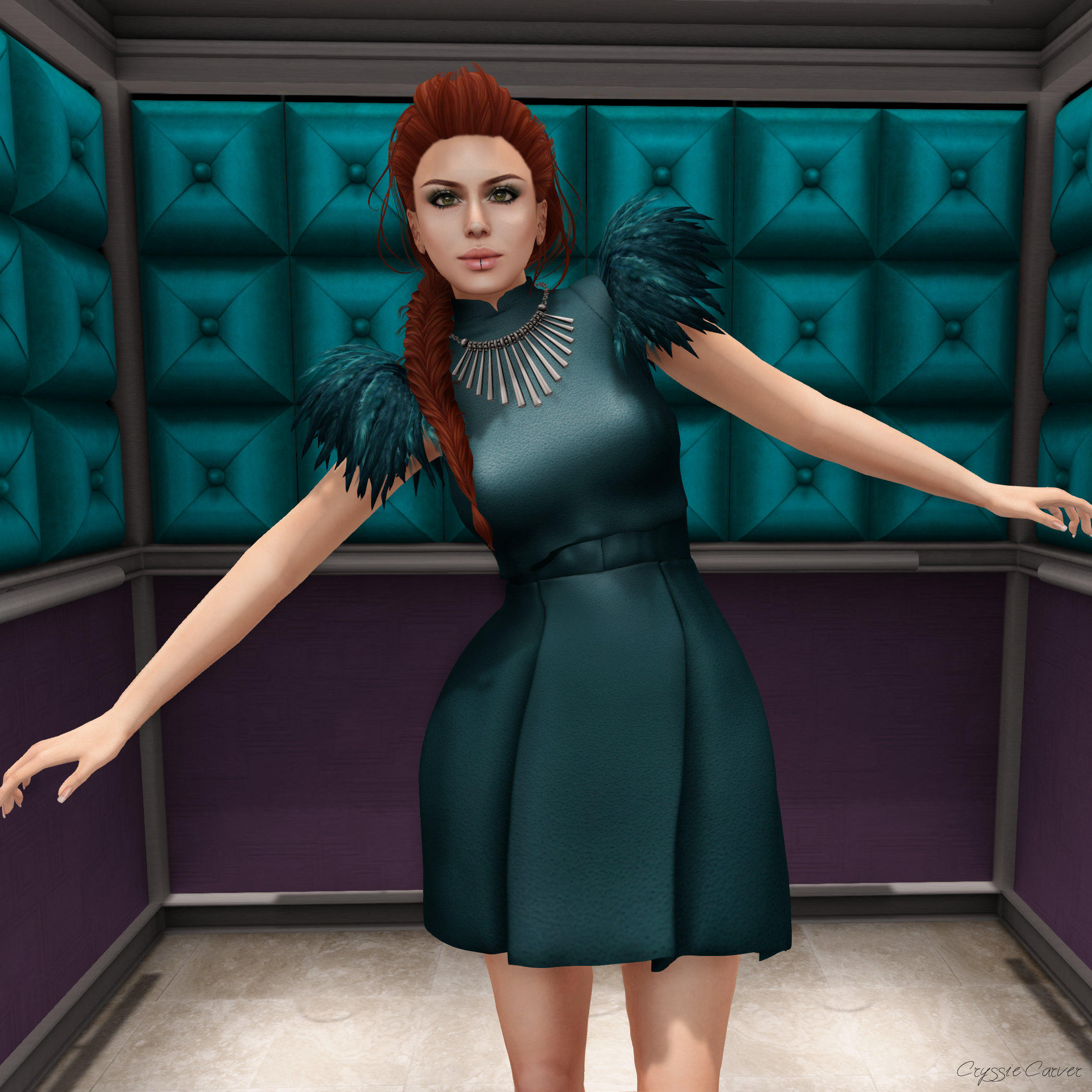 The Litka skirt and top are both really classy and together look like a dress. However with it being two separate parts you can mix and match your colours and create something to suit your style and mood! The feathers on the shoulders of the Litka Top are optional so I you're feeling less flamboyant than me then you have that option too.
The background and poses for this post are courtesy of a brand new pose prop from Exposeur which you can nab at FaMESHed. It really is stunning and HUGE with a ton of poses for men, women and even couples poses. This bit is just the inside of the elevator but it really has lots more space. It would even be great to use with your own poses.
I hope you enjoy FaMESHed and MixMatch!
Happy Shopping!
Pic 1:
*Dress -
Baiastice
- Vivienne Gown - Green @
FaMESHed
*Bag -
Baiastice
- Metallic Letters Clutch - Green
Necklace & Earrings -
Maxi Gossamer
- Keshi Peal Heart - Silver
Bracelet -
Izzie's
- Eternity Bracelet - Rose Teal
Hair -
Spellbound
- Jezebel - Reds Pack
Skin -
League
- Erin Pale - Bronze
Hands -
SLink
- Avatar Enhancement Mesh Hands - Flat (with League appliers)
*Pose Prop -
Exposeur
- The Elevator (arm adjusted by bag) @
FaMESHed
Pic 2:
Top -
Coquet
- August Top - Indian Summer @
FaMESHed
Skirt -
Tres Blah
- Denim Mini Skirt - Dark Wash @
Uber
Necklace -
Kunglers
- With Love From Hunt Necklace
Bracelets -
Maxi Gossamer
- Tarentella Gypsy Dancer Bracelet
Hair -
Spellbound
- Jezebel - Reds Pack
Skin -
League
- Erin Pale - Mint (with Erin lipstick 02)
Hands -
SLink
- Avatar Enhancement Mesh Hands - Casual (with League appliers)
*Pose Prop -
Exposeur
- The Elevator @
FaMESHed
Pic 3:
*Top -
Baiastice
- Litka Top With Feathers - Emerald @
MixMatch
*Skirt -
Baiastice
- Litka Skirt - Emerald @
MixMatch
Necklace -
Maxi Gossamer
- Kalistar Collar
Hair -
Wasabi Pills
- Jean - Reds Pack @
Uber
Skin -
League
- Erin Pale - Mint
Hands -
SLink
- Avatar Enhancement Mesh Hands - Casual (with League appliers)
*Pose Prop -
Exposeur
- The Elevator @
FaMESHed